Fajitas texanas with beef, elk, or venison steak is a favorite Mexican dinner in our circle. This fajita recipe is a perfect make-ahead freezer meal or served right away.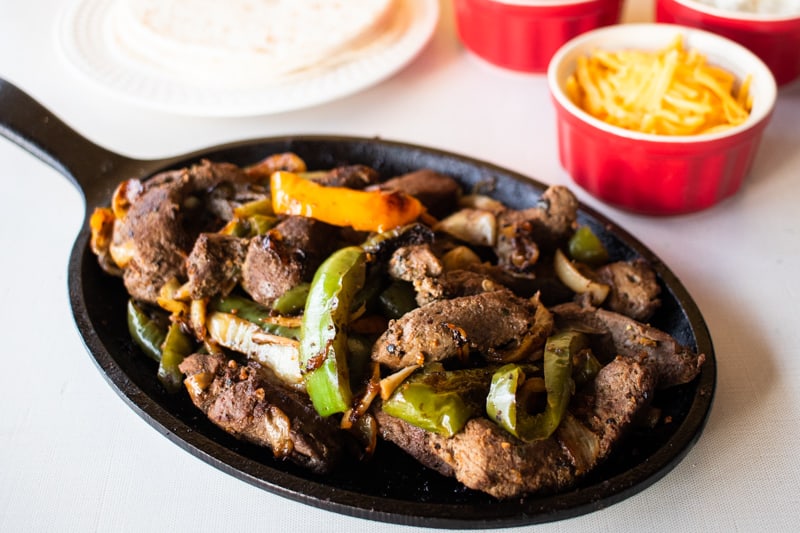 We do not make fajitas nearly as much as we should, they are easy, quick, healthy, and everyone loves them!
What are fajitas texanas anyway? Well, fajitas were originally served using skirt steak and generally consisted of strips of meat, peppers, and onions served with warm tortillas.
The skirt steak was originally, surprisingly enough, considered discard meat, now it's served across the country as a popular Mexican dish.
Restaurant fajitas are often served on a sizzling hot cast iron fajita pan with fresh guacamole, sour cream, cheese, pico, rice, and a stack of warm tortillas.
It varies from restaurant to restaurant, as well as the meat options, but for the most part, that's what they are.
When I make fajitas, you'll see they are very much so, similar to restaurant fajitas; even served on a fajita skillet! No, the fajita skillet is not necessary but does add to the appeal.
Choosing Fajita Meat
This recipe uses venison steak fajitas, though any meat can be used. Both venison and beef flank or skirt steaks should be cooked the same way. Rare or medium-rare.
Though these are all flavorful meats, they can be tough if overcooked!
Almost any cut of beef makes a great fajita. Brisket, round steaks, beef heart (yes, I know what your thinking; beef heart?!)
If the thought of eating heart meat freaks you out, cooking it in a marinade and serving fajita-style is a great way to ease into it.
Other meats include chicken, pork and shrimp. Make sure that if using any of these meats, they must all be cooked through.
Venison fajitas are absolutely top-notch, a must-try if you have a stockpile of venison in your freezer.
Try my new crispy and tender fried beef tongue.
Venison Fajitas Marinade
Every fajita, venison, beef, or chicken begins with a good marinade. I use soy sauce or coconut aminos, lemon juice, avocado oil, Worcestershire sauce, and apple cider vinegar for the marinade.
I'll then stir the fajita seasonings directly into the marinade.
There are fajita seasonings packets available, though they are filled with plenty of unnecessary ingredients.
I prefer to make my own by seasoning the meat with garlic and chili powder, smoked paprika, some cumin, salt and pepper.
If time is of the essence, skip the marinade and just use the combination of dried seasonings for the fajita meat. You'll still make some delicious, authentic fajitas to compete with any restaurant.
Add a dash of both crushed red peppers and cayenne pepper to keep things spicy.
This post contains affiliate links, which means I make a small commission at no extra cost to you. As an Amazon Associate, I earn from qualifying purchases. Get my full disclosure here.
Venison Fajitas Recipe
Helpful Kitchen tools
Ingredients
For the fajitas:
Bell peppers
Jalapeno
Onion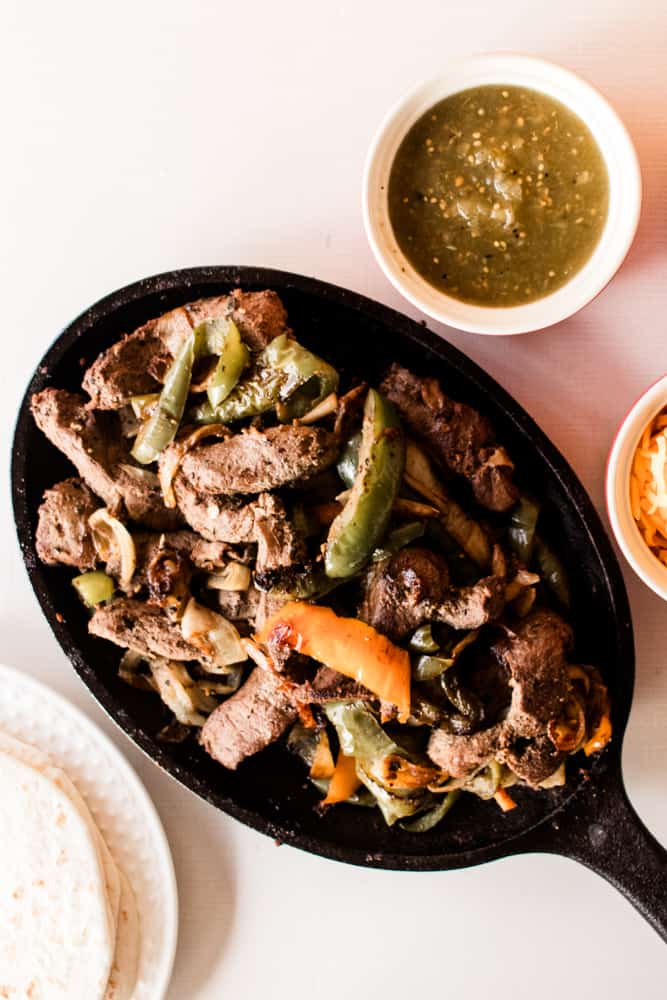 For the marinade:
Soy sauce or coconut aminos
Worcestershire sauce
Avocado oil
Lemon juice
Apple cider vinegar
Salt and pepper
Garlic powder and chili powder
Smoked paprika and cumin
Instructions
For make-ahead fajitas: Cut the vegetables into nice thin strips. Do the same for the steak, thin strips against the grain; we want it to look like we are at a restaurant after all!
So now, add both the meat and vegetables to a gallon size ziplock bag. Mix the marinade ingredients in a small bowl or ramekin, then add to the bag too. Seal the bag off while pressing out as much air as possible.
Lay flat side down in the freezer until ready to use. It should last several months.
Fully thaw before cooking.
For regular fajita texanas: Prepare the meat and vegetables the same as the make-ahead fajitas and marinade in the fridge for at least an hour or up to overnight.
Add a little oil to a piping hot cast iron skillet. I'm using a fajita skillet, and it didn't all quite fit, so I had to use a second one.
A 10″ or 12″ skillet will work perfectly if you don't have a fajita skillet. When the oil starts to smoke, throw all the ingredients onto the skillet, including the extra juices from the marinade.
Flip with tongs every 30 seconds or so. Continue to cook until the meat has reached the desired doneness.
How to serve fajitas texanas
I like to serve fajitas just like restaurant fajitas; with all the fixings! For me, that's half the reason I enjoy them so much. There should be more than enough fajita "fixings" for two adults.
Serve the meat and vegetables directly on the sizzling skillet, with warmed flour tortillas, fresh guacamole, sour cream, and maybe some fresh pico de gallo.
A side of rice and chili Verde also complements this meal quite well.
Make-ahead meals
Meal prepping has become more common in the last few years. So having dishes like this or my weeknight carne pizzaiola are a must.
If you enjoy this recipe, you may also like: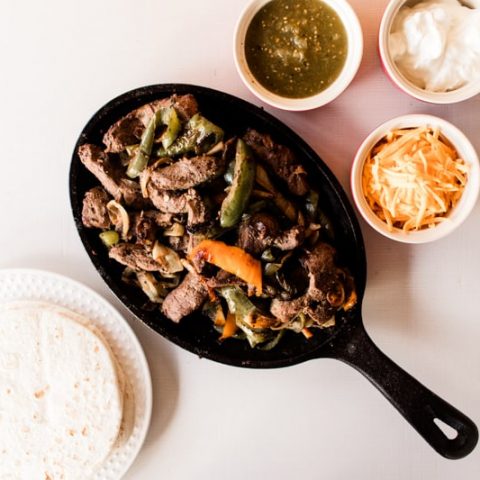 Make-Ahead Fajitas Texanas
A quick and easy make-ahead fajitas recipe ready to go for any occasion.
Ingredients
for the fajita
1.5 lb venison steak sliced into thin strips
2 bell peppers thinly sliced
1 yellow onion peeled and sliced
1 jalapeno (optional)
For the marinade
⅛ cup of soy sauce
1 tbsp Worcestershire sauce
1 tbsp lemon juice
½ tbsp avocado oil
½ tbsp apple cider vinegar
½ tsp each of salt, garlic powder and chili powder
¼ tsp each smoked paprika, cumin and pepper.
Pinch of cayenne and crushed red peppers. (optional)
Instructions
Place the steaks, peppers and onions in a ziplock bag.
Stir marinade ingredients in a small bowl or ramekin. Add it to the other ingredients in the ziplock.
For a make-ahead meal, place in the freezer flat side down.
If cooking right away, let it marinate for an hour first or overnight.
Add the contents to a piping hot skillet with a dash of cooking oil and flip with tongs every 30 seconds or so. Once the meat has reached the desired doneness, remove it from heat.
Serve directly on the fajita skillet with warm tortillas.