Make the best elk steak you might possibly have ever tried! With the combination of butter, garlic and rosemary, this simple steak recipe really is incredible.
I absolutely love steak; it doesn't matter if it's a ribeye or a flank steak; steaks are hands down my favorite meat.
And elk meat is some of the best-tasting meat, in my opinion. It is full of flavor, has no gamey taste, and is as tender as all get out. (as long as its cook right, of course)
A little salt, pepper, and garnishings are all you really need for the perfect elk steak recipe.
I do have a marinade recipe you can quickly throw together if you choose to go that route which you can check out below.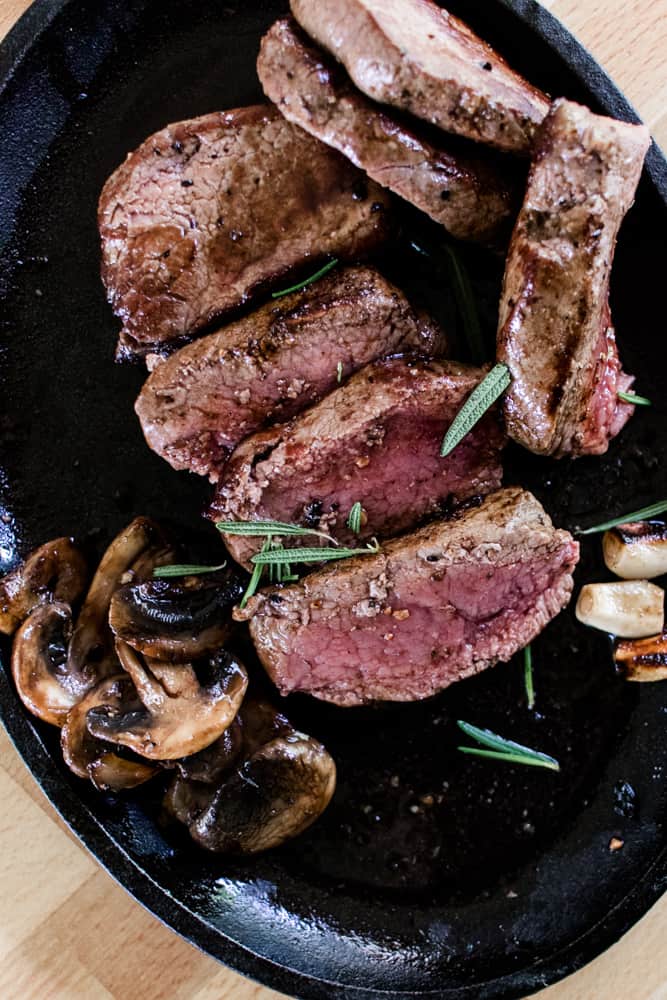 So how do you go about making the best elk steak
Cooking elk steak really doesn't have to be different than any typical steak. A sizzling hot skillet, some butter; ok, lots of butter, your favorite seasonings, maybe some garlic and rosemary.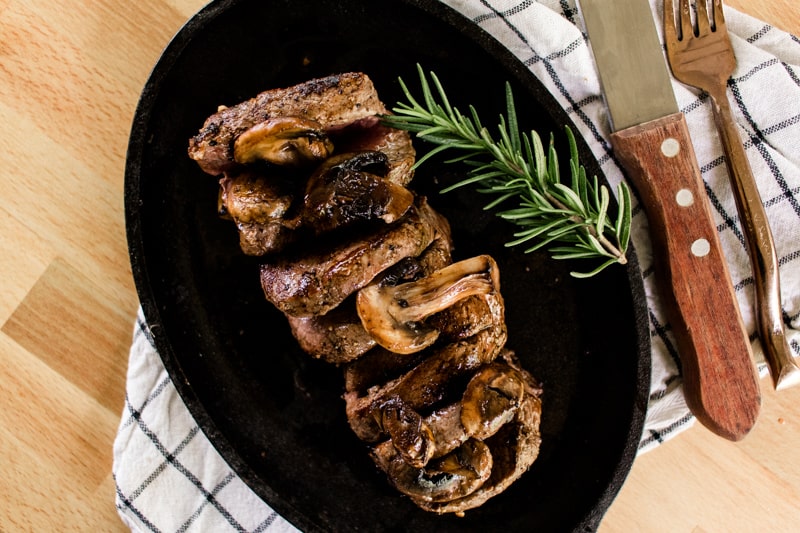 What kind of ingredients will we be using
Steak
Butter
Salt
Pepper
Garlic
Mushrooms
Fresh rosemary
How to cook the perfect elk steak
Start with fully defrosted steaks. I like to take them out of the package and come to room temperature 10 or 15 minutes before going in the skillet.
Go ahead and begin heating up the skillet on medium-high heat. I had a smaller steak I was making, so it fit just fine in a 10″ cast iron skillet, even with the mushrooms.
Just make sure your steak can fit nicely in the skillet without being folded up the sides.
Ok, so while the skillet is heating up, salt and pepper the elk steak generously on all sides.
Once the skillet is nice and hot, add a dollop of butter in the center, and swirl it around. (use a hot pad, the handle will be hot!)
Carefully set the steak in the center of the skillet and let it cook for about 2 minutes, undisturbed.
After 2 minutes, reduce the heat to medium, flip the steak over with a pair of tongs and let it cook for an additional 2 minutes.
While the steak is cooking, toss a couple of garlic cloves and a handful of sliced mushrooms into the skillet alongside the steak.
Every once in a while, tip the skillet ever so slightly so you can use a spoon to scoop up some of the buttery goodness and baste the steak with it.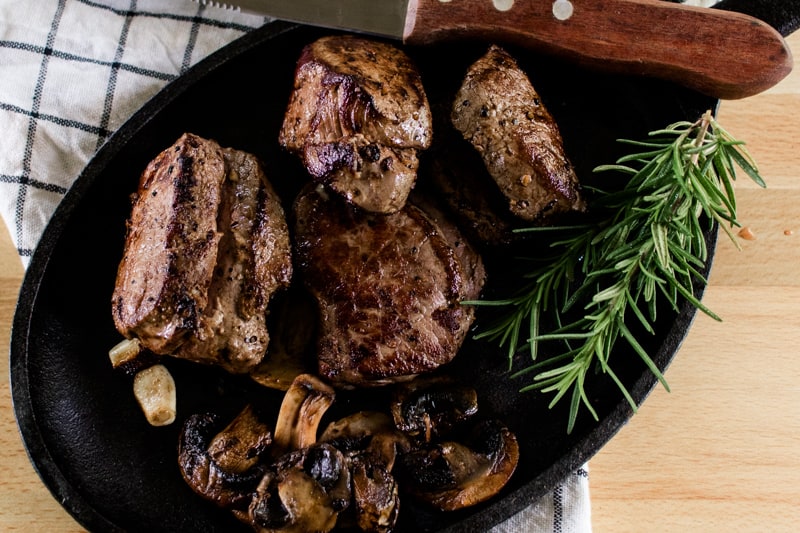 Once the meat has reached your desired doneness, quickly sear the edges of the meat by holding it on its side with a pair of tongs for 30 seconds or so.
Remove the garlic, mushrooms and steak to a plate to rest before cutting into it.
While the steak is resting, I like to top it with fresh rosemary. You would be amazed how much flavor sinks into the meat by just setting a rosemary sprig on top of the steak for 10 minutes.
Elk steak marinade
I love and use marinades and dry rubs all the time. However, the marinades' primary purpose should be to complement the meat or to tenderize otherwise tough meats like round steaks.
Sure, when making beef heart or pork liver, part of the reason for the marinade could have been to cover up the taste, but hey, everyone's tastebuds are different.
4 tablespoons of red wine vinegar
2 tablespoons of avocado oil
1/4 teaspoon of salt
A dash of pepper
A pinch of both dried rosemary and thyme
Whisk the marinade ingredients in a small bowl. Place your elk steak in a ziplock bag, pour the marinade over the top and place it in the fridge 1-2 hours before you are ready to cook it.
Or check out this marinade I use for my bottom-round steaks here!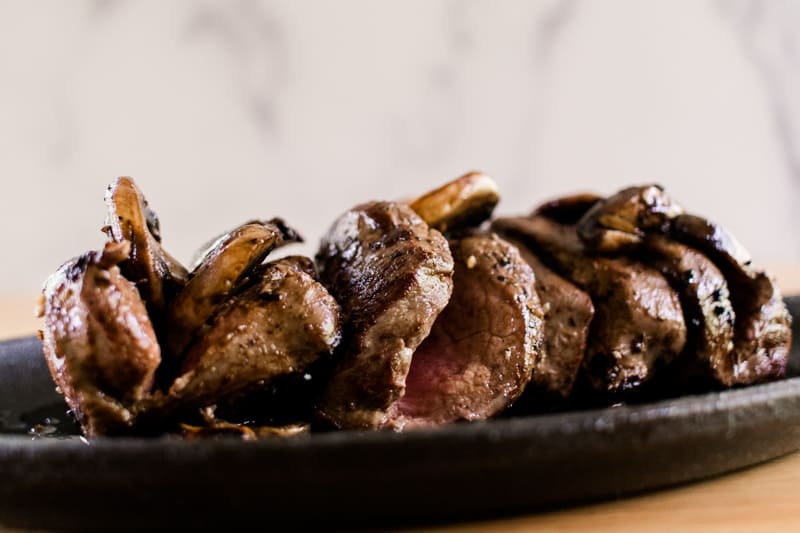 Cooking elk steaks to the desired doneness
No one likes an overcooked, dried-out steak. Check the internal temperature by inserting an instant thermometer horizontally into the thickest part of the meat.
The internal temperature of the steak will continue to rise after it is taken off the heat, so remove it 5-10 degrees below your desired doneness.
Once you make this elk steak recipe, you can use this same method to cook tenderloins and butterfly medallions.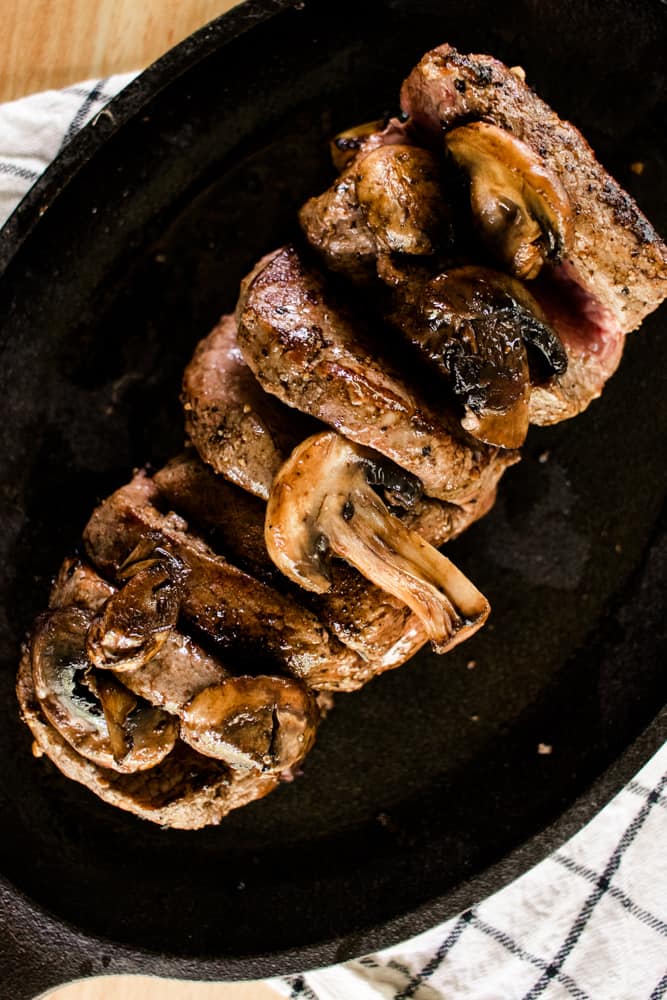 What goes well with elk
Some of my favorite dishes to go along with elk steak include these garlic and parmesan brussel sprouts or this cheesy bacon butternut squash.
Leftovers!
Leftover elk steak will keep for 3-4 days in the refrigerator. Then, heat it in the microwave, or throw it back on the skillet with a splash of oil until heated through.
Personally, I like to slice any leftovers into thin strips and throw them on top of a salad.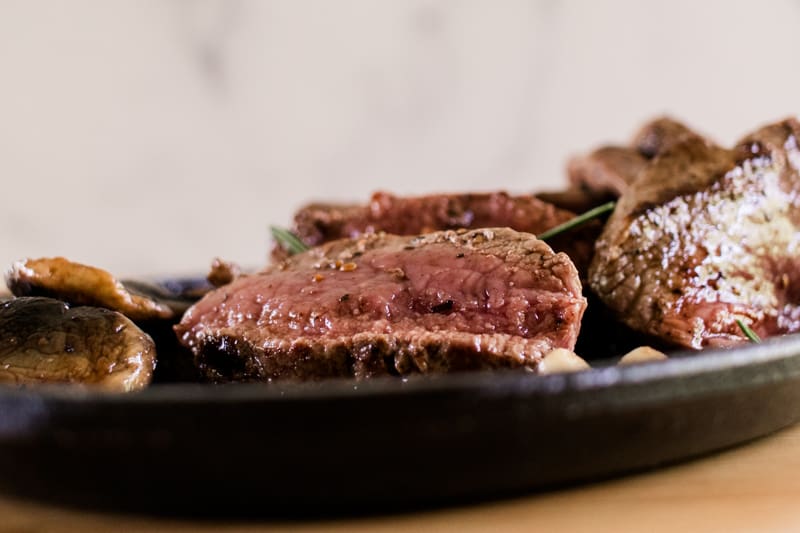 Wrapping up
I love a good steak, and having a restaurant-quality steak from your fridge to the table in a matter of minutes makes it hard to go out and spend an arm and a leg for a high-quality restaurant steak.
If you love trying new recipes, make sure you check out some of these favorites below. And if you make this recipe, be sure to leave a comment below; I'd love to hear what you think.
Butter-basted Elk Steak
Additional Time:
10 minutes
This restaurant-quality elk steak recipe is perfect for an in-home date night or special occasion.
Ingredients
1 elk steak
1 1/2 tbsps of butter
1/4 cup of sliced mushrooms
3 cloves of garlic (peeled)
1/4 tsp of salt
1/4 tsp of pepper
1 rosemary spring
Instructions
Set out steak 10 minutes before cooking.
Heat a cast-iron skillet to medium-high heat (you want it very hot)
Add the butter to the hot skillet and swirl it around the bottom.
Gently place the steak into the center of the skillet and cook for 2 minutes on each side. (before you flip the steak, reduce the heat to medium)
While the steak is cooking, add the mushrooms and garlic to the skillet, tossing every so often to keep them from burning.
Tip the skillet to one side every so often and use a spoon to scoop up some of the butter to baste the steak.
Once done, sear the edges for 30 seconds on each side.
Let it rest on a plate for 10 minutes when it is done. Top with rosemary.
Nutrition Information:
Yield:

1
Serving Size:

1
Amount Per Serving:
Calories:

315
Total Fat:

20g
Saturated Fat:

12g
Trans Fat:

1g
Unsaturated Fat:

6g
Cholesterol:

108mg
Sodium:

790mg
Carbohydrates:

8g
Fiber:

4g
Sugar:

1g
Protein:

27g
This website provides approximate nutrition information for convenience and as a courtesy only. Nutrition is calculated by Nutronionix