Pan-searing venison medallions is no easy feat, but once mastered, it is a delicious dinner that you can be proud of.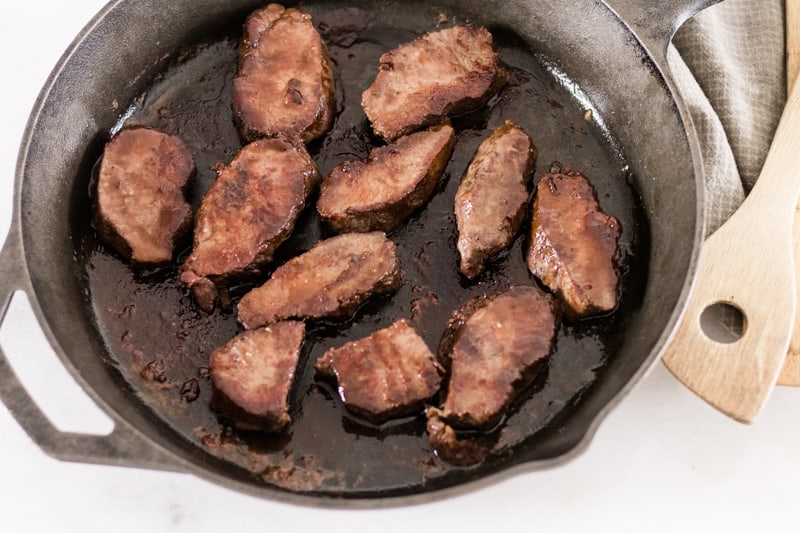 HOW TO COOK DEER TENDERLOINS
The deer backstrap is often incorrectly referred to as the tenderloin. The strip of meat running along either side of the backbone.
While in fact, they are two different types of meat. The backstrap runs along the outside of the backbone and the tenderloin runs along the underneath and is quite a bit smaller.
Tenderloins are the two most tender strips of meat found on a deer.
Deer tenderloins can be cooked on the stovetop and finished in the oven or grilled outdoors on a charcoal grill.
It is difficult to cook a whole tenderloin on the stovetop without finishing in the oven.
The best way to make a tenderloin completely on the stovetop is to use a cast iron skillet and cut the meat into 1/2″ to 3/4″ medallions.
You have to be careful not to overcook the venison when pan-searing the venison. If the meat gets overcooked, it will dry out and be tough.
WHAT IS A VENISON MEDALLION
A venison medallion is essentially the tenderloin cut into 1/2″ or so chunks of meat, similar to a beef fillet.
Some will use the hind legs and cut it into medallions; though it too is delicious, it is imperative not to overcook this meat.
CAN YOU EAT VENISON MEDIUM RARE?
Yes, you can eat venison medium-rare. Venison is extremely lean meat, steaks cooked beyond medium are going to be tough and dry. Of course, ground venison must be cooked through.
WHAT TEMPERATURE TO COOK VENISON?
Pan sear tenderloins in a cast iron skillet to a minimum of 135°F for rare-to medium-rare. I prefer my venison tenderloins cooked to 130-135°F, which will come out more medium-rare than medium.
HOW TO GET THE GAMEY TASTE OUT OF VENISON
Properly prepared venison is going to have minimal "gamey flavor," but then again, I do consume a fair amount of venison.
So if you are one of those that just can't quite handle the taste of venison the way it was meant to be, marinate it in buttermilk.
All kidding aside, soaking the tenderloins in milk or buttermilk in the fridge overnight will help draw out any blood in the meat as well as get rid of your gamey taste.
After it's done soaking in the milk, rinse the meat and pat dry.
VENISON TENDERLOIN MARINADE
Fair warning, this marinade will cause uncontrollable watering from the mouth. I love this marinade because it is simple and I pretty much always have the ingredients on hand.
Get you a gallon-sized ziplock bag, add the tenderloin (cut in half if it doesn't quite fit), 1/2 cup of Worchestershire sauce, 1/4 cup red wine vinegar, 2 tsp of salt and 1 tsp pepper.
Leave in the fridge for at least a couple of hours.
SIDE DISHES FOR VENISON
A side of garlic roasted green beans and fresh sliced avocado, lightly salted, complements these venison tenderloin medallions quite nicely.
Sides that pair nicely with venison tenderloin
Sweet potatoes
Asparagus
Cranberry Sauce
PAN-SEARED VENISON MEDALLIONS RECIPE
Start out by setting out the meat at least 15 min before pan searing. Prepare green beans by heating up a cast iron skillet, add a tablespoon of butter along with 2 cloves of garlic, minced.
Let it go for a couple of minutes, then add in green beans. Sprinkle with salt and pepper; stir often.
Set temp to medium-high heat in a separate cast iron; add in a splash of oil. While the skillet is heating up, pat dry the tenderloin and cut into medallions 1/2″-3/4″ thick.
Rub with coarse salt and pepper. Once the oil begins to smoke, add the venison medallions. Allow to sear for about 1 minute, flip and sear for the same amount of time on the other side.
Remove from heat and allow to rest for several minutes before serving.
Some more favorites:
Pan-Seared Venison Medallions
Additional Time:
5 minutes
Perfectly prepared and seared to perfection, these venison tenderloin medallions do not disappoint
Ingredients
For the venison
2 lbs venison tenderloin
1 tbsp coconut oil
1/2 cup worcestershire sauce
1/4 cup red wine vinegar
2 tsp salt
1 tsp pepper
Instructions
Add the tenderloin, worcestershire sauce, red wine vinegar, salt and pepper to a gallon-sized ziplock bag. Marinate for 3-8 hours.
Set out meat 15-20 min before cooking and pat dry.
Heat the oil in a cast iron skillet on medium-high heat.
Once the oil starts to smoke, add in medallions.
Cook about 1 min then flip and cook an additional minute.
Remove from heat and allow to rest for 5 min before serving.
Notes
Cooking times and heat may need to be adjusted to prevent overcooking the meat.
Nutrition Information:
Yield:

4
Serving Size:

1
Amount Per Serving:
Calories:

334
Total Fat:

9g
Saturated Fat:

5g
Trans Fat:

0g
Unsaturated Fat:

3g
Cholesterol:

193mg
Sodium:

1617mg
Carbohydrates:

7g
Fiber:

0g
Sugar:

3g
Protein:

52g