There are two reasons this carne pizzaiola recipe is useful: one is for the whole cow stocked in your freezer with round steak cuts waiting to be used, and another is for the hopeful chef looking for some cheaper beef cuts to make a delicious meal out of.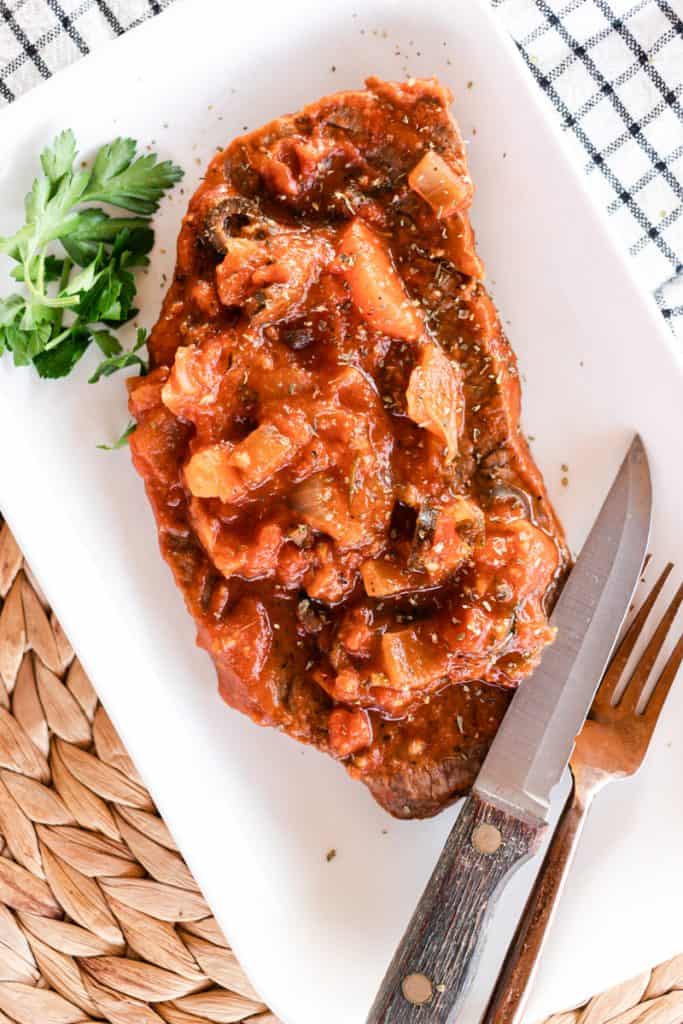 With some simple pantry staples, this beef pizzaiola will come together quickly enough for a tasty weeknight meal served with some easy pasta on the side.
Additionally, this is a budget-friendly dinner because round steak is an affordable cut of beef, and the ingredients otherwise are simple.
A couple of minutes of searing in the cast iron pan, followed by about 15 minutes of simmering, makes this meal easy on a busy weeknight.
This is certainly not the most authentic version of steak pizzaiola, but it is one of the quickest, and I think that's just as important when running a busy household.
Pizzaiola Sauce
Traditionally this sauce is like a pizza sauce and originates from the pizza capital of the world, Naples.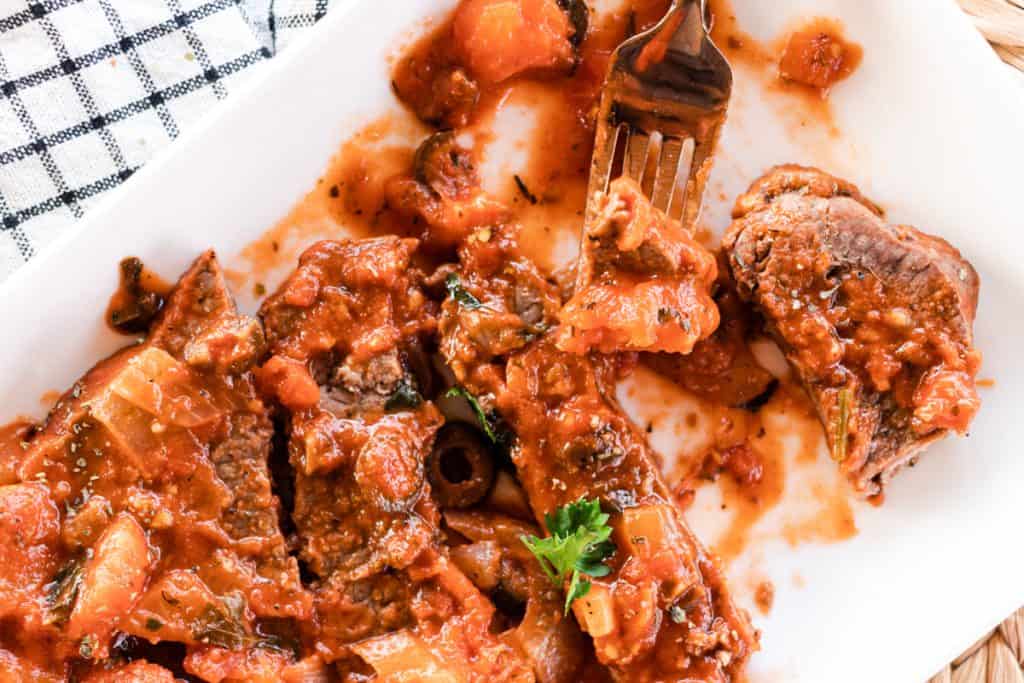 That's the idea in this pizzaiola sauce, to use the leftover pizza sauce in another way to season a cheap cut of meat.
It's true; you could make this recipe just using the leftover pizza sauce you already have on hand. It'd be nearly as good.
Classic dishes like Carne pizzaiola are often like that, cost-effective, and made to stretch. It just makes sense.
That's why we often find ourselves using recipes like this in our busy household.
To make this dish, then, is to use a cost-effective cut of meat and assemble a pizza-like tomato sauce to simmer in.
We're using round steaks, which are tougher cuts of steak because they are made from the hind leg muscles or ones that are used frequently.
However, simmered in flavorful juices, round steak can be a delicious, tender piece of meat.
What Is Steak Pizzaiola?
Pizzaiola is a homemade flavorful Italian seasoned tomato sauce served over steak.
This dish is most often served over beef sirloin, yet any steak such as venison, elk steak, tri tip steaks, or in this case, round steak are all excellent.
Carne Pizzaiola
If you wanted to, you could slice the steaks a bit to tenderize them or use a meat tenderizer before searing.
Of course, a nicer quality of meat will aid in the tenderness as well. So use the beef from a local rancher and buy it in bulk, or try to find prime beef near you.
What You'll Need:
Round steaks
Olive oil
Butter
Garlic
Roma tomatoes
Tomato paste
Onion
Italian parsley
Black olives
Salt & pepper
Italian seasoning
Before searing, season your steak with salt and pepper. Then prep the vegetables while the steak soaks in the seasonings.
I also did use a meat tenderizer on these steaks to make them easier to eat, but it's certainly not required.
Garlic needs mincing and onions need slicing. Quickly dice the parsley and set aside, and blanch and dice the tomatoes if you haven't yet.
Additionally, you could use canned whole tomatoes instead if you'd prefer to skip the blanching step.
Freshness does add nutrition, however.
Sear the steaks in the olive oil over medium-high heat in a cast iron skillet for 2 minutes, flipping once.
Take the meat out and set it aside on a plate. Lower the heat to medium.
Next, melt your butter and saute the garlic and onions together for about 5 minutes.
Add the tomato paste, tomatoes, and seasonings once the onions are just beginning to soften. Allow those flavors to blend for another 5 minutes.
Finally, add in the black olives and steak to finish cooking for the final 5-10 minutes, cooking the steak to your preferred finish. I take my steak medium in this dish.
Why you will love this Carne Pizzaiola recipe
Carne pizzaiola is a cheap and easy meal that can be easily doubled or tripled to serve a crowd.
Tomato sauce is loved by most people, so it's a crowd-pleaser to boot.
Rustic dishes like this can feel so fancy when served with some delicious homemade bread to scoop up the sauce with.
Good cheeses on the side or a simple, fresh salad will make it seem like you put hours into a healthy meal.
Cheap, quick, beautifully rustic, and a crowd-pleaser. I hope you give this one a try.
Share your dishes with me by tagging @castironskilletcooking on Instagram. I love to see these recipes in your kitchens and at your tables. Enjoy!
More rustic recipes:
Weeknight Carne Pizzaiola
Cheap, quick, beautifully rustic, and a crowd-pleaser. I hope you give this one a try. 
Ingredients
2 round steaks (approximately 1.5 lbs)
1 tbsp olive oil
1 tbsp butter
5 cloves fresh garlic, minced
6 roma tomatoes, blanched and diced
6 oz can tomato paste
1/4 cup Italian parsley
1/2 cup sliced black olives
1 tsp salt
1/4 tsp ground black pepper
1 tbsp Italian seasoning
Instructions
Season steak with salt & pepper, then sear in the olive oil for 2 minutes, flipping once. (set aside)
Reduce heat. Melt butter and saute the garlic and onions in the skillet.
Once onions begin to soften, add in tomatoes, tomato paste and seasonings.
Let that cook for about 5 minutes while stirring frequently.
Then add in the black olives and steak to finish cooking for an additional 5-10 minutes.
Notes
Blanch tomatoes by lowering them in boiling water for 1 minute. Cool the blanched tomatoes in ice water, then peel away the skins.
Additionally, use a 28 oz. can of whole peeled tomatoes as a substitute.
Nutrition Information:
Yield:

4
Serving Size:

1
Amount Per Serving:
Calories:

227
Total Fat:

13g
Saturated Fat:

4g
Trans Fat:

0g
Unsaturated Fat:

7g
Cholesterol:

46mg
Sodium:

786mg
Carbohydrates:

16g
Fiber:

5g
Sugar:

8g
Protein:

16g
This website provides approximate nutrition information for convenience and as a courtesy only. Nutrition is calculated by Nutronionix