A hearty dutch oven lasagna is perfect for a winter's day. The flavors intermingle, creating a meal that is both satisfying and delicious.
Our family loves lasagna after a busy day outdoors when we've all worked up an appetite. The smell alone has everyone running to the table.
When served with crusty bread and fresh-churned butter, mwah! Heaven in a dish.
Why will you love this recipe, you ask? This no-boil lasagna recipe is a crowd-pleaser and easy to assemble. It's a great dish for entertaining because it can be made ahead of time and reheated.
One of home cooking's little mysteries is how simple ingredients like these become so mouth-wateringly delicious when combined. So, let's create some home-cooked magic!
What's to love about this lasagna recipe?
Not only is this Dutch oven lasagna recipe delicious and easy to make, but it also provides a great way to bring the family together for a meal.
Between this, our carne pizzaiola, and stovetop meatball recipes, weeknight dinners are a popular sight in our home.
The cheesy layering of noodles, sauce, cheese and herbs in this dish will have everyone coming back for more.
Using a Dutch oven also helps seal in all the flavors, making each bite even more enjoyable.
How to make lasagna in a dutch oven
Lasagna is made with repeating layers of pasta sauce, noodles, meat, and ricotta mixture. This is topped with parmesan and mozzarella to make a delightful cheesy crust.
To start, prepare the meat layer. In a cast iron skillet or your dutch oven, cook the ground beef with the onions and seasonings, stirring until browned. Or try boiling the ground beef ahead of time!
For exact measurements, see the printable recipe card below.
You may wish to add extra spices to the meat mixture, depending on the spiciness of the pasta sauce you are using.
Once browned, drain off any excess grease from the meat mixture.
Next, prepare the ricotta layer. In a mixing bowl, combine the ricotta cheese, mozzarella, eggs, and parsley.
Remember to reserve about ¼ cup of the mozzarella for the topping layer—salt and pepper to taste.
Set out the remaining ingredients: pasta sauce, lasagna noodles, and the topping cheeses, parmesan and mozzarella.
Assemble the layers in a 7-quart dutch oven:
First, a thin layer of pasta sauce.
Second, a layer of lasagna noodles. They may also be labeled "no boil or regular. Both will work, and neither will need to be boiled ahead of time.
Third, some of the cooked meat mixture: one-third or one-quarter of your mixture, depending on the number of noodle layers you will have.
Fourth, some of the ricotta mixture, as above.
Repeat until you run out of layers.
Finally, top with the parmesan and remaining mozzarella.
Cover and bake at 375°F for one hour and 15 minutes. Remove the lid for the last 15 minutes to allow the cheese to brown.
Let it sit for 15 minutes before serving.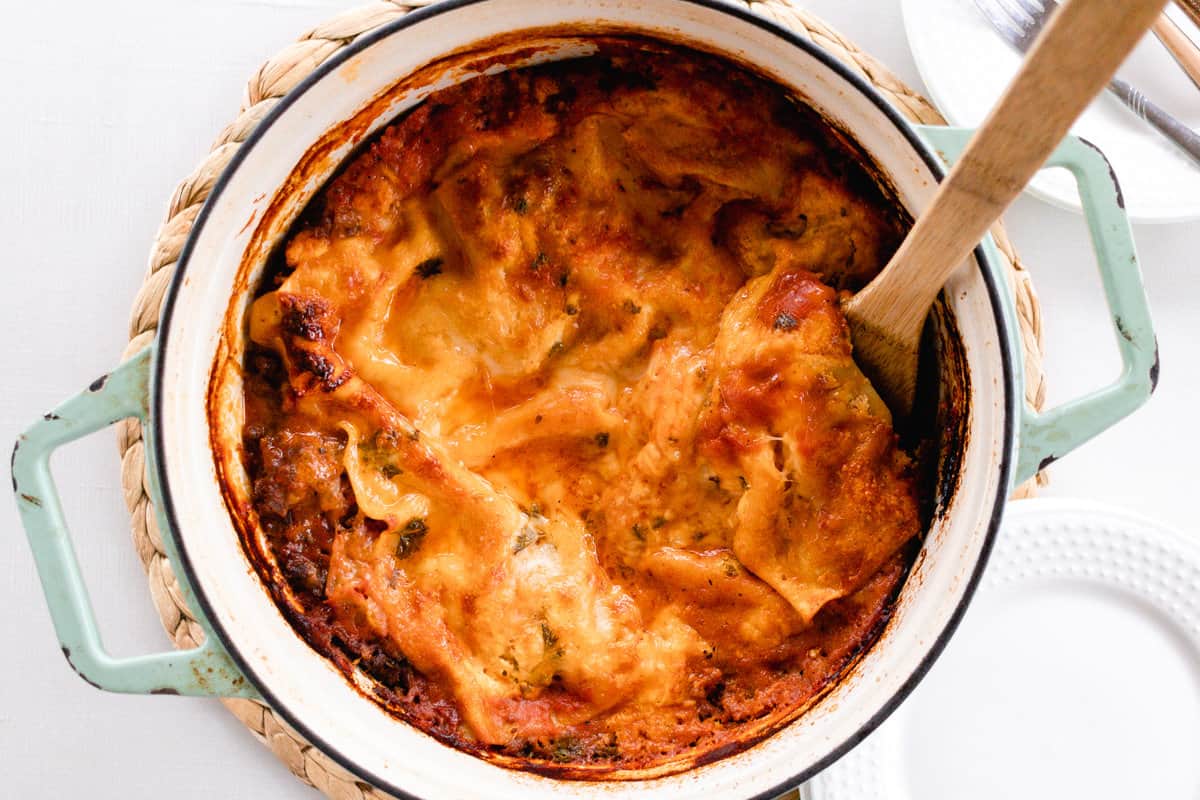 This post contains affiliate links, which means I make a small commission at no extra cost to you. As an Amazon Associate, I earn from qualifying purchases. Get my full disclosure here.
Helpful cooking tools
Serving suggestions
To complete your Dutch oven lasagna experience, it is important to pair it with the perfect side dish. Consider a leafy green salad and crusty loaf.
Our family loves lasagna with a rustic artisan bread. You can find the recipe here, which of course, involves a dutch oven!
Not only will these sides add an extra layer of flavor and texture, but they'll also make your meal complete.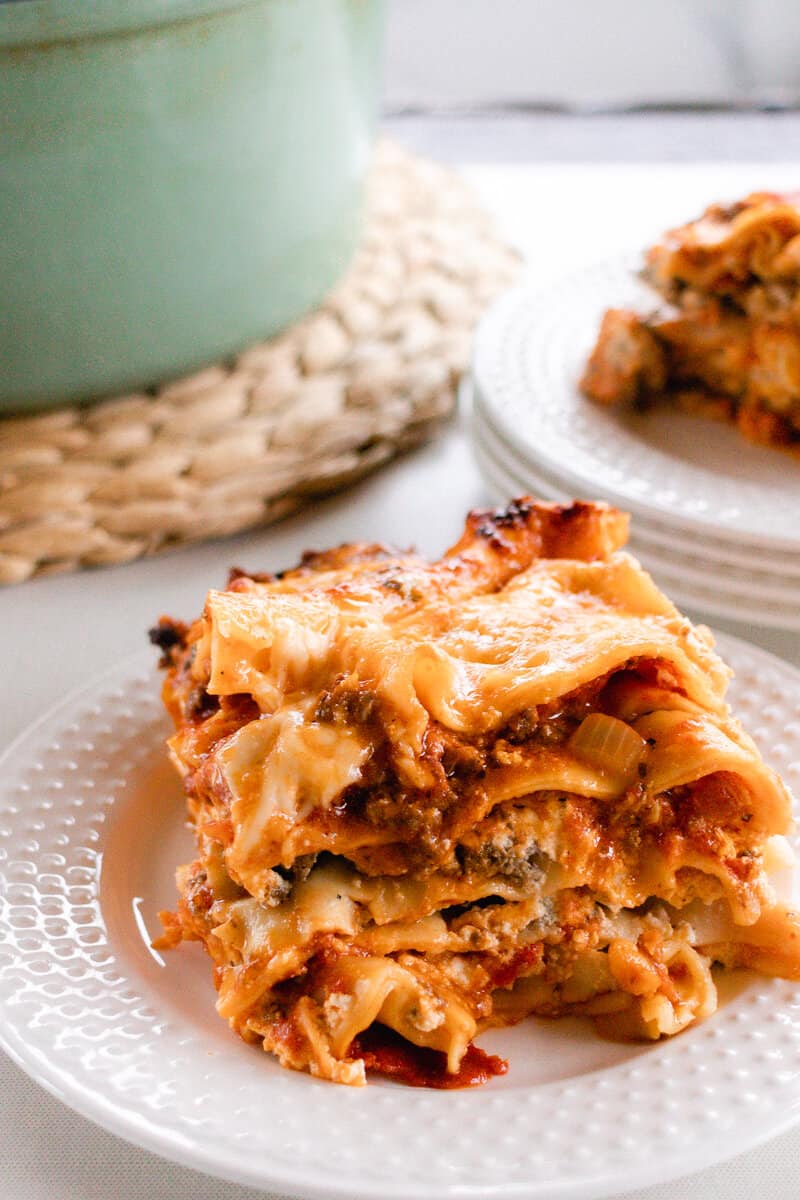 Cheese substitutions
For ricotta, you may substitute cottage cheese. Ricotta is a fresh cheese made from the whey of milk. Cottage cheese is also fresh but made from the curds.
Cottage cheese usually has a milder taste and is less salty. If substituting, be sure to taste the mixture and adjust the salt and pepper.
For parmesan, which is a hard cheese perfect for grating, you may substitute another grate-able cheese like romano or asiago.
For mozzarella, known for its gooey meltability, you could try provolone or cheddar.
What about the spices?
We've kept the spices in this recipe to a minimum. We add salt and pepper to the meat mixture, with the chopped onions and garlic powder.
The ricotta mixture has parsley for both color and flavor, plus salt and pepper to taste.
So far, nothing too spicy here, with the added spices working with the main ingredients to enhance flavor without overpowering them.
The next thing to consider is the pasta sauce you are using. It may already be spiced to suit an Italian dish.
If you are using an unspiced sauce or want a little more kick, add Italian spices to suit your family's palate – oregano, basil, rosemary, sage, and thyme.
And, if your family likes some heat, add crushed red pepper.
FAQs
Yes, the Dutch oven is a great choice when making lasagna. It's an effective way to cook up all the layers of pasta, cheese, and sauce for a delicious lasagna.
The Dutch oven maintains moisture and heats better than other cooking pans, ensuring that your lasagna cooks evenly and retains its flavor.
Plus, you can transfer it from the stovetop to the oven with ease!
Variations
There are endless variations on this classic Dutch oven lasagna recipe.
For a meatless dish, try replacing the meat with fresh vegetables like eggplant or zucchini. You can also switch up the cheeses for something more flavorful, such as smoked cheddar, blue cheese, or even feta.
Or try this gluten-free lasagna using thinly sliced zucchini instead of the noodles.
To add some heat to your lasagna, consider adding a pinch of red pepper flakes or a few dashes of hot sauce. Get creative and have fun!
Tips
Make sure to dot layers of ricotta mixture throughout the dish. The cheese will add a lovely creaminess and delicious flavor when it melts into the tomato sauce.
Finally, top your lasagna with some fresh herbs like basil and oregano for an herbal aroma and color pop. Enjoy!
Storing and Reheating
If you have leftovers, store your Dutch oven lasagna in a sealed container and place it in the refrigerator.
It should last up to three to four days in the refrigerator.
When reheating your lasagna, preheat your oven to 350°F and bake for 20 minutes covered, and then uncover for another 10 minutes until everything is heated through.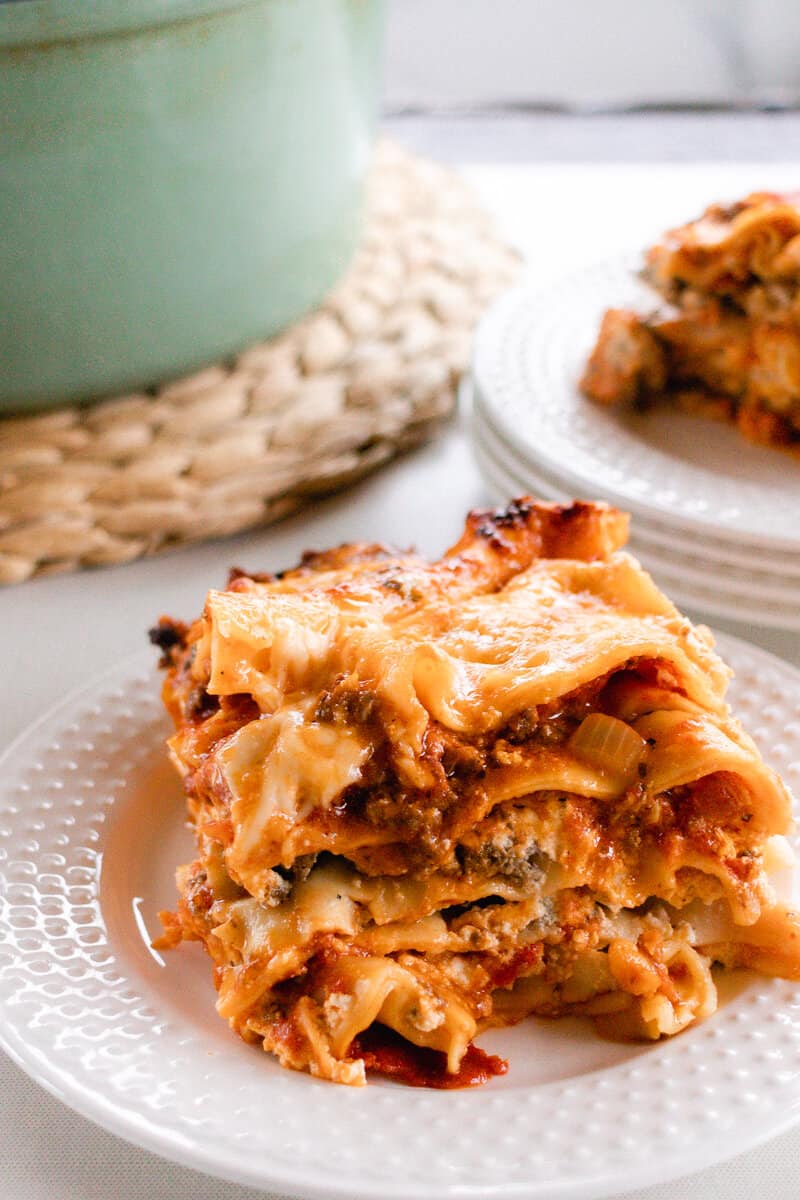 Takeaways
The key takeaways from this Dutch oven lasagna recipe are to use a quality Dutch oven, allow enough time for it to cook, use the right amount of sauce, and top it with grated cheese before serving.
With these tips in mind, you'll be one step closer to enjoying the best lasagna you've ever had!
You may enjoy one of these dutch oven recipes next!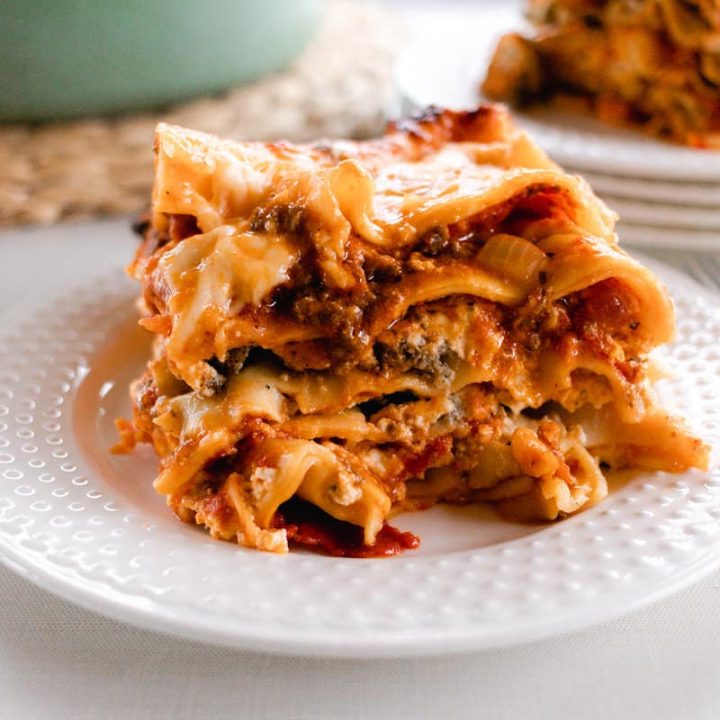 Dutch Oven Lasagna
Cook Time:
1 hour
15 minutes
Additional Time:
15 minutes
Total Time:
1 hour
45 minutes
Get ready to enjoy the ultimate comfort food – Dutch oven lasagna! This easy-to-follow recipe is full of flavor and sure to leave your family and friends wanting seconds. Get ready to savor this delicious, hearty meal made in a Dutch oven!
Ingredients
2 lbs of ground beef
1 tbsp of salt
1/2 tbsp of ground pepper
1 tsp of garlic powder
1 onion, diced
1/2 cup of parmesan cheese
2 jars of pasta sauce
1 box of lasagna noodles
Cheese filling
32 oz of ricotta cheese
8 ounces of mozzarella (plus about 1/4 cup for topping)
2 eggs
1/4 cup of fresh chopped parsley
Salt & pepper to taste
Instructions
Brown the meat with the onions and seasonings.
Drain off any excess grease.
Combine the cheese-filling ingredients in a mixing bowl.
Assemble the layers in a 7 qt dutch oven, starting with a thin layer of pasta sauce, then noodles, meat, ricotta mixture, and repeat until you run out of layers.
Top with the parmesan and a little mozzarella before covering and baking at 375°F for an hour & 15 minutes, removing the lid for the last 15 minutes.
Let it sit for 15 minutes before serving.
Nutrition Information:
Yield:

10
Serving Size:

1
Amount Per Serving:
Calories:

504
Total Fat:

31g
Saturated Fat:

15g
Trans Fat:

1g
Unsaturated Fat:

13g
Cholesterol:

169mg
Sodium:

1263mg
Carbohydrates:

11g
Fiber:

1g
Sugar:

2g
Protein:

43g
This website provides approximate nutrition information for convenience and as a courtesy only. Nutrition is calculated by Nutronionix