Homemade stovetop meatballs make all the difference in flavor, and they're simple to prepare. I'm even using jar marinara sauce (I love Rao's) here to make the meal super fast.
It's worth the hands-on prep work to make these meatballs on the stove fast for hungry bellies.
Spaghetti and meatballs are such a comfort food in our house and in so many others because it is a staple weeknight meal.
I have so many fond memories of weeknights; my family gathered around the table to come together after our individual busy days.
A big, hot bowl of spaghetti and meatballs came out, and the pace slowed down. I love that about busy nights when we can all sit together and share over something so familiar.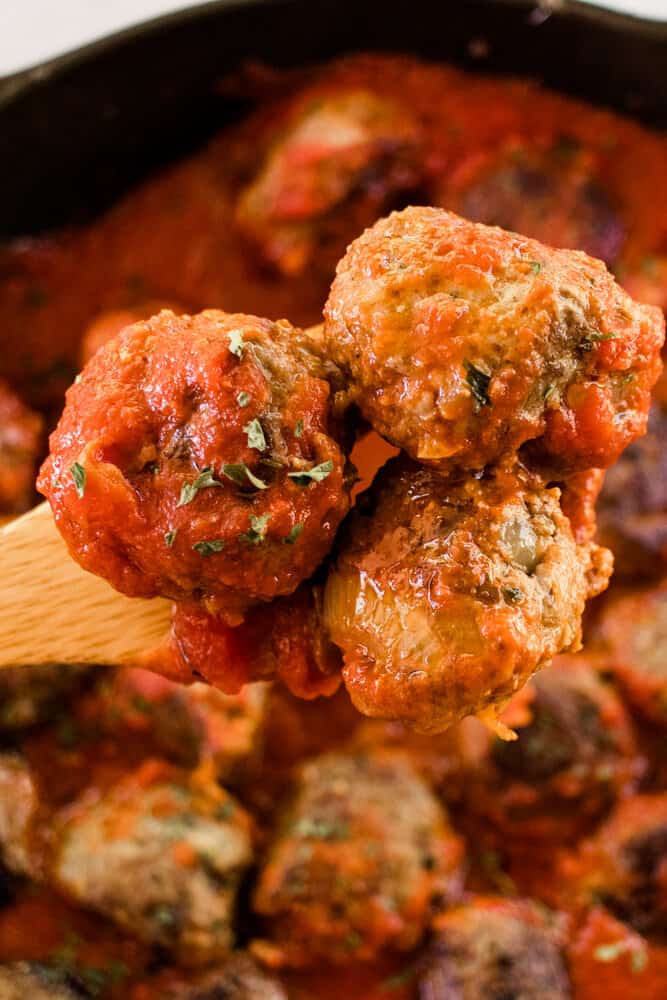 Stovetop meatballs
Meatballs can seem intimidating to assemble and cook. But, I promise just a little hands-on assembly time is all you need, then they are quick to fry on the stovetop.
Of course, I'm using my cast iron skillet here. These cast iron meatballs take just 2-3 minutes per side in the pan, so in about 20 minutes, your meatballs will be finished cooking.
This post contains affiliate links, which means I make a small commission at no extra cost to you. As an Amazon Associate, I earn from qualifying purchases. Get my full disclosure here.
How to cook meatballs on stove
With a decent spice pantry, these stovetop meatballs will be a fast meal without having to run to the store.
I recommend always having a freezer full of ground beef so that you can quickly thaw and throw a meal together.
A busy afternoon out and about is no problem with this recipe in your back pocket. Cast iron skillet meatballs are one of those easy meals in our house.
What you will need:
Onion
Garlic
Avocado oil
Ground beef
Bread crumbs
Eggs
Salt
Pepper
Parsley
Oregano
Basil
Thyme
Sage
Rosemary
Crushed red peppers
Marinara sauce of your choice
I like to start the process with these meatballs by first assembling all of the spices. That way, they are ready to go.
Gather your salt and pepper, dried parsley, oregano, basil, thyme, sage, rosemary and crushed red peppers.
Measure the quantities and dump them all in a small bowl and quickly mix so that they are on hand when assembling. Nothing throws off my cooking rhythm more than stopping to dig through my spice cabinet.
Now that those spices are ready, finely dice up your onion and mince the garlic. Heat your cast iron skillet over medium heat and quickly saute them up.
Grab a large bowl and throw in the ground beef, the sauteed onions and garlic, bread crumbs, and eggs and mix to combine.
Then throw in the spices gathered beforehand and mix those in quickly.
Hands are the perfect tool here. Grab and twist so that the ground beef is broken up, but be sure not to overwork the meatballs mixture. It can make for tough beef meatballs if too much time is spent mixing.
Now grab an ice cream scoop or similar tool to have even proportions for assembly. Shape the beef meatballs into small balls and set them aside, ready for frying in the cast iron skillet.
Reheat that pan used to saute the onions and garlic over medium heat. A 12″ skillet will make quick work of these meatballs on the stove.
Cook the meatballs 2-3 minutes per side, using tongs to flip to keep them together. Consider 4 sides to a meatball, don't overthink it.
You can either leave the meatballs in the pan or take them out and drain some excess oil.
Once they're all cooked, reduce the heat to low and make sure your meatballs and jar of marinara sauce are together in the pan.
This step is to allow the pre-made sauce to heat up and combine it with the meatballs. Serve over noodles for spaghetti, or make a meatball sandwich using homemade bread.
That's it! About 30 minutes of work, and you have a warm, comforting family meal perfect for busy weeknights.
I love this simple recipe with baked beans or fried zucchini fritters.
It also makes a great side for guests when paired with this dutch oven lasagna.
Perfect for meal prep
If you consider yourself an organized meal prepper, the best part about these stovetop meatballs is that you can do the prep work over the weekend and have them ready in the fridge.
That way, the meatballs come together even quicker. That is really helpful for throwing together a 30-minute dinner on a busy weeknight.
I wish I were better at that kind of prep work, but between work and family, we're hardly working in advance.
Leftover stovetop meatballs
If you find yourself with leftover meatballs, I love to make a meatball sub sandwich. It's a simple meal to make with leftovers.
A meatball sandwich is even one my oldest kids are able to make themselves, so all the more reason to keep this recipe in your rotation.
Freezing meatballs
These stovetop meatballs can be easily frozen if you want to make a giant batch all at once. However, make sure to cook them through before freezing.
I do suggest draining the fat and letting the beef meatballs cool completely before adding them to your preferred freezer container.
Simply portion what you need and thaw in the refrigerator overnight. Then, reheat on low over the stovetop with a little liquid to prevent them from drying out.
Wrapping up
Spaghetti and meatballs are a classic American family dish to enjoy during the week. I hope you enjoy this quick recipe for stovetop meatballs and find it in your easy meal rotation.
There are plenty of ways to make it an even quicker process, and always have them on hand.
More quick weeknight meals here:
Stovetop Meatballs with Marinara Sauce
This recipe for stovetop meatballs will become a household favorite for busy weeknights.
Ingredients
1/4 of an onion, finely diced
3 cloves of garlic, minced
1 tbsp avocado oil
2 lbs ground beef
1/2 cup bread crumbs
2 eggs
1 tsp salt
1/2 tsp pepper
1 tsp parsley
1/2 tsp oregano
1/2 tsp basil
1/2 tsp thyme
1/2 tsp sage
1/4 tsp rosemary
1/4 tsp crushed red peppers (optional)
1 24 oz jar marinara sauce
Instructions
Saute onions and garlic in the oil.
Add them in with the meat and the rest of the ingredients except marinara sauce, and mix well.
Use an ice cream scoop or similar to scoop even proportions and shape them into small balls.
Heat a 12" skillet over medium heat and cook the meatballs for about 2-3 minutes per side. I used tongs to flip them so they wouldn't fall apart.
Reduce heat to medium-low and add in marinara sauce. Let it simmer for 5-10 minutes to allow the sauce to heat up and the meatballs to finish cooking.
Serve over noodles or in a sandwich.
Notes
You can substitute the herbs for 1.5 Tbsp of Italian seasoning.
Nutrition Information:
Yield:

8
Serving Size:

1
Amount Per Serving:
Calories:

427
Total Fat:

25g
Saturated Fat:

8g
Trans Fat:

1g
Unsaturated Fat:

13g
Cholesterol:

149mg
Sodium:

896mg
Carbohydrates:

14g
Fiber:

3g
Sugar:

6g
Protein:

35g
This website provides approximate nutrition information for convenience and as a courtesy only. Nutrition is calculated by Nutronionix