An easy classic homestyle meatloaf recipe with a flavor guaranteed to satisfy any tastebuds.
Meatloaf is one meal that is just as good the next day; if you are lucky enough to have leftovers. I make my leftovers into meatloaf sandwiches, cold or hot, depending on the situation-zero complaints.
If you're looking for a new recipe this weekend, try this classic meatloaf, it is juicy, tender and full of flavor.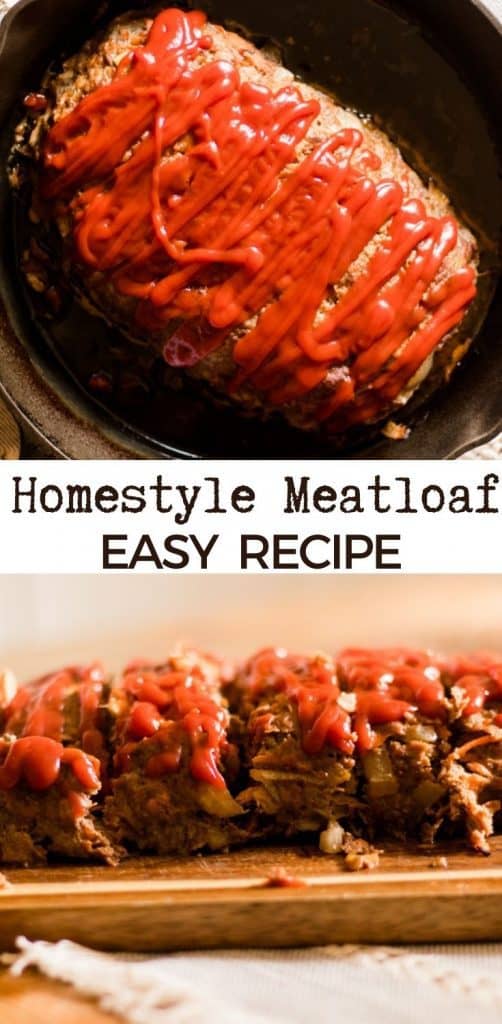 Making and serving homestyle meatloaf
Meatloaf, like so many meals, there are literally hundreds of variations and all are great. It's a "loaf of meat," by definition; it can't fail.
This meatloaf recipe I'm sharing today is extremely simple to make and packs a punch on the flavor chart.
At the end of this post, you'll see how to make a few common substitutions so that everyone can enjoy this fantastic homestyle meatloaf recipe.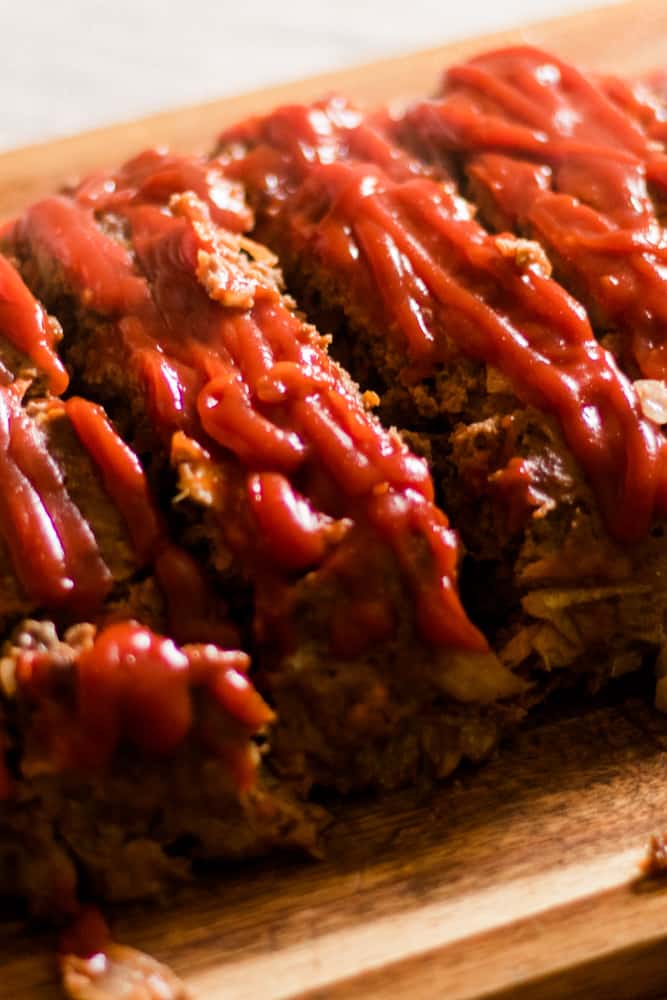 How to make homestyle meatloaf
The absolutely best thing about this meatloaf is that nothing needs to be pre-cooked. Instead, it is mixed together fresh in a bowl, shaped into a loaf then baked.
The perfect one-dish recipe!
Thus, it requires minimal prep work, perfect for the busy family.
This post contains affiliate links, which means I make a small commission at no extra cost to you. As an Amazon Associate, I earn from qualifying purchases. Get my full disclosure here.
Supplies
Ingredients
Ground beef
Onion
Green pepper
Carrots
Salsa
Avocado oil
Arrowroot powder
Salt, pepper and garlic powder
How to make meatloaf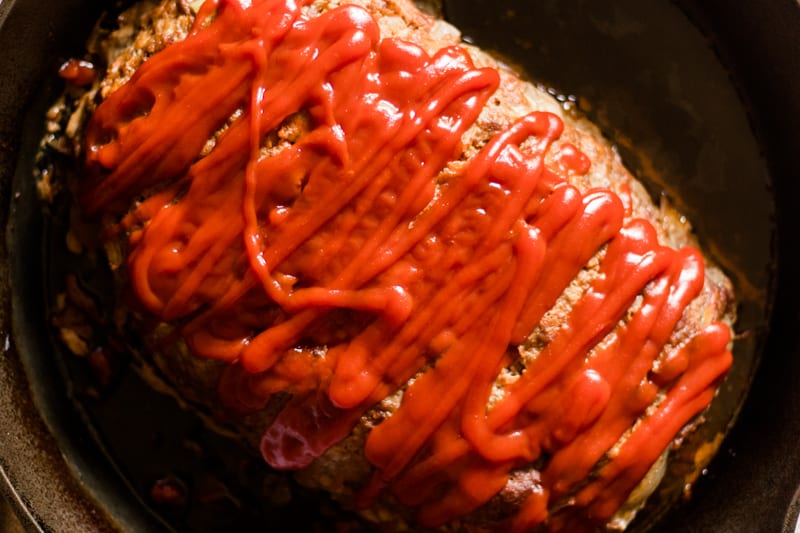 Preheat the oven to 375°F. Dice an onion and green pepper and add to a large mixing bowl—Shred ½ cup of carrots, approximately 2 carrots.
Break up the ground beef and add it along with the rest of the ingredients to the bowl.
Using your hands is the easiest way to combine everything; mix until all the ingredients are evenly dispersed throughout the mixture.
Shape the meat into a loaf, where it will fit in the skillet, leaving about a ½" or so on each end—Bake on the middle rack for 40 minutes.
Remove from the oven, top with ketchup and place back in the oven for 15-20 minutes or until done.
Keep an eye on the internal temperature while baking, the thickness of the loaf will largely determine the length of time it will need to bake. Once done, allow it to cool for several minutes before serving.
This meatloaf recipe is both gluten-free and egg-free. And, if you use ketchup sweetened with only honey, this can be sugar-free as well.
So, it is an entirely healthy meal that is as good, and in some cases, better than any meatloaf out there.
Meatloaf Variations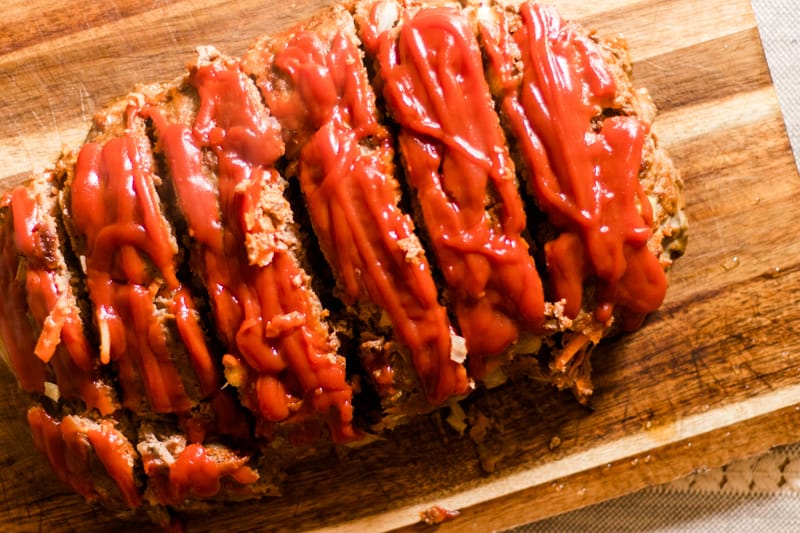 Substitute bread crumbs in meatloaf by using 1 cup of fresh bread crumbs or ½ cup of dried bread crumbs per pound of meat. The recipe below is for a gluten-free meatloaf. Use 1 tbsp of arrowroot powder per pound of meat in place of bread crumbs.
Avocado oil makes a great egg substitute for a meatloaf binder for meatloaf. Either use 1 egg per pound of meat or 1 tbsp of oil per pound.
Seasonal Add-ins are a great way to incorporate those garden veggies which add great flavor. Some favorites include zucchini and squash. Also, fresh garden tomatoes are incredible in place of the ketchup. Slice tomatoes thin, then add to the top of the meatloaf for about the last 15-20 minutes of cooking.
What goes with meatloaf? Baked potatoes, baked beans, savory asparagus, cheesy roasted squash, green beans or broccoli are all great additions to this delicious meatloaf recipe. Or lighten it up slightly and serve with a garden salad.
Reheating meatloaf in the oven helps keep it from drying out as opposed to using the microwave. Heat oven to 300°F, cover leftover meatloaf and bake for 10-15 minutes or until heated through.
Meatloaf Leftovers are among the best leftovers. I do not like wasting food, it is shocking how many people simply do not like leftovers! Pretty much the best way to enjoy meatloaf leftovers is to slice it and make a meatloaf sandwich with homemade bread.
Add a slice of cheese and maybe a tomato to it, but other than that, it's a great way to enjoy leftover meatloaf.
Popular Homestyle Meals
Easy Homestyle Meatloaf Without Eggs
Total Time:
1 hour
5 minutes
This is a delicious homestyle meatloaf recipe full of flavor and easy to make.
Ingredients
2 lbs ground beef
1 onion, diced
1 green pepper, diced
½ cup of shredded carrots (approximately 2 carrots)
½ cup of salsa
⅛ cup of avocado oil
⅛ cup of arrowroot powder
1 tsp salt, or more to taste
¼ tsp of pepper and garlic powder.
ketchup
Instructions
Preheat oven to 375°F
Combine all ingredients except ketchup in a large mixing bowl. Mix well. It is easiest to use your hands for this!
Shape it into a loaf and place it in the center of the skillet.
Bake on center rack for 40 minutes, drizzle with ketchup and allow it to bake an additional 15 minutes or until meat is cooked through.
Allow it to rest several minutes before serving.
Notes
Substitute avocado oil for 2 eggs.
Substitute arrowroot powder for 1 cup of dried bread crumbs
Ground beef must be cooked to an internal temperature of 160°
Nutrition Information:
Yield:

8
Serving Size:

1
Amount Per Serving:
Calories:

359
Total Fat:

23g
Saturated Fat:

8g
Trans Fat:

1g
Unsaturated Fat:

12g
Cholesterol:

101mg
Sodium:

535mg
Carbohydrates:

5g
Fiber:

1g
Sugar:

2g
Protein:

31g
Nutrition is calculated by Nutronionix. All nutrition should be verified independently.