A classic recipe that can be enjoyed for either lunch or dinner. Dutch oven stuffed peppers are delicious, simple and will only dirty up 2 dishes, not including the one you get to eat!
Stuffed Bell Peppers
Whether it's stuffed backstraps or stuffed peppers, Stuffed anything is a unique, delightful meal that is easy and fun to make.
I also find it to be a great recipe for those little eaters who may not like vegetables per se, but will find it fun to eat a meal that they can eat the bowl too.
Using a dutch oven is probably the easiest way to make stuffed peppers. It eliminates the need to bake the peppers ahead of time.
Once the stuffing is ready, you just have to fill the peppers, throw them in the oven and walk away until ready.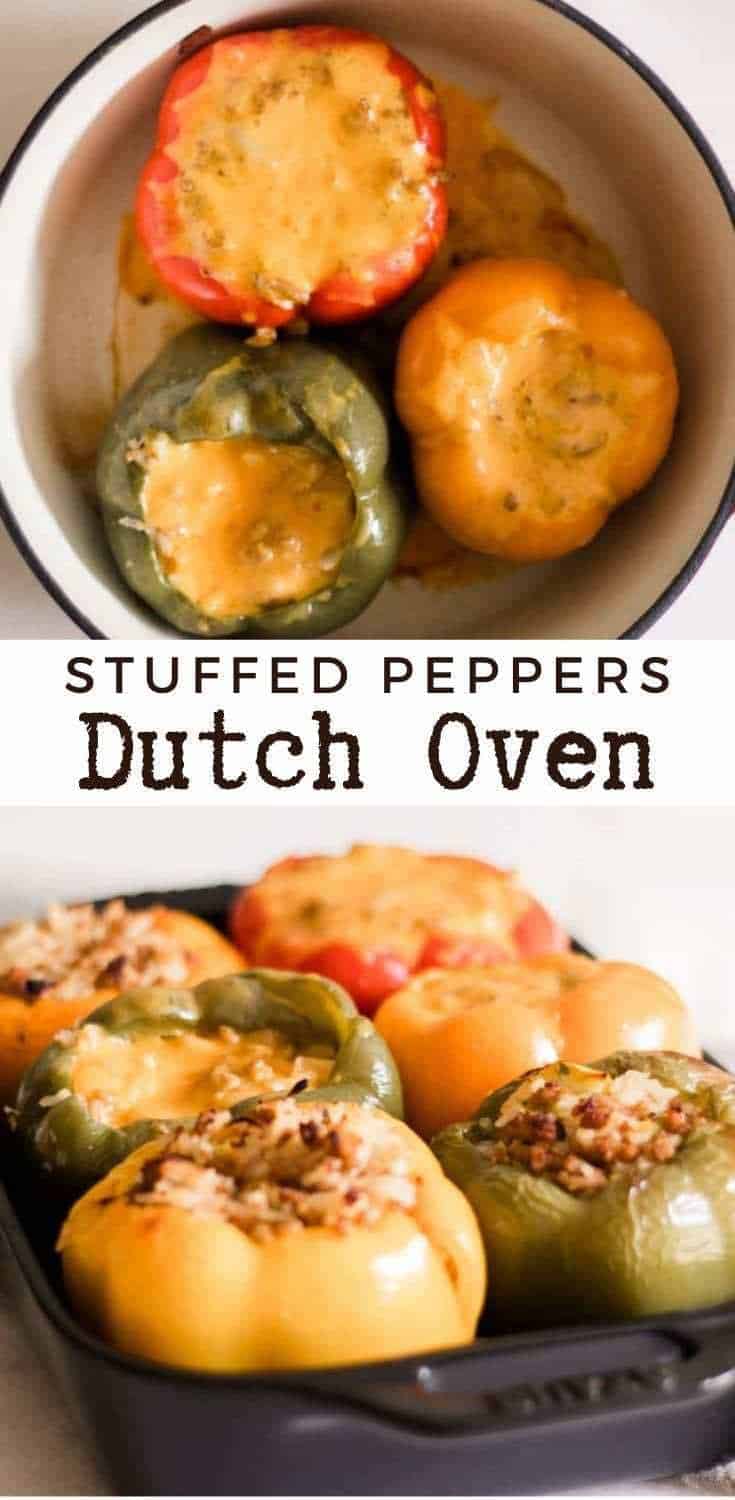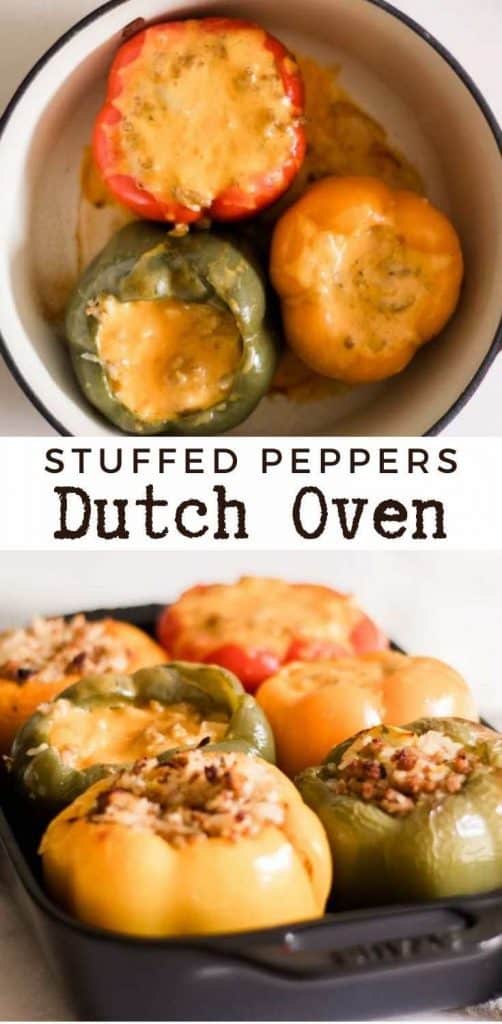 Having meals that are easy to make as well as filling and healthy is essential, especially for little growing bodies.
And the healthy meals that little kids enjoy, well, that list can be embarrassingly small.
How Do You Make Stuffed Bell Peppers?
If easier is better, then fewer dishes is best. Start out by making the rice directly in the dutch oven on the stove. While the rice is going, chop up an onion and prepare the bell peppers.
Cut off the top of the peppers in a circular motion, just shy of the width of the pepper. Remove the stem and seeds from the pepper and discard.
Once the rice is ready, transfer to a mixing bowl and saute up the onions, along with some minced garlic in the same dutch oven with a little oil.
Once the onions start to soften up a bit, add in ground pork sausage and continue cooking until browned.
I used ground pork and made my own sausage seasoning; the recipe can be found below.
When the meat is almost done, add in salsa and parsley, then transfer to the mixing bowl with the rice, mix well.
Stuff peppers to the top with the mixture and arrange peppers into the dutch oven. Bake covered at 350°F for 35 minutes or until peppers are soft.
Remove from heat, top with cheese and let rest for 5 minutes before serving.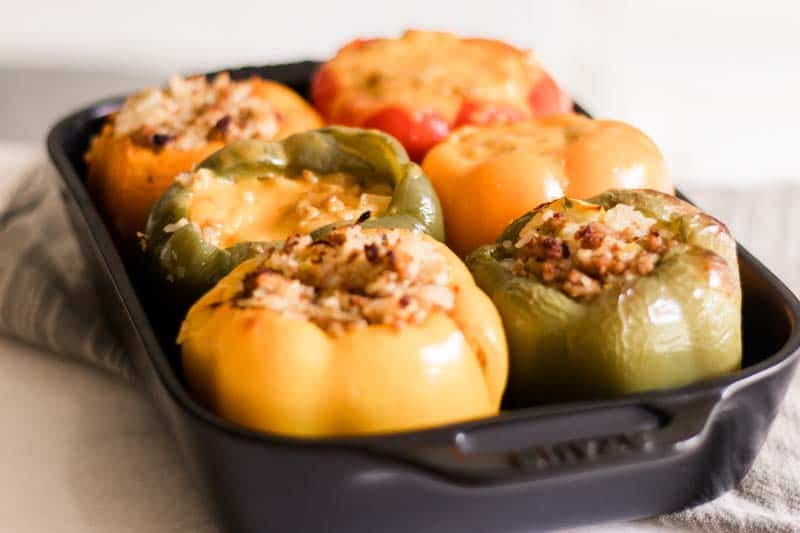 Stuffed Pepper Tips and Questions:
What can I serve with stuffed peppers? The beauty of stuffed peppers is that they can be served a la carte.
But, there are many toppings and garnishes that complement this easy recipe if you're so inclined.
Guacamole
Pico de gallo
Tortilla chips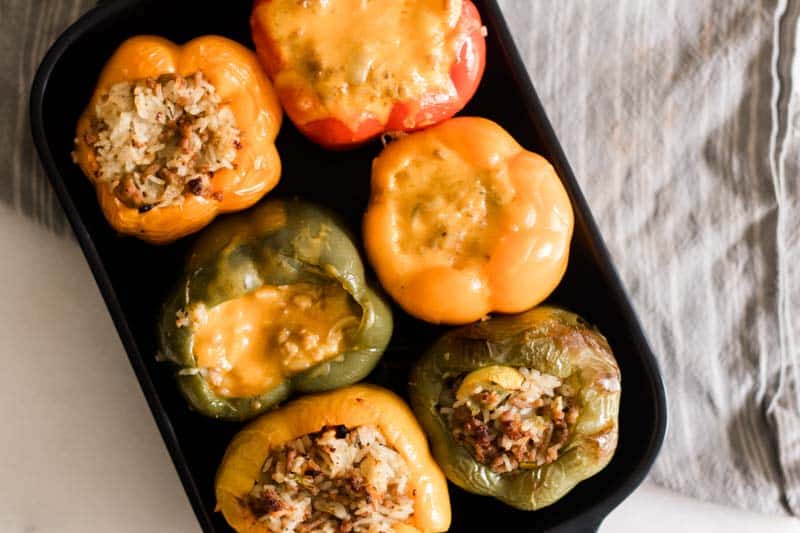 Do you have to cook peppers before stuffing? Stuffed peppers do not need to be cooked ahead of time. Especially if baking in a dutch oven.
Do stuffed peppers have to be boiled? Boiling peppers ahead of time will help keep them soft during the baking process. This is helpful if you are cooking the peppers uncovered, such as in a baking dish.
What kind of meat goes good in stuffed peppers? Ground venison, ground beef, shredded chicken and steak have all passed the "filling approval test."
How to Make Your own Sausage Seasoning:
Ingredients:
1 tablespoon Italian seasoning
2 teaspoons coconut sugar
1 teaspoon sea salt
2 teaspoon black pepper
¼ teaspoon garlic powder
1 teaspoon crushed fennel seeds
1 teaspoon red pepper flakes
¼ teaspoon onion powder
¼ teaspoon paprika
Add all ingredients to a small airtight container and mix well.
How to Make Rice in a Dutch Oven
Bring 2 cups of water to a boil in the dutch oven. Add 1 cup of rice with a pinch of salt. Give it a quick swirl, lower heat to "simmer," and cover for 20 minutes. And that's it! Simple, right?
Be sure to let me know what you thought in the comment section below. This is the perfect one-dish recipe that the whole family can enjoy!
Stuffed Pepper Recipe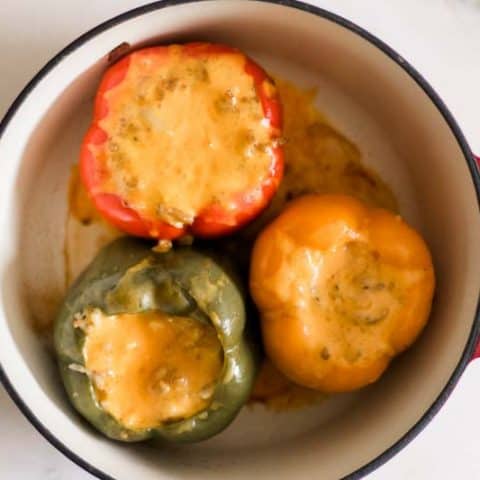 Perfect Dutch Oven Stuffed Peppers
Additional Time:
5 minutes
Easy to make one-dish stuffed pepper recipe with sausage and cheese.
Ingredients
1 Lb of pork sausage (or make your own, recipe above)
6 Bell Peppers (various colors)
1 Onion, diced
3 Cloves of garlic, minced
1 Cup of salsa
1 Cup of rice
1 Cup of shredded cheddar cheese
1 Tbsp of olive oil
Instructions
Prepare rice in the dutch oven. See instructions above.
Remove bell pepper tops and insides.
When rice is done, transfer to a mixing bowl. Saute the onions and garlic in olive oil in the dutch oven.
Once onions start to soften, add the pork sausage and continue cooking till brown.
Mix in salsa, then transfer to the rice and mix well.
Fill peppers with the filling and arrange in the dutch oven.
Cover and bake at 350°F for 35 minutes.
Remove from heat, top peppers with cheese. Replace lid and let sit for 5 minutes or until cheese is melted.
Nutrition Information:
Yield:

6
Serving Size:

1
Amount Per Serving:
Calories:

437
Total Fat:

30g
Saturated Fat:

11g
Trans Fat:

0g
Unsaturated Fat:

17g
Cholesterol:

85mg
Sodium:

1062mg
Carbohydrates:

22g
Fiber:

3g
Sugar:

6g
Protein:

21g
Nutrition is calculated by Nutronionix. All nutrition should be verified independently.
More Cast Iron Favorites: