Simple, delicious and juicy Cast-iron buttermilk fried chicken.
DEEP FRYING IN CAST IRON
Cast irons are great for frying since they hold their heat much better than others, such as aluminum and stainless steel skillets. Therefore, you will get a more even heating using a cast iron skillet when frying.
In fact, cast irons are great for all types of stovetop recipes, from homemade meatballs and venison medallions to smothered pork steaks.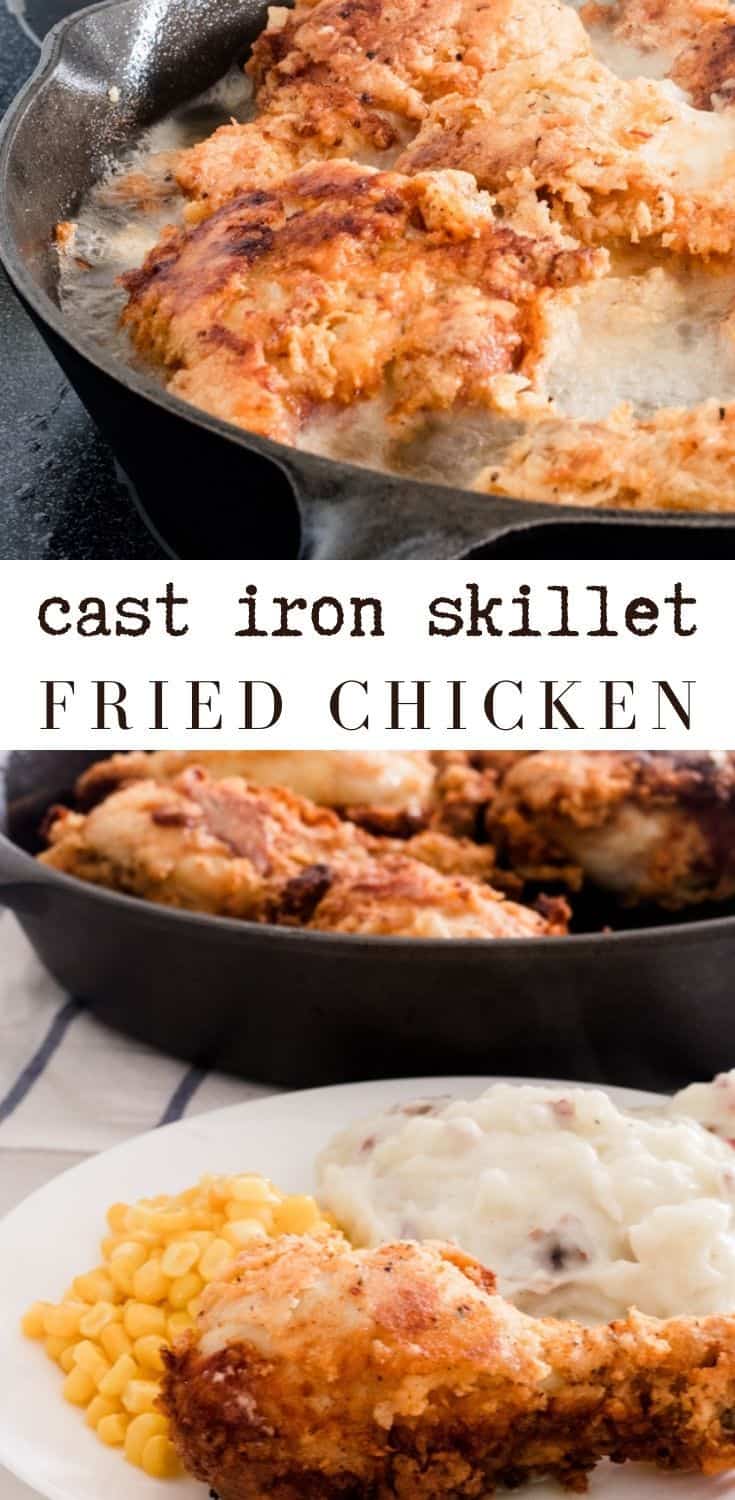 CAST IRON FRIED CHICKEN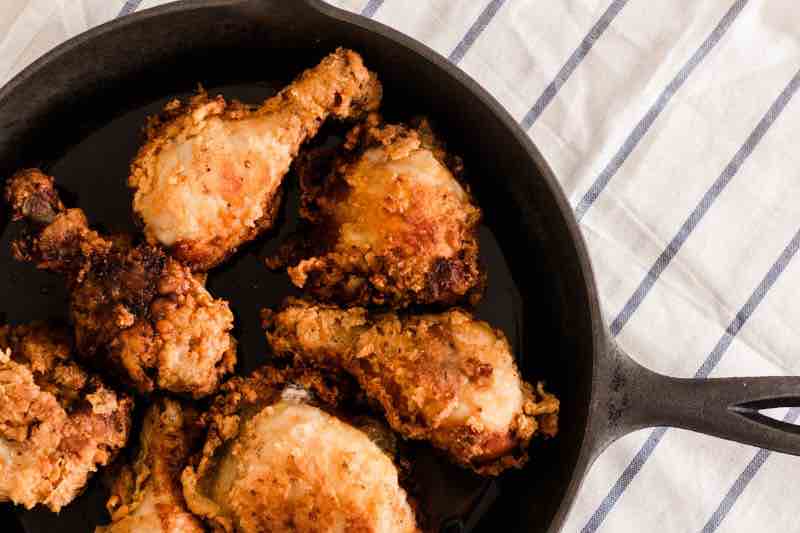 Growing up, fried chicken was far from a staple. In fact, my only memories of indulging in such tastiness were once a year during our annual family reunion.
Since then, fried chicken has only been a memory for me; I mean real fried chicken; thighs, drumsticks, and wings.
Although, of course, those frozen breaded chicken tenders that you throw in the oven are good, they are nothing compared to the real thing.
When making this recipe, I was sure of two things, The chicken is getting fried in a cast iron skillet, and I wanted it to be a simple recipe. (as simple as it can when it comes to frying).
TIPS FOR A CRISPY BREADING
Crispy breading is not all that difficult to achieve. First, make sure the oil is good and hot. Second, Pat dry the meat before breading. Third, don't overcoat the breading. And lastly, don't overcrowd the skillet.
There are a TON of tips for making a crispy breading; people use baking soda, cornstarch and even double fry.
I like to keep it simple, but feel free to experiment on your own and let me know how it turns out in the comment section below!
HOW TO PAN FRY CHICKEN
Choose the oil you want to use. I use coconut oil almost exclusively in all my recipes. It has a high smoke point and actually has many health benefits as well.
So you can feel good about eating this mouthwatering fried chicken meal.
Get that cast iron skillet piping hot before adding in any chicken. I was able to fry my chicken using just a cup of oil. And honestly, you could probably get away with using even less.
Mix up 3 cups of buttermilk with 1/2 cup of hot sauce in a mixing bowl. Of course, if you're not making this for 6 big eaters, feel free to cut those measurements in half.
In a second bowl, mix 2 cups of flour with your choice of spices (I have mine listed below), and run the chicken through the liquid, then the flour and carefully place into the skillet.
HOW LONG DOES CHICKEN TAKE TO FRY IN A CAST IRON SKILLET?
Fry chicken for about 7-10 minutes per side. If making thighs, which I highly recommend, those may take closer to 10-12 minutes per side.
The chicken is done when the internal temperature has reached 165°F and the meat is no longer pink.
Kick things up a notch with these southern fried pork chops!
INGREDIENTS FOR THE BREADING
Buttermilk
Hot sauce
Flour
Cayenne pepper
Paprika
Salt and pepper
CAST IRON BUTTERMILK FRIED CHICKEN
Combine buttermilk and hot sauce in one mixing bowl
In a separate bowl, add flour and spices.
Pat dry chicken and submerge in the buttermilk.
Dredge the chicken in the flour
Add to cast iron skillet cooking 8-10 min per side.
Cook until internal temperature has reached 165°. Let rest for 10 minutes before serving.
Wrapping up
I hope you try this cast iron buttermilk fried chicken. If you enjoy it as much as we do, leave a comment or review below; I love to hear from you!
After you try this recipe, check out some of my other favorites.
Cast Iron Buttermilk Fried Chicken
Total Time:
1 hour
21 minutes
A simple recipe for crispy fried chicken.
Ingredients
8-10 Chicken thighs and drumsticks
1 cup coconut oil
3 cups buttermilk
1/2 cup hot sauce
2 cups flour
1 Tsp cayenne pepper
1 Tsp paprika
1 Tbsp pink Himalayan salt
1 Tbsp cracked pepper
Instructions
Combine buttermilk and hot sauce in a small mixing bowl. Soak chicken in the mixture for at least 1 hr.
In a separate bowl, mix together all dry ingredients.
Dredge the chicken in the dry ingredients, shake off any excess flour.
Preheat the oil in a cast iron skillet to 350°.
Carefully place the chicken in the skillet with the thighs in the center since they will take the longest to cook. Allow to cook for 8-10 minutes on each side.
Notes
Chicken is ready when an internal temperature of 165°F has been reached and the meat is no longer pink.
Nutrition Information:
Yield:

8
Serving Size:

1
Amount Per Serving:
Calories:

768
Total Fat:

52g
Saturated Fat:

30g
Trans Fat:

0g
Unsaturated Fat:

19g
Cholesterol:

226mg
Sodium:

1428mg
Carbohydrates:

29g
Fiber:

1g
Sugar:

5g
Protein:

47g