Fried pork chops certainly fall into the comfort food category as a hearty, flavorful recipe. Made with a simple, spicy breading and fried on the stove, this is a great easy meal for any night of the week.
Southern Fried Pork Chops
A number of comfort foods come to mind, but none quite stand out as this simple pork chop recipe. We source our pork from local farmers, so we know just where the meat is coming from and how it is raised.
And no matter how the pork is prepared, whether it's homestyle pork steaks smothered in gravy, stuffed peppers with ground pork sausage, or even liver and onions, if it is locally sourced and processed, it is always better tasting than any grocery store meat.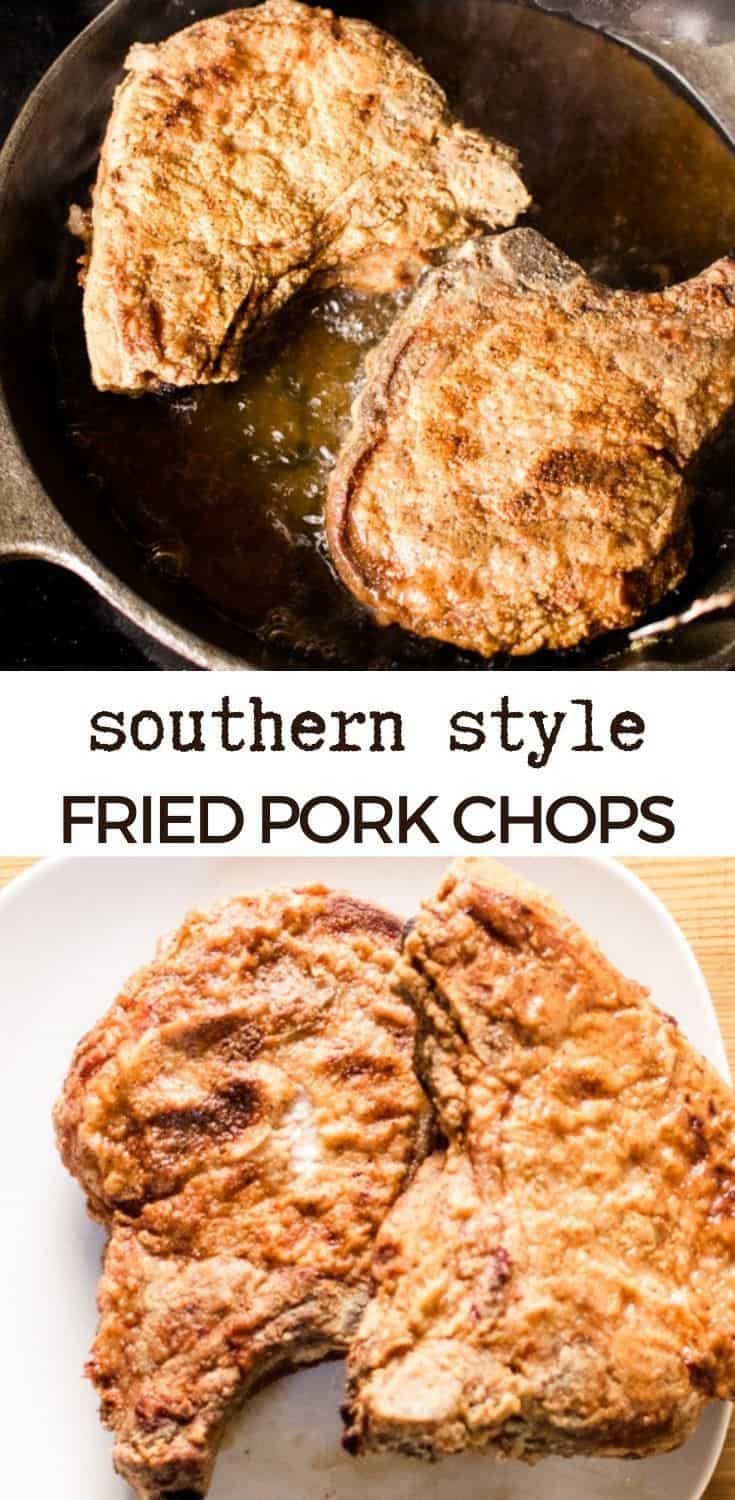 Bone-in or boneless pork chops
I almost always prefer a bone-in pork chop. Like a pork steak, bone-in pork chops are going to have the most flavor and will stay tender and juicier than a boneless pork chop.
That said, breaded and fried chops tend to be a bit more forgiving, making either a great option.
Boneless pork chops, from personal experience, whether it be grilled, boiled on the stovetop, or baked, it always seemed to dry out quicker and be a bit tougher than bone-in prepared the same way.
How Do You Fry Pork Chops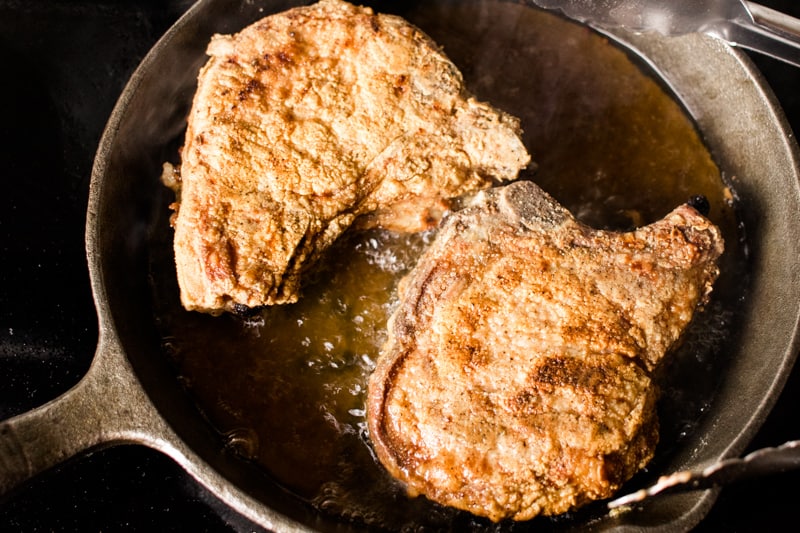 Cooking Materials
10″ cast iron skillet
Tonges
Ingredients
fresh 1″ thick pork chops
unbleached flour
cooking oil
salt
pepper
cayenne pepper
paprika
cumin
garlic powder
The exact measurements can be found in the recipe card below.
Instructions
Make sure the chops are completely defrosted before cooking.
If time permits, set meat out a couple of minutes before cooking so it can come to room temperature. It is not required but will help it cook more evenly.
Measure out flour and spices, mixing well in a small dish, large enough to dredge the chops in.
Heat oil in the cast iron skillet about ¼"-½" deep over medium-medium high heat.
Dredge two chops through the flour before carefully placing them in the skillet.
Fry for about 4 minutes on the first side, flip, fry for about 3 minutes, then fry both sides an additional 2 minutes each or until juices run clear, and the internal temperature registers a minimum of 145°F.
Transfer to a serving dish wrapped in paper towels to absorb any excess oil. Let rest 5-10 minutes before serving.
Pork Chop Cooking Tips
Gluten-Free: Fry pork chops without flour, substituting equally for almond or coconut flour.
Dredge in Egg: Following the same recipe, beat an egg in a small dish adding just a splash of water or milk to thin it out.
Next, dredge the pork chop in the flour, then through the egg mixture, back through the flour, and fry like normal—a great way to get an extra thick, extra crispy breading.
When is it done: Not sure how to tell if pork chop is done? Gently press the backside of the tongs onto the center of the meat.
If the juices run clear, that usually is a tell-tale sign the meat is cooked through. Always verify with an instant thermometer. Pork muscle meats must be cook to a minimum of 145°F.
Add Butter to Oil: Butter adds a delicious nutty, caramelized flavor to the meat. Add about 2 Tbsp of butter just before adding in the chops.
Watch oil Temp: Using a cast iron skillet is great for regulating the temperature of the oil.
However, the oil temp will fluctuate some; the temperature is going to drop when you add the chops and will be at its hottest after pulling the chops out and before putting the next batch in.
Try to keep it around 350°.
Dietary Restrictions: This simple recipe can be adjusted to satisfy most dietary restrictions with gluten, egg and dairy-free variations.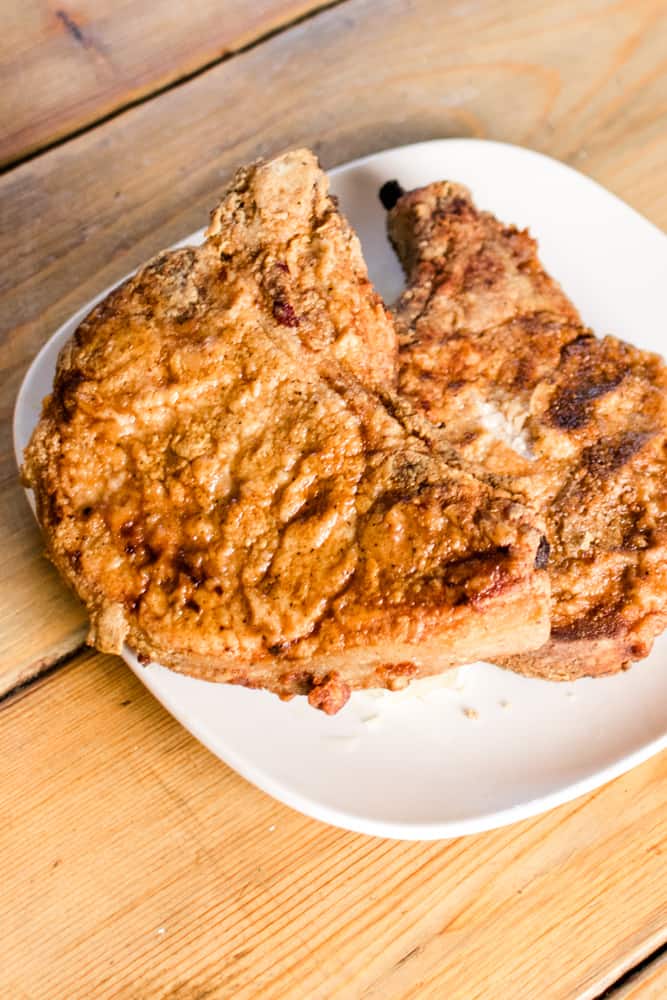 Fried Pork Chop Sides
These spicy southern pork chops are perfectly complemented with gravy, mashed potatoes and asparagus spears. Other options include coleslaw, potato salad, homemade fries, mac n cheese, roasted Brussel sprouts, or cheesy bacon and squash.
More Popular Recipes
Spicy Southern Fried Pork Chops
Additional Time:
5 minutes
Juicy tender sourthern style fried pork chops with a touch of heat. Serve it with your favorite comfort food side for a hearty home cooked meal.
Ingredients
4 fresh 1" bone in pork chops
½ cup of coconut oil
½ cup of unbleached flour
2 tsp of sea salt
1 ¼ tsp fresh ground pepper
1 tsp cayenne pepper
½ tsp smoked paprika and cumin
¼ tsp garlic powder
Instructions
Heat oil in a 10" cast iron skillet or similar to about 350°
In a shallow bowl, add flour and spices, stirring together well.
Dredge each pork chop through the breading, covering both sides and edges.
Carefully place 2 chops in the skillet. Fry approximately 4 minutes, flip and fry an additional 3 minutes. Fry both sides for an additional 2 minutes or until juices run clear.
Let rest 5 minutes before serving.
Notes
Pork muscle meat must be cooked to 145°F.