Pork loin can be an intimidating cut for the inexperienced chef. A roast is the most common way to prepare pork loin, and using a dutch oven will make the whole process one pot seamless.
I'll admit, the first time we ordered an entire pig from our local farmer, I had no almost no experience using any of the roast cuts.
Pork loin roast is now one of my favorites to cook because it is so easy! Let the oven do the work for you.
Plus, using the dutch oven is the superior method to cooking any type of roast, from beef roasts to venison roasts due to the delicious sear at the beginning.
The meat soaks in all those juices as it cooks slowly, and the bonus is an easy gravy at the end.
Dutch oven pork roast is so much better than the soggy mess that can happen using a crock-pot: crispy edges and melt-in-your-mouth, slow-cooked pork loin.
Serve it with mashed potatoes and these delicious Garlic Parmesan Brussel Sprouts, and dinner is good enough for a holiday and easy enough for a weeknight.
This post contains affiliate links, which means I make a small commission at no extra cost to you. As an Amazon Associate, I earn from qualifying purchases. Get my full disclosure here.
What is a pork loin?
The pork loin is not to be confused with the pork tenderloin. While they are both similar, the tenderloin is much smaller than a pork loin. Pork loins can be found both boneless and bone-in.
For this recipe here, we are using a boneless pork loin.
Why you will love this recipe
Simple to make: Prepare all your ingredients and let it bake!
Affordable Ingredients: Pork loin, especially a bone-in pork loin roast, can often be found for a dollar or two a pound making it a great, filling meal on a budget.
Packed with protein: An excellent dish for hungry eaters full of muscle-growing protein and very low in fat.
How to cook the perfect pork roast
You may have attempted the pork loin roast or even a shoulder roast before and churned out a dry, inedible hunk of charcoal.
I've been there, and I'm sending a few loving pats on your back because it can be tough to have the courage to tackle one again.
The key is a good dutch oven, for one, though I think we've covered that by now. It's what will give the pork loin a perfect sear before we roast it.
Try this pickled pork shoulder next!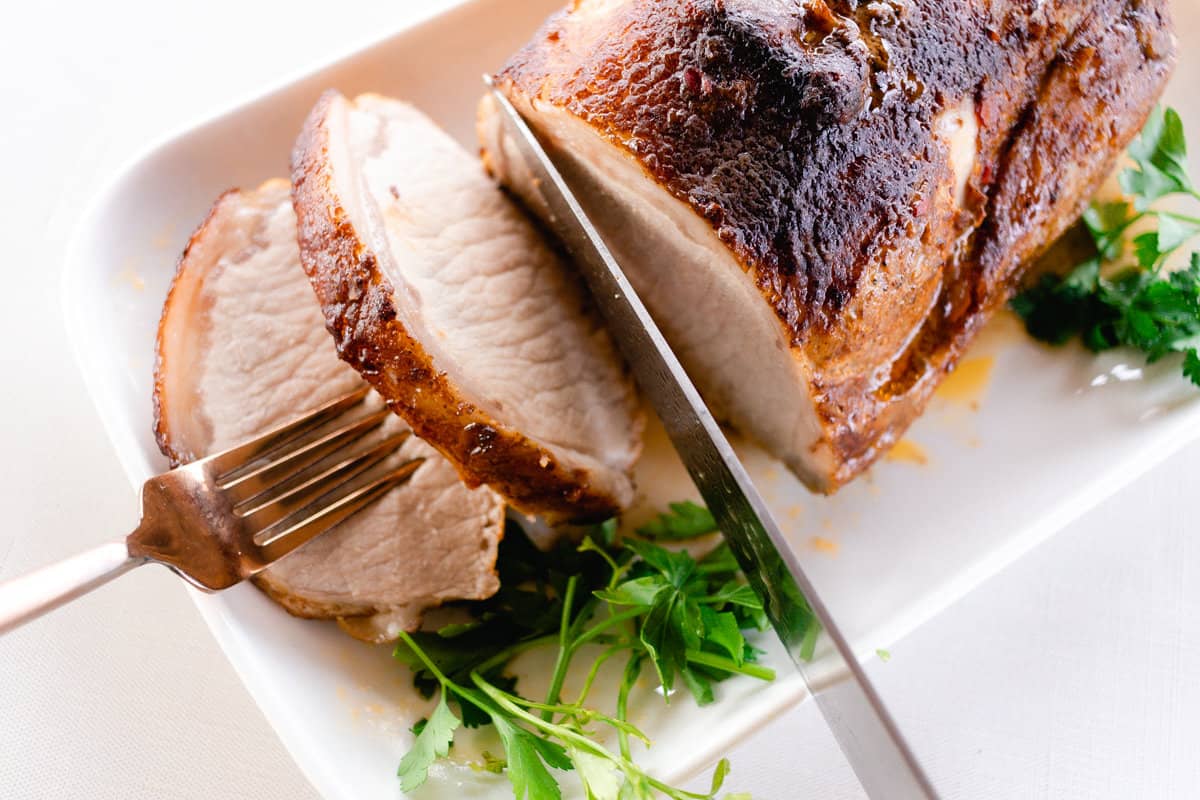 It's also important to have the right amount of liquid in the pan.
If it starts to dry up, add some more broth. Also, check the oven temperature to be sure it's not too hot.
A good dry rub will beautifully season the meat. Of course, the longer the rub sits on the meat at room temperature before beginning the cooking process, the better.
We always recommend at least an hour to let the salt work its magic on your meat cuts. It's not required, but it does make a difference.
A simple pan gravy at the end (we have instructions) will add an elevated touch to this fairly simple dish.
Dust off the old apron and give the pork loin roast another shot, this time using the dutch oven.
Dutch oven pork roast
The ingredients in this recipe are simple and should be in your pantry already.
Pork is typically seasoned with some kind of mustard, maybe some apple cider vinegar, which we will use, salt and pepper, and that's about it. Easy.
The key is in a good sear at the beginning, and leaving the meat be. Don't fuss over it by opening the oven every 10 minutes.
Just ensure there is enough liquid in the pan about halfway through, and kick back while the oven does the work for you.
What you'll need:
Boneless pork loin roast
Salt
Pepper
Paprika
Garlic
Onion powder
Cooking oil for high temps
Beef or chicken broth
All-purpose flour for the gravy
For the glaze:
Avocado or olive oil
Soy sauce
Dijon mustard
Apple cider vinegar
Chili sauce
First, make the glaze by combining all ingredients in a small bowl or ramekin, mix them well, and set that aside.
Preheat the oven to 350ºF.
Combine all dry rub seasonings, which includes the salt all the way to the onion powder, and mix those well. Once mixed, rub the seasonings all over the pork loin, including the sides.
It's best to let this season the meat at room temp for an hour or so, but it is not necessary. If you happen to remember to do it, you'll notice a difference.
Heat a tablespoon of a cooking oil that can handle high temperatures in your dutch oven. At least a 4 qt, though a 7 qt dutch oven is best.
Space around the meat to breathe in the pan will help the meat stay hydrated.
Once the oil is shimmering, sear the roast on each side, including both ends. Give it about a minute per side.
Add broth to the pot, then drizzle the glaze set aside at the beginning over the top of the roast.
Bake (or roast) this pork loin for 1 hour and 15 minutes, uncovered, or until the internal temperature registers 145ºF.
Remove to a cutting board or cooling rack to rest the meat for at least 5 minutes.
Be careful, as the temperature can rise during a rest, so be sure the meat temperature is not too high before removing it from the oven.
And now, for the gravy. Place the dutch oven you just used for the pork loin back on the stovetop over medium-low heat.
Keep all those browned bits and juices in the pan because that is what will flavor the perfect gravy.
Add 1-2 tablespoons of all-purpose flour to the pan and use a wooden spatula to scrape up the crispy bits and occasionally stir.
Once the gravy starts to thicken (it doesn't take very long), transfer it to your gravy bowl and dig in.
Serving suggestions
This pork loin roast is quite filling on its own. However, I do enjoy it sliced thin on some homemade bread when I'm on the go!
Leftovers
On the off chance you find yourself with leftovers, store them in the fridge for up to 4 days. Then, reheat in the oven with a lid until warm.
Wrapping up
This recipe is delicious and simple, my favorite kind of recipe. It uses affordable but delicious cuts of meat, the pork loin.
If you're getting a whole or partial hog from your local farmer, be sure to include the pork loin in your cut list with the butcher. This meal is good enough for a holiday but easy enough for a weeknight.
Enjoy it, and share your variations with me on Instagram! And if you end up making this same recipe, leave a comment or review below; I love to hear from you!
Try one of these pork recipe favorites next: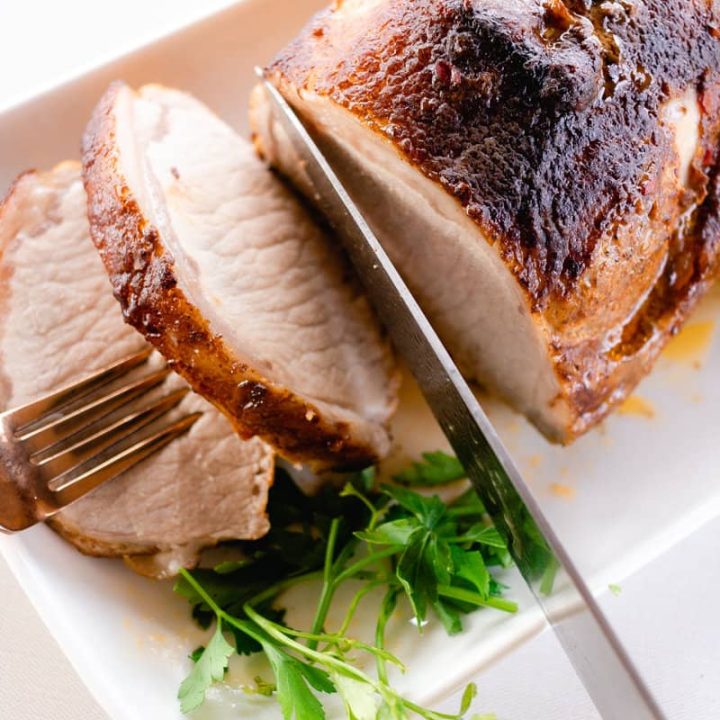 Dutch Oven Pork Loin Roast
Cook Time:
1 hour
15 minutes
Additional Time:
5 minutes
Total Time:
1 hour
25 minutes
Fancy enough for a holiday or special occasion, but simple enough for a weeknight! The dutch oven makes all the difference when preparing a pork loin roast.
Ingredients
3 lb boneless pork loin roast
1/2 tsp salt
1/4 tsp pepper
1/4 tsp paprika
1/4 tsp garlic powder
1/4 tsp onion powder
3/4 cup beef or chicken broth
all-purpose flour for the gravy
For the glaze:
1 tbsp olive or avocado oil
1 tbsp soy sauce
2 tbsp dijon mustard
1/2 tbsp apple cider vinegar
1 tsp chili sauce
Instructions
Combine the glaze ingredients in a small bowl or ramekin and mix well. Then, set aside.
Preheat oven to 350°F
Combine dry rub seasonings and rub over the pork loin.
Heat a tablespoon of avocado oil in the dutch oven on the stovetop and sear the roast on each side, including both ends. (about 1 minute per side)
Add broth to the pot, then drizzle the glaze over top of the roast.
Bake for 1 hour & 15 minutes uncovered or until internal temp registers 145°.
Remove to a cooling rack to rest for 5 minutes.
To make the gravy, place the pot back on the stovetop over medium-low heat and add 1-2 tablespoons of flour. Use a wooden spatula to scrape up any bits stuck to the bottom and stir occasionally. Once the gravy starts to thicken (it doesn't take very long), transfer it to your gravy bowl.
Notes
The glaze should be thin enough that it pours out of the container yet thick enough to stick to the roast's sides.
Keep an eye on the broth while it bakes. It should be fine, but if it dries up, add more.
Nutrition Information:
Yield:

8
Serving Size:

1
Amount Per Serving:
Calories:

466
Total Fat:

21g
Saturated Fat:

7g
Trans Fat:

0g
Unsaturated Fat:

11g
Cholesterol:

156mg
Sodium:

606mg
Carbohydrates:

13g
Fiber:

1g
Sugar:

0g
Protein:

53g
This website provides approximate nutrition information for convenience and as a courtesy only. Nutrition is calculated by Nutronionix