Venison roasts are about the most straightforward cut of meat to make. Not to mention they are absolutely delicious and tender after slow cooking in the dutch oven.
Dutch oven venison roast recipes are great for busy weeknight or weekend dinners; throw the ingredients together, place it in the oven, and walk away until done.
Whether it is beef or venison, the cuts of meat are the same. Just a lot smaller on the venison; and less fatty-so maybe a little different.
This particular venison roast recipe today is what is called the sirloin—also referred to as the sirloin tip (as it's known with beef) or football roast.
It comes from the hindquarters and looks very similar to a football, hence the reference.
Venison sirloin
The venison sirloin can be cut against the grain to make steaks, but personally, it tends to be a bit on the tougher side, and it makes an absolutely delicious oven-baked venison roast or stew.
Now, if a good venison sirloin steak sounds too good to pass up, I don't want to sound too discouraging; with a good marinade, the sirloin can be a very tender steak; just be sure not to overcook it!
Surprisingly enough, most people I talk to never make it past the "summer sausage stage." Even fewer are willing to try backstrap and deer chili? Burgers? Not a chance.
But, if you don't give it a shot, you'll never really know…so many, who do cross over the line to try deer meat, most are pleasantly surprised.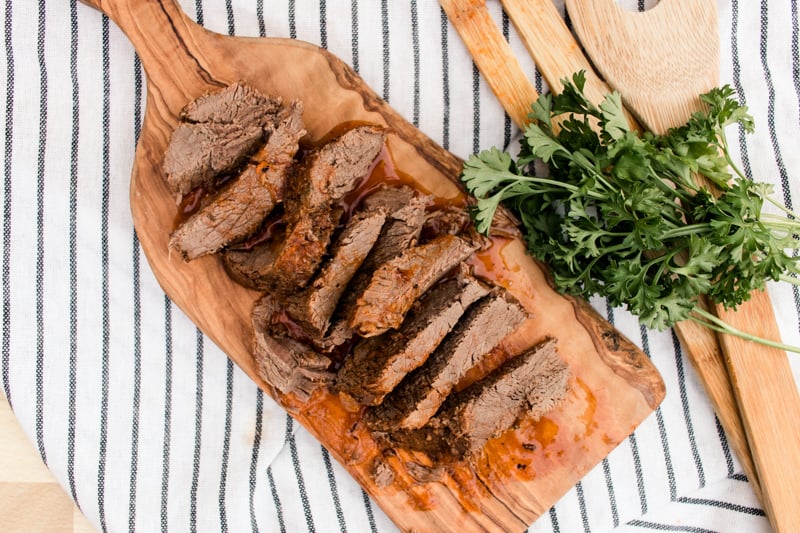 Venison pot roast
For this venison sirloin recipe, I am making it in the dutch oven with a red wine vinegar and tomato base.
Then bake it in the oven with some hearty vegetables. Cooking the vegetables and meat together enhances the flavor so much.
If you do like this recipe, head on over and check out my beef brisket recipe when you're done!
Dutch oven venison roast recipe
Every good roast begins with a nice searing of the meat. We sear our pork roasts, beef roasts, and now venison roasts – to lock in those delicious flavors.
So go ahead and begin by patting dry the sirloin with a towel or paper towel.
Next, generously season with salt, pepper, garlic powder, thyme and sage.
For a dry rub effect, mix the seasoning together in a small bowl, sprinkle over top of the meat, then use your hand and rub the seasonings into all sides of the meat.
To achieve the perfect sear, heat a dab of butter in the dutch oven on the stovetop; sear the meat on each side for about 30 seconds to a minute per side.
Remove the meat, set aside, and saute up an onion in the same dish.
You'll want to add in some more butter or oil for the onions. As soon as the onions begin to soften up, add in a few cloves of minced garlic-continue to saute for another minute or two.
Still on the stove, add a little sugar; I use coconut sugar, along with a dash of tomato paste and apple cider vinegar.
Stir it all together, then add 2 cups of water (or bone broth) and a ½-1 cup of red wine vinegar.
I go with a whole cup of red wine because I like the punch it provides, but feel free to adjust the amount!
I'll typically use bone broth or at least half bone broth and half water for the liquid, but I went with just water this time, and it turned out fantastic!
The red wine vinegar is quite potent at first, but after it simmers and then bakes for 2 hours into the meat, it ends up perfect.
Anyway, back to the recipe. Go ahead and let the broth and onions come to a simmer before adding the roast back in.
Cover the dutch oven, then transfer to the center rack of a preheated 350° oven. Let it bake undisturbed for an hour.
While it is baking, peel and chop 3-4 carrots and quarter up 4-5 yellow potatoes.
After an hour, add carrots and potatoes, recover and continue baking for another 90 minutes or until meat is cooked through and vegetables are soft.
Garnish with fresh parsley and serve.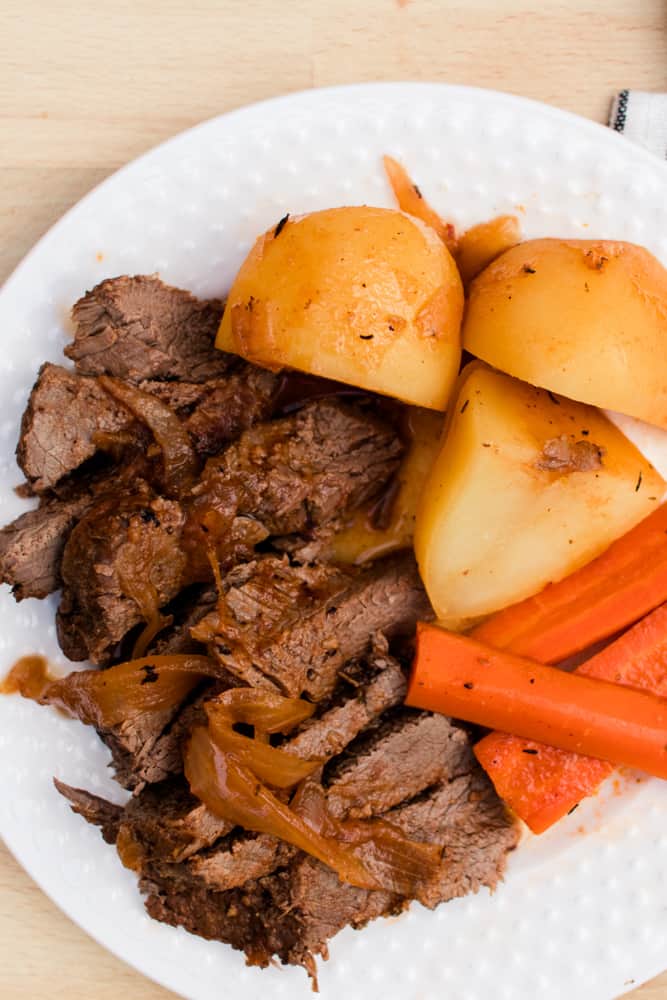 Side dishes for venison roast
Venison side dishes depend entirely on the occasion. For a busy weeknight dinner, a simple side salad that can be thrown together in a couple of minutes is a great option.
However, relaxing weekend meals may demand a little more.
Serve this venison sirloin roast with a side of parmesan garlic Brussel sprouts or roasted bacon and squash, both of which are great for company.
And if guests are a little unsure about eating venison roast, both of these sides are hearty enough to be served as a meal in itself.
No good roast is complete without dessert. So wrap up dinner with either some double chocolate brownies or deep dish cast iron skillet cookies.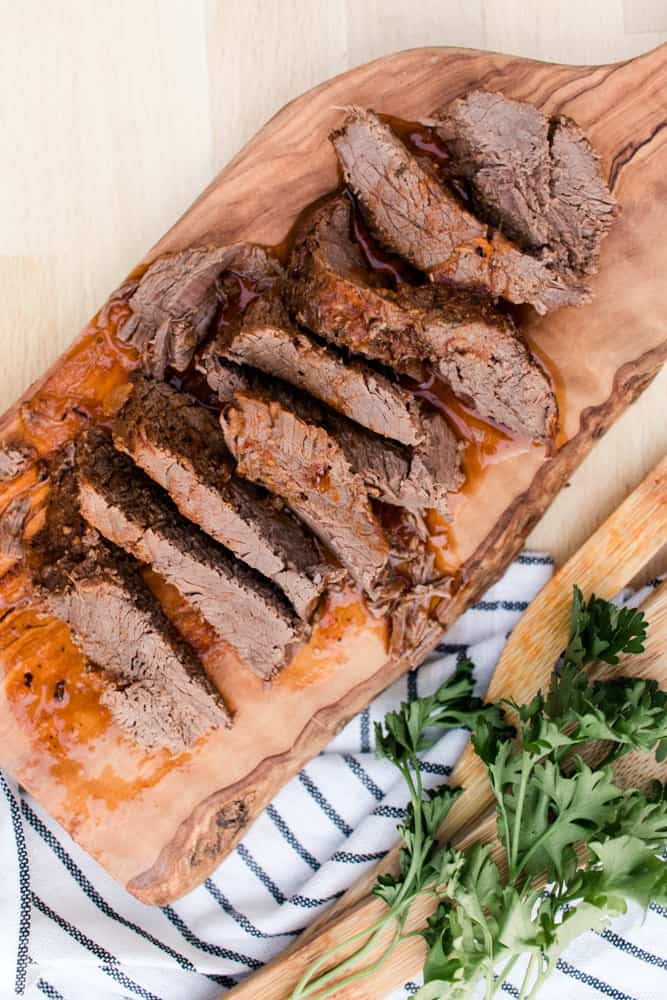 Venison roast in oven
Making a venison roast in the oven helps break down tough fibers and connective tissue found in the meat, especially front shoulder roasts, but all roasts benefit from slow cooking.
An oven is simply a convenient option, especially in the winter.
I have often been asked how to slow cook meat in the oven without a dutch oven. An oven-safe casserole dish would work, but braising the meat beforehand will no longer be an option.
A better alternative is using a deep cast-iron skillet, then covering with another skillet placed upside down over the top, or simply covered with aluminum foil.
I hope you take the time to enjoy this venison roast recipe.
If you have wild game in your freezer and are not quite sure what to do with it, check out both of these recipes: tenderloin medallion recipe, and rosemary garlic elk tenderloins.
What to Read Next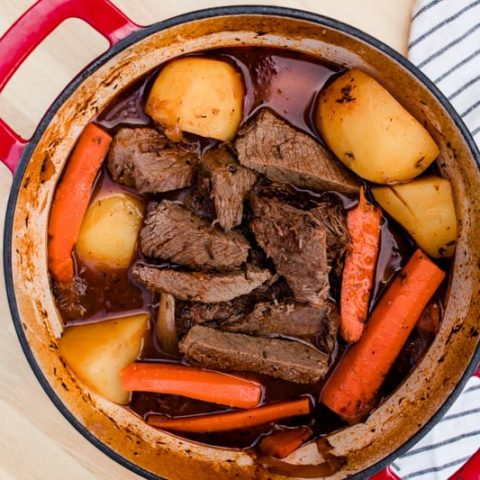 Dutch Oven Venison Roast
Cook Time:
2 hours
50 minutes
Additional Time:
5 minutes
Total Time:
3 hours
5 minutes
Venison sirloin tip roast is a must-try recipe. It's juicy, tender and packed with flavor.
Ingredients
1 venison sirloin roast 2-2.5 lb
2 tbsp butter
3-4 carrots peeled and cut into 3rds
4-5 yellow potatoes, peeled and quartered
1 onion, sliced
2 cloves of garlic, minced
1 tbsp coconut sugar
1 tbsp tomato paste
1 tbsp apple cider vinegar
½ cup red wine vinegar
2 cups of water (or chicken broth)
2 tsp of salt
1 tsp each of garlic powder and thyme
½ tsp each of pepper and sage
Fresh parsley for garnishing
Instructions
Thaw and pat dry meat.
Coat the entire roast with the dried seasonings.
Heat the dutch oven on the stove over medium-high heat.
Melt 1 tbsp of butter, then add roast searing each side for approximately 1 minute, remove from stove.
Reduce heat to medium, then saute onion in a tbsp of butter. Add garlic and saute for another minute.
Stir in sugar, tomato paste, water, apple cider vinegar and red wine vinegar. Bring to a simmer.
Add roast back into the dutch oven, cover and bake for 1 hour at 350°F.
After an hour, add carrots and potatoes and bake for an additional hour and a half.
Nutrition Information:
Yield:

6
Serving Size:

1
Amount Per Serving:
Calories:

349
Total Fat:

6g
Saturated Fat:

3g
Trans Fat:

0g
Unsaturated Fat:

1g
Cholesterol:

33mg
Sodium:

880mg
Carbohydrates:

57g
Fiber:

6g
Sugar:

8g
Protein:

15g
Nutrition is calculated by Nutronionix. All nutritional ingredients should be verified independently.