A common easy cookie recipe made in a not so common but oh so delightful way. A delicious deep dish chocolate chip cookie for two.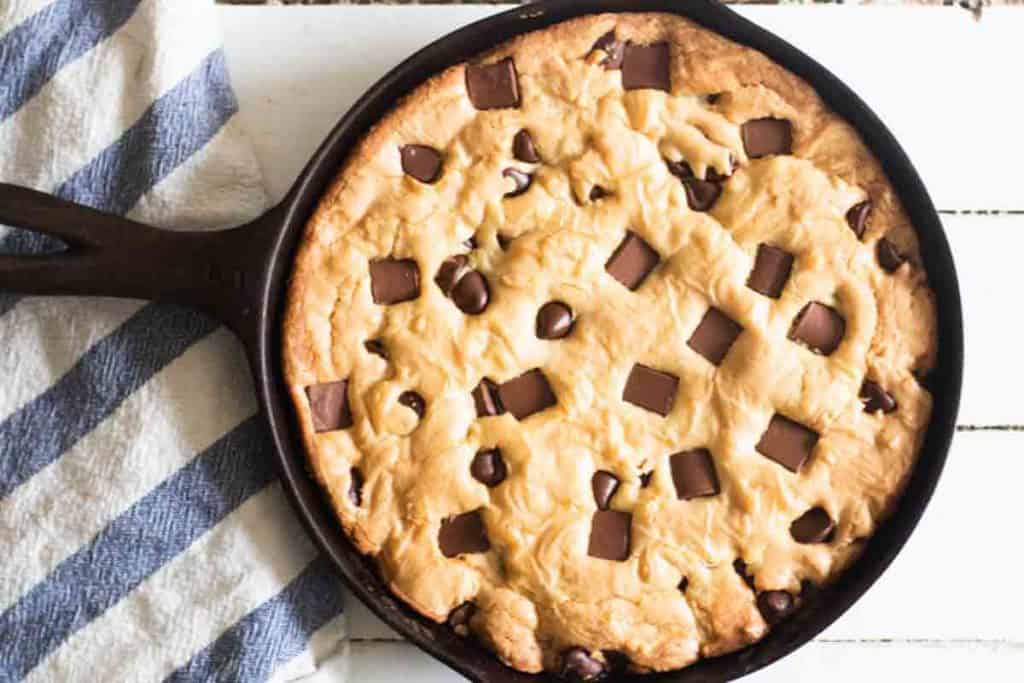 Making a deep dish cookie is really a cop-out from making chocolate chip cookies for me. It is so much easier to simply pour the batter into a small skillet and bake rather than making individual balls and lining up on a baking sheet. I know I sound lazy, but hey, time is precious.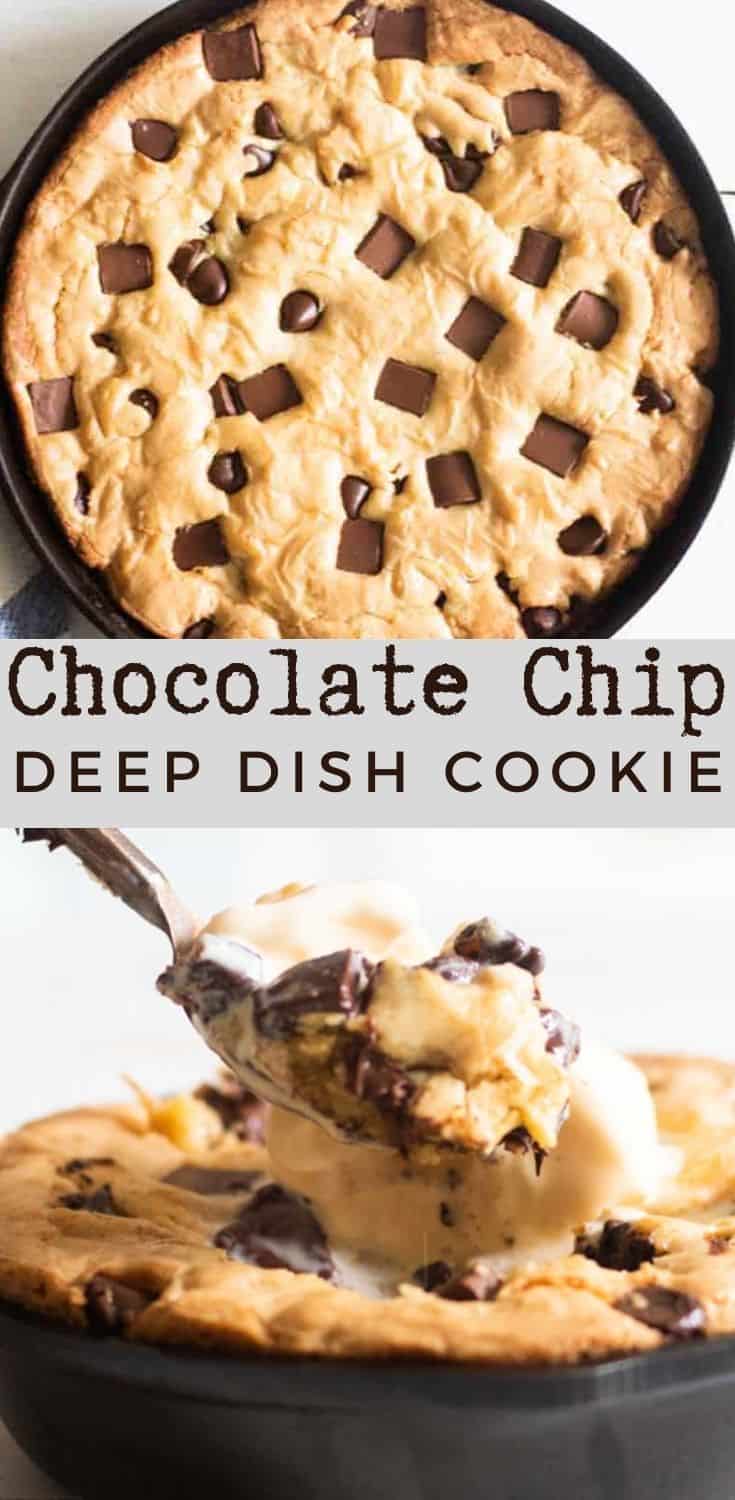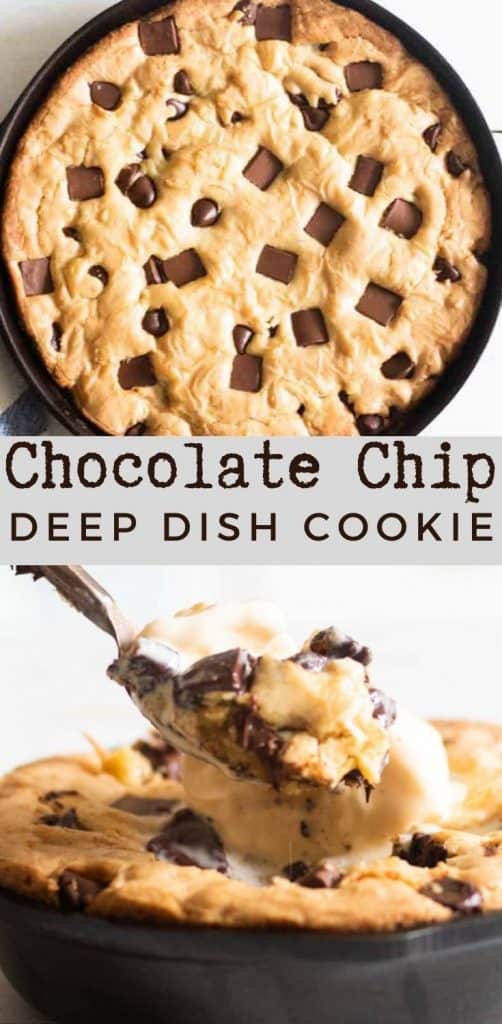 This recipe was actually inspired by my recent Applebee's blondie copycat. Though this recipe is similar, it leaves you with that homey comfort feeling one can only receive from a warm chocolate chip cookie.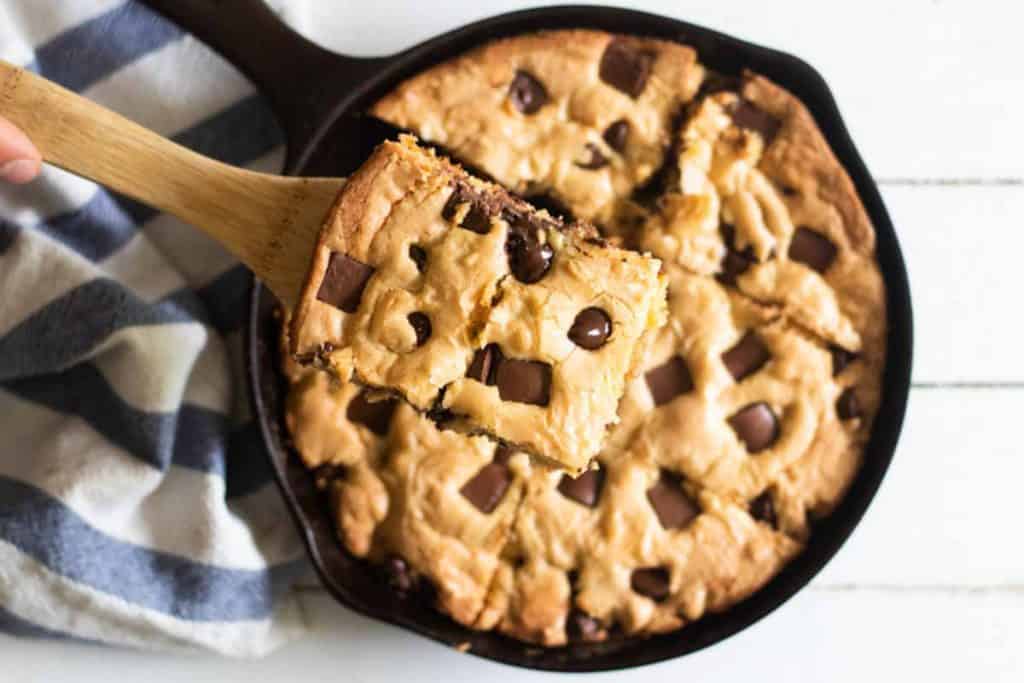 Chocolate Chip Cookie Pizza or Pizookie Recipe?
There are so many different names for a deep-dish chocolate chip cookie. Cookie pizza, skillet cookie, a pizookie, even cookie cake; although a cookie cake is totally different.
Skillet Cookie for Two
The amount I used was originally intended for two, but really, after the fact, it could easily be labeled a 4-6 serving dish.
It's perfect for 2 if you can exercise a little self-control! Enjoy it as a late evening snack or dessert.
This skillet cookie can also very easily be doubled and added into either a 10″ or 12″ skillet (depending on your thickness preference).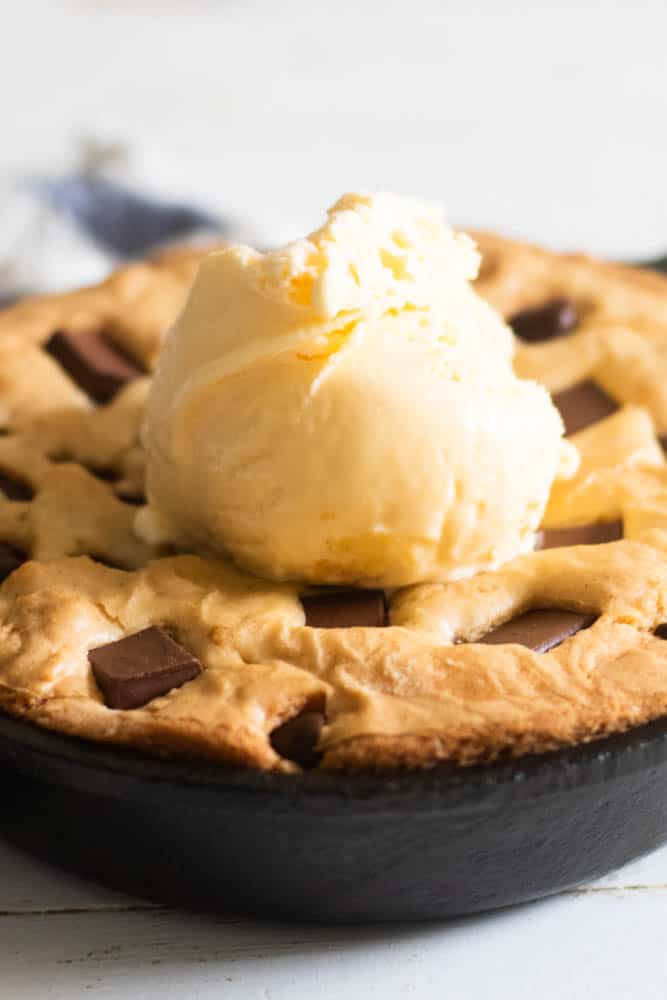 How to Brown Butter
Add the desired amount of butter to a small skillet over medium heat. Chop into small chunks to ensure even melting.
Stir every so often to avoid burning the butter. It will start to sizzle and foam within a couple of minutes. Continue stirring until butter turns brown and the nutty aroma of brown butter fills the air.
Remove from the skillet as soon as it is done, or it will continue to cook. Be careful not to overcook. The butter will go from done to burnt in a matter of seconds.
Cookie Recipe Tips
Do I have to brown the butter?
Absolutely not. I totally understand adding extra steps at the expense of precious time is sometimes difficult to do. The browned butter does add such a rich caramelized flavor, though.
Do I need to preheat the skillet?
Please don't. While it's true, cast iron skillets almost always need to be preheated before adding any food to them, that is not the case for baked foods.
Why is my Pizookie overcooked?
Cast irons hold heat very well. As a result, it will continue to cook even after removed from the oven. I would suggest pulling off the heat 5 minutes before it's done. And if it was pulled out too early, well, who doesn't love a slightly gooey chocolate chip cookie?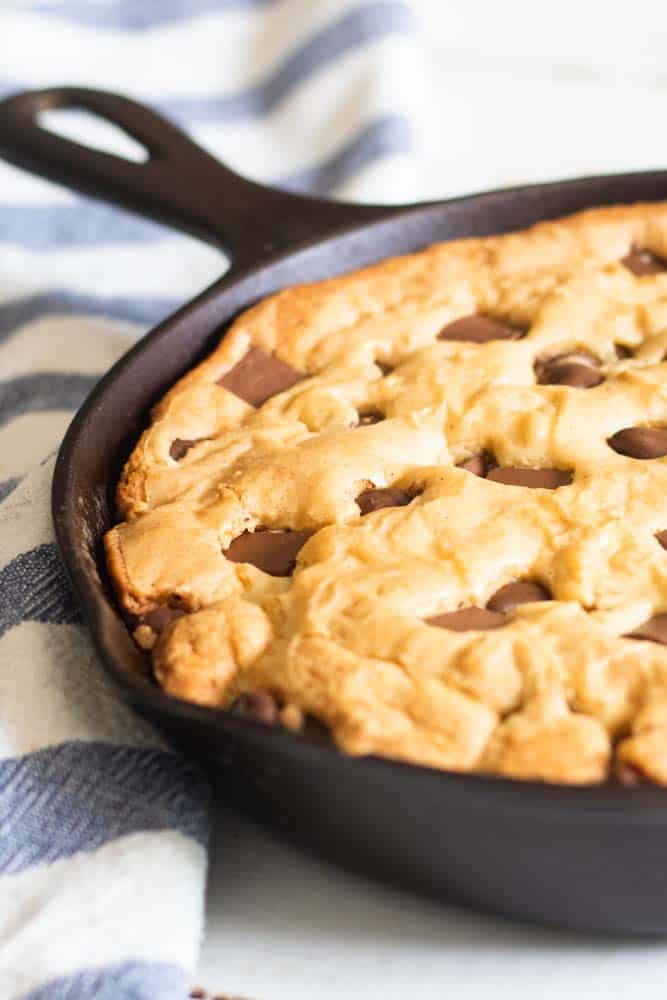 Dessert Favorites
Chocolate Chip Skillet Cookie Recipe
Deep Dish Chocolate Chip Cookie
A simply irresistible skillet cookie served right out of the skillet with a heaping scoop of vanilla ice cream.
Ingredients
2 cups flour
¾ cup brown sugar
½ cup white sugar
1 tsp baking powder
1 tsp nutmeg
½ tsp salt
2 eggs
1 ½ sticks of butter
2 tsp vanilla
1 cup chocolate chips
½ cup chocolate chunks
Instructions
Mix flour, baking powder, salt and nutmeg in a mixing bowl.
In a separate bowl, whisk together browned butter (instructions above), sugar, vanilla and eggs.
Combine and stir together by hand until everything is just combined. Don't over stir.
Mix in chocolate chips
Transfer dough to a 8" skillet and press chocolate chunks into the top of the dough.
Bake at 350°F for 25-30 minutes or until the edges are golden brown.
Let sit for 5 minutes before serving.
Nutrition Information:
Yield:

4
Serving Size:

1
Amount Per Serving:
Calories:

1125
Total Fat:

57g
Saturated Fat:

34g
Trans Fat:

1g
Unsaturated Fat:

18g
Cholesterol:

189mg
Sodium:

753mg
Carbohydrates:

148g
Fiber:

5g
Sugar:

93g
Protein:

13g
Nutrition is calculated by Nutronionix. All nutrition should be verified independently.