What sounds more delightful than a chilly fall day ending with a warm dutch oven apple crisp made with love from apples picked that day? Lighting my homemade pumpkin candles as I write this with anticipation!
We're getting into the swing of a different pace now that fall has made its presence known. Have you picked apples at your local orchards before?
They're popular around us and make for a great weekend family fall activity, especially when it ends with dessert.
Check your local health food store to find out if you have any local orchards near you.
Organic apples from your nearest grocery store work just the same, but it really makes for a lovely day if you can spend it picking apples with your family.
What is an Apple Crisp?
Apple crisp is a dessert of apples baked with sugar, in this case, maple syrup, spices, and a simple crust on top made of flour, butter, pecans, maple syrup and spices.
Simple and delicious.
It's a quick and easy dessert made with simple ingredients you should have on hand in your pantry.
Apple pie is obviously the most familiar fall dessert using apples, but I prefer the humble apple crisp for its simplicity and the short time it takes to throw together.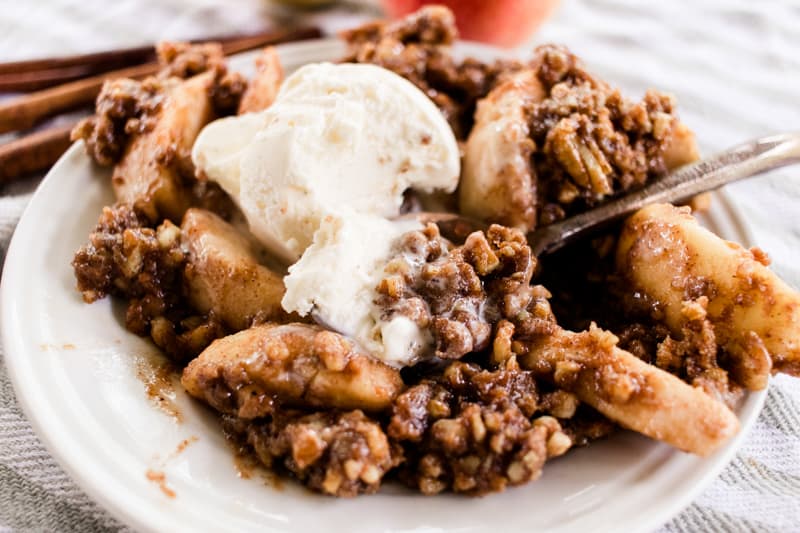 Apple Crisp Vs. Apple Cobbler
There is a bit of a debate out there. Are you team crisp or cobbler? I'll take either dessert any day, but there are some differences.
Crisps, or crumbles, use oats or nuts to top the fruit that it is baked with, along with flour, butter, and some delicious warming spices, just like you'd find in an apple pie.
It is generally less labor-intensive than a cobbler.
Cobblers typically are a cake or biscuit-like topping and can take more time to put together for that reason. As a result, they often need a bit more baking time.
Best Apples for Apple Crisp
There are so many varieties of apples these days, it can be overwhelming to choose. The best apples for baking are slightly tart so that the sugars don't overwhelm the flavor of the dish.
If the apple is tart, it usually is a bit sturdier too, so it can stand up to the heat of baking without getting too soggy.
My family loves to eat Honeycrisp, and they work well with baked desserts. Granny Smiths have long been the classic baking apple, but don't feel you have to use it.
Mix varieties if you can't find enough of one or like the idea of some diversity in your dutch oven apple crisp.
I've gone as far as adding ripe persimmons to the dish just to switch things up. So let those creative juices flow.
This post contains affiliate links, which means I make a small commission at no extra cost to you. As an Amazon Associate, I earn from qualifying purchases. Get my full disclosure here.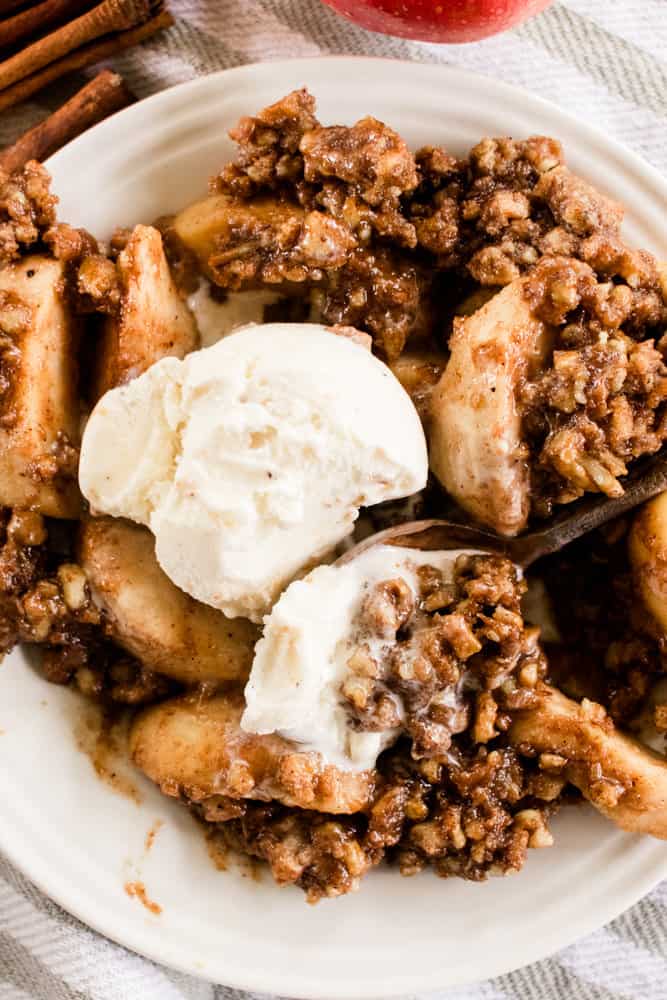 How to Make an Apple Crisp Without Oats
As mentioned above, the crisp and the crumble have become much the same dessert.
The historical difference noted that oats in the recipe would differentiate the two, as oats "crisp" up in the baking process, so crumbles would use other fillers to make up the crust.
That difference is hardly made anymore, so consider this recipe a crisp just the same. This is simply an apple crisp without oats. In America, the terms are interchangeable in most households.
Instead of oats, we're going to use pecans, which really give it a delicious crunch that I feel is lacking from crisps that only call for oats.
Crisps are forgiving, so if you feel inclined to adjust or are an oat lover, throw in some oats and lessen the amount of pecans you use.
What you will need:
Pecans
All-purpose flour
Brown Sugar
Cinnamon
Nutmeg
Coriander
Maple syrup
Butter
Apples, peeled, cored and thinly sliced
Lemon juice
Whole milk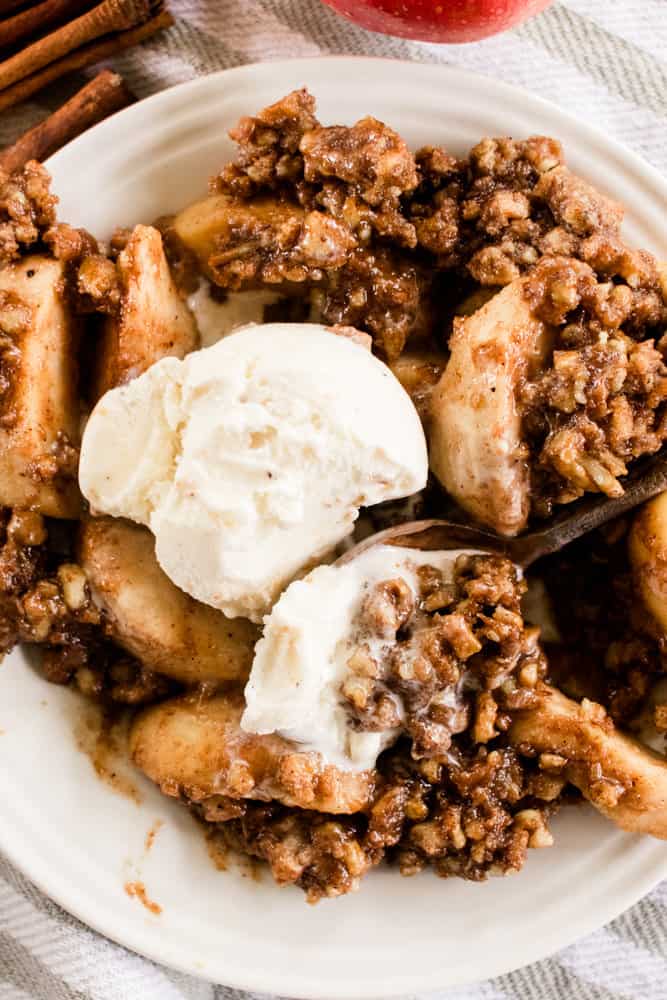 Instructions:
Before any prep work, get your oven preheated to 350ºF.
Everything comes together quickly once the apples are prepped, so I like to take on this step next or even earlier in the day if I have some extra time.
You'll need a good amount of apples to create the fruit base, so a day of picking apples or a big box from the store are necessary here.
Feel free to throw in some berries if you can't find enough apples. They are a lovely complement to apples and it's a great way to use up those summer berries.
The apples need to be peeled, cored and thinly sliced. If you've never used one of these tools, it will make quick work of this part of the job.
But good, old-fashioned elbow grease works just fine.
It's important to peel the apples. Otherwise, they can be soggy and make for an unpleasant texture in your dutch oven apple crisp.
Thinly slice your apples for a particularly delicious result. They'll cook evenly and quicker than thicker slices, and thin slices really elevate this otherwise simple dessert.
Now that the apples are prepped, prepare the crisp (or crumble) topping. Whisk your dry ingredients together in a mixing bowl.
Add maple syrup and butter, and mix until well-combined. Leave nice big chunks of butter here and there to add some depth to the texture of the crust.
Secret pockets of melted butter will be a delicious treat.
Next, add all the ingredients for the filling into the dutch oven and toss to mix. Hands or a wooden spoon work great here.
No extra bowls to dirty, either. Everything is going right into the dutch oven.
Drop the crumble topping evenly over the filling and that's it! Bake for 30 minutes in a 350ºF oven. It's even better when served with ice cream over the top.
Making Dessert in Your Dutch Oven
One of the best things about owning cast iron, especially a dutch oven, is that the need for all of the various baking pans disappears.
These pans are versatile and are a great substitute for any dessert pan any day. They provide a nice crust and bake evenly. Cleaning up is easy.
It is important to make sure that your dutch oven is properly seasoned or is enameled. Otherwise, the dessert will stick to the pan.
If you have any concerns about your pan being seasoned enough, make sure to grease the pan as you would any other pan to bake your desserts.
Be sure to check out more cast iron desserts here:
Wrapping Up
One of my favorite parts of fall are the fun activities and delicious desserts that come with them.
This dutch oven apple crisp is exactly that, a family day and a yummy dessert packed into one easy recipe.
If you end up picking apples with your family, I'd love to hear about your fun day together.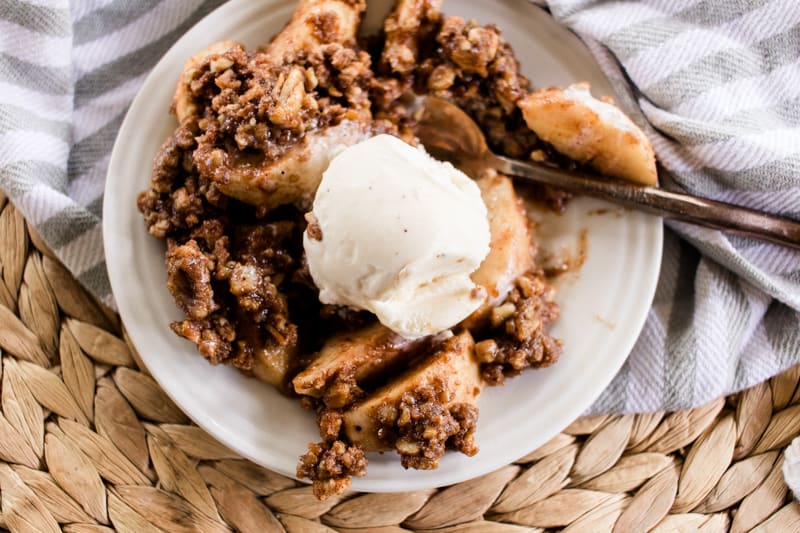 Dutch Oven Apple Crisp
Make this delicious dutch oven apple crisp after a chilly fall day picking apples with your family. Fall spices will warm you up and it comes together quick and easy.
Ingredients
For the Crumble
2 cups of pecans, blended
1/2 cup of all-purpose flour
1/2 cup of brown sugar
2 tbsp of cinnamon
2 tsp of nutmeg
4 tbsp of maple syrup
4 tbsp of butter softened
For the Filling
10 small apples peeled, cored and thinly sliced
juice from one half a lemon
1/4 cup of maple syrup
2 tbsp of whole milk
1 tbsp of flour
1 tbsp of cinnamon
1 tsp of coriander
Instructions
Preheat the oven to 350°F
For the crumble, whisk dry ingredients together in a mixing bowl.
Add maple syrup and butter and mix until well combined.
Add all the ingredients for the filling into the dutch oven and toss to mix.
Use a spoon or your fingertips to drop the crumble topping evenly over the filling.
Bake for 30 minutes.
Notes
Feel free to add oats to your pecans if you prefer. Crumbles are forgiving and can take many substitutions. Same for the filling. If you can't find enough apples, berries compliment apple crumbles very well and work great as a substitute. Mix varieties of apples for some diversity.
Nutrition Information:
Yield:

8
Serving Size:

1
Amount Per Serving:
Calories:

459
Total Fat:

22g
Saturated Fat:

4g
Trans Fat:

0g
Unsaturated Fat:

17g
Cholesterol:

8mg
Sodium:

50mg
Carbohydrates:

68g
Fiber:

9g
Sugar:

48g
Protein:

4g
This website provides approximate nutrition information for convenience and as a courtesy only. Nutrition is calculated by Nutronionix