Persimmons can be one of those foods you're either in love with or have never tried. But trust me, you want to join us in the world of baked persimmon lovers. Baked persimmons are something I love to make in the fall as they just come into season.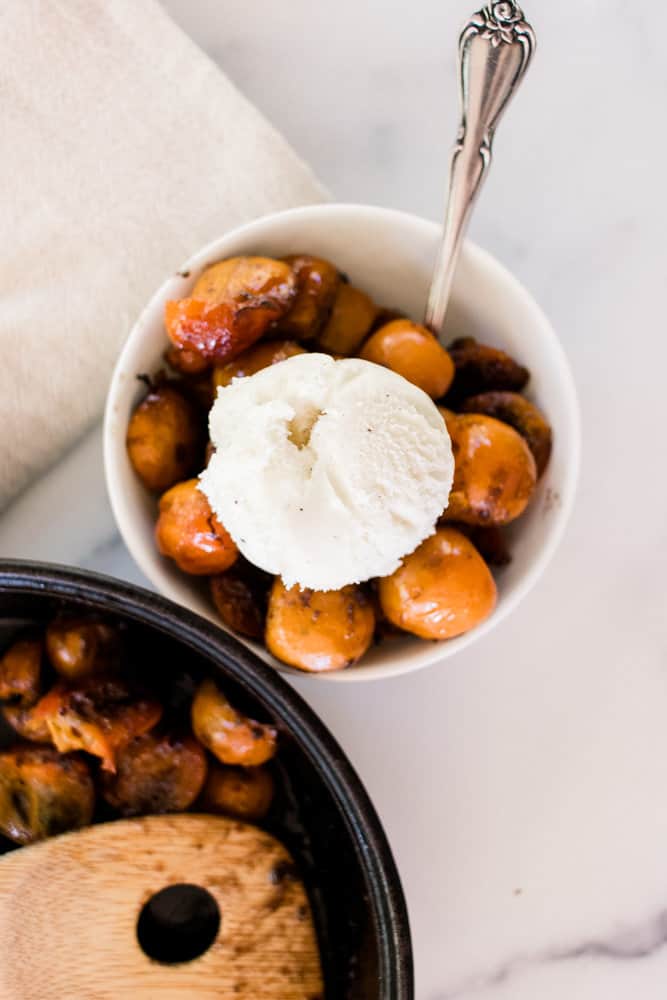 These easy fall spiced baked persimmons are simple to make in advance and throw into your weekly breakfasts or desserts.
Better yet, the warming spices elevate this dish enough to serve at your next dinner party with homemade whipped cream.
What do persimmons taste like?
If you've never had one before, persimmons are sweet like peaches and apricots, but they have a depth of flavor, sometimes described as subtly pumpkin or spicy.
That's why they are perfect in this comforting fall dish.
They need to be soft and certainly ripe to be enjoyed. An unripe persimmon is not a pleasant experience.
Do persimmons have seeds?
Yes, persimmons have seeds and a soft flesh, similar to a tomato. They are technically a fruit.
They are also very nourishing, high in vitamins and minerals, plus fiber, like most fruits and vegetables.
To get the most nutrition, you'd want to eat the persimmon raw. However, cooked persimmon is full of nutrition, too, so don't be alarmed, as they are most commonly served cooked or baked anyway.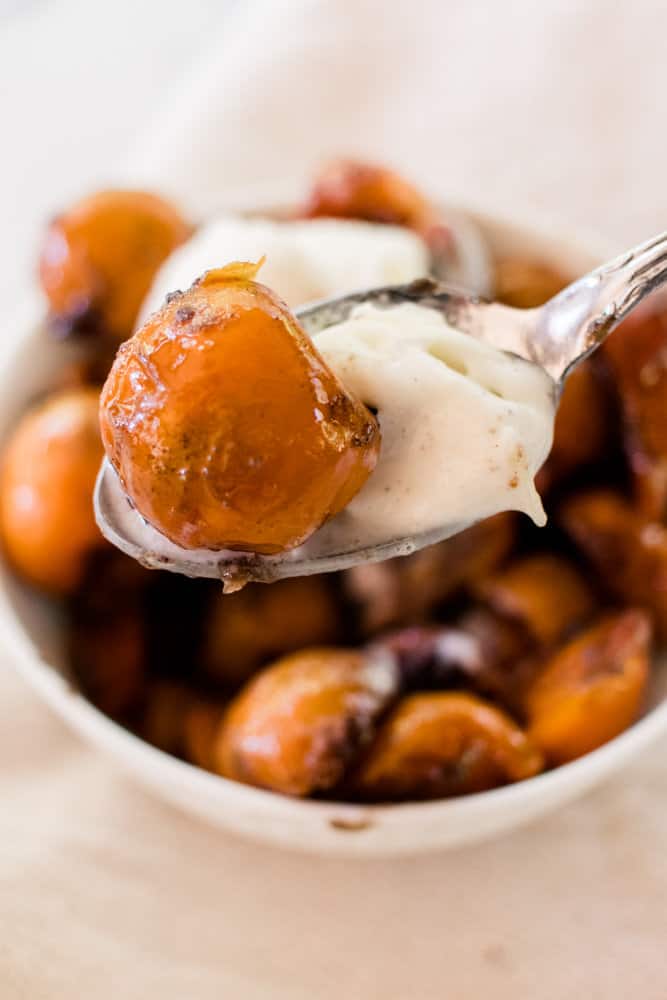 Cooking with persimmons
Many cooks prefer to remove the skin on persimmons before baking them. The standard is to remove the tops and peel them.
I don't mind them being a little more rustic.
Not only do baked persimmons look beautiful that way, but there is always more nutrition to be gleaned from the skins and tops. So why not leave them on?
How to cook persimmons
This is a simple recipe for baked persimmons. It's just like throwing some vegetables in the oven for roasting, so it's beginner-friendly.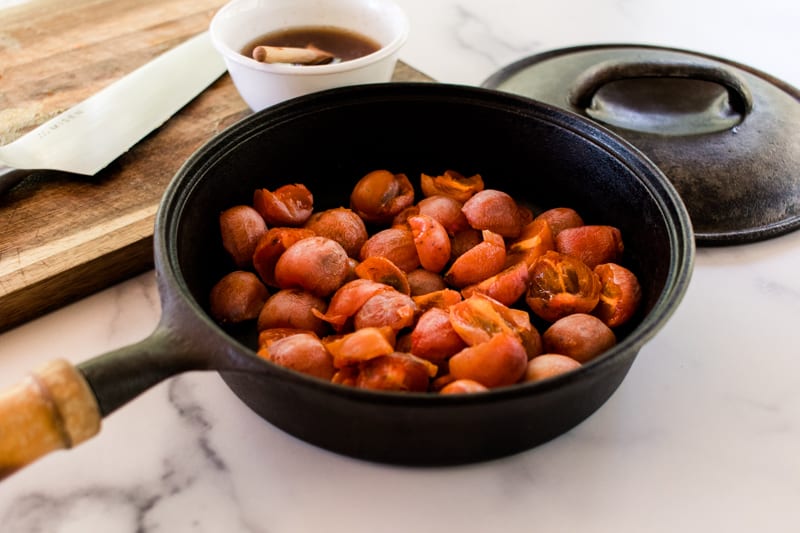 What you'll need:
Persimmons (Fuyu are good for baking and are seedless)
Coconut oil
Honey
Butter
Clove
Cinnamon
Nutmeg
Coriander
A little water to thin
Start by preheating the oven to 350ºF. These are just like roasting vegetables, so it just takes a little slicing and oven time.
Wash and cut your persimmons in half from top to bottom and add them to your cast iron skillet with the centers facing up. I like to leave them rustic, but you can peel them and cut the tops off if you'd like.
Combine the coconut oil, honey, butter, spices and a little water in a small bowl like a dressing. Take a minute to enjoy the fall smells, then drizzle it over your persimmons.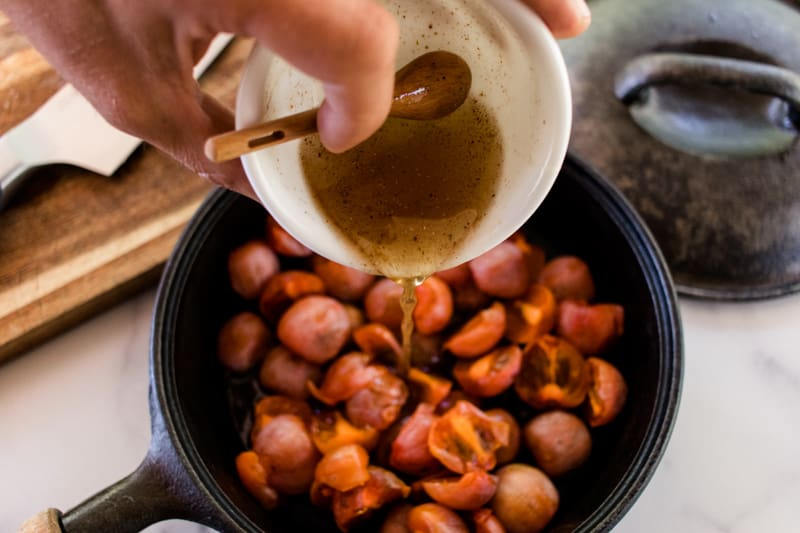 Cover them with a lid or foil and bake for 35-40 minutes. You want to see the caramelization of the honey and butter on top.
Let the pan rest uncovered for 10 minutes before enjoying. Serve with your morning yogurt or oatmeal.
How to serve baked persimmons
Just as I mentioned in the recipe, these delicious spiced baked persimmons are perfect to make in advance and have on hand for your fall breakfasts. Over yogurt and granola or oatmeal is a standard in our home.
Just like baked fruit otherwise, persimmons are a delicious option for dessert, and one you don't need to feel too guilty about enjoying.
Homemade whipped cream topped over the baked persimmon sounds decadent and easy for your next dinner party.
Of course, if you make your own ice cream, that sounds even better. Or substitute them in your peach cobbler.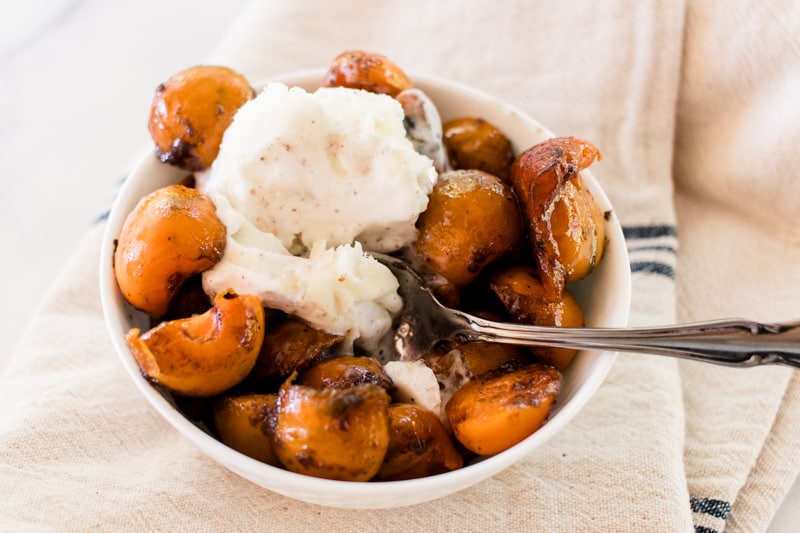 Why you'll love baked persimmons
Cooking with persimmons is easy and they are packed with nutrition. As you start to miss the bountiful summer fruit, turn to persimmons in the fall when they are in season.
It helps to look forward to another delicious seasonal ingredient to incorporate into your kitchen.
However, it can be intimidating to try something new, so let me know if you're brave enough to try them!
I love being able to use natural ingredients in this recipe to enjoy it as a pro-metabolic dish – a pick-me-up if you will!
If you love this dish, go check out some of my other popular recipes.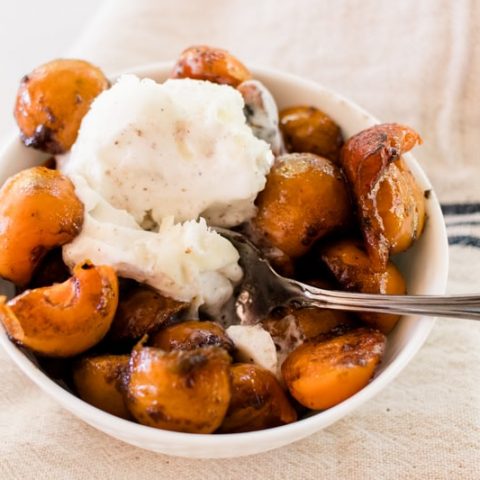 Easy Fall Spiced Baked Persimmons
As easy as roasting vegetables, you'll love a new fruit to look forward to every fall if you've never tried baked persimmons.
Ingredients
20 persimmons halved (Fuyu are good for baking)
2.5 tbsp coconut oil, melted
2 tbsp honey
2 tbsp butter, melted
1 clove
1/8 tsp cinnamon
1/4 tsp coriander
1/8 tsp nutmeg
1 tbsp water to thin
Instructions
Preheat oven to 350°F
Wash then cut persimmons in half from top to bottom and add to the cast iron skillet.
Combine the rest of the ingredients in a small bowl or ramekin and drizzle over the persimmons.
Cover with the lid or aluminum foil and bake for 35-40 minutes.
Let it rest uncovered for 10 minutes before enjoying.
Notes
Serve with ice cream for dessert or with yogurt for breakfast.
Nutrition Information:
Yield:

8
Serving Size:

1
Amount Per Serving:
Calories:

374
Total Fat:

8g
Saturated Fat:

5g
Trans Fat:

0g
Unsaturated Fat:

2g
Cholesterol:

8mg
Sodium:

27mg
Carbohydrates:

82g
Fiber:

15g
Sugar:

57g
Protein:

2g
This website provides approximate nutrition information for convenience and as a courtesy only. Nutrition is calculated by Nutronionix