With the zucchini harvest in full swing here, it's high time we find something to do with all the green vegetable goodness! And to that, we say hello to zucchini bread with a delicious lemon glaze!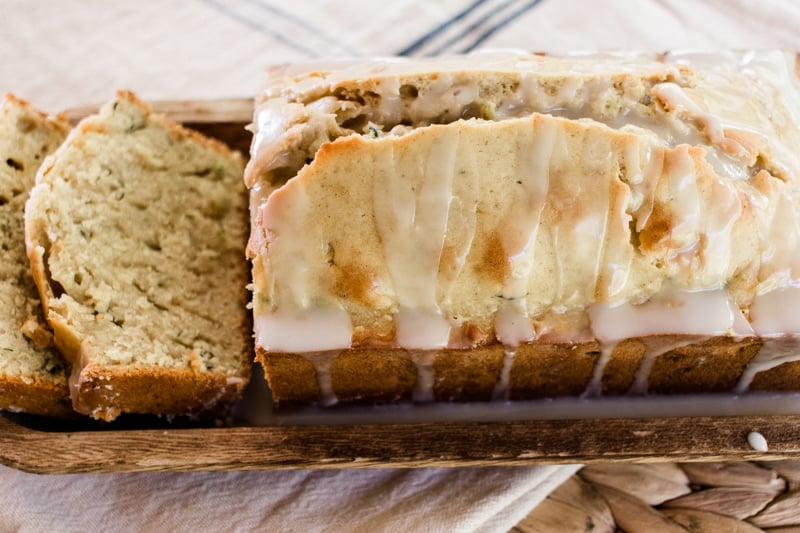 This mouthwatering zucchini bread recipe is perfect for those summer and fall months when fresh summer produce is in peak production.
It's also great for those days when you just need something sweet and easy to bake.
This is a delicious zucchini loaf recipe made in a cast iron loaf pan that is perfect for breakfast or dessert.
It has just enough sweetness without being too sweet. And the lemon glaze adds a nice tangy flavor.
Healthy zucchini bread
If you're looking for a healthier alternative to traditional baked goods, try making zucchini bread.
This easy recipe uses only simple ingredients and can easily be modified to fit your dietary needs.
Check out the 'recipe variations' section below for more information.
On to the recipe…
This post contains affiliate links, which means I make a small commission at no extra cost to you. As an Amazon Associate, I earn from qualifying purchases. Get my full disclosure here.
How to make zucchini bread
I love zucchini bread. And with the lovely contribution of sweetenings in the recipe, it's hard to decipher if you are biting into a piece of bread or cake.
It all starts with a few key ingredients.
What goes in zucchini bread?
All-purpose flour
Baking powder
Salt
Cinnamon
Brown sugar
Oil
Butter
Milk
Eggs
Grated zucchini
Zucchini bread recipe
Combine dry ingredients in a mixing bowl.
Combine wet ingredients (except zucchini) in a separate mixing bowl and mix using a hand mixer.
Stir in the zucchini.
Then, add the dry ingredients to the bowl of wet ingredients.
Mix with a spatula until just combined.
Lightly grease your cast iron loaf pan and pour in the batter.
Bake in a preheated oven for one hour.
While the zucchini bread is in the oven, prepare the lemon glaze.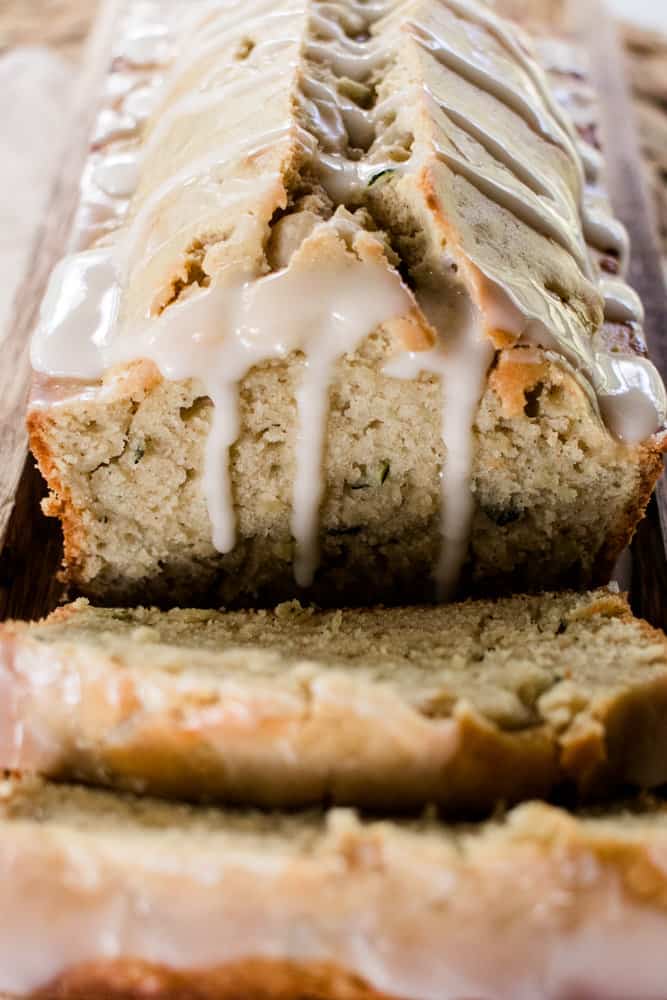 For the glaze, you will need:
Powdered sugar
Freshly squeezed lemon juice
Whole milk
Whisk the ingredients until smooth in a measuring cup and drizzle over the top of the bread once it's cooled.
If you are asking yourself, "why do we need a glaze on top of zucchini bread?"
Imagine biting into a warm, soft slice of fresh zucchini bread; the glaze crumbles between your teeth, releasing a burst of sweet, tangy lemon goodness.
The glaze soon melts in your mouth, and the zucchini and lemon flavors unite to create the most luscious flavor on earth.
What better way to enjoy such a delightful treat?
Recipe Variations
I made this zucchini recipe several different ways before sharing this recipe here. These are just a few variations I tried and loved as well.
Just note that the texture and flavor will change, but the cooking instructions will stay the same.
Gluten-free zucchini bread: substitute all-purpose flour 1:1 for almond flour and include three eggs instead of two.
Sugar-free zucchini bread: substitute the brown sugar for one-third cup of honey.
Egg-free zucchini bread: substitute one egg for one-fourth cup of applesauce; or one-half cup total of applesauce. (This did end up a little rubbery in the middle, but it was still very good).
Now that you know what you are doing try switching things up and let me know how it turns out. I think I might try adding in some persimmons now that they are in season.
Tips
If the bread ends up rubbery, it could be the result of over-stirring the batter.
Wait to pour the glaze over the zucchini bread until it's nearly cooled to prevent it from all running off.
Keep an eye on the bread near the end to prevent it from burning. Once a toothpick placed in the middle comes out clean, the bread is done.
Why you will love this zucchini bread recipe
Great with a morning cup of coffee
A healthier dessert alternative
It is a fantastic way to enjoy your fresh-grown zucchini.
Wrapping up
It's time to head out to your garden, pick some zucchini and make this zucchini bread with lemon glaze today!
Being able to include a vegetable in a breakfast or dessert recipe that still tastes amazing is no simple feat.
But you'll find those picky eaters asking for seconds or thirds and leftovers hard to come by.
I hope that you loved this simple zucchini bread as much as we did. If you tried any of the variations listed above, let me know how it turned out in the comments below.
If you are looking for more great breakfast or dessert ideas, try one of these favorites below.
Zucchini Bread with Lemon Glaze
Additional Time:
10 minutes
Total Time:
1 hour
20 minutes
This delicious zucchini bread recipe is perfect for breakfast or dessert. It has just enough sweetness without being too sweet. And the lemon glaze adds a nice tangy flavor.
Ingredients
Dry Ingredients
2 cups of all purpose flour
1 teaspoon of baking powder
1/2 teaspoon of pink salt
1 teaspoon of cinnamon
Wet ingredients
3/4 cup of lightly packed brown sugar
1/2 cup of whole milk
4 tablespoons of butter, softened
1 tablespoon of avocado oil
2 eggs
1 cup of zucchini, shredded
Lemon Glaze
1 cup of powdered sugar
1 tablespoon of fresh squeezed lemon
1 tablespoon of whole milk
Instructions
Preheat the oven to 350°F
Combine dry ingredients in a mixing bowl.
Add wet ingredients (except zucchini) to a separate mixing bowl and mix using a hand mixer.
Stir zucchini into the rest of the wet ingredient with a spatula
Add dry ingredients to the wet ingredients and stir until just combined.
Pour the batter into a lightly greased 4X8 cast iron loaf pan.
Bake for one hour or until a toothpick inserted into the center comes out clean.
Transfer the zucchini bread to a cooling rack to cool for 10 minutes.
Make the lemon glaze in a small measuring cup and whisk until smooth. Drizzle over the loaf.
Notes
Allow the bread to cool before drizzling with lemon glaze.
Nutrition Information:
Yield:

10
Serving Size:

1
Amount Per Serving:
Calories:

283
Total Fat:

8g
Saturated Fat:

4g
Trans Fat:

0g
Unsaturated Fat:

3g
Cholesterol:

51mg
Sodium:

218mg
Carbohydrates:

50g
Fiber:

1g
Sugar:

30g
Protein:

5g
This website provides approximate nutrition information for convenience and as a courtesy only. Nutrition is calculated by Nutronionix