Ahh, the call of a beautiful weekend morning flipping pancakes in cast iron for hungry kids gathered around the breakfast table.
For us, on Saturday morning, we slowly rouse and gather in the kitchen for pancakes. 
It really makes a better pancake to cook your pancakes in cast iron. They are buttery and crispy on the outside from the excellent steady heat that the pan provides.
Plus, making pancakes from scratch rather than a pre-mixed batter will always make a better dish. There are no additives that take away from the simple ingredients here.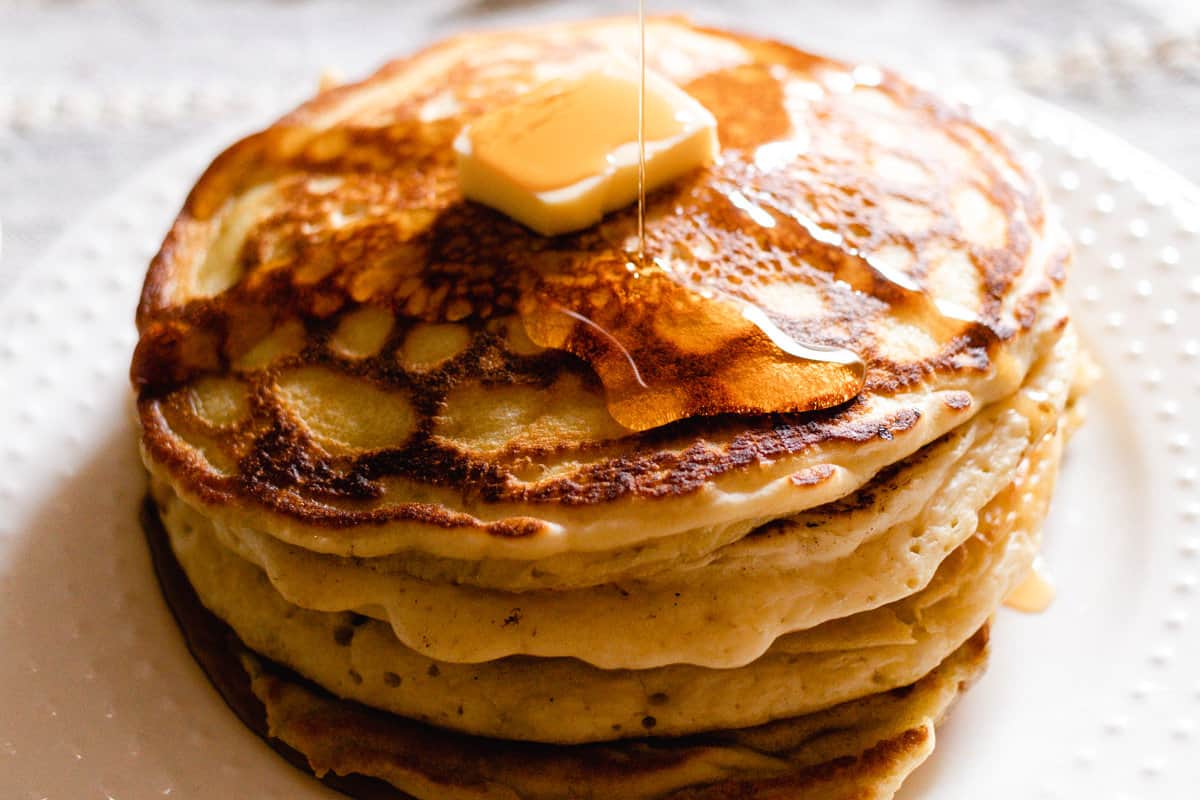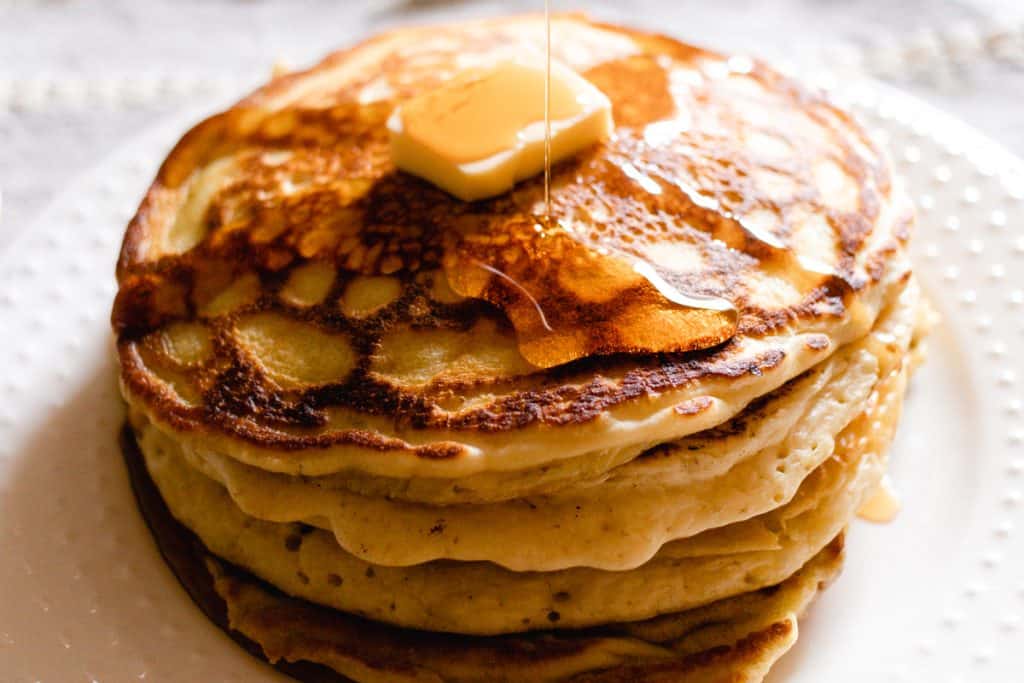 Best skillet for pancakes
A larger 12" cast iron skillet will give you more room for flipping pancakes, so opt for space in the name of efficiency.
That way, your hungry family can get them while they're hot.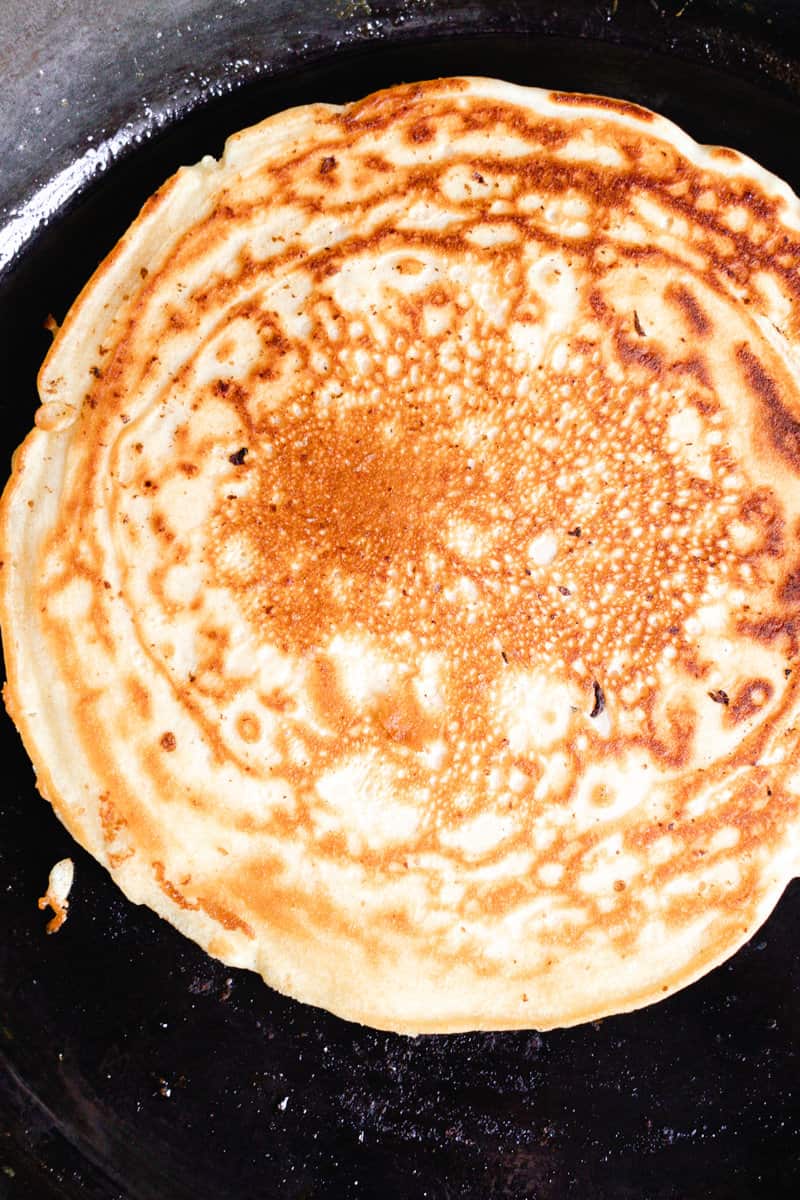 This post contains affiliate links, which means I make a small commission at no extra cost to you. As an Amazon Associate, I earn from qualifying purchases. Get my full disclosure here.
It's important that the skillet is well-seasoned. Check out our tips for cast iron care to ensure yours is up for the task.
You could also use a skillet that is enameled to make it a little easier on the care end. This is a great option for enameled cast iron skillets to cook pancakes in.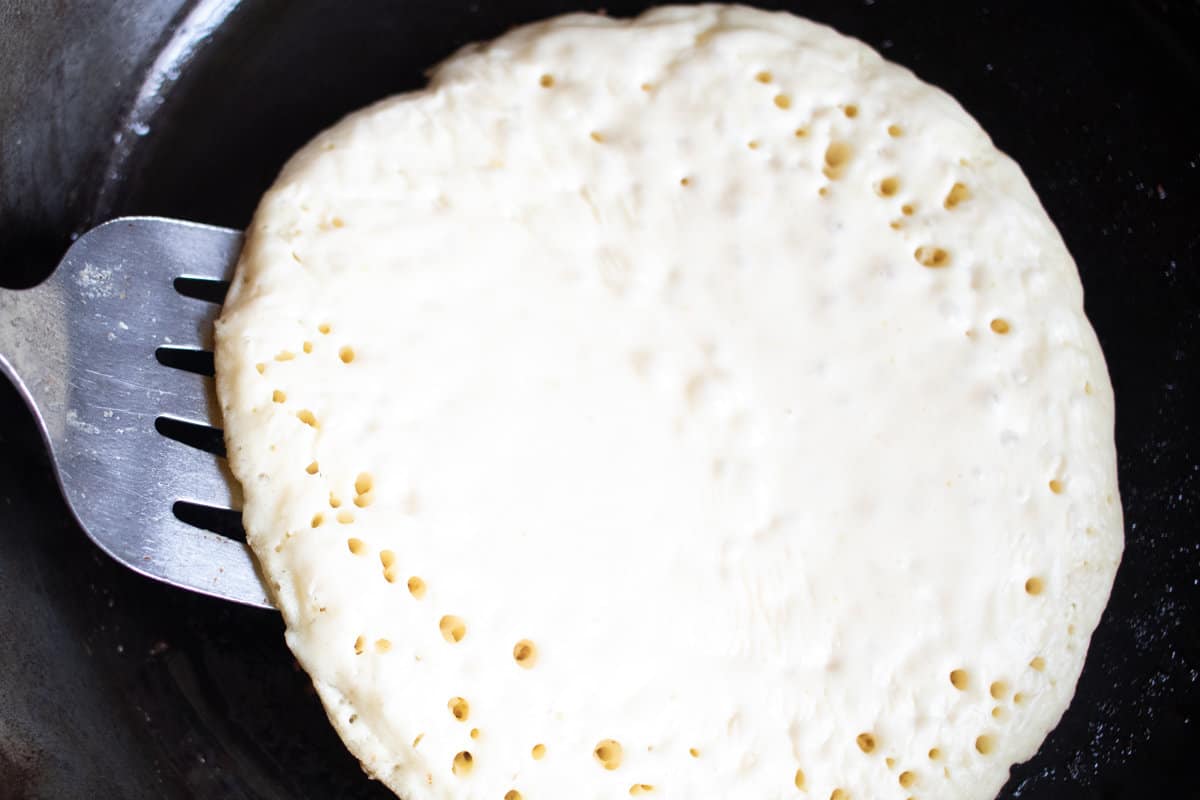 Plus, a lot of butter goes a long way when making pancakes in cast iron.
Cast iron skillet pancakes from scratch
Pre-mixed pancake batter can be quick and easy in a pinch, don't get me wrong.
But it should put your mind at ease to know that the ingredients to make pancakes are very simple pantry staples. And you won't have to worry about nasty preservatives and fillers when making them from scratch.
Ingredients you'd have on hand for most staple baked goods will do the trick here.
A little flour, baking powder and soda, salt, egg, butter and milk and that's it.
It's fun to remember that this is how pancakes became such a common breakfast dish in America.
Pioneers and early American settlers brought recipes over from their ancestry and home nations. Then, using the simple ingredients and tools on hand (like cast iron skillets), they'd whip up breakfast for a crowd.
It's rumored that Thomas Jefferson loved pancakes!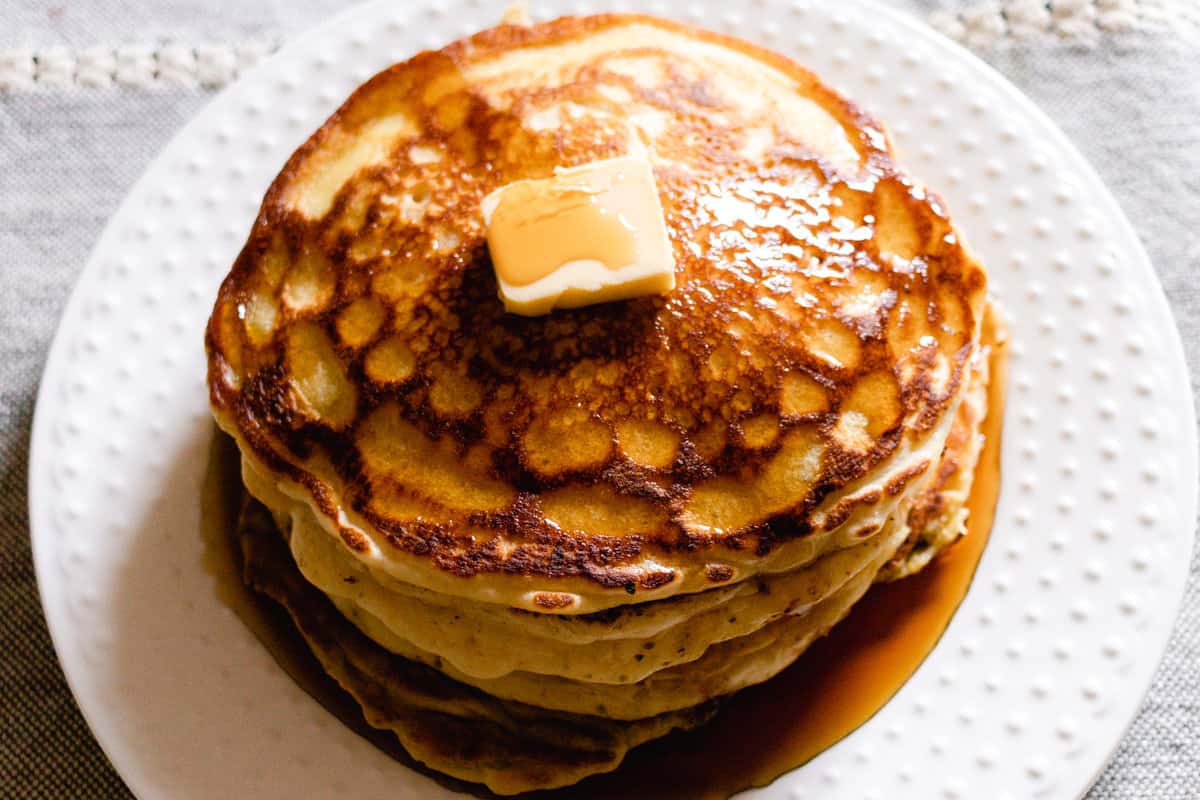 How to cook pancakes on cast iron
Simple pantry staples, a well-seasoned cast iron skillet, and a quick hand are all you need to make these delicious pancakes on cast iron.
What you'll need:
All-purpose flour
Baking powder
Baking soda
Salt
Egg
Butter, melted
Whole milk
Start by preheating the cast iron skillet over medium heat. All dry ingredients will first mix together in a separate bowl.
Once those dry ingredients are well combined, add the wet ingredients and mix with a hand mixer (or with a wooden spoon and some elbow grease) until just combined. 
Melt a little butter or oil in the skillet, and using a ¼ cup measure, portion out some batter for pancakes in your heated cast iron skillet.
Cook them until the bottom is golden brown; usually, the batter on the top bubbles a bit as well. Flip and cook the other side until lightly browned. 
Easy. That was the first batch. Work through the batter until all bellies are full.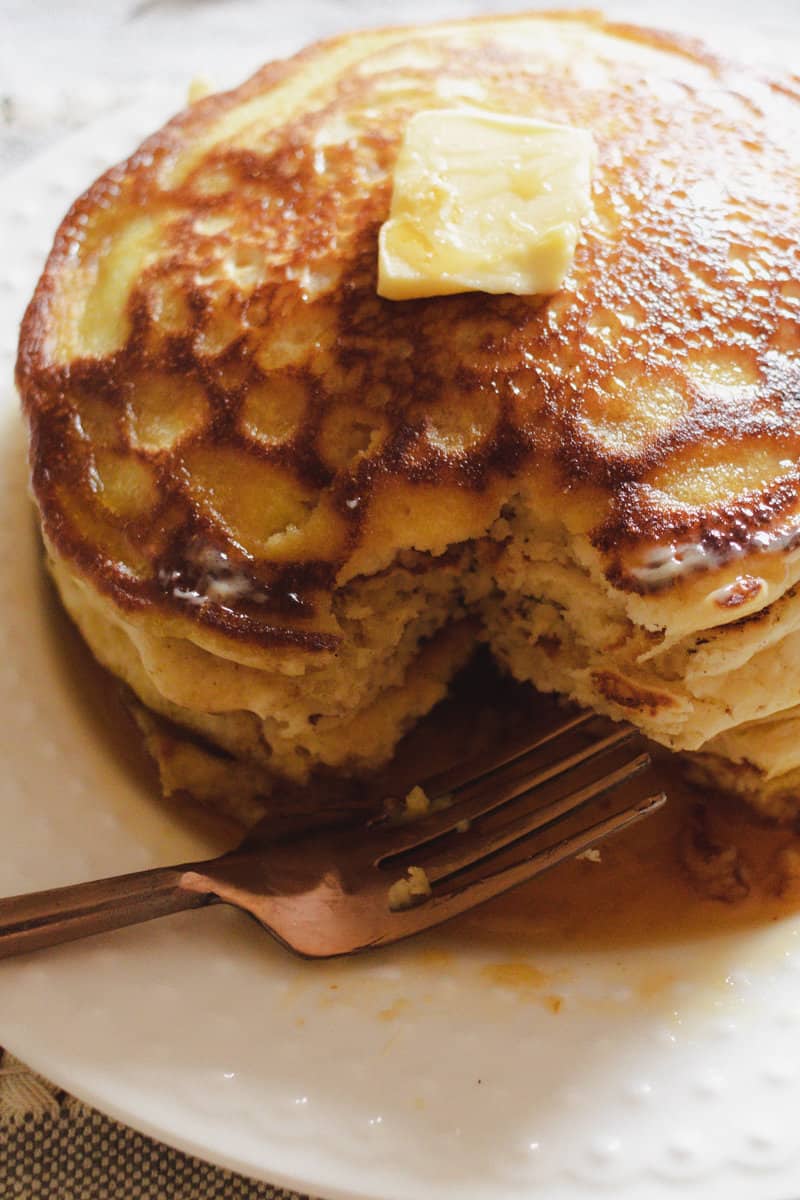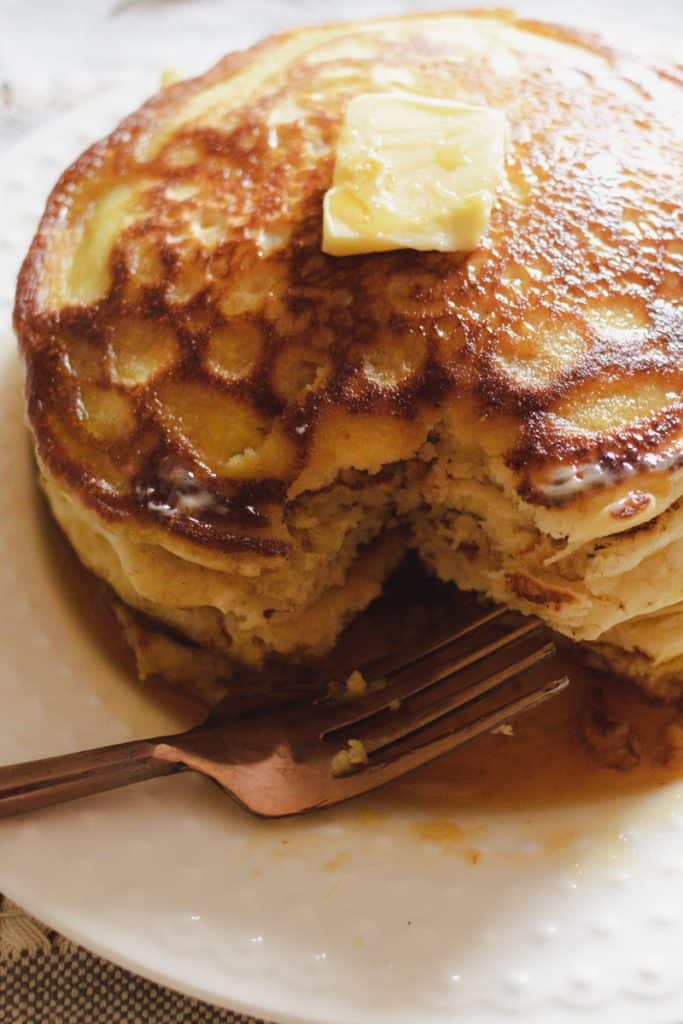 What to serve with pancakes
We love to serve ours with high-quality butter and an organic maple syrup.
Of course, many folks love to use diced berries coated in sugar with whipped cream. Nutella or peanut butter are also crowd favorites.
Bacon or sausage patties on the side really make the dish complete and helps to make it feel like a special weekend brunch.
I hope you find the time to make these simple pancakes from scratch in cast iron this weekend. Time spent together as a family over the weekend is what it's all about, friends! Enjoy.
More cast iron breakfast ideas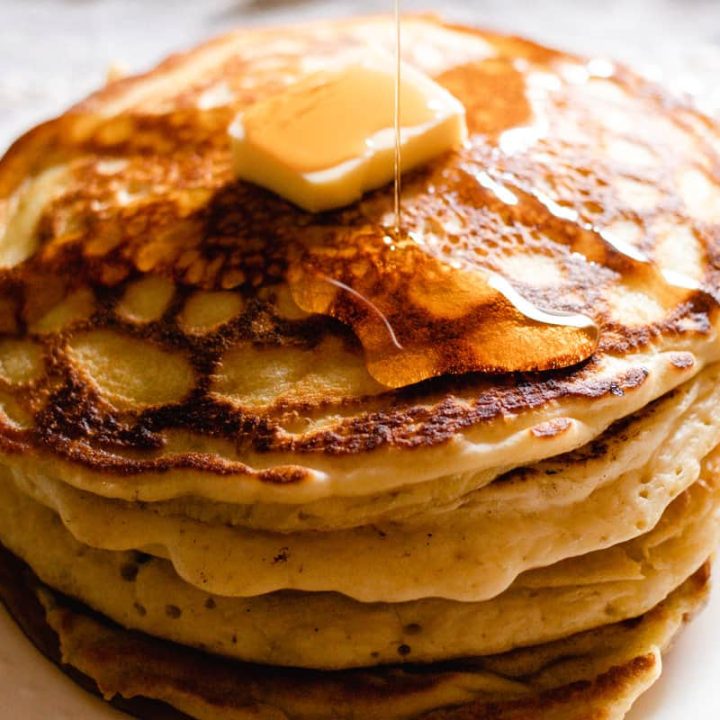 Pancakes in Cast Iron
If you've struggled making pancakes in cast iron, this recipe will answer all of your questions.
Ingredients
2 cups all-purpose flour
3 1/2 tsp baking powder
1/2 tsp baking soda
1 tsp salt
1 egg
3 tbsp butter, melted, plus some for oiling the skillet
2 1/4 cups whole milk
Instructions
Preheat the skillet over medium heat.
Whisk dry ingredients in a mixing bowl.
Add the wet ingredients and mix with a hand mixer until just combined. (You can also mix by hand with the same results)
Melt a little butter (or oil) in the skillet and pour about a 1/4 cup of batter in at a time.
Cook until the bottom side is golden brown, then flip and cook the other side until lightly browned.
Notes
Bubbles on the top of the pancakes are also a good sign that your pancakes are ready to flip.
Visit our cast iron care page for tips on seasoning your cast iron.
Nutrition Information:
Yield:

6
Serving Size:

1
Amount Per Serving:
Calories:

271
Total Fat:

10g
Saturated Fat:

6g
Trans Fat:

0g
Unsaturated Fat:

3g
Cholesterol:

55mg
Sodium:

671mg
Carbohydrates:

36g
Fiber:

1g
Sugar:

5g
Protein:

8g
This website provides approximate nutrition information for convenience and as a courtesy only. Nutrition is calculated by Nutronionix