Cast iron skillets are a wonderful non-stick pan that will last generations when cared for and seasoned properly.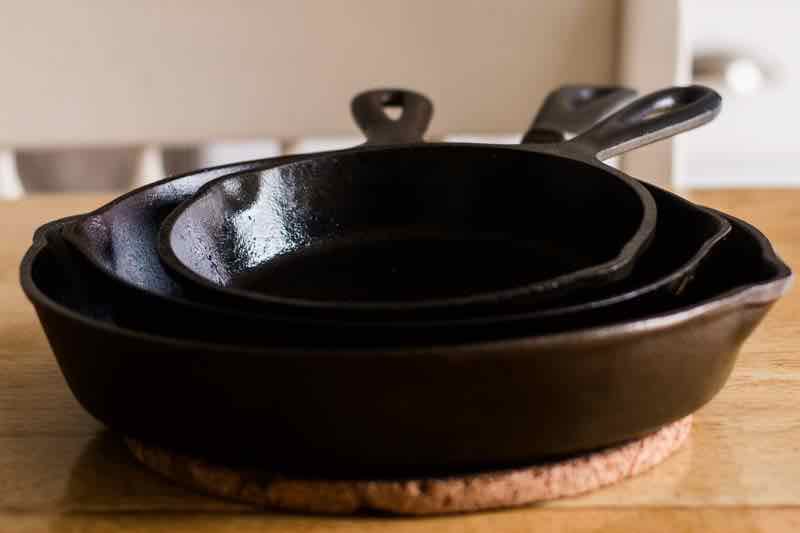 How to Season a New Cast Iron Skillet
With your new cast iron skillet, start by washing well with warm soapy water. Washing cast iron with soap is actually bad practice, but since this one is new and we are about to season it, a quick clean will not hurt anything.
Pat dry with a clean towel making sure the skillet is completely dry before continuing.
Whether it's a new skillet or an old one being reseasoned, the following steps are the same. Using an oil with a high smoke point, such as coconut oil, lightly coat the entire skillet. Inside and out, including the bottom and handle. Wipe off any excess oil with a paper towel.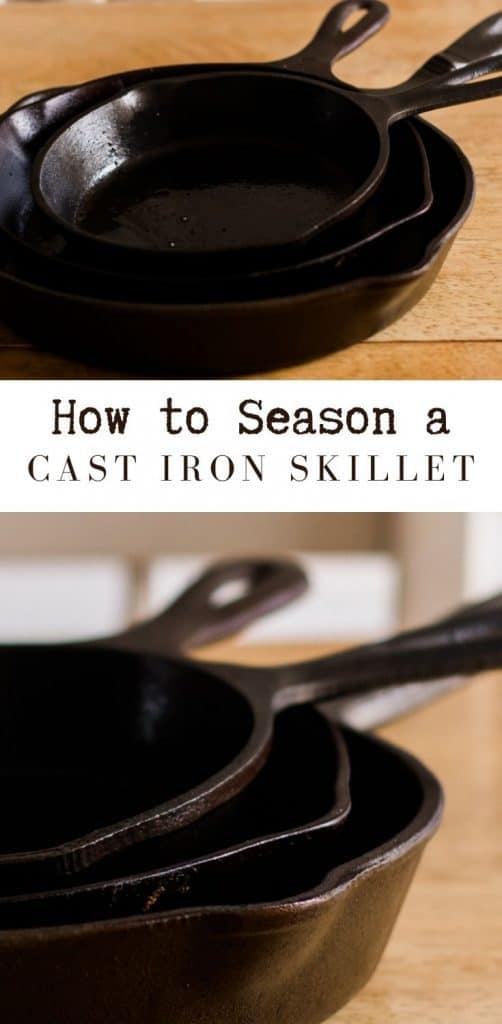 In a preheated 400°F oven, place the skillet upside down on the center rack. Position a large baking sheet or strip of aluminum foil on a rack below it to catch any oil drops. Allow to bake for 1 hour.
Remove from oven with oven mitts and allow to completely cool. Once cool, the skillet is ready to use.
What If My Skillet Still Sticks After Reseasoning?
If a skillet still sticks after reseasoning, it could be due to cast iron neglect, going long periods of time between seasoning, using abrasives such as steel wool or even cooking with acidic foods such as tomatoes.
The good news, cast iron is very durable. Repeat the seasoning process 3-4 times to get a good coat of oil baked back into the cast iron.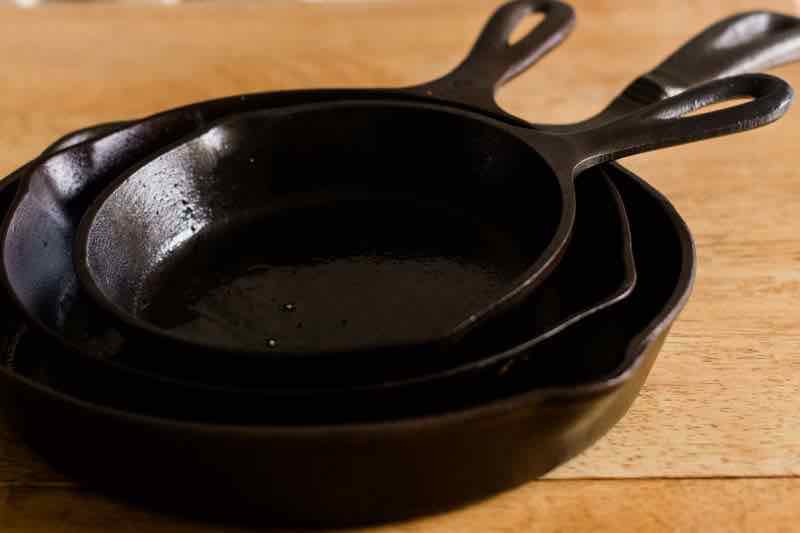 How To Make Cast Iron Non-Stick
Regular reseasoning of your cast iron skillet will keep your skillet non-stick. Cast iron generally should be seasoned several times a year, depending on use. Lightly coating the base with oil after each use will help prolong the time between seasonings.
What Oven Temp To Season Cast Iron
Lodge Cast Iron recommends an oven temp between 400° and 450°F for seasoning the skillet. I recommend setting the temp at 400°F and running the exhaust fan. The oven may smoke some while the oil is baking in. If possible, open a window to allow in some air circulation.
Common Cast Iron Care Questions
When To Reseason Cast Iron
When food is constantly sticking to the bottom and you find yourself having to scrape it out, it may be time to re-season. Other signs are rust and a metallic taste in the food.
Why Does My Cast Iron Skillet Stick
Are you preheating your skillet before using it? Sure, cast iron is uber non-stick, but cast iron must be preheated in order for it to work. Another common issue is the layer of polymerized oil is deteriorating.
Best Oil To Season Cast Iron
Any oil with a high smoke point will work for seasoning your skillet. Grapeseed oil, vegetable oil and avocado oil are all great picks with a high smoke point. I do most of my cooking with coconut oil, so I generally season my skillets with it.
Why Use A Cast Iron Skillet
Cast iron skillets use a process called polymerization, which is essentially using high heat to bake oil onto the skillet. This reaction through the process of seasoning literally causes the bonding of oil to the cast iron. If done properly, your cast iron will have a nice thin layer of polymerized oil, creating a durable, natural non-stick cooking skillet.
Can I use Abrasives such as Steel Wool on Cast Iron?
Um, no. Unless you're restoring a rusty old skillet in preparation for seasoning, no abrasives should be used. If the cast iron is starting to stick after each use, it's time to reseason.
How To Clean Cast Iron
After cooking with the skillet, scrape any remaining bits of food out using a wooden spatula and rinse with warm water. I am often asked if it is ok to use a washcloth to clean the skillet. I almost always use a wet washcloth to wipe out the skillet and have seen no negative effects because of it.