Beef enchilada dip with homemade sauce can be enjoyed on game nights with friends or is perfect, paired with an iced drink and a movie.
BEEF AND BEAN ENCHILADA DIP
It is so easy to default to the millions of pre-packaged options taking up multiple isles at the grocery store in this day and age.
When all I really want is tasty, satisfying goodness, not some chemically processed, prepacked comestible with unpronounceable ingredients.
The real trick is coming up with an appetizer that is not only delicious but one that requires very little work.
That is why this cheesy beef and bean enchilada dip recipe is my go-to. It is delicious, appeals to almost anyone, and is quite filling.
PIN IT FOR LATER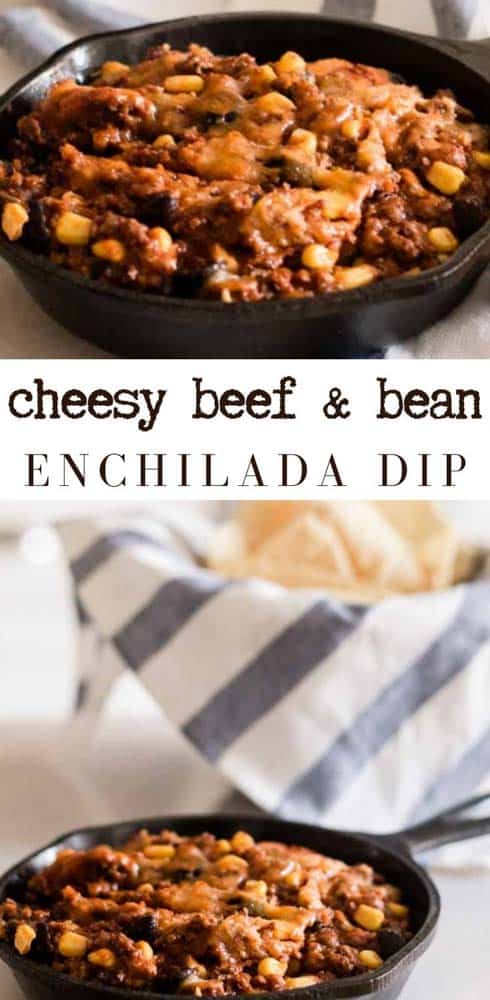 HOW TO MAKE ENCHILADA DIP
BEEF ENCHILADA DIP INGREDIENTS
2 lbs ground beef
1 can of black beans, drained
2 cups of shredded sharp cheddar cheese.
1 can of corn, drained
1/4 cup of chopped onion
3 cloves of garlic, minced
1 cup of enchilada sauce (homemade recipe below)
Spices.
Tortilla Chips
INSTRUCTIONS
Brown the meat in a cast iron skillet over medium heat. While the meat is browning, season with salt, pepper, cumin and paprika.
Once the meat is browned, add the chopped onions and garlic, and continue cooking until the onions are soft.
Stir in the black beans, corn, enchilada sauce and cheese. Hold back about 1/2 a cup of cheese to sprinkle on top.
Want to spice it up a bit? For those who enjoy a bit of a kick, add some green chilies to the dip.
Finally, sprinkle the remaining cheese evenly over the top of the beef enchilada dip.
In a preheated oven, bake for 25 minutes at 350°F. If you want a golden top, broil for the last two minutes.
Watch the dip carefully while broiling to keep the cheese from burning.
LOOKING TO SWITCH THINGS UP?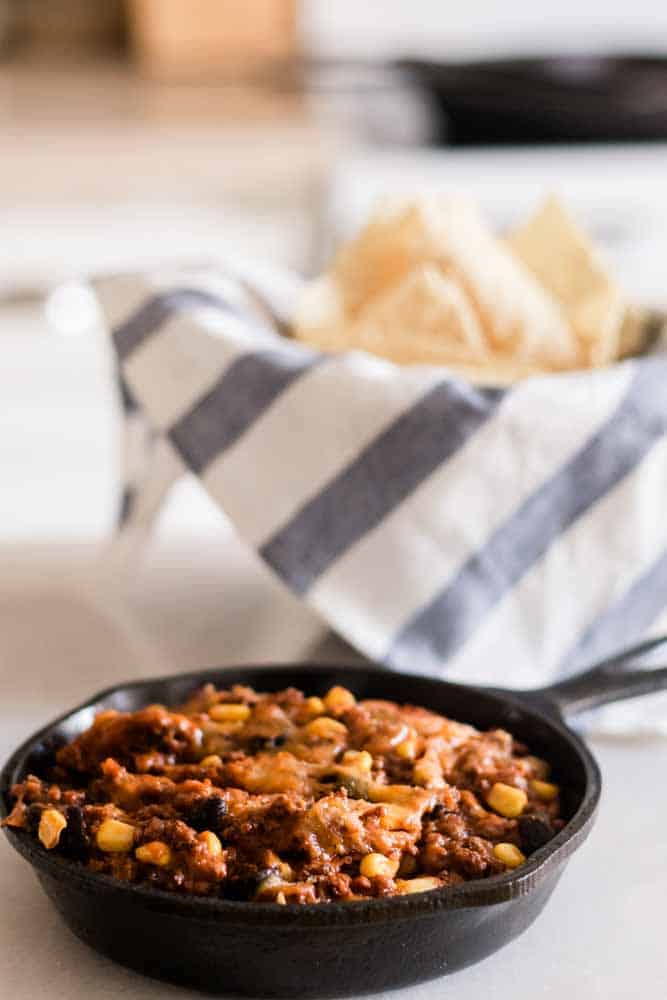 This recipe is tasty as is, but to suit your taste buds, try topping your beef and bean enchilada dip with any and all of these toppings!
If beef is not your thing, swap it out with 2 cups of shredded chicken or pork. No matter what route you choose, it's sure to be a hit! Or try boiling the ground beef first! You'll be pleasantly surprised.
Shredded lettuce
Chopped tomatoes
Green Onions
Jalapenos
Sour Cream
Guacamole
Pico de gallo
Hot sauce (yes, I like it spicy)
5 LAYER TACO DIP
This easy taco dip appetizer can easily be transformed into a layered dip. In a bowl, lightly mash up beans before spreading them out as the base layer for the dip.
Next, add a thin layer of corn topped with ground beef and onions.
Lastly, spread a nice thick layer of sharp cheddar cheese evenly over top the whole dip.
Bake following the same instructions. 350°F for 25 min.
Cook times may vary depending on the dish you use. But In a cast iron skillet, that seems to be a perfect amount of time.
Allow it to cool slightly and top it with finely shredded lettuce.
HOW TO MAKE ENCHILADA SAUCE
Making my own enchilada sauce became a MUST; I soon found out while gathering the supplies for this recipe. Apparently, my local, small-town grocery store does not carry enchilada sauce!
All for the best! I do enjoy making my food, even appetizers, totally from scratch.
Thankfully the store did carry tomato sauce!
So, To make your own sauce, add 1 can of tomato sauce, a couple of tablespoons of water (just to thin it out a bit), 2 tsp chili powder, and 1 tsp of each spice: cayenne pepper, cumin, onion powder, garlic powder and a dash of pepper to the browned meat.
Stir well until the sauce is well incorporated with the meat.
This beef enchilada dip can be enjoyed at parties, family gatherings, game-watch parties, or at home with a relaxing book or show. No matter the occasion, it's sure to satisfy!
Be sure to try my hot spinach artichoke dip next, or steer clear of dips altogether and make some homemade pizza rolls, egg rolls or tacos.
Beef Enchilada Dip
Cheesy beef and bean enchilada dip, perfect for parties and family gatherings.
Ingredients
2 lbs ground beef
1 can of black beans, drained
1 can of sweet whole corn, drained
2 cups sharp cheddar or Monterey cheese.
1/4 cup chopped onion
3 cloves of garlic, minced
1 tbsp salt
2 tsp chili powder
1 tsp pepper
1 tsp cayenne pepper
1 tsp cumin
1 tsp garlic and onion powder
Instructions
Brown meat in a cast iron skillet.
While meat is browning, add onion, garlic and spices.
When the onions are soft and meat is cooked through, remove from heat.
Add beans, corn and cheese, saving back about 1/2 cup of cheese.
Stir well, spread the remaining cheese evenly over top the dip.
Bake at 350°F for 25 minutes. Broil the last 2 minutes.
Serve with tortilla chips.
Notes
Watch carefully while broiling. the cheese on top can go from perfect to burned in a matter of seconds.