Have you found yourself staring down at that last package of pork labeled "bacon ends" in the freezer, wondering exactly what to do with it?
I tried a simple pork belly burnt ends recipe made in the dutch oven and the results were astonishing!
Ok, so what are bacon ends? We are probably familiar with the ever-popular burnt ends found in nearly every bbq joint, which are cut from the tips of beef brisket.
But this is pork, and we are talking about bacon ends. So how do we go about cooking them?
Let us start with what a bacon end is to understand better how that intriguing, undoubtedly delicious package made it into our freezer.
What are bacon ends
Bacon ends are cut from the same bacon we find in grocery stores everywhere.
After the bacon strips have been cut from the bacon slab, also called pork belly, you are left with random bits and pieces from the irregular-shaped piece of meat.
These pieces of meat are then usually cut up into bite-size pieces and we end up with bacon ends!
Bacon ends and bits
No matter the day of the week, bacon is always a good idea.
And if you buy a whole or quarter hog, you'll surely end up with bacon ends to make those delicious bacon burnt ends.
I've tried a number of bacon ends recipes and have yet to have a complaint with any of them.
Whether it's smoked, barbequed, skillet seared, or cooked in the oven like these oven-baked burnt ends; it will always be a crowd-pleaser.
Pork belly burnt ends
Enjoy these oven-cooked bacon burnt ends as a party appetizer or game day side with your favorite pulled pork recipe! The sweet, tangy bbq glaze is sure to be a hit!
Ingredients:
Bacon ends
Bbq sauce
Teriyaki sauce
Dry rub, (or make your own, see below)
How to make bacon burnt ends in the dutch oven
Dutch oven burnt ends might just possibly be the most unconventional bacon ends recipe ever.
Still, after recently discovering the ease of making spare ribs in the dutch oven, it was hard not to turn to the trusty dutch oven for this recipe as well.
Begin by trimming the ends into bite-sized pieces. Local butchers may leave the pork ends untrimmed in large pieces unless requested otherwise.
Next, add your dry rub.
I made a super simple dry rub to coat the bacon ends by combining smoked paprika, cayenne pepper, garlic powder, ground black pepper and brown sugar in a mixing bowl.
Then, toss the ends in the dry rub until well coated.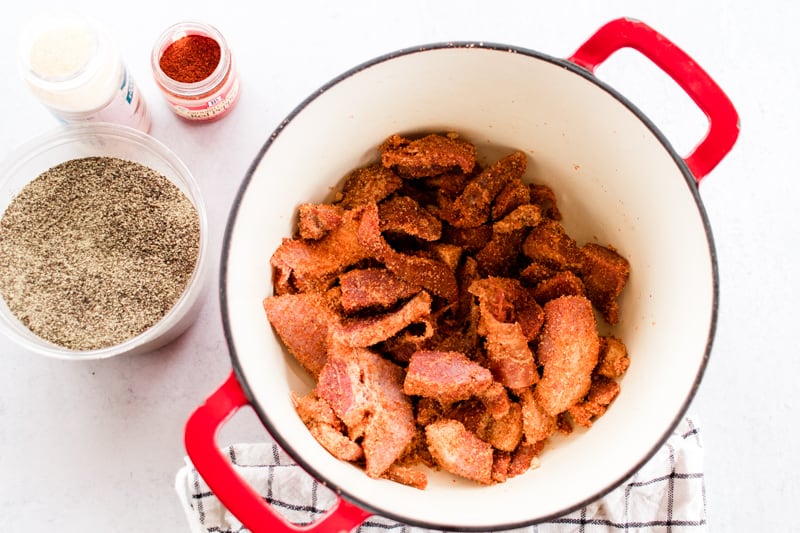 If you have a personal favorite dry rub, by all means, I made my own in order to omit the salt since the burnt ends are salty enough being cured in salt and all.
Next, add the bbq sauce and teriyaki sauce in with the meat, and toss again until well coated.
Transfer the bacon ends to the dutch oven, leave uncovered, and bake for 45 minutes at 375°F. No need to preheat the oven for this one!
Burnt pork ends
Pork belly burnt ends are the perfect snack, party food, or work great as a last-minute lunch idea.
Regardless of the occasion, this finger-licking recipe is sure to be a hit!
This simple pork belly burnt ends recipe is tender, a little sweet, a little tangy, very sticky and bursting with flavor.
If you are lucky enough to have leftovers, which is unlikely, these burnt pork ends are just as good the next day.
Simply reheat in the oven until warmed through.
Try these smokey beef back ribs next!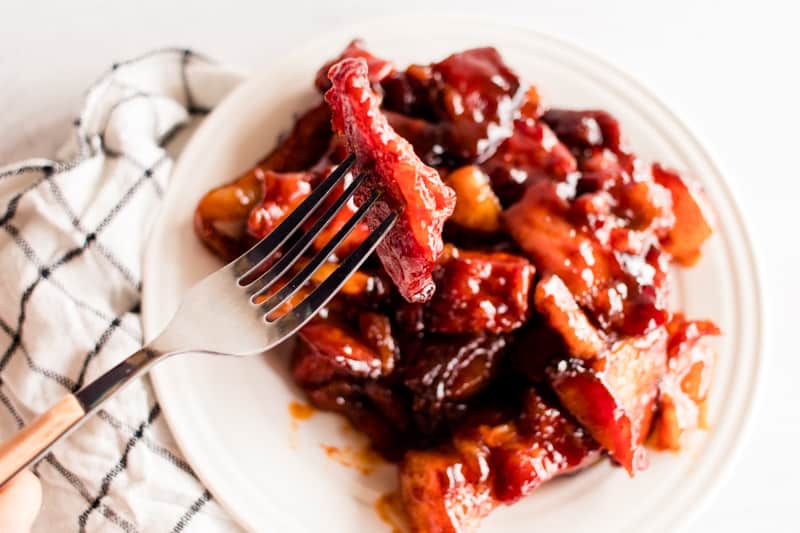 More great dutch oven recipes
Pork Belly Burnt Ends
Burnt pork ends with a dry rub, tossed in a dry rub, and baked to perfection!
Ingredients
1 lb of bacon ends
1 cup of hickory smoke bbq sauce
2 tbsp of terriyaki sauce (I like P.F. Changs)
for the dry rub
2 tbsp of brown sugar
1 tsp garlic powder
1 tsp smoked paprika
½ tsp pepper
¼ tsp of cayenne pepper
Instructions
Combine dry rub ingredients in a medium-size mixing bowl.
Add meat and toss to coat.
Add bbq and teriyaki sauce, toss again.
Transfer to a dutch oven and place on the center rack of the oven.
Set heat to 375°F and bake uncovered for 35-40 minutes, or until tender.
Notes
For the most tender meat, remove from heat at 195°.