Cozy, rib-sticking meals for these cooler months may seem like they require hours of simmering or roasting time. Here's how to cook brats on the stove, and it takes under 30 minutes.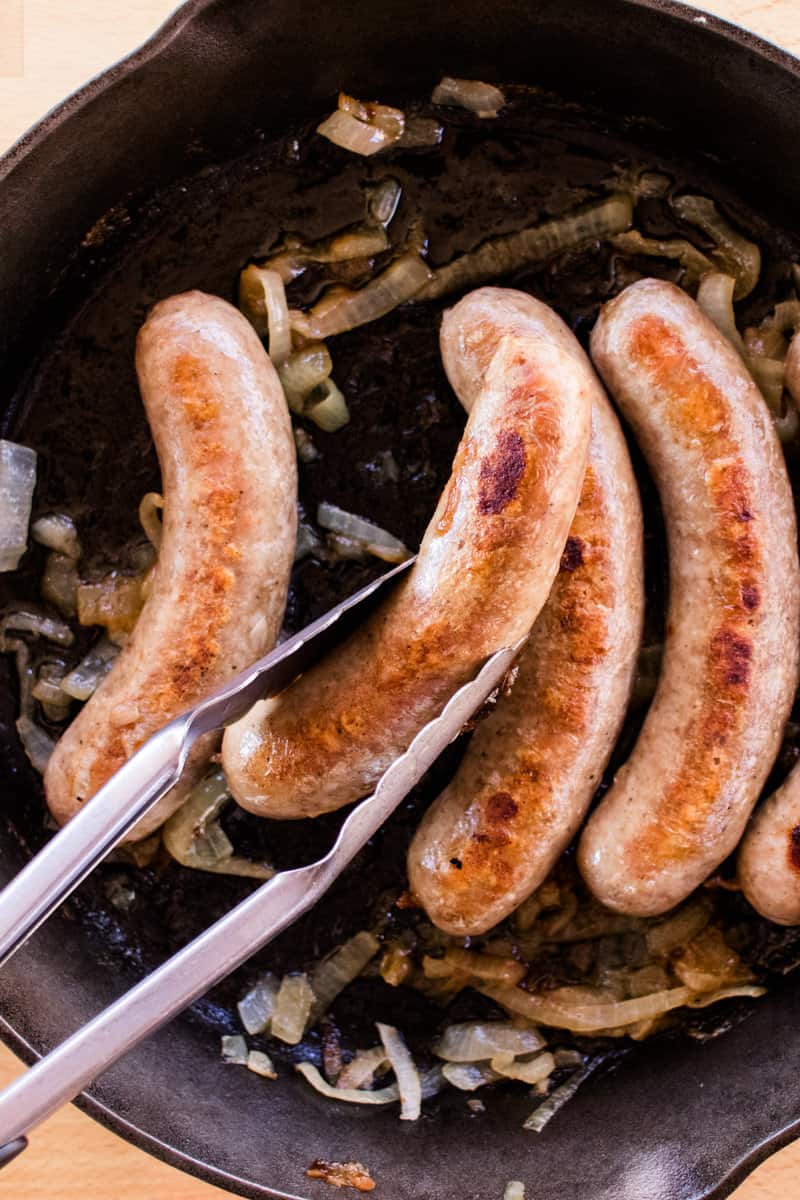 Bratwursts are an affordable protein source and can be found most anywhere. However, they seem to be a meat source that are either in your rotation or rarely seen at your table.
With this recipe for stovetop brats, you'll find yourself wanting more bratwurst all year round, not just during grilling season. Bring those brats indoors; you'll see why.
What to Serve with Brats
You've probably enjoyed a bratwurst at the ballpark or a backyard barbecue party in the summer. It's a delicious way to enjoy them, served with a bun, some fries or potato salad and condiments.
Surely, using this recipe, you can easily replicate that meal indoors using your stovetop to cook brats.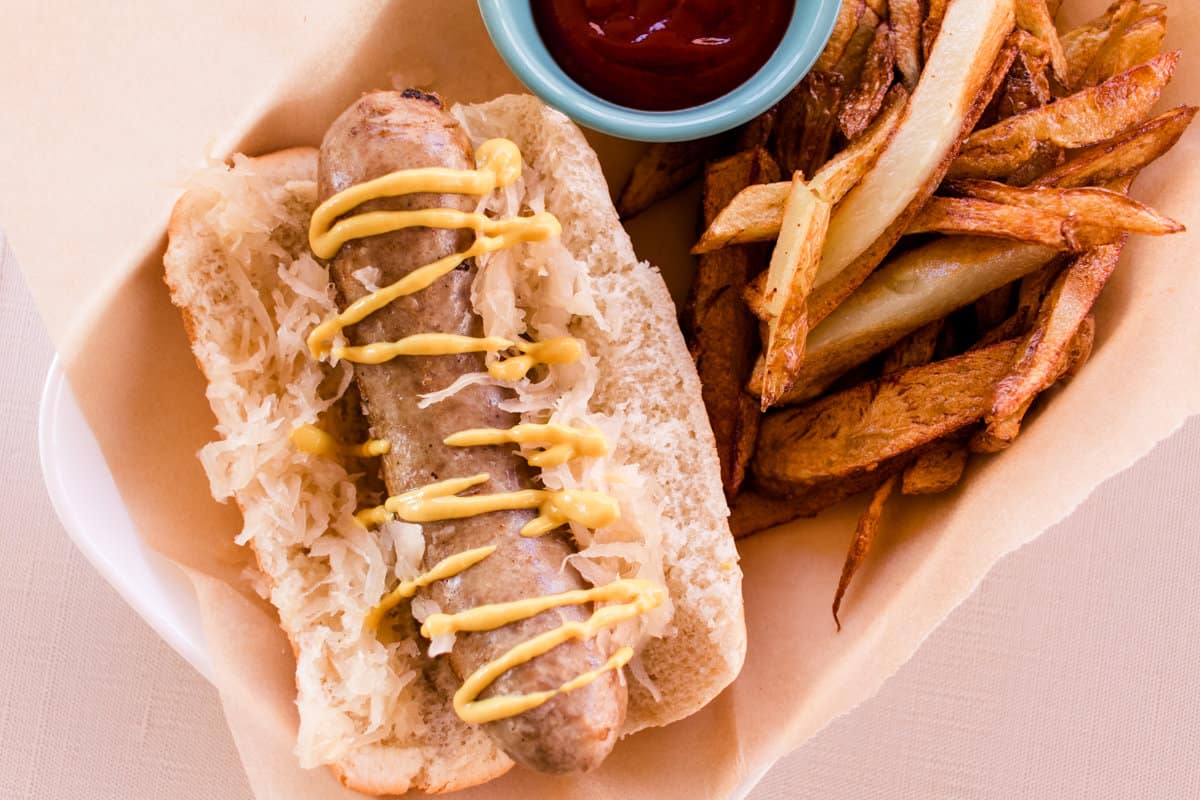 However, I also suggest trying them along the lines of a more traditional German-style bratwurst meal.
That means cooking the brats on the stove, simmering them with broth and onions and even sauerkraut if it's to your liking.
I'll explain how to make brats on the stove this way, and I highly suggest serving them over a bed of warm mashed potatoes to make an extra delicious, cozy fall meal.
How to Cook Brats on the Stove
These bratwursts cook quickly, so be sure to have ingredients ready and sides ready to go.
The ingredients required are minimal and should be in your home already. We like to keep things simple around here.
Of course, sourcing your brats using a local butcher or farmer is ideal. Grass-fed meat sources are always our recommendation.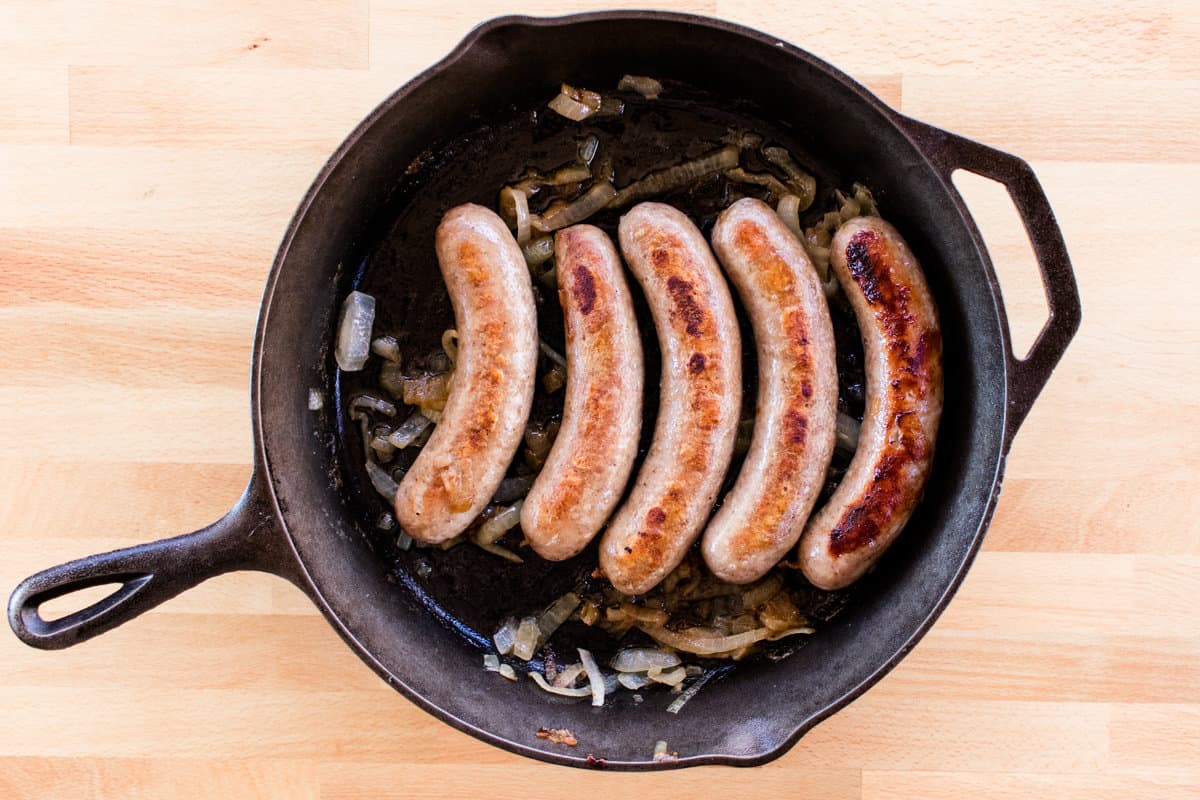 This post contains affiliate links, which means I make a small commission at no extra cost to you. As an Amazon Associate, I earn from qualifying purchases. Get my full disclosure here.
What You'll Need:
Bratwursts
Butter
Onion
Beef broth
Stovetop Brats Recipe:
Slice the onions and have them ready to go. Measure out 1 cup of beef broth and set aside.
Next, heat a 12" skillet over medium heat. Melt 2 tablespoons of butter and coat the skillet.
Sear the brats for 6-7 minutes, flipping once about halfway through at 3-4 minutes.
Then, while the brats are searing, add the sliced onion to the pan, tossing occasionally with tongs.
Pour in broth, cover the skillet and reduce the heat so that the brats and onions simmer together for about 10 minutes.
Finally, remove the brats once cooked through and serve your way.
Note that adding sauerkraut in with the onions and brats in broth is an option. This mixture is delicious over mashed potatoes.
Simply leave the lid off after removing the brats and continue reducing the broth down and simmering the onions and sauerkraut together. It's so good.
Otherwise, roasted vegetables, baked beans, or on a bun with toppings is a great way to offer up these stovetop brats. 
What Temp Are Brats Done?
Brats will be done at 152ºF and should feel completely warm to the touch.
In order to ensure your brats are fully cooked through, it's always an option to use a meat thermometer, to be exact. There should be no cool spots after searing and simmering for 10 minutes.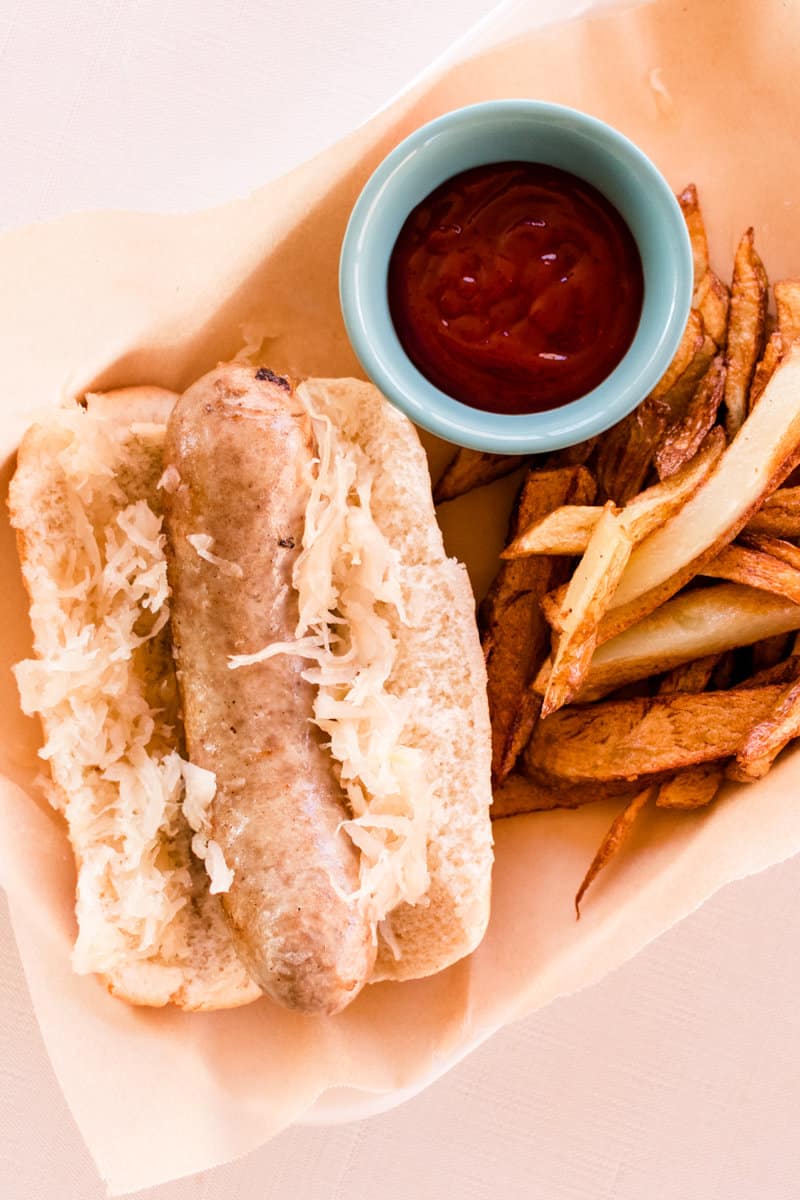 More Quick Fall Meals
Are you looking for more easy, comforting meals this fall? Take a look at these meals, all done in under an hour.
Wrapping Up
If bratwursts are not a common protein at your table, try these simple stovetop brats. It's a healthy and quick way to have a rib-sticking, cozy meal this fall.
Keep them simple with a bun and condiments, or even more decadent and serve over warm, buttery mashed potatoes.
Ask any questions below; I'm happy to help. I hope I've simplified how to make brats on the stove for you. Enjoy!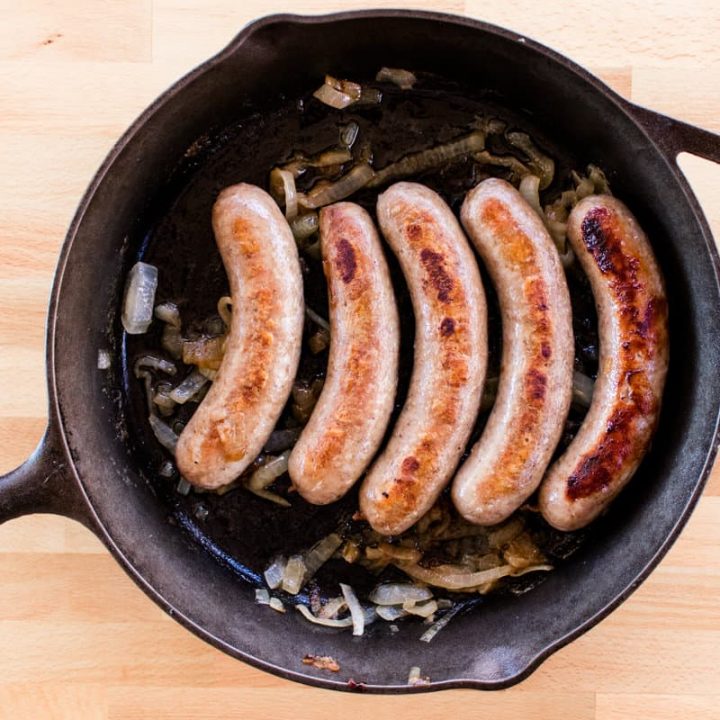 Stovetop Bratwursts
In under 30 minutes, these bratwursts cooked on the stove will be your next easy weeknight meal.
Ingredients
5 bratwursts
2 tablespoons butter
1 onion, sliced
1 cup beef broth
Instructions
Heat a 12" skillet over medium heat.
Melt butter and sear brats for 6-7 minutes, flipping once.
Add onions while the brats are searing, tossing occasionally with tongs
Pour in broth, cover and reduce to a simmer for 10 minutes.
Remove the brats once cooked through.
Notes
Leave the lid off and continue simmering the onions for extra caramelization.
Add sauerkraut to the broth, onions and bratwurst and serve over mashed potatoes for a delicious option.
Nutrition Information:
Yield:

5
Serving Size:

1
Amount Per Serving:
Calories:

335
Total Fat:

30g
Saturated Fat:

11g
Trans Fat:

0g
Unsaturated Fat:

16g
Cholesterol:

75mg
Sodium:

935mg
Carbohydrates:

4g
Fiber:

0g
Sugar:

1g
Protein:

13g
This website provides approximate nutrition information for convenience and as a courtesy only. Nutrition is calculated by Nutronionix