We are big fans of all forms of chili in our household. This quick and easy Colorado green chili will knock your socks off this fall.
Jarred tomatillo salsa makes this chili easier than usual, and I have a feeling you'll start storing jars of it in your pantry to keep this chili accessible whenever the craving kicks in.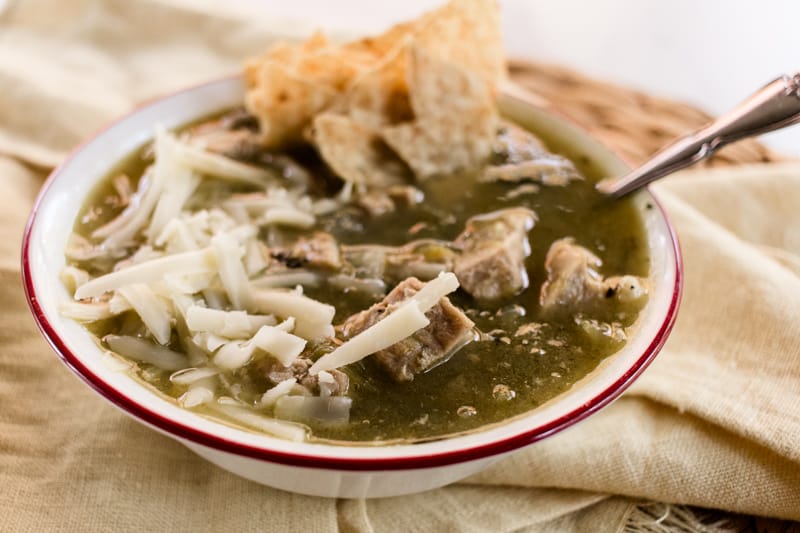 If you've purchased whole pigs or never know what to do with pork shoulder meat, this is a great recipe to try.
Pork chili is delicious and melts in your mouth. The best part is that the leftover meat can be used in enchiladas or burritos for another meal later in the week.
What is chili verde?
Chili verde literally translates to green chili in Spanish. Tomatillo tomatoes, which are green in color, are used rather than the typical red tomatoes used in traditional chili.
The peppers used are also green rather than red, adding to the depth of green color here.
That's part of it, but what makes chili verde the dish is to use pork as the meat. A pork shoulder is ideal, but pork chops will work in a pinch.
Learn how to boil pork chops here.
By the time the chili is done, it will fall apart and melt in your mouth. Delicioso!
This post contains affiliate links, which means I make a small commission at no extra cost to you. As an Amazon Associate, I earn from qualifying purchases. Get my full disclosure here.
Is green chili spicy?
You may be wondering, "Are green chilis spicy?" Like all other chilis, there are several levels of heat. I crafted this dish to please the palates of a household of children, so not to worry if spice isn't your thing.
Since we're using jarred tomatillo salsa verde to get our tomatillos and some of our chilis in, you can select a mild version, or vise versa, right off the grocery shelf.
The same goes for the canned green chilis we're using. Choose mild if that is your preference.
Easy pork chili verde
Dutch oven chili recipes are the only way to go. That's what we'll use to make our colorado green chili.
Just one pot to clean, and it will sear the pork shoulder beautifully, adding a depth of flavor while still being quick and easy.
By searing first, we will get those browned pork juices that will make this dish taste like it simmered all day long. This Colorado green chili recipe is done in under an hour.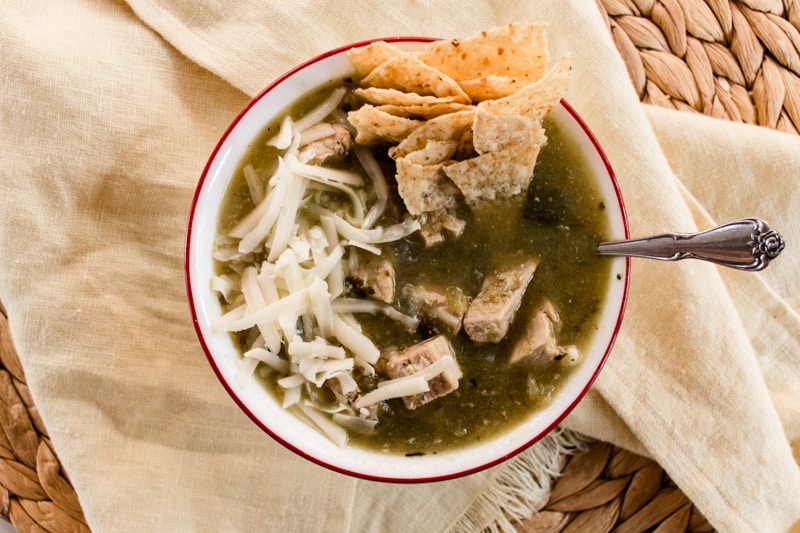 What you will need:
Boneless pork shoulder
Butter
Onion
Garlic
Cilantro
Canned chopped green chilis
Chicken broth
Sea salt
Pepper
Cumin
Flour (optional)
It's always best practice to set aside your meat and salt and pepper it at least an hour in advance of searing.
Don't worry if you forget; it's not the end of the world, but for added depth of flavor, pull out your meat in advance and at least salt it.
This will help the meat season from the inside out, making your colorado green chili stand out even more.
Prep your onion and garlic by dicing and mincing, and have it ready to go. Chop the cilantro and have your seasonings ready.
Take your meat and sear both sides in butter in your sizzling dutch oven over medium-high heat.
Remove the pork to a cutting board and dice it into smaller pieces; about 1" cubes are perfect. That way, the meat will fall apart easily and will be manageable to eat. Set aside the hot pan.
With your dutch oven lowered to medium heat, add another slab of butter and saute the onions and garlic together until translucent. Stir in your cilantro.
Add the meat back in, along with the green chilies and tomatillo salsa. Next, add the broth and bring to a boil while seasoning with more salt, pepper and now cumin, that perfect Latin American spice.
If you prefer, you can thicken the chili with a couple of tablespoons of flour here. Not essential but does give it a thickness that is lost since the chili will not simmer all day.
Reduce the heat to a steady simmer, and let it go for 30 minutes, stirring occasionally.
Ensure the pork is cooked through before serving. If the meat was cut into 1" chunks or smaller, it should be good to go. Bigger pieces will take a bit longer, so keep an eye on your Colorado green chili.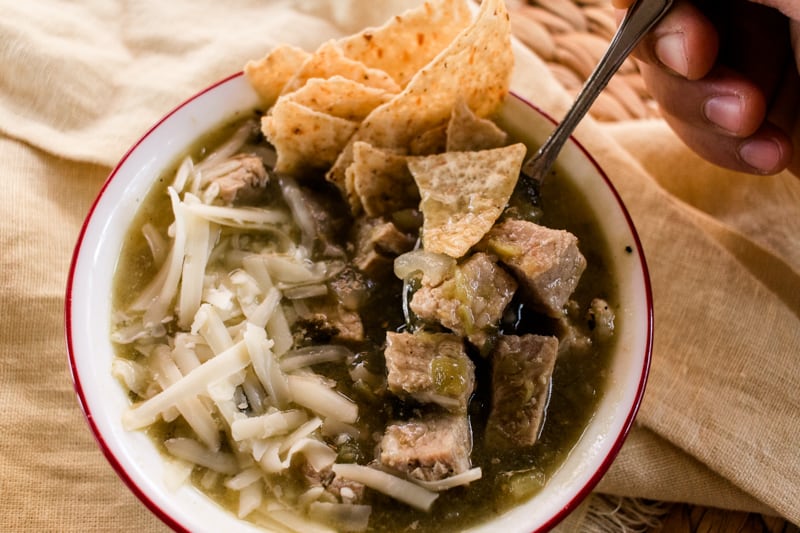 What to serve with green chili
As with most chilis, the standard is a nice, moist cornbread. Of course, cooked in cast iron.
Another great option is to serve some warmed tortillas on the side. Even quesadillas are quick to throw together, especially on a sheet pan.
Top it with chips, sour cream, Mexican queso fresco, more cilantro, or extra hot sauce for the daring at your table.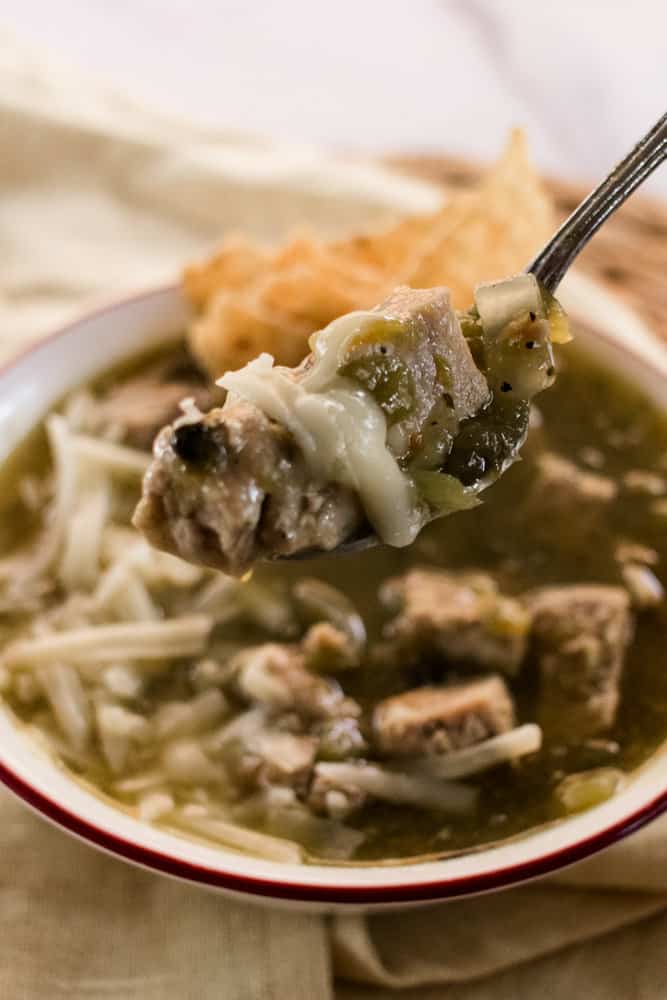 Why you'll love this Colorado green chili recipe
Sometimes we don't have all the time in the world to let a pot simmer all day.
You'll love how easy it is to create great flavor in this easy pork chili verde by using some easy shortcuts like jarred salsa and canned chilis.
Searing the meat gives an extra depth of flavor that's quick to achieve.
Make this for your next potluck, and you'll be the favorite of the night. Comment if you give this one a try. Enjoy!
Read one of these next!
Quick and Easy Colorado Green Chili
The shortcuts here make this Colorado green chili come together in under an hour.
Ingredients
2 lbs of boneless pork shoulder (or pork chops)
2 tbsp butter
1 onion, diced
4 cloves of garlic, minced
1/2 bunch of cilantro, chopped
21 oz can of chopped green chilis
16 oz jar tomatillo salsa verde
4 cups chicken broth
1 tsp sea salt, plus more to season the pork
1/2 tsp pepper
1/2 tsp cumin
2 tbsp flour (optional)
Instructions
Salt and pepper meat, then sear both sides in a dutch oven in a tablespoon of butter.
Remove the pork to a cutting board and dice it into 1" cubes
Add another tablespoon of butter and saute onions and garlic.
Stir in cilantro, then add the meat back in, along with the green chilies and tomatillo salsa.
Add broth and bring to a boil while seasoning with salt, pepper and cumin.
Thicken with flour if needed, then cover the dutch oven and reduce heat to simmer for 30 minutes.
Ensure the pork is cooked through before serving it with your favorite toppings.
Nutrition Information:
Yield:

8
Serving Size:

1
Amount Per Serving:
Calories:

456
Total Fat:

30g
Saturated Fat:

11g
Trans Fat:

0g
Unsaturated Fat:

15g
Cholesterol:

122mg
Sodium:

891mg
Carbohydrates:

15g
Fiber:

3g
Sugar:

7g
Protein:

33g
This website provides approximate nutrition information for convenience and as a courtesy only. Nutrition is calculated by Nutronionix