I am shocked to admit this is the first time ever tasting sauerkraut soup, and an honest review; I was presently surprised. This polish sauerkraut soup hits a homerun on flavor with thick chunks of polish sausage and salty sauerkraut.
What is Polish Sauerkraut Soup
Sauerkraut soup is a hearty, almost stew-like dish. It is generally made with potatoes, sausage, carrots, and of course, sauerkraut. The variations are endless, though, by substituting sausage for bacon, chicken, or ribs. It is also delicious with onions, celery, mushrooms; you name it.
Sauerkraut is one of those ingredients you either love or hate. And if you do love it, this Kapusniak recipe (sauerkraut soup) is a must-try.
Nothing is better than a hot filling meal, especially as we head into winter. I did take the easy route with this one and used some premade sauerkraut. It's not hard to make if you want to try it yourself, but you will have to plan ahead since the fermentation process takes at least a week.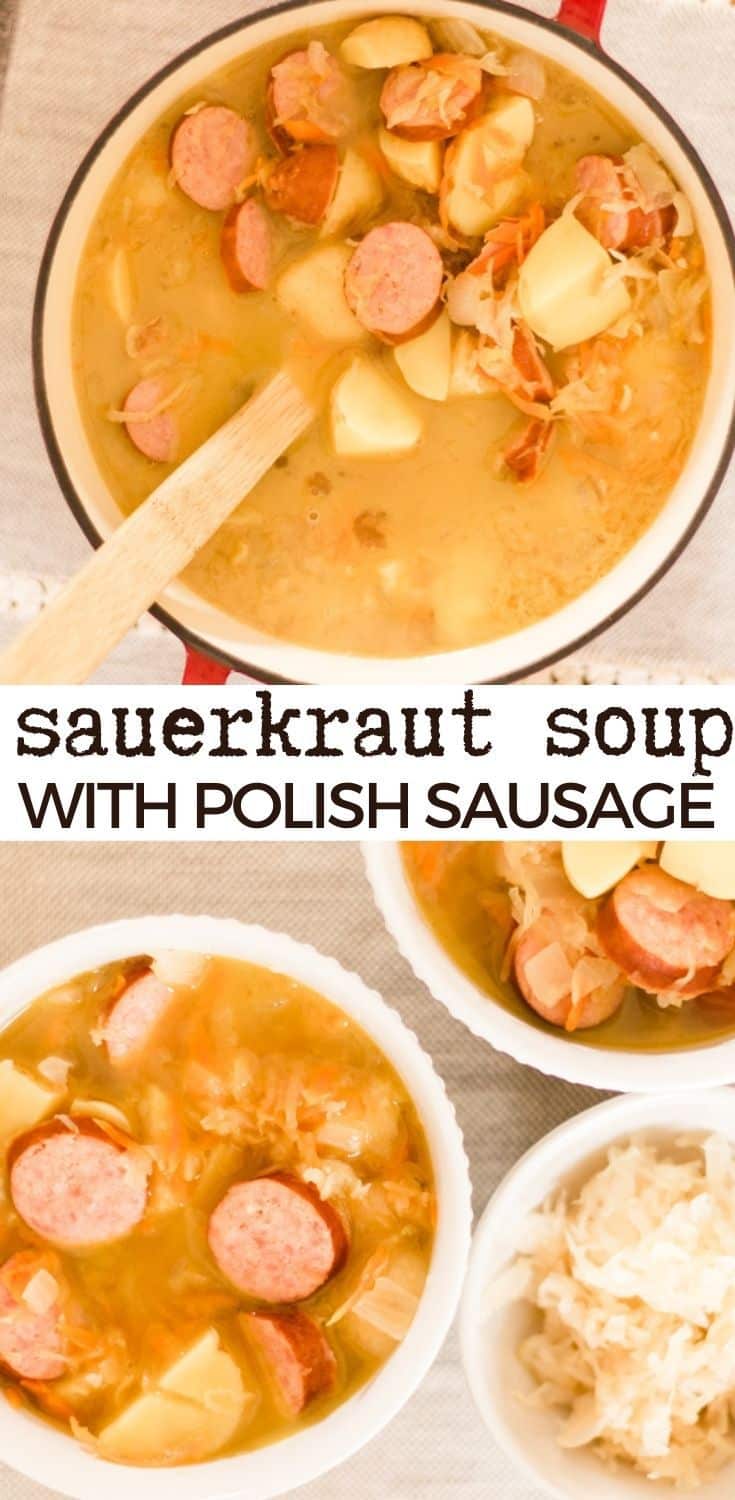 Why make soup out of sauerkraut
Kraut, as well as many fermented vegetables, are very nutritious. Sauerkraut is loaded with vitamins and minerals, and its many probiotics help the body absorb those nutrients.
Polish Sauerkraut Soup Recipe (Dutch Oven)
You can make this in either a dutch oven or stainless steel pot. On the stove over medium heat, saute onion and garlic in some olive oil. While that is sauteing, dice potatoes and carrots, add them, and chicken or beef broth as soon as the onions are sauteed. Season with salt, pepper, some cumin, and caraway seeds. Cover and bring to a boil.
While the broth is coming to a boil, slice polish sausage into half-inch pieces and sear over medium heat in a medium-sized cast iron skillet.
As soon as the broth comes to a boil, reduce heat to a simmer. Let it simmer for about 20 minutes to allow the potatoes and carrots to soften. Then, add in sausage and sauerkraut and let it simmer for 10 minutes or until the potatoes are soft.
Stir and serve with fresh bread and baked squash.
Tips:
Try this homemade bone broth recipe to make your own chicken broth for additional benefits.
I personally used store-bought kraut in this recipe since I didn't have any on hand. Try to look for sauerkraut with just cabbage, water, and salt.
Can this be made vegetarian? Swap out the chicken broth for vegetable broth and substitute sausage for lightly seared zucchini or acorn squash. Then add it to the soup as you would the sausage.
What meat is good in sauerkraut soup? The polish sausage adds terrific flavor to the soup. Other great options include bacon, pork ribs, ham, and diced chicken.
How to thicken the soup? Add a cup of cooked rice, barley, or quinoa to help stretch this meal even further. You will need to adjust the broth amount, though, to keep the soup consistency.
More Hearty Winter Favorites
Polish Sauerkraut Soup
A hearty, delicious soup with thick cuts of polish sausage and savory sauerkraut.
Ingredients
1 lb Polish sausage
1 cup of sauerkraut
1 onion, diced
4-5 red potatoes, cut into ½" pieces
1 carrot, diced
3 cloves of garlic, minced
6 cups of broth, chicken, or beef
2 tbsp olive oil
½ tsp caraway seeds
½ tsp cumin
Salt and Pepper to taste
Instructions
Saute onion and garlic in the dutch oven (or pot) until soft.
Add broth, potatoes, carrots, caraway seeds, cumin, salt, and pepper and bring to a boil over medium-high heat.
While the broth is coming to a boil, pan sear sausage in a cast iron skillet. (cook until slightly browned and crispy)
As soon as the broth comes to a boil, reduce heat to a simmer for about 20 minutes.
Add sausage and sauerkraut and let it continue to simmer for an additional 10 minutes or until potatoes are soft.
Nutrition Information:
Yield:

8
Serving Size:

1
Amount Per Serving:
Calories:

382
Total Fat:

16g
Saturated Fat:

5g
Trans Fat:

0g
Unsaturated Fat:

10g
Cholesterol:

53mg
Sodium:

1602mg
Carbohydrates:

43g
Fiber:

5g
Sugar:

5g
Protein:

16g
Nutrition is calculated by Nutronionix. All nutrition should be verified independently.