Beef brisket is cooked through in the oven with potatoes and carrots to make a delicious, tender, slow-cooked dinner.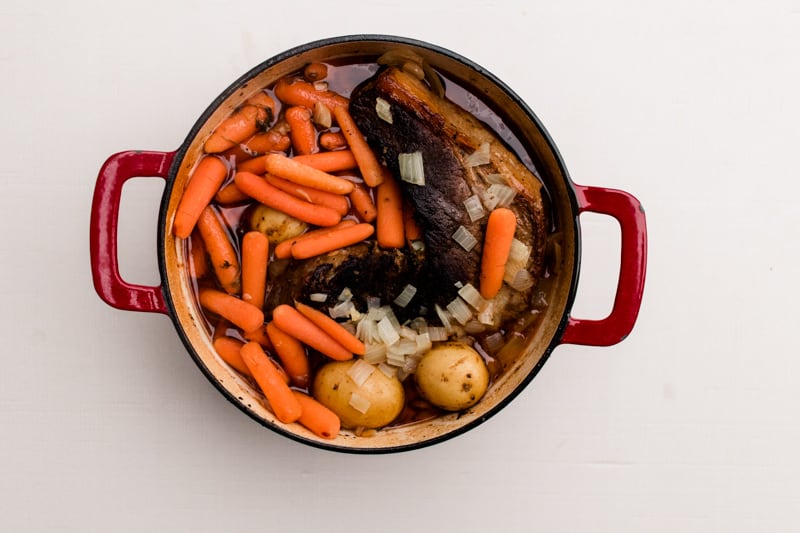 We love beef here at cast iron skillet cooking, so when it comes time to cook a beef brisket, it becomes a challenge to determine which cooking route to take to cook the brisket.
Since winter weather is officially in full swing, the brisket today is going in the oven.
For those of you that purchase beef from a local farmer, you'll only get one, maybe two briskets to experiment with.
Nonetheless, brisket can be baked in any number of ways, all delicious, and all cooking methods though different, share one common theme-low and slow.
The recipe shared below is a braised beef brisket in the dutch oven, cooked similar to corned beef or a pork cottage roll.
Beef brisket dutch oven
This oven-baked brisket is braised and cooked alongside of some potatoes and carrots. Once cooked, serve it up like a roast or stew, and save any leftovers for brisket sandwiches.
This post contains affiliate links, which means I make a small commission at no extra cost to you. As an Amazon Associate, I earn from qualifying purchases. Get my full disclosure here.
Helpful cooking tools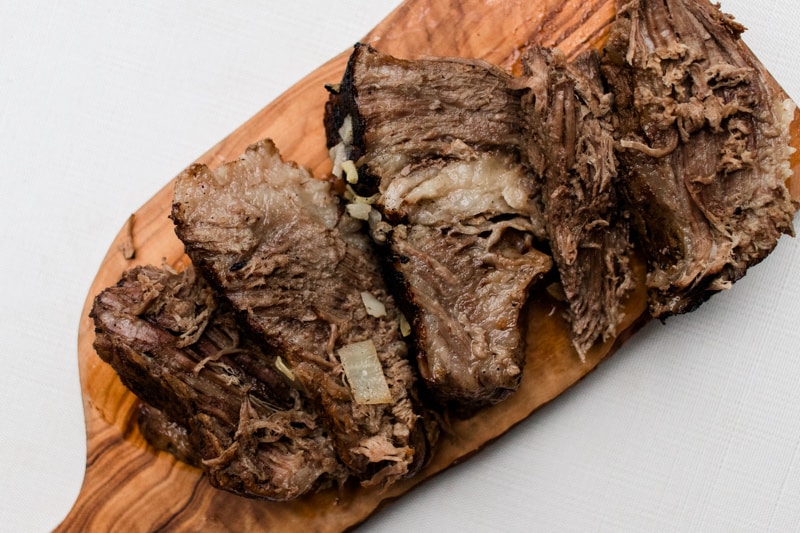 What type of meat is brisket
Beef brisket is a lean cut of meat from the breast of a cow. It's entirely boneless, usually with a strip of fat running along the top side and connective tissues and sinew throughout the meat.
The brisket can weigh in at up to nearly 20 pounds untrimmed.
You'll often find the brisket at the grocery store divided into two cuts, the point and the flat.
The point cut is the fatty cut of brisket, while the flat cut has the fat removed with the exception of one strip on the top.
Smoked vs slow-braised brisket
Smoked brisket is becoming increasingly popular; it's incredibly tender with a deep, smokey rich flavor.
Slow-braised brisket, such as this dutch oven brisket, comes out tender, juicy with minimal prep work.
Then, once it's in the oven, you can walk away until it's ready. Perfect for those busy schedules.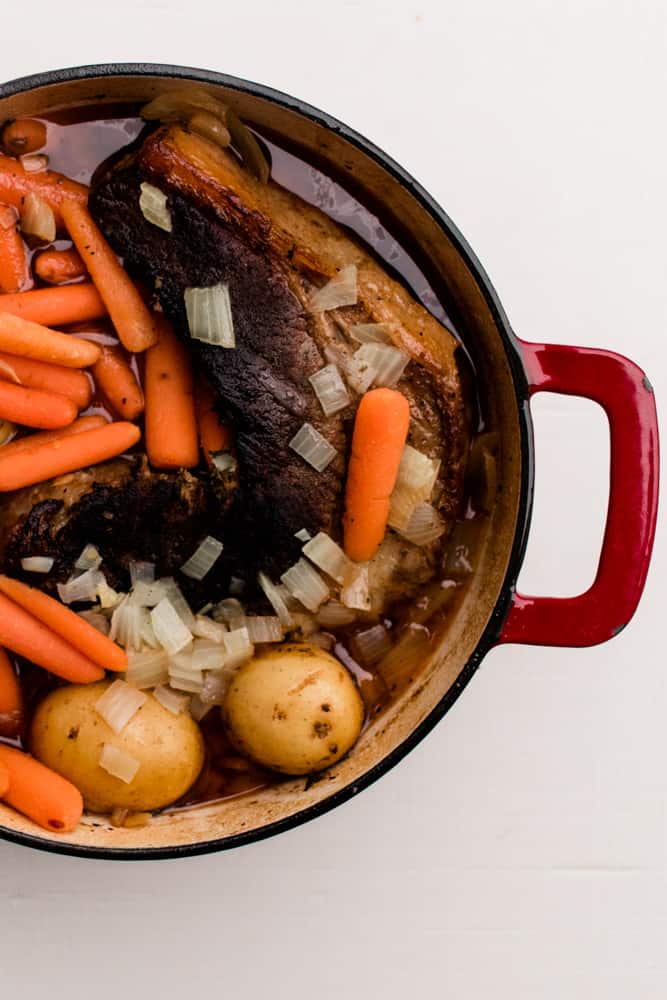 Can you use a dutch oven as a slow cooker?
A dutch oven is a slow cooker. Slow cookers are thought of as a crockpot, while in fact, a crockpot is only a type of slow cooker.
A slow cooker is anything that uses a method to cook over low, even heat, usually for several hours.
Internal temperature of brisket
Brisket, unlike other cuts of beef, must be cooked to an internal temperature of 195°F. Oven temp will largely determine the cooking time of your brisket.
It could take over 7 hours to cook brisket in the oven at 275 to right around 3-4 hours at 300°F.
Beef brisket substitute
Falling in love with brisket usually happens at first bite. Fortunately, this recipe can easily be made using any roast; chuck roasts, sirloin tip roasts, and venison roasts are among some personal favorites.
Just make sure to adjust cook times accordingly, as cook time will drastically be reduced.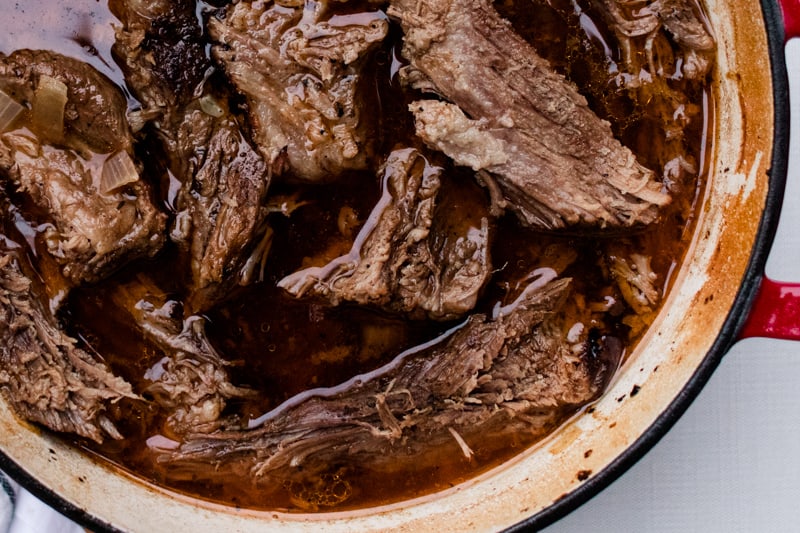 Braised brisket recipe in oven
Ingredients
1 brisket point cut 5-8 lbs
1 onion, sliced
1 cup of baby carrots
6-8 new potatoes, cut in half
Avocado oil
Dry Rub
Salt
Garlic powder
Onion powder
Pepper
Smoked paprika
Parsley
Sauce
Beef broth
Red wine vinegar
Apple cider vinegar
Ketchup
Coconut aminos
The complete ingredient list along with the printable recipe card is found at the end of this post.
How to bake a brisket
Pat the brisket dry using a dry cloth or paper towel. Combine the dry rub ingredients in a small ramekin, then rub over the entire brisket.
Heat the dutch oven on the stove over medium-high heat with a dash of avocado oil or preferred oil of choice—sear meat on all sides, including ends.
Reduce heat to medium-low, add in beef broth, red wine vinegar, apple cider vinegar, ketchup and coconut aminos (or soy sauce).
Use tongs to baste the meat in the sauce before covering and placing it in the oven at 300°F for the first 2 hours.
While the meat is cooking, prepare the vegetables by slicing onions, cutting the potatoes in half.
After two hours, remove the lid and add in sliced onions, carrots, and potatoes. Cover and continue cooking an additional hour, or until vegetables are soft.
The meat will continue cooking about 10 minutes after being removed from the heat.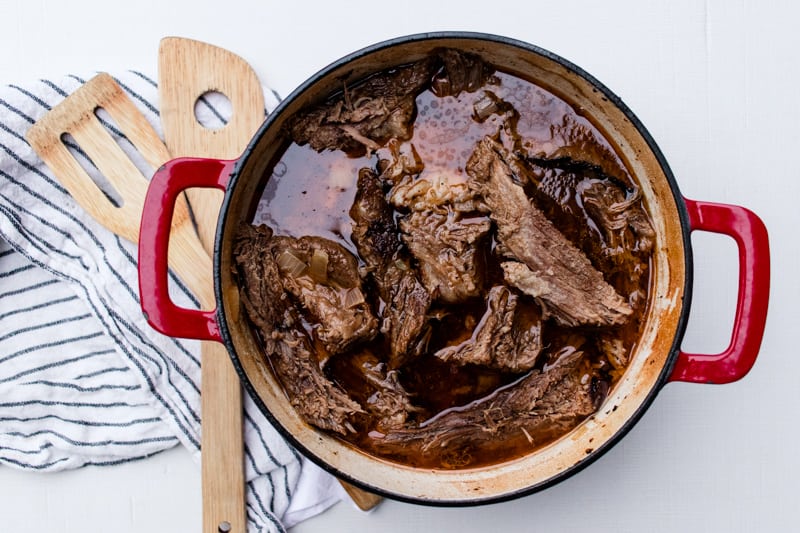 Serve and enjoy! No meal is complete without dessert! Be sure to finish with some double chocolate brownies or deep-dish cookie cake.
Brisket sides
You may be thinking, "do I really need to serve a side with this hearty meal?" the answer, yes!
Especially with guests, prep their taste buds with this savory bacon roasted squash or parmesan & garlic brussel sprouts.
I hope you enjoyed this brisket recipe in the oven. If you are looking more great recipes, check out a few of these favorites below.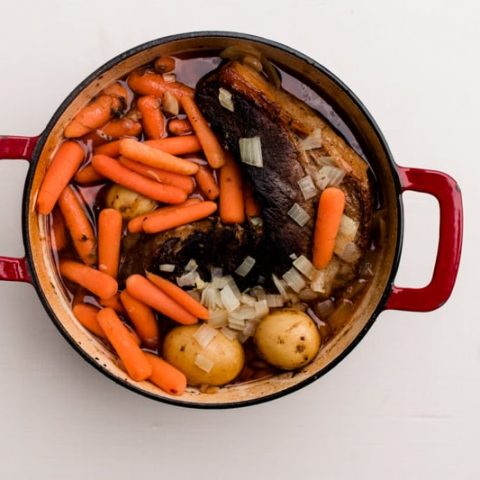 Oven-Baked Brisket
Additional Time:
10 minutes
Total Time:
3 hours
25 minutes
Simply delectable oven-baked brisket, slow-cooked in the dutch oven to perfection.
Ingredients
1 brisket 5-8 lbs
1 onion, sliced
1 cup of baby carrots
6-8 new potatoes, cut in half
1 tbsp avocado oil
Dry Rub
1.5 tsp salt
1 tsp garlic powder
1 tsp onion powder
½ tsp pepper
½ tsp smoked paprika
½ tsp parsley
Sauce
2 cups beef broth
¼ cup red wine vinegar
2 tablespoons apple cider vinegar
2 tablespoons ketchup
1 tablespoon coconut aminos
Instructions
Pat dry brisket, combine dry rub ingredients in a small ramekin, then rub over all sides of the meat.
Heat the dutch oven on the stove over medium-high heat. Add a tbsp of oil and sear meat on all sides, including the ends.
Reduce heat to medium-low, add all the sauce ingredients (in the order they are listed).
Use tongs to flip meat in the sauce until it has been entirely covered.
Cover, then transfer to the oven at 300°F for 2 hours.
Add vegetables after 2 hours and continue cooking an additional hour or until meat is cooked through and vegetables are soft.
Notes
The size of the brisket will largely determine cooking time. Use an instant thermometer to check the internal temperature.
Pull out around 185°F, or ten minutes before done.
The meat will continue cooking even after being pulled from the heat.