Beef heart pan-seared is filled with nutrients, tastes surprisingly similar to steak and is just as tender.
Making new dishes, especially organ meat, can be a little out of our comfort zone, especially when making an item most have never attempted, much less tried.
This is actually the first time making beef heart at our house, and yes, it is actually delicious.
I wasn't entirely sure how it was going to turn out, but it came as part of our ¼ beef package and the rest of the meat is getting stretched rather thin.
How to Cook Beef Heart
A beef heart can be prepared in a number of ways. Whether that be grilled, stovetop, slow-cooked in the crockpot or made into a soup. One of the more popular being grilled beef heart.
Stovetop Beef Heart
Cut the beef heart open if it has not already been done. Remove any fat, gristle, or stringy arteries from the heart.
Take your time here; it doesn't have to be perfect but clean it up the best you can. Since we are going to be pan-searing this heart like a steak, cut it into smaller pieces so it can fit into the skillet.
Generously salt and pepper on both sides of the meat or use your favorite steak seasoning.
Beef hearts are an extremely lean piece of meat, but also tender, so either slow cooking or searing it on the grill or in a cast-iron skillet really is the way to go.
I pan-seared this time, but the instructions are mostly the same for grilled beef heart. Set heat to medium-high and add a decent amount of oil to the skillet.
When the oil begins to smoke, add the meat and let it cook for about 4-5 minutes per side. For the thicker pieces, leave on a bit longer.
Remove from heat and let rest for 5-10 minutes before slicing and serving.
Beef Heart Benefits
Beef hearts, like many other muscle organs such as beef tongue and pork liver, are high protein lean pieces of meat. It is high in zinc, selenium, iron, and vitamins B2, B6, and B12.
In addition, it has high levels of coenzyme Q10, an antioxidant that has been used to treat heart disease.
First Time Making Beef Heart
One takeaway after making beef heart is it is hard to screw up. I had several pieces cut up to fit on the skillet and cooked them all to different levels of doneness.
The tenderness for them seemed to stay consistent and as far as flavor goes. I preferred it with no pink, but that also may have been partly because I wasn't entirely sure about eating beef heart.
What to Serve With Beef Heart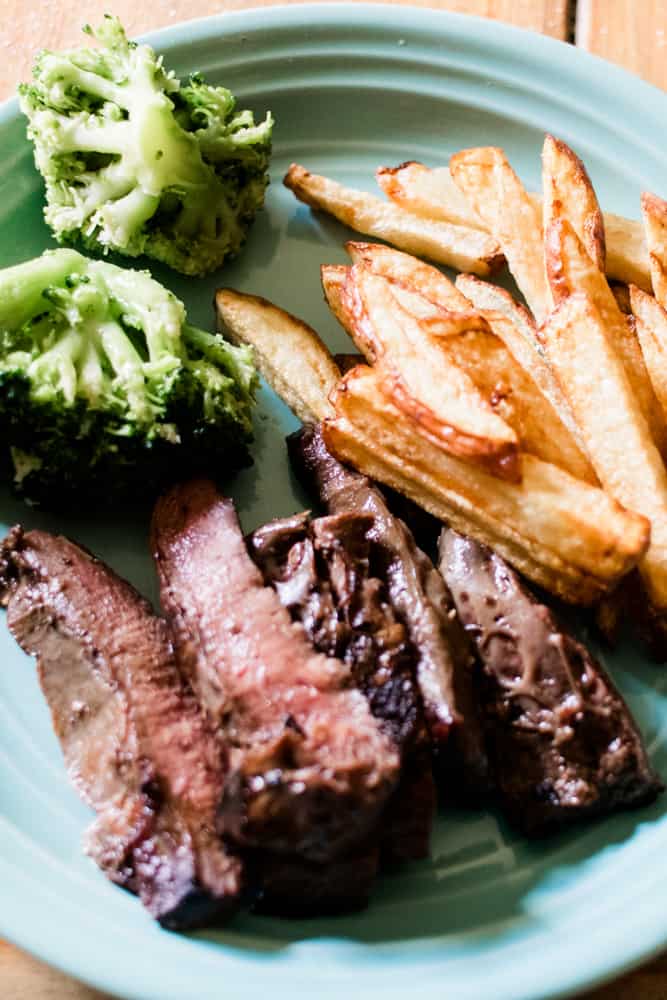 Depending on how you prepare it, there are a number of side dishes that pair well with it.
Potatoes, smashed, fried, baked
Sweet corn
Rolls
Roasted vegetables
A Few More Recipes to Try
Easy Beef Heart Recipe
Additional Time:
10 minutes
Easy tender intimidation-free beef heart recipe!
Ingredients
1 beef heart
3 tbsp of oil
Salt and pepper to taste
Instructions
Open the heart up if it has not been done already and cut away any excess fat, gristle, arteries, etc.
Next, cut the meat into 3 or 4 pieces so it can fit in the skillet better.
Generously season with salt and pepper.
Heat the oil in a large cast iron skillet over medium-high heat.
Add the meat and cook about 4-6 minutes a side. For thicker pieces, continue cooking until done.
Remove from heat and let rest 5-10 minutes before slicing and serving.
Notes
The USDA recommends cooking beef to an internal temperature of 160°F.
Nutrition Information:
Yield:

8
Serving Size:

1
Amount Per Serving:
Calories:

64
Total Fat:

6g
Saturated Fat:

0g
Trans Fat:

0g
Unsaturated Fat:

5g
Cholesterol:

23mg
Sodium:

43mg
Carbohydrates:

0g
Fiber:

0g
Sugar:

0g
Protein:

3g
Nutrition is calculated by Nutronionix. All nutrition should be verified independently.