These are not your average steamed Brussel sprouts. This is a real deal; off the charts, garlic parmesan Brussel sprouts guaranteed to satisfy anyone and everyone.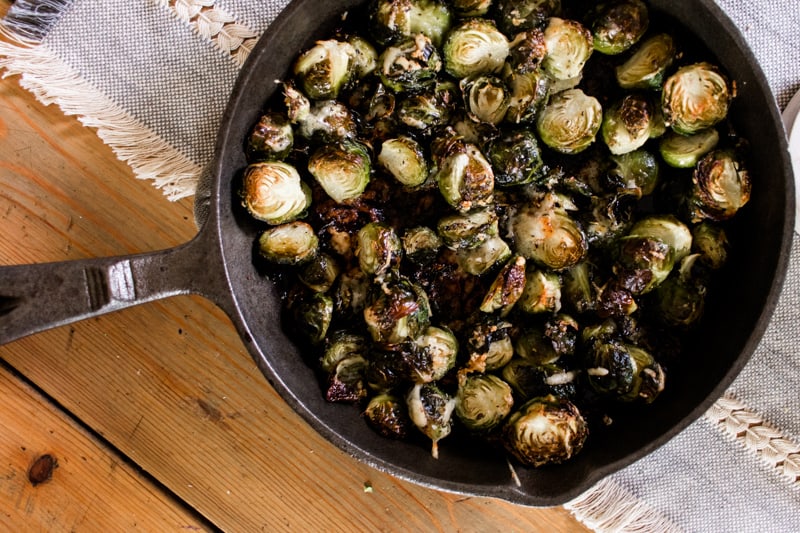 Even though wildly disliked by many, the typical steamed Brussel sprouts have saturated kitchens across the country with the labeling of "a healthy side dish."
For some, Brussel sprouts can actually be quite enjoyable as they are; unfortunately, like so many others, I do not fall into the *some* category. I typically am not picky and will eat just about anything, but I have never been able to enjoy Brussel sprouts for whatever reason.
That is until now. Smother anything in enough cheese and garlic, and it's sure to become delectable. Right?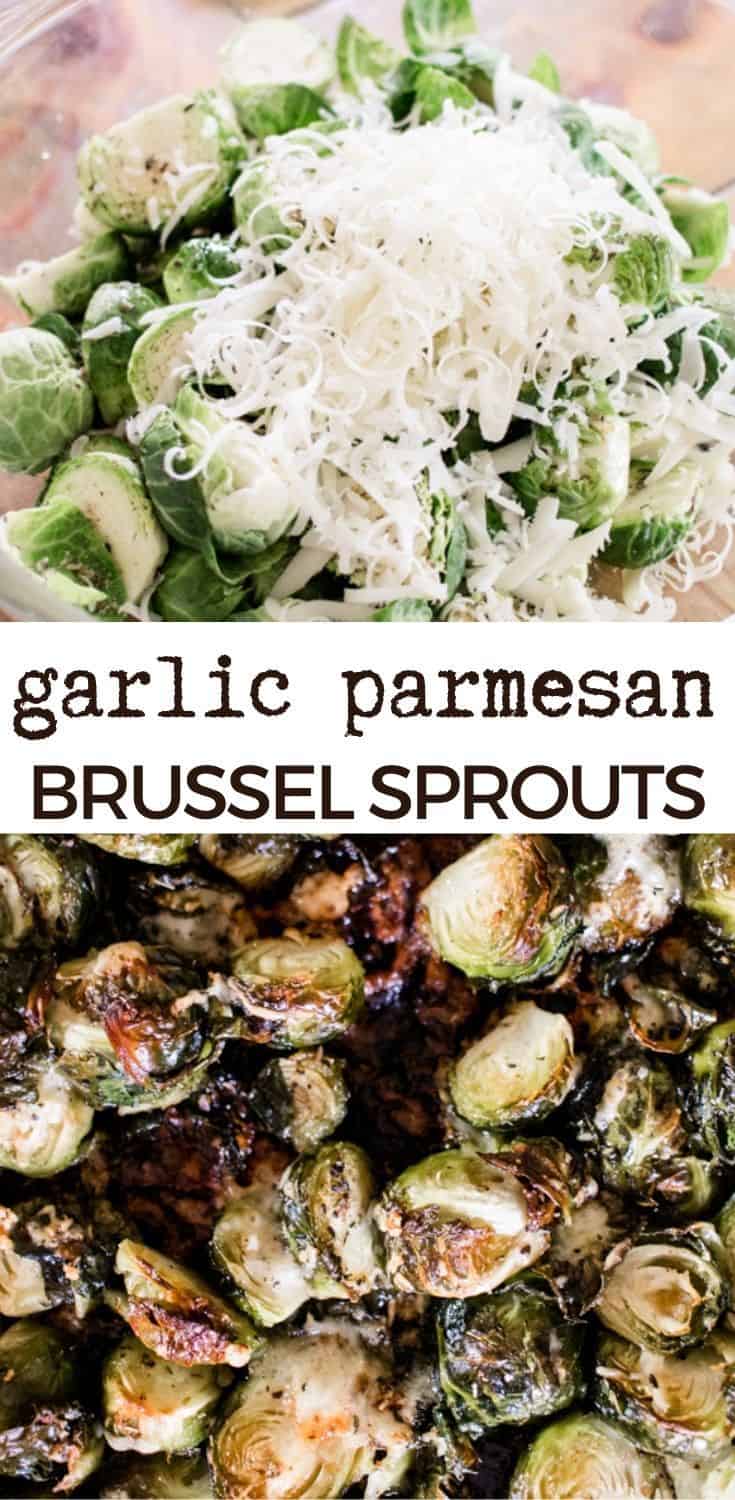 What Makes a Good Brussel Sprout?
The key to making a good brussel sprout is to roast it. The biggest problem with steamed Brussel sprouts is that they usually turn out mushy and bitter. Roasting the Brussel sprouts gives them a crispy exterior, a tender interior, and locks in its excellent flavor.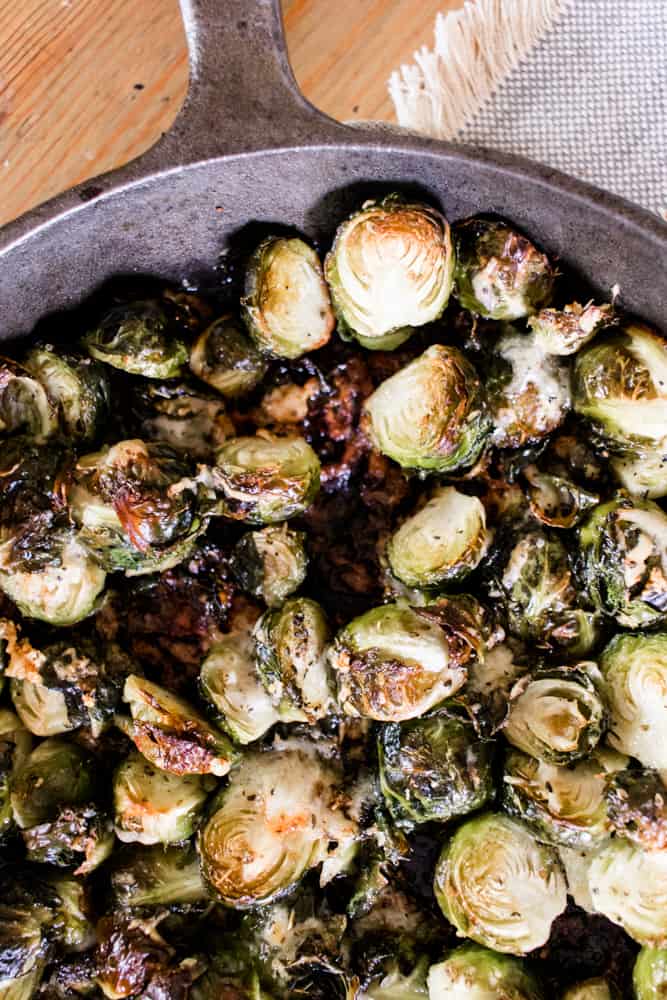 This post contains affiliate links, which means I make a small commission at no extra cost to you. As an Amazon Associate, I earn from qualifying purchases. Get my full disclosure here.
How to make roasted garlic parmesan brussel sprouts
Ingredients
Fresh Brussel sprouts
Parmesan cheese
Minced garlic
Avocado oil
Oregano
Basil
Salt
Pepper
Helpful Tools
Recipe
Cut the little nub off the end of each brussel sprout, then slice in half, lengthwise. Place in a small mixing bowl or to save dishes, directly in the cast iron skillet. Drizzle with the avocado oil, sprinkle with minced garlic, oregano and basil. Generously season with salt and pepper. Give it a good toss with your spatula before spreading evenly cut side down in the skillet and transferring to the oven.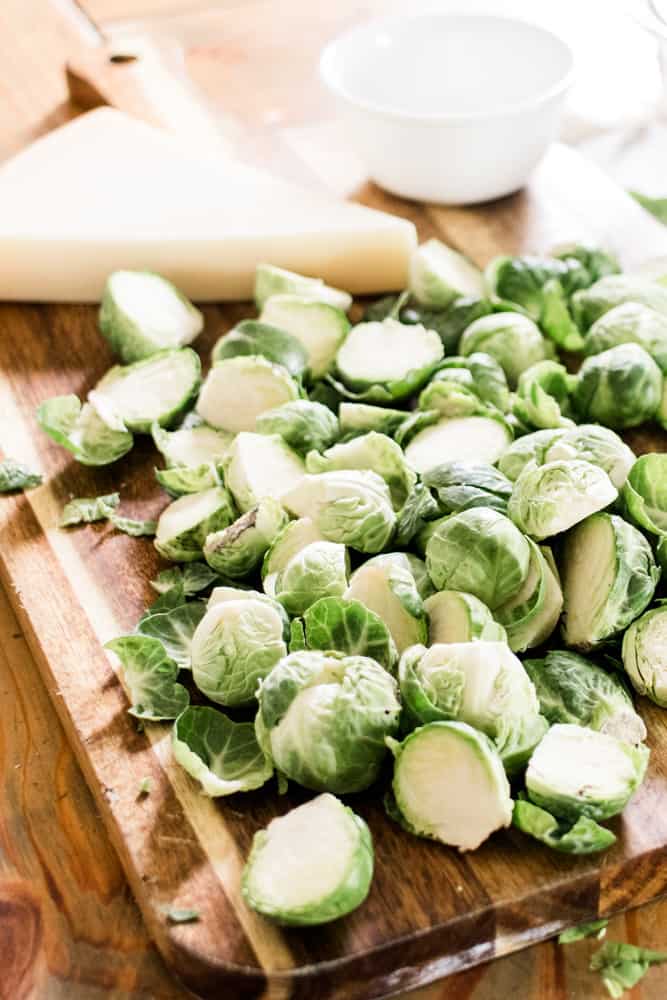 Bake at 425°F for 20 minutes.
As already alluded to, Brussel sprouts can have so much flavor and it really comes down to how it's prepared. So, whether you are keen or not on the taste of Brussel sprouts, the garlic and salt, roasted into the crispy edges of the sprouts are sure to hit the spot.
Now, you may be tempted to taste test one or two or ten, which is perfectly acceptable, and is why I suggest doubling the recipe and serving it with my favorite garlic butter ribeyes for a quiet night at home. It also pairs quite nicely with these venison medallions or venison backstraps; it is the beginning of deer season after all.
If venison is not your thing, use it as a side for coconut lime chicken, meatloaf, or even steak bites. Regardless of what you serve it with, just give it a shot, and you won't be disappointed.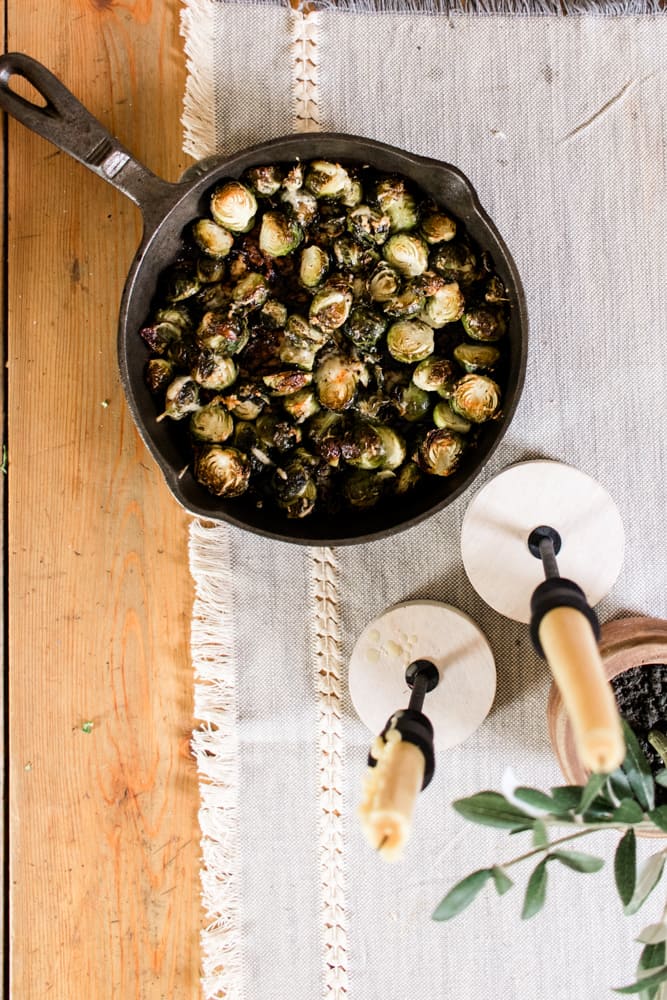 Tips For Roasting Brussel Sprouts
Don't overcrowd the sprouts. Instead, leave space between each brussel sprout to achieve a nice, even caramelized outer layer.
High heat is your friend. Just like overcrowding, not enough heat will end up steaming the sprouts instead of roasting them.
A common complaint with Brussel sprouts is that they start to smell when cooked. That is entirely true if they are steamed or microwaved.
Basically, when exposed to heat for an extended amount of time, Brussel sprouts and certain other vegetables will produce hydrogen sulfide. Roasting them so that they develop a hard crust around the outside eliminates that.
My favorite Vegetable side dishes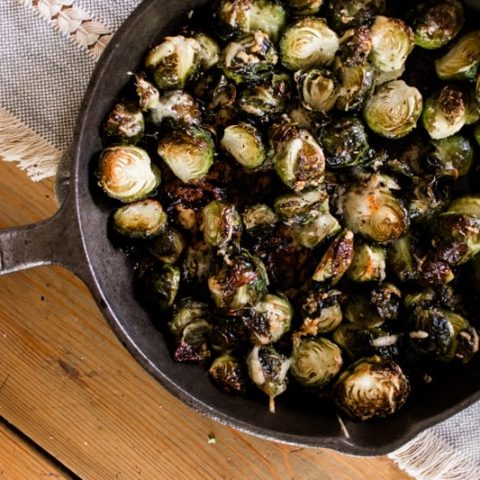 Garlic Parmesan Roasted Brussel Sprouts
Crispy roasted Brussel sprouts are a tasty side dish for any meal.
Ingredients
1 lb fresh Brussel sprouts, trimmed and halved
⅔ cup fresh parmesan cheese
3 cloves of garlic, minced
2 tbsp avocado oil
¼ tsp each of oregano & basil
Salt and pepper to taste
Instructions
Add Brussel sprouts, garlic, oil, cheese, and spices to a small mixing bowl or cast iron skillet to save dishes.
Toss with a spatula until everything is well coated.
Spread evenly with the cut side down in the skillet.
Bake at 425°F for 20 minutes.
Notes
Leave a little room between the Brussel sprouts so they will crisp up nicely. If needed, separate into two skillets.