An excellent last-minute dinner recipe. These delectable steak and potato bites are both filling and enjoyable for the whole family. Great for pre or post evening activities.
Heading into summer, I like to have several go-to meals that can be made in under 20 or 30 minutes for those busy summer weeknights.
This recipe I share can be made in so many variations, such as a garlic butter steak, a Korean-style marinaded steak and potato skillet, or a Cajun-style steak and potato meal.
Although those are all delicious, I will save the latter of those recipes for a later time.
This easy steak bite recipe is focused solely on the ease of making and time. And maybe flavor. This steak and potato skillet is the definition of an easy one-dish recipe.
What is The Best Steak to Use
I typically use sirloin for this recipe, but any steak will work-Round steak, t-bone, ribeye, cubed, etc.
How to Make Steak and Potato Bites
Ingredients
Sirloin steak
New potatoes
Oil
Butter
Salt
Pepper
Cumin
Smoked paprika
Onion Powder
Garlic Powder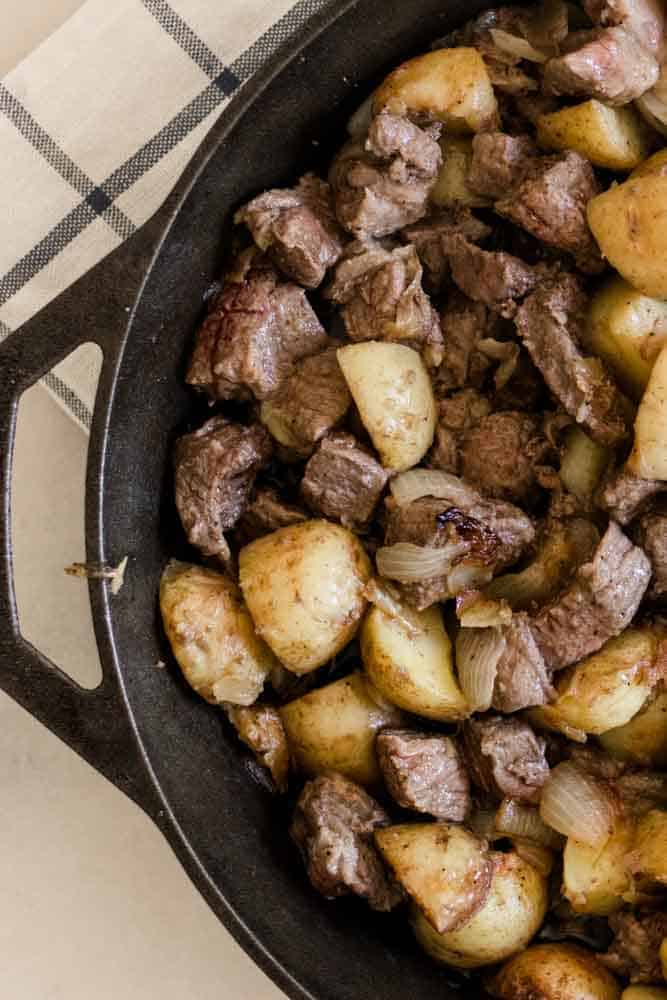 Recipe
Heat up a large, 12″ or so cast iron skillet over medium heat. While that is preheating, quarter up the potatoes.
Add 3 tbsp of oil to the preheated skillet along with the potatoes. Let the potatoes cook for about 6 minutes undisturbed before flipping, salting, and cooking for an additional 6 minutes.
Dice up the steak into about 1″ chunks and season with the spices. Scooch the potatoes over to the side, melt the butter on the vacant side of the skillet, and add steak.
Cook steak for 1 minute on each side or until desired doneness has been reached. Remove from heat, mix the potatoes and steak together and serve.
As shown in the pictures, there is about 1/2 an onion I had added when I took these pictures. If you want to add onion, do so at the same time you add the potatoes.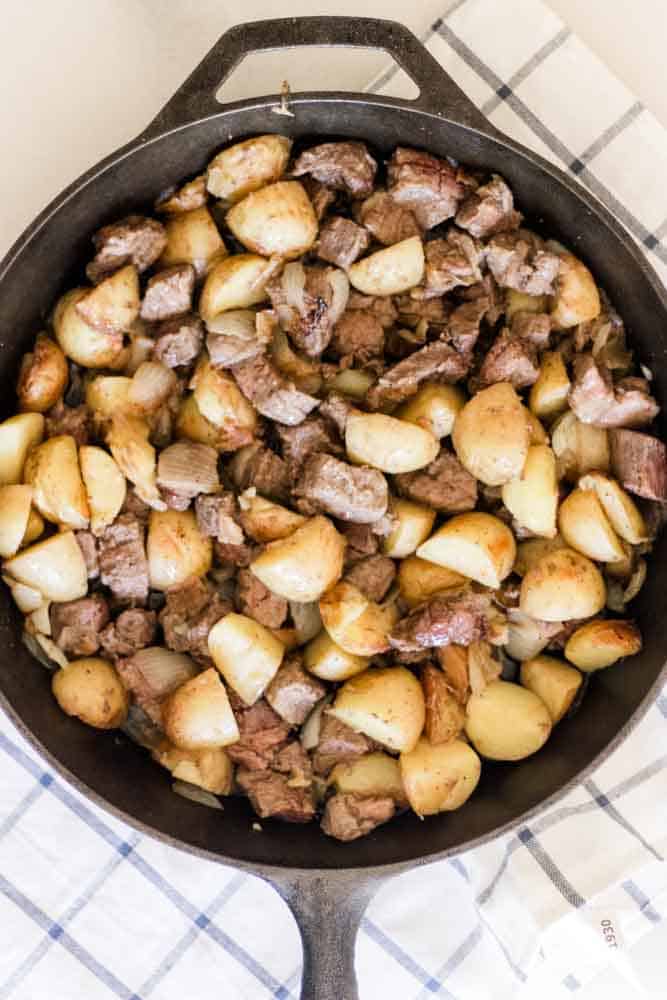 Steak Bite Tips
If using a lean piece of meat such as a round steak, salt the meat 30 minutes to an hour before cooking to help tenderize it.
Use any potatoes available in your pantry stockpile. I like using new potatoes because they are generally soft and do not take as long to cook.
Russet potatoes are also delicious as they tend to "crisp up" real nice when fried stovetop.
Make sure the potatoes do not burn while cooking the steak. I like to add the steak about 3 or 4 minutes before the potatoes are done cooking.
If steak is not your thing, try making it with polish or chicken sausage. It is also quite delicious with diced chicken; just be sure to remove the potatoes from the skillet before adding the chicken.
I have a cajun chicken bite recipe for exact instructions.
What to Read Next
20 Minute Steak and Potato Bites
An easy dinner recipe that is so tasty it's sure to become part of your regular menu rotation.
Ingredients
1 thick-cut sirloin steak, 16 oz
1 ½ lbs of new potatoes, quartered
3 tbsp coconut oil
2 tbsp butter
1 tsp salt
½ tsp pepper
¼ tsp garlic & onion powder
⅛ tsp cumin
⅛ tsp smoked paprika
Instructions
Preheat a 12" cast iron skillet over medium heat.
Add oil and potatoes. Let potatoes cook undisturbed for 6 minutes, then flip, salt and cook for an additional 6 minutes.
While the potatoes are going, slice the steak into 1" squares and season generously.
Slide the potatoes over to the side of the skillet, melt the butter in the skillet and spread around the empty half of the pan.
Add steak and cook for 1 minute, flip and cook each additional side for 1 minute.
Mix in potatoes and serve.
Notes
Keep an eye on the potatoes so they don't burn.
Adjust cook time of the steak for your desired doness. 4 minutes total will cook the steak to about a medium
Nutrition Information:
Yield:

4
Serving Size:

1
Amount Per Serving:
Calories:

579
Total Fat:

32g
Saturated Fat:

18g
Trans Fat:

0g
Unsaturated Fat:

10g
Cholesterol:

120mg
Sodium:

708mg
Carbohydrates:

37g
Fiber:

4g
Sugar:

2g
Protein:

35g
Nutrition is calculated by Nutronionix. All nutrition should be verified independently.