Now that the weather is soon to change, it's time to put the grill away and bring those steaks indoors.
This recipe makes a wonderfully tender reverse sear t-bone steak, and it's simple to cook in your oven using your cast iron pan.
To me, the best steaks are minimally seasoned to let that good cut of meat shine, so the recipe here is straightforward.
Salt, pepper and butter are the key ingredients, but a good source for your meat is just as important.
I like to source local beef by purchasing a grass-fed cow from a farmer, but any local butcher or small artisan meat shop would do just fine.
Just carefully follow the instructions to learn how to cook the perfect t-bone steak.
This is a great t-bone steak recipe for a cozy date night in as the weather begins to cool. Steak, wine, and a movie night sounds like just what we need.
Do you enjoy looking for something delicious and unique to make? Check out these marinated bottom-round steaks next!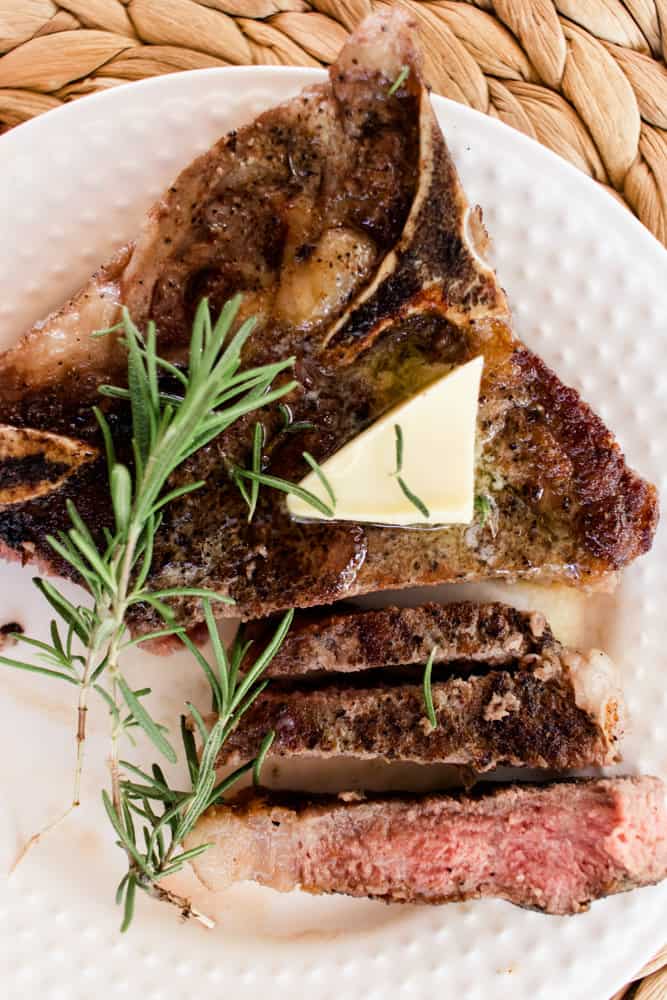 What is reverse searing?
Reverse searing is a technique used to cook meat slowly to get a perfectly tender, melt-in-your-mouth, and evenly-cooked piece of meat.
It is then finished by searing the meat at high heat to brown and caramelize the juices. The flavor here is incredible!
This is why you would bake before searing, to get the most juices out of the meat for that delicious, crispy finish. This recipe calls for a t-bone steak, but you really can reverse sear any steak.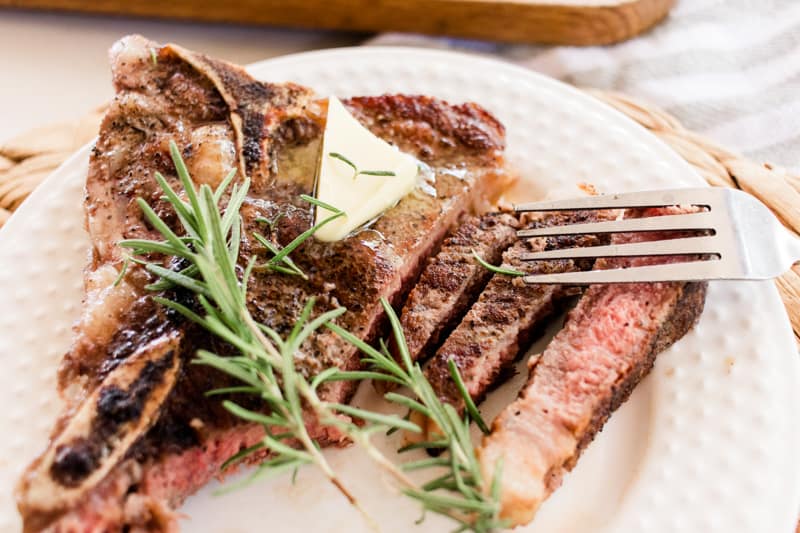 How to reverse sear a steak
The basic steps to reverse searing any cut of meat are to cook it low and slow, then sear at a high heat.
My recipe below will tell you the best temp to sear a steak and exactly how to reverse sear t-bone steak. We are simply going to bake then sear the steak to achieve our reverse sear.
The best temperature to sear steak is at a high temperature with an even heat source, so cast iron is the ideal pan to do so.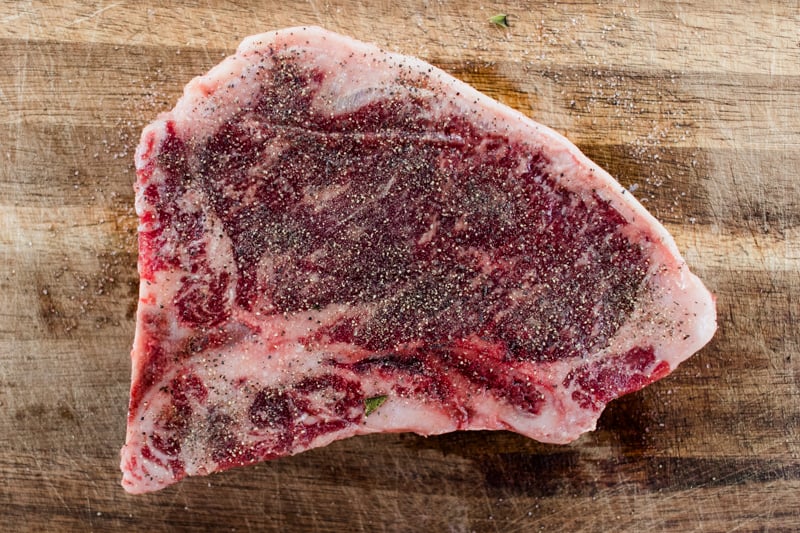 This post contains affiliate links, which means I make a small commission at no extra cost to you. As an Amazon Associate, I earn from qualifying purchases. Get my full disclosure here.
How to cook the perfect t-bone steak
Here is an easy t-bone steak recipe using the reverse sear method.
What you will need:
2 t-bone steaks (defrosted)
Salt
Pepper
Avocado oil
Butter
Instructions:
Start with fully defrosted t-bone steaks. You should salt meat before searing to allow the meat to season properly without drying it out. Do this at least 30 minutes before cooking.
To reverse sear, start with a low temperature by setting the oven to 225º F.
Lightly oil a 12″ cast iron skillet, add steaks and place on the center rack of a 225° F oven.
Bake for approximately 20 minutes, but keep your eye on the internal temperature of the meat, as this is largely depending on the thickness of the steaks.
100º F is the temperature to pull the steaks from the oven; adjust the time in the oven as needed.
Heat a second cast iron skillet on the stovetop over medium-high heat. Once the steaks' internal temperature reaches 100°, pull them out of the oven and transfer them to the skillet on the stovetop.
This is when we get to caramelize those juices that are released in the oven while slowly cooking.
Sear for 1 minute per side. Add a dollop of butter to the top of the steaks while they are searing.
Don't skip this step! Trust me on this: it really enhances the tenderness and flavor of the steaks. Serve immediately.
Do I have to have 2 skillets?
While having 2 skillets is certainly helpful, you can get away with just one by transferring the steaks to a plate while your skillet is heating up.
And while cast irons can be cleaned in a jiffy, one-dish recipes are always preferred.
If you don't have a cast iron skillet, here is the one I use.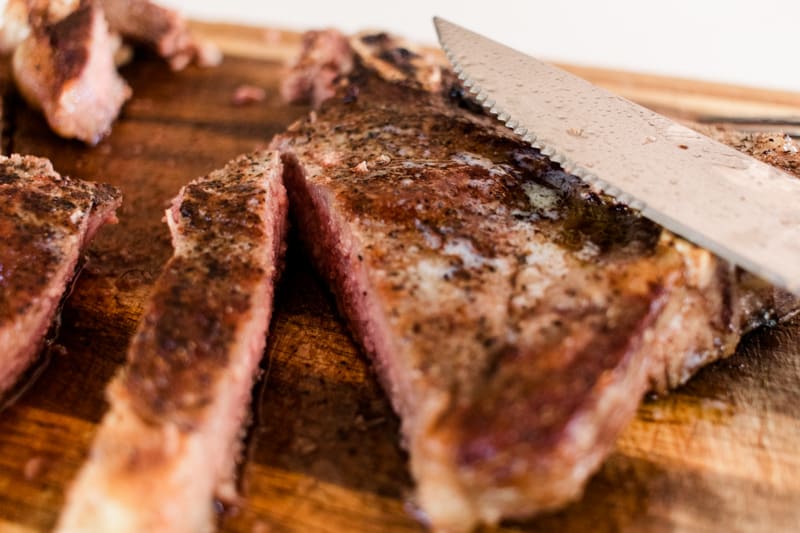 Wrapping up
As always with cast iron, clean up is a breeze. Enjoy this t-bone steak recipe for your next date night and be sure to let me know if you've tried it. I'd love to hear what you think about reverse searing.
Be sure to check out one of these popular recipes next.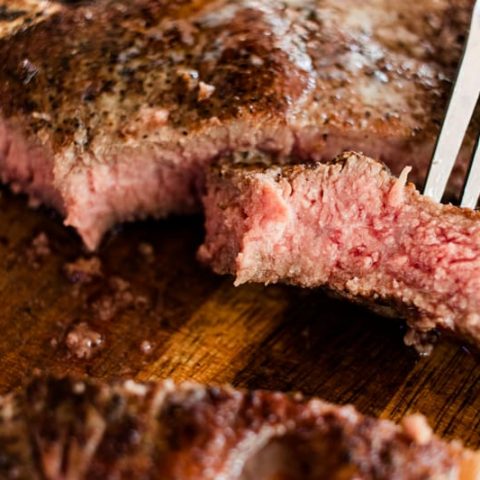 Reverse Sear T-bone Steak
Enjoy a tender, juicy steak following this simple reverse sear method!
Ingredients
2 t-bone steaks (1-1 1/2" thick)
Salt
Pepper
1 teaspoon of avocado oil
2 tablespoons of butter
Instructions
Salt and pepper both sides of the steak. Set out 30 minutes before cooking.
Preheat the oven to 225°F and lightly oil a 12" cast iron skillet.
Place steaks in the skillet and transfer to the center rack of the oven to bake for 20 minutes.
Keep an eye on the temperature as the bake time will vary depending on the thickness of the steak.
Remove the steaks from the oven when they reach an internal temperature of 100°
Have a second skillet preheated to medium-high heat on the stovetop so that when the steaks are ready, you can pull them out and place them directly onto the stovetop skillet.
Sear the steaks for 1 minute on each side. Add a dollop of butter to the top of each steak while searing.
Serve immediately.
Nutrition Information:
Yield:

2
Serving Size:

1
Amount Per Serving:
Calories:

371
Total Fat:

31g
Saturated Fat:

15g
Trans Fat:

2g
Unsaturated Fat:

14g
Cholesterol:

101mg
Sodium:

435mg
Carbohydrates:

1g
Fiber:

0g
Sugar:

0g
Protein:

21g
This website provides approximate nutrition information for convenience and as a courtesy only. Nutrition is calculated by Nutronionix