Make a deliciously juicy and tender round steak recipe smothered in gravy, mushrooms, and onions for a cozy weeknight dinner.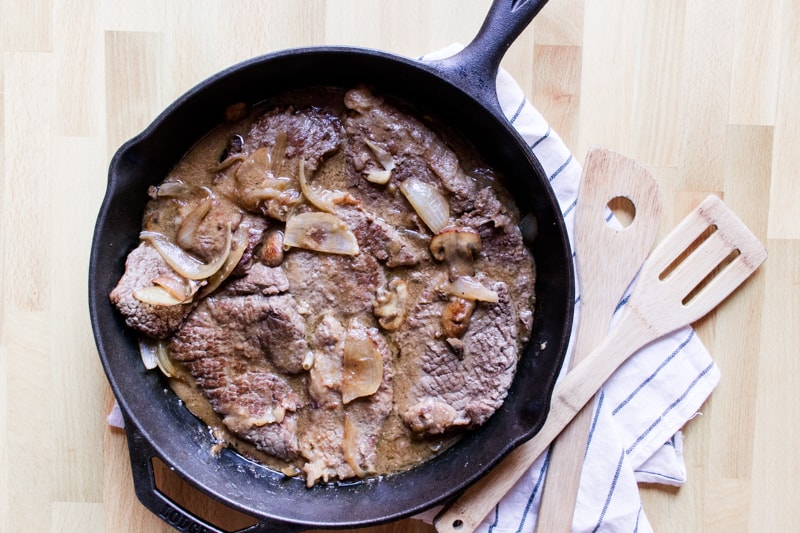 Rounds steaks are the number one cut of beef that I hear all too often getting a bad rep. Unfortunately, it is primarily due to incorrect cooking procedures, which can lead to tough and chewy meat.
However, once you learn how to cook round steaks the right way, they are very delicious.
I hope you like this recipe because this smothered round steak is one of my favorites; that's right, I mean ribeye level competition.
One of my favorite ways to cook round steaks is slow cooking them in the dutch oven.
But if you don't have time for that, no worries, you can quickly make the perfect round steaks recipe on the stove in less than 30 minutes, and it will still turn out tender.
This post contains affiliate links, which means I make a small commission at no extra cost to you. As an Amazon Associate, I earn from qualifying purchases. Get my full disclosure here.
How to Cook Round Steaks On the Stove
For this recipe, you are going to need a cast-iron skillet. First, we'll be giving the steaks a quick sear to lock in the flavor, then finish them in the homemade gravy till they cook through.
The most important part about cooking round steak is using a lot of liquid; the liquid will make them juicy, tender, and delicious.
For the liquid, we are going to make a brown gravy with sauteed onions and mushrooms. The round steaks will simmer in the sauce as they cook to get extra flavor.
Slow-cooking round steaks in a sauce such as gravy is a very simple process perfect for busy weeknights.
This gravy method may be a favorite among some, but if you like red sauce, you'll have to try this round steak pizzaiola recipe next!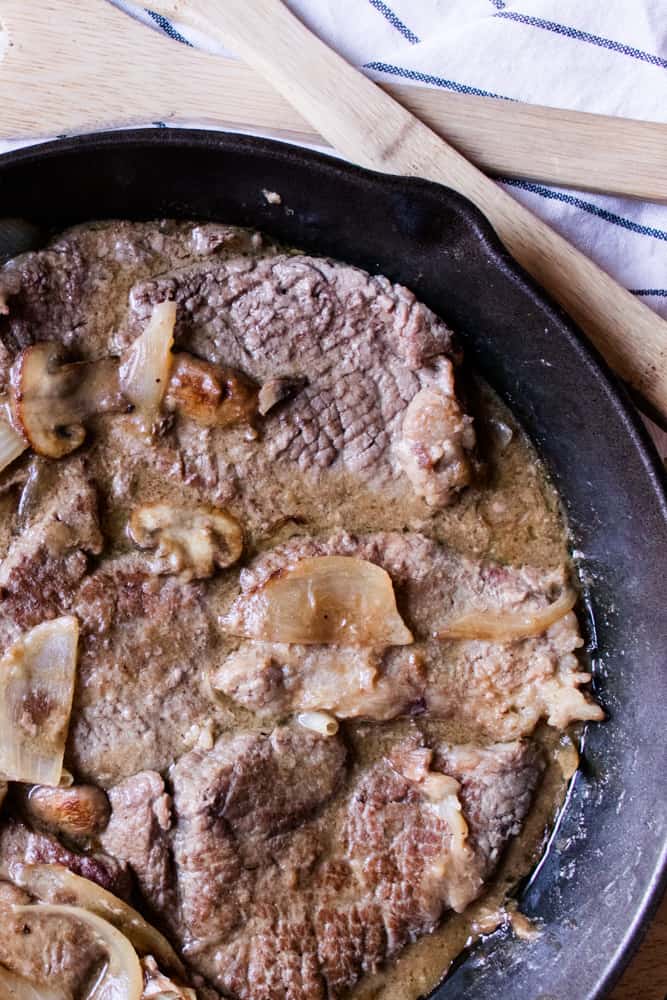 How to Sear Round Steaks
The first step in making flavorful round steaks is giving them a nice, solid sear. We are going to do this over high heat very quickly.
Searing the meat will lock in all the flavor and caramelize the natural sugars found in the meat. To sear the round steaks, heat up your skillet over medium-high heat and then add in a chunk of butter.
Once the butter is melted, place the round steaks on the skillet and cook on both sides for 2 minutes total. Then, remove the steaks from the skillets and set them aside.
How to Make Tender Round Steaks
As already mentioned above, we'll be cooking the round steaks in gravy. In order to make round steaks in a skillet quickly, they will need to be cooked in a liquid to keep tender and juicy.
For the gravy, you will need butter, flour, chicken broth, an onion, mushrooms, and spices.
Round Steak and Gravy
Heat cast-iron skillet over medium-high heat. Add one tablespoon of butter.
Once butter is melted, sear rounds steaks for 1-2 minutes on each side, depending on thickness.
Remove steaks from the skillet and set them aside.
Reduce heat to medium; add 1/4 cup of butter to the skillet.
Once melted, add sliced onions and mushrooms. Sautee for about 5 minutes and then add in salt, pepper, and minced garlic.
Sprinkle vegetables with 2 tablespoons of flour. Stir to coat.
Slowly pour in 1 cup of chicken broth, bring to a boil, and then reduce heat to simmer.
Place the round steaks in the gravy and let them simmer until cooked through, about 10-15 minutes.
Good Sides for Steak
The most common side to serve with steak is potatoes, no matter how you cut them. Mashed potatoes, fried potatoes, steak fries, or baked potatoes all make great sides to serve with your round steaks.
For this recipe, I like to make mashed potatoes and pour some of the gravy over top of the potatoes.
Other sides to serve with steak:
Roasted asparagus
Side salad
What is Round Steak?
Round steaks are a cut of steak that comes from the rear leg of a cow. And actually, surprisingly enough, can easily be substituted for venison round steak.
The round steak is typically divided into different cuts, such as the top round and the bottom round. Round steak is an inexpensive cut of meat and one of the cheapest steaks you can find.
Most of the time, round steaks will come tenderized. Tenderizing is the process of pounding the meat with a mallet. Doing this will soften the fibers making it easier to chew and digest.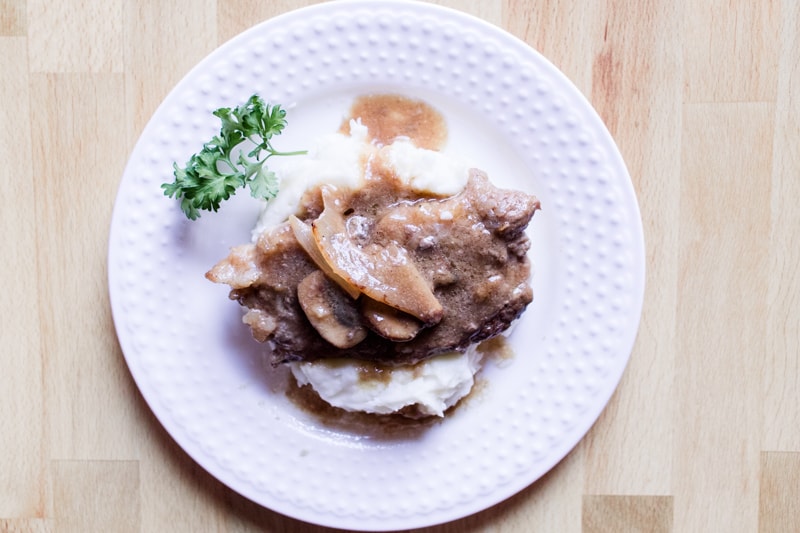 Cheap Steak Cuts
Round steaks are one of the cheapest steak cuts you can purchase. Other cuts that may fall into the "budget-friendly steaks" include:
Skirt steak, makes great fajitas
Flat iron steaks
Chuck eye steaks
Sirloin steaks
Popular Recipes
Smothered Round Steak
A simple, delicious smothered round steak recipe with onions and mushrooms in a thick, homemade gravy.
Ingredients
1 lb round steaks, tenderized
1 cup of chicken or beef broth
1 onion, sliced
4 baby bella mushrooms, sliced
1/4 cup of butter, plus 1 tbsp
2 tbsp flour
2 cloves of garlic, minced
1 tsp salt
1/2 tsp pepper
Instructions
Heat a large, 12" cast iron skillet over medium-high heat.
Melt 1 tbsp of butter, then add steaks. sear 1 minute per side. (steaks thicker than 1/2" sear an extra 30 seconds to a minute)
Remove steaks from skillet and reduce heat to medium.
Add the remainder of butter, saute the onion, mushroom until soft.
Add garlic, stir in flour and slowly add the bone broth. Bring to boil, then reduce heat to simmer, stirring occasionally.
Season with salt and pepper.
Add steaks back in, allow to simmer for 10-15 minutes until cooked through.
Notes
According to the USDA, round steaks must be cooked to a minimum temperature of 145°F.
Nutrition Information:
Yield:

2
Serving Size:

1
Amount Per Serving:
Calories:

736
Total Fat:

36g
Saturated Fat:

14g
Trans Fat:

0g
Unsaturated Fat:

17g
Cholesterol:

283mg
Sodium:

1804mg
Carbohydrates:

14g
Fiber:

2g
Sugar:

3g
Protein:

89g
Nutrition is calculated by Nutronionix. All nutritional ingredients should be verified independently.