You'll be skipping the drive-through to make this venison burger recipe. Make it with or without fat; either way, naturally sourced venison burgers are high in protein, filling, and restaurant-worthy!
I'm only kidding, partially, about being restaurant-worthy.
Not that these delicious venison burgers are not delicious, but given the opportunity to make your own food, season it the way you want, and the satisfaction that comes with making your own food is enough reason to believe that homecooked meals are the best meals.
How to make venison burgers
Venison burger recipes generally include adding in some sort of fat, pork fat, beef fat, etc.
The reason being, ground venison burger essentially does not have any fat, and what little fat it may have is generally cut away anyway during processing.
Leaving the Deer fat on meat is fine, in, say, a roast or stew, where it has time to cook down and really cook into the meat; otherwise, it does not taste the best and contributes to the gamey flavor.
Have you ever stuffed a burger patty with cheese? Try this cheese-stuffed juicy lucy burger!
Best venison burger
Making venison burgers in many, many different ways in the past has led me to the best venison burger recipe, which includes 75% ground venison and 25% ground pork sausage.
That's not to imply venison cannot be cooked on its own because it's actually quite flavorful with just a little salt and pepper.
But, to make a venison burger that holds together well, especially important on a grill, but also one that stays juicy when cooked all the way through to well done, it's going to need some sort of fat.
You can use pork fat instead of sausage, but adjust the ratios to 85-90% venison, 10-15% pork fat. In addition, pork fat may be somewhat difficult to find. Try checking with your local butcher; otherwise, use pork sausage.
A little on venison
Venison burger and all venison, for that matter, is a red meat, lean, rich in protein and contains many vitamins and minerals. It is a healthy low-fat alternative to beef burgers.
Venison Burger Recipe
Please note, I've included sausage mixed in with this recipe, but it's not required. Simply omit the sausage, and substitute equally for ground venison.
Ingredients
Ground venison
Ground pork sausage
Unflavored gelatin 1 tsp (or 1 egg)
Cheddar cheese
Mustard
Salt
Pepper
Recipe
Add both venison and sausage to a medium-sized mixing bowl. Sprinkle with gelatin, then combine the ingredients.
Do your best not to overwork the meat. Then add mustard, salt and pepper. Give the ingredients another quick mix.
Finally, divide the meat into patties. Slightly indent the middle of each patty to keep it from swelling up while cooking.
Using your thumb to squish down the middle of the patty will help keep the burgers from shrinking while being cooked.
Finally, heat up a cast iron skillet to medium heat, cook the patty until a nice brown crust forms on the bottom, about 3 minutes, flip and cook an additional 4 or 5 minutes. Add cheese for the last 2 minutes.
How long to cook venison burgers
Venison burgers cook about the same as beef or elk burgers. Generally about 7-10 minutes, depending on preferred doneness.
Seasoning venison burgers
Season venison burgers with salt, pepper, garlic powder, a dash of red pepper, onion powder and smoked paprika.
Or, kick things up a notch with a splash of your favorite hot sauce.
What to make with venison burger
Homestyle fries, roasted Brussel sprouts and cheesy bacon, and squash complement this tasty burger recipe quite well. If the extra cooking is not on the agenda, throw together a simple side salad with lettuce, tomatoes, onions and cheese.
Wrapping up
Making any ground venison recipe is quite simple, from the classic like ground meatloaf to the ever-popular ground venison stroganoff.
Be sure to leave a comment below, letting me know what you think! And if you are looking for more great recipes, check out some of my most popular ones below!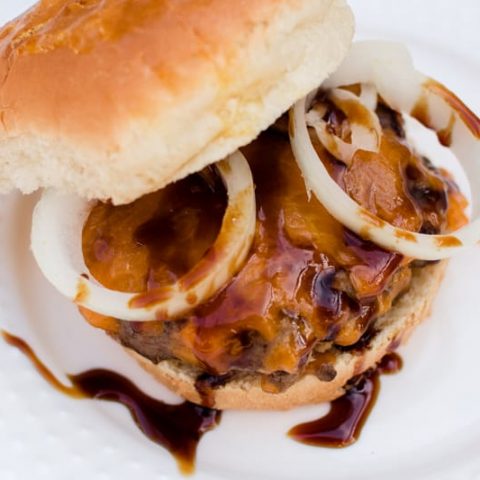 Best Venison Burger Recipe
Additional Time:
2 minutes
Make the absolutely most delicious juicy venison burger with pork sausage that will have guests begging for more.
Ingredients
1 lb ground venison
½ lb of ground pork sausage
Cheddar cheese
1 tbsp mustard
1 tsp unflavored gelatin
½ tsp of salt
¼ tsp of ground pepper
Instructions
Combine meat and gelatin into a medium-sized mixing bowl.
Add the remaining ingredients, hand mix until all ingredients are well combined.
Divide burgers into patties, indent middle to keep them from swelling up.
Heat a cast iron skillet to medium heat, cook burgers 3 minutes, then flip and cook an additional 4-5 minutes.
Add cheese for the last 2 minutes.