Now that it's hunting season, you may be looking for creative and new ways to use up that venison meat. This venison stroganoff is a meal my family looks forward to every time we have fresh ground venison to use.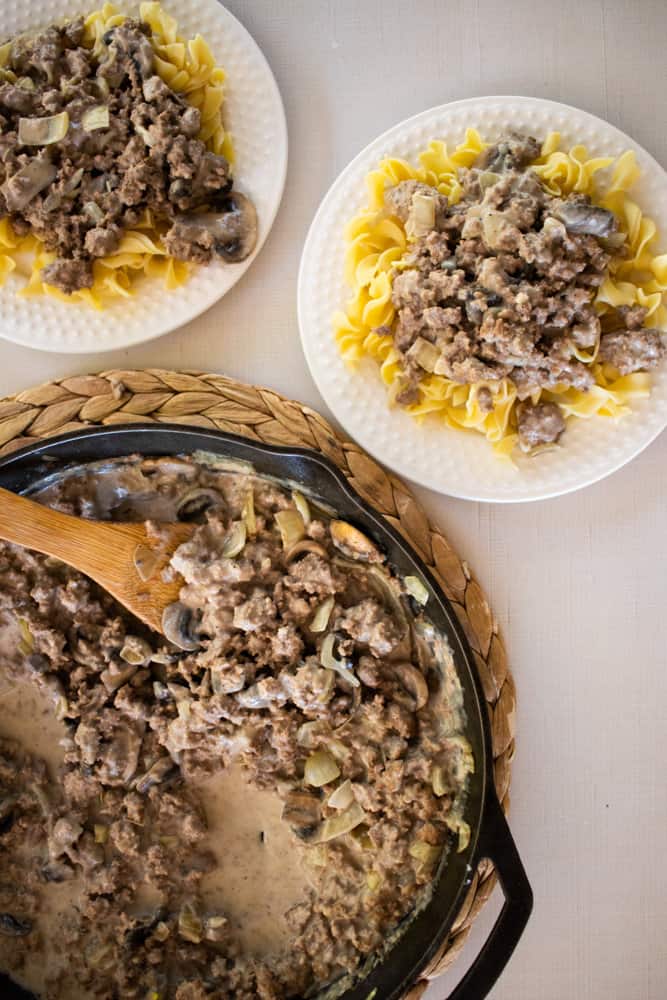 Plus, if your freezer is loaded with ground venison, this easy venison stroganoff recipe always comes top of mind when looking for ways to use up that meat.
It's hearty and comforting, definitely rib-sticking food for the cooler months ahead.
You'll love having hot, hearty dinners during those busy weeknights!
Cooking with venison
Venison is just like any other lean meat. There is not a ton of fat in this meat, so preparing it is similar to grass-fed beef.
Notice that I differentiated grass-fed from your typical store-bought grain-fed beef. There is little fat marbling in venison, just like many cuts of grass-fed beef.
That just means that cooking it takes some attention to detail. I wouldn't recommend simply swapping venison for other meats. You should match the cuts almost identically.
It's also easy to overcook this meat, so be sure to keep your eye on it. Ground venison is not as particular, but lower heats, in general, will result in a chewy, tough finished product.
Try our best venison chili recipe for another way to use up that ground venison.
Easy venison stroganoff
This meal comes together quickly once some prep work is done. Dicing up the vegetables and setting out all of your ingredients will help move things along.
This post contains affiliate links, which means I make a small commission at no extra cost to you. As an Amazon Associate, I earn from qualifying purchases. Get my full disclosure here.
Ingredients:
Ground venison
Egg noodles
Butter
Onion, diced
Mushrooms, sliced
Garlic
Flour
Beef broth
Heavy whipping cream
Salt
Pepper
Crushed red peppers (optional)
Start by filling a 7 quart dutch oven (or large stockpot) with water to prepare the noodles for this dish. Get that water boiling while you begin to prepare the other ingredients.
Dice up the onion, slice the mushrooms, and mince the garlic. Next, measure and set out the butter, flour, beef broth, heavy cream, and salt and pepper.
If your water is boiling, prepare those noodles and have them ready. Use the package instructions for your choice of egg noodles. We love these egg noodles for venison stroganoff in our home.
Heat a 12" cast iron skillet over medium heat. Saute the onions and mushrooms in the butter until soft and the onions become translucent. Set aside.
Using the same skillet, brown your venison with garlic, salt and pepper. Sprinkle with flour, which will thicken the sauce and make a roux with the fat in the pan. Be careful not to burn the flour.
Slowly add broth after all of the flour is incorporated. Once the broth starts to bubble, reduce the heat to low, which should take about 5-8 minutes.
Add the onions and mushrooms back in and sprinkle with the remaining salt and pepper. Stir in cream and continue to simmer until it thickens, about another 5 minutes.
Serve over your prepared noodles.
Note that ground meat is the easiest to use in this recipe and makes sense for the type of meal. Deer steaks are lean, and tend to be tougher for this type of meal.
Unless, of course, you're using the best cuts of the deer, the tenderloin or backstrap, which I prefer to use in other recipes where the cut is more of the focus.
What to serve with ground venison stroganoff
This really is a one-hit wonder, with varied nutrition available in the entire dish. If you'd like to serve something on the side, roasted fall vegetables would complement it beautifully.
I'm thinking some sweet potato, parsnips, carrots and cabbage would be delicious.
Of course, something green is a nice balance of color for your plate.
Pan-roast some asparagus, green beans, or brussel sprouts in butter, garlic and salt and pepper with a squeeze of lemon. Make it quick and simple.
Storing leftover venison stroganoff
The cream in this dish lends it to want to be consumed within a few days of preparation. A dash of broth in a skillet on low will bring this easy venison stroganoff back to life in under 20 minutes on your stovetop.
I don't recommend using the oven to reheat.
Wrapping up
With access to hunted game either that you hunt or other friends or family can get for you, it can be overwhelming to work with a new type of meat.
Venison is a healthy lean meat and is versatile.
It's important to use lower heats and match the cuts with the recipe. Venison is not as easily interchangeable as some other types of meat.
Ground venison stroganoff celebrates the rewards of hunting season in our family. Be sure to let me know if you give this one a try.
A few more wild game dinners:
Hearty Ground Venison Stroganoff
This hearty dish celebrates the bounty of hunting season in our family.
Ingredients
2 lbs ground venison
1 lb egg noodles
1 tbsp butter
1 onion, diced
6 mushrooms, sliced
5 cloves garlic, minced
3 tbsp flour
1 3/4 cup beef broth
1 cup heavy whipping cream
2 tsp salt
3/4 tsp pepper
1/4 tsp crushed red pepper (optional)
Instructions
Prepare noodles according to the instructions on the package.
Saute onions and mushrooms in the butter until soft and onions become translucent. Set aside.
Brown venison with garlic, a tsp of salt and a half tsp of pepper in the same skillet. (drain any excess grease)
Sprinkle with flour, then slowly add broth. Once broth starts to bubble, reduce heat to low. (about 5-8 minutes)
Add the onions and mushrooms back in and sprinkle with the remaining salt & pepper.
Stir in cream and continue to simmer until it thickens. Approximately another 5 minutes.
Serve over noodles
Notes
Ground meat is easier to eat with this recipe compared to deer steaks with tend to be tougher unless using the tenderloin or backstrap, which I prefer to use in other recipes.
Nutrition Information:
Yield:

8
Serving Size:

1
Amount Per Serving:
Calories:

430
Total Fat:

23g
Saturated Fat:

13g
Trans Fat:

0g
Unsaturated Fat:

7g
Cholesterol:

165mg
Sodium:

888mg
Carbohydrates:

20g
Fiber:

1g
Sugar:

2g
Protein:

35g
This website provides approximate nutrition information for convenience and as a courtesy only. Nutrition is calculated by Nutronionix