One of the most prized pieces of venison is the backstrap. And when cooked properly, it can make a satisfying and flavorful main course.
With these simple tips, you can learn how to cook the perfect venison backstrap every time.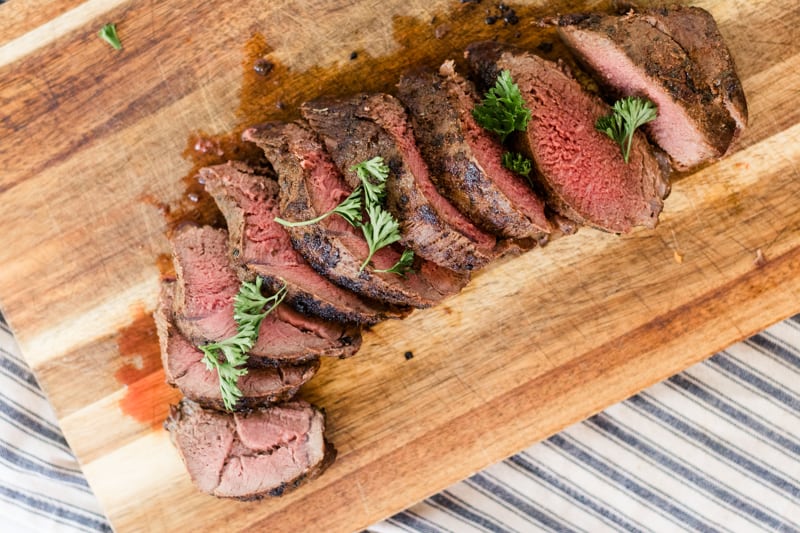 Cooking Venison
Preparing a delicious, tender venison backstrap doesn't have to be complicated. Follow these easy steps for perfectly cooked venison every time!
The first time making venison backstrap, I ended up following a recipe similar to pork tenderloin.
And while I have since perfected my venison backstrap recipe, I still follow the same cooking method.
Searing in the outsides to lock in those natural juices before finishing it off in the oven is a favorite way to make a tender venison backstrap.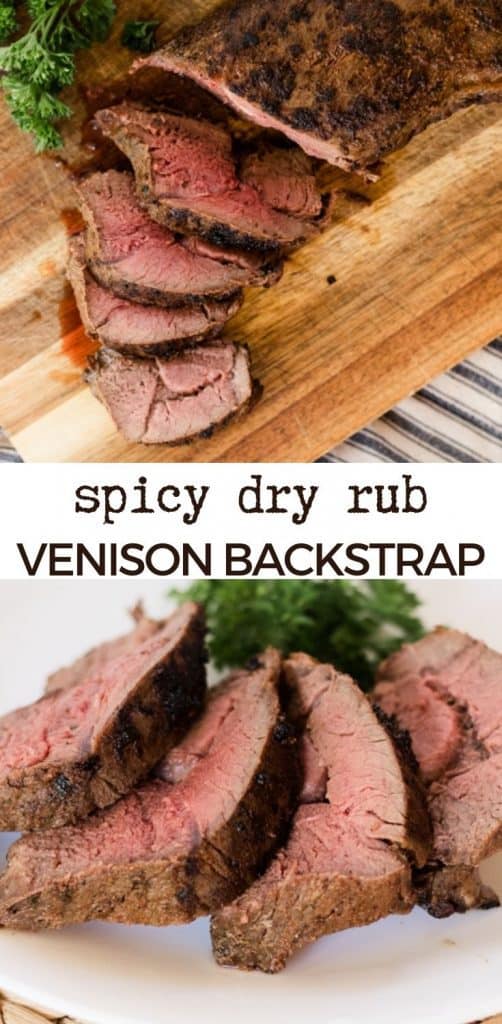 Preparing Your Backstrap
Make sure the meat is fully defrosted before starting. Trim away any excess silver skin missed during processing.
It by no means needs to be perfect, but any thick pieces will not cook away and tend to be tough and chewy.
Thankfully the backstraps clean up pretty nicely.
The silver skin and tendons are more prominent in the front leg meat, which is a heavily worked area and tends to be more tough and lean.
Next, I like to make my own venison backstrap rub. Check out the recipe below, or use your favorite premade blend.
How to Cook Deer Backstrap in the Oven
Preheat oven to 375°F.
On the stove, heat up a large cast iron skillet; I use a 12″, which fits the tenderloin perfectly.
Add in 2 tbsp of cooking oil. When the oil starts to smoke, Add the prepared backstrap to the center of the skillet and sear each side; for about a minute or so per side, being careful not to char the meat.
After the final flip, transfer the skillet to the center rack and bake for 10-15 minutes or until desired internal temperature has been reached.
Let it rest and Enjoy!
Once your venison backstrap is cooked just right, it's time to let it rest for at least 10 minutes before carving or serving, so the juices are reabsorbed into the meat.
This ensures that you get the juicy, tender, and delicious venison you were hoping for!
Venison Backstrap Rub
Venison backstraps are great with a dry rub or marinade.
For the dry rub, combine salt, pepper, paprika, garlic and onion powder, parsley flakes, turmeric and cayenne pepper in a small bowl.
Next, gently drizzle coconut oil or preferred oil over the top of the backstrap. Finally, coat the meat generously in the dry rub.
Use your favorite premade rub if you don't want to make your own dry rub.
Chef James dry rubs are some of my favorite blends, including their five pepper blend that brings the perfect amount of heat.
Venison Backstrap Marinade
Maybe you don't like dry rubs, or you're just trying to get rid of some of that gamey taste. Either way, here is a pretty simple marinade to try.
For the marinade, add 1/4 cup of soy sauce, 1 tbsp of apple cider vinegar, and 1 tsp of Worcestershire sauce to a gallon freezer bag.
Place the backstrap in the bag and let it marinate for at least an hour or overnight.
FAQs
When preparing venison backstrap, some of the most commonly asked questions are how long to marinate, what temperature to bake at, and how long to cook for.
Generally, it is recommended to marinade for at least 8 hours in a flavorful liquid such as apple cider vinegar or other acidic marinades.
For baking, temperatures I've had the best luck between 375-400°F, and baking times can vary depending on size; between 10-20 minutes should be sufficient.
Allow the backstrap to rest after baking before slicing so that the juices can settle back into the meat.
Properly packaged uncooked venison should easily last for an entire year in the freezer. Never refreeze thawed meat.
This post contains affiliate links, which means I make a small commission at no extra cost to you. As an Amazon Associate, I earn from qualifying purchases. Get my full disclosure here.
Helpful cooking tools
Venison Temperature Cooking Chart
Rare 125°
Medium-rare 130°
Medium 135°
Medium well 140-145°
Well done 150-155°
Just note that the meat will continue to cook even after being removed from the oven.
I like to pull it out of the oven at about 125° as it will usually read 5-10 degrees higher after resting.
Like all meats, venison and elk must be cooked to a proper temperature in order to destroy harmful bacteria or parasites.
Cooking Wild Game
Cooking wild game does not have to be overwhelming or really different from cooking the "ordinary meat" we eat regularly.
The key to cooking wild game such as venison is not overcooking it. Venison is extremely lean meat and can quickly dry out or get tough if overcooked.
The toughest meat on a deer is from the front quarters or front legs. A lot of tendons and silver skin runs through this meat, and it is best slow-cooked in stew or ground into burger.
The hindquarters or back legs are where you'll get most of your steaks that are great grilled or pan-seared.
And, of course, the backstrap. What is the backstrap?
The backstrap is the meat that runs along either side of the spine and should not be confused with the tenderloin. This is often the most prized cut of meat from a deer or elk.
Why you will love this recipe
Not only will this recipe result in perfect, juicy venison backstrap every single time — it's also incredibly easy to prepare!
Plus, the venison dry rub and baking steps are super simple and straightforward. The end result is a delicious backstrap you can serve as the star of your next dinner or for a unique snack. Enjoy!
Storing and Reheating
Store leftover venison in an airtight container for up to 4 days in the refrigerator. Warm in a small skillet until heated through.
I hope you like this simple backstrap recipe. Let me know how yours turned out in the comments below!
And for more great dinner favorites, check out one of these recipes below.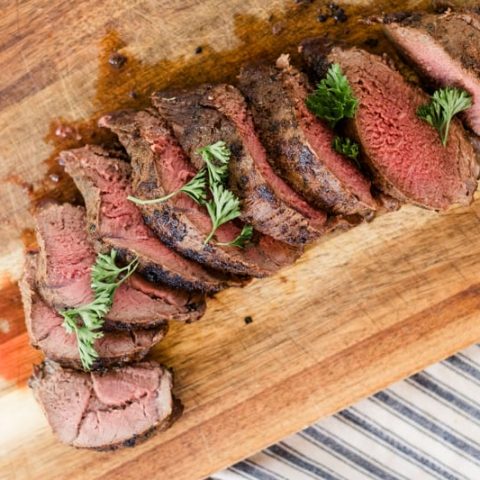 Dry Rub Venison Backstrap Recipe
Additional Time:
10 minutes
Get the perfect cook on your venison backstrap every time with this easy recipe. It's guaranteed to leave you and your guests salivating!
Ingredients
1 venison backstrap, approx 2 lbs
3 tablespoons of cooking oil
1 ½ tsp salt
½ tsp of pepper, paprika, dried rosemary, garlic and onion powder.
¼ tsp of cayenne pepper
⅛ tsp of turmeric
Instructions
Combine spices in a small bowl and mix well.
Prepare the backstrap by drizzling it with 1 tbsp of oil, then generously coating it with the dry rub.
Preheat oven to 375°F
Heat a large cast iron skillet over medium to medium-high heat with the remainder of the oil.
Once the oil starts to smoke, sear the meat on all sides—approximately a minute per side.
Transfer the skillet to the center rack of the oven and bake for 10-15 minutes or until the desired doneness has been achieved using an instant thermometer.
Remove it from the heat to rest for 10 minutes before enjoying it!
Nutrition Information:
Yield:

4
Serving Size:

1
Amount Per Serving:
Calories:

440
Total Fat:

16g
Saturated Fat:

4g
Trans Fat:

0g
Unsaturated Fat:

11g
Cholesterol:

179mg
Sodium:

1003mg
Carbohydrates:

2g
Fiber:

1g
Sugar:

0g
Protein:

69g
This website provides approximate nutrition information for convenience and as a courtesy only. Nutrition is calculated by Nutronionix