Get ready for a bacon-wrapped venison backstrap stuffed with a delightfully scrumptious filling, soon to become your new favorite dish.
A stuffed venison backstrap is surprisingly easy to make and is a fun variation from my typical dry rub venison backstrap.
I admit, the thought of making stuffed meals originally came across as complicated.
However, after making this stuffed venison backstrap and, of course, wrapping it in crispy bacon, I learned that the contrary was true.
All said and done; this simple venison recipe should take less than an hour out of your busy day.
Is backstrap the same as the tenderloin
Before we begin, you may be asking, "is a backstrap different from the tenderloin?"
The backstrap is the portion of meat that runs along the backbone and is a favorite among most. On the other hand, the tenderloin runs along the bottom side of the backbone and is smaller than the backstrap.
They are both delicious cuts of meat and, in many cases, can be substituted in many different venison recipes.
However, I don't suggest using a tenderloin in this recipe since it is much smaller and may be challenging to keep the stuffing contained.
If anyone has tried stuffed tenderloin, let me know how it turned out in the comments below!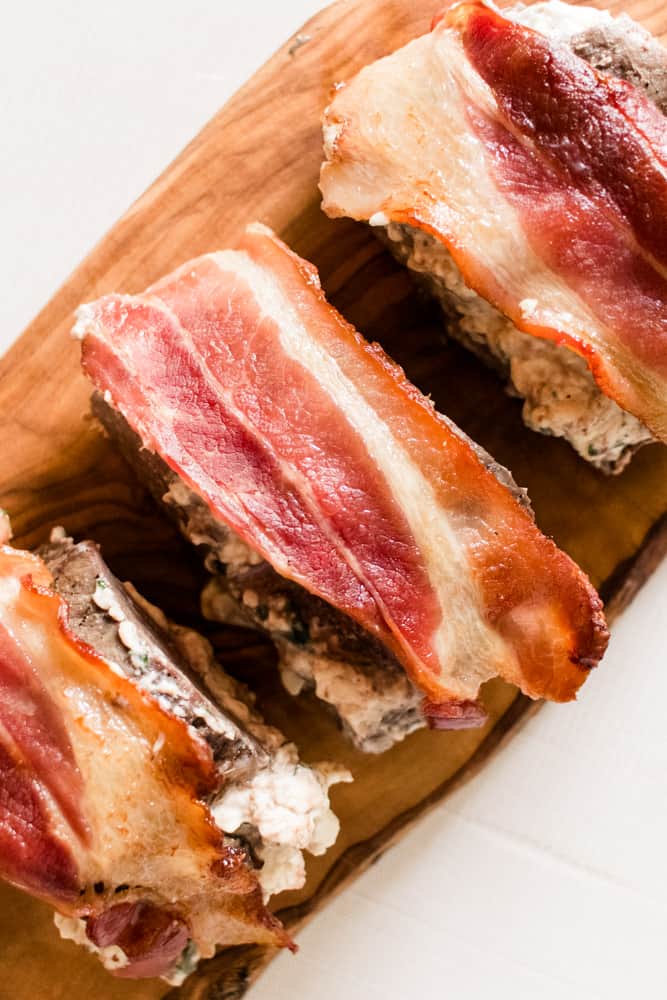 Stuffed venison backstrap
Ingredient List:
Backstrap
Thin cut bacon
Cream cheese
Jalapeno
Fresh rosemary
Salt and pepper
Stuffed Backstrap Recipe
Preparing the Bacon
I start by partially pre-cooking the bacon. Pre-cooking the bacon ensures the bacon will be nice and crispy by the time the whole dish is cooked.
The Stuffing
While the bacon is in the oven, dice up a jalapeno and add it to a mixing bowl with softened cream cheese. Add in chopped rosemary and stir well.
Backstrap
Now, to prepare the backstrap. First, cut away any sinewy/silver skin from the backstrap.
Next, lay the meat down flat and use a sharp knife to cut into the backstrap lengthwise but not completely through.
Finally, salt and pepper both sides generously.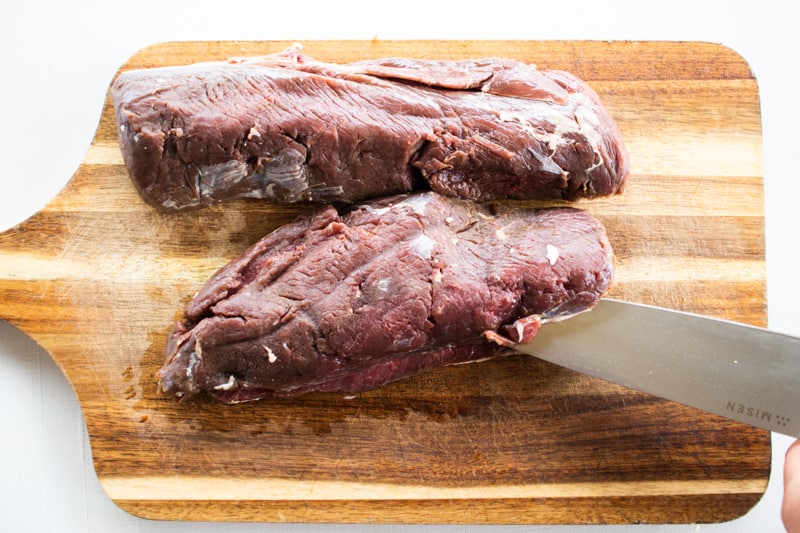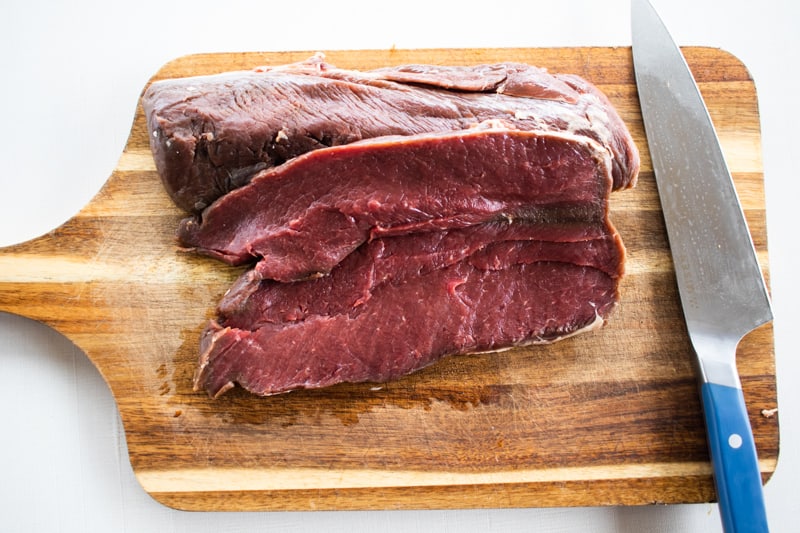 Once the bacon has had time to cook, remove it from the oven, and allow it to cool to the touch before laying each bacon strip out, side by side.
Unfold the meat where both flat sides should be facing up and set it on top of the bacon strips.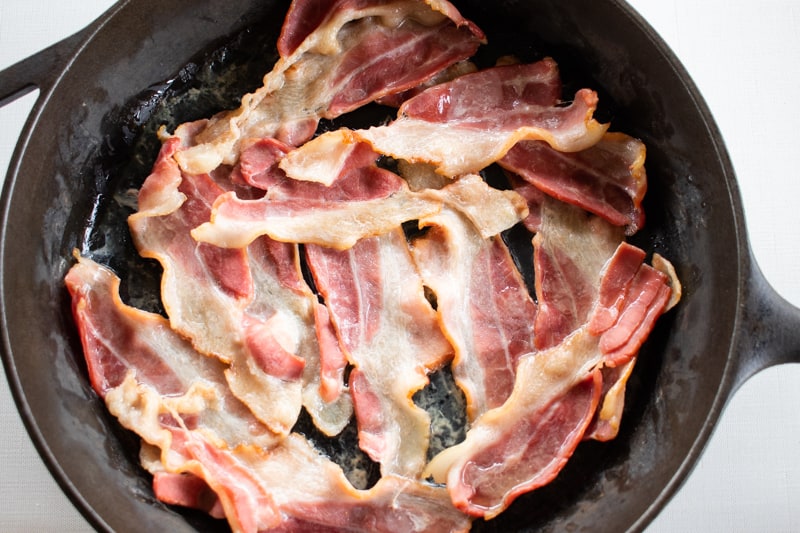 Spoon the filling into the meat, wrap with bacon and place in a skillet to bake for approximately 30 minutes.
Let it rest for 10-15 minutes before serving.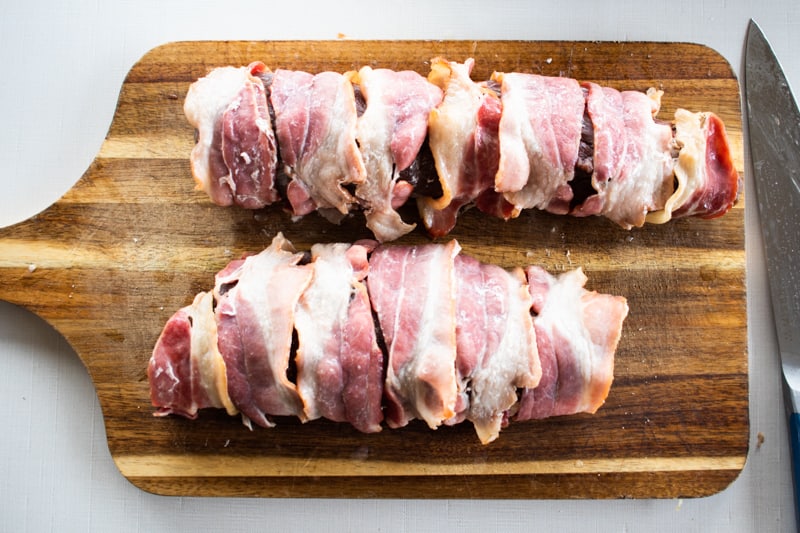 Some of our favorite sides include cheesy butternut squash or roasted parmesan Brussel sprouts.
How do I know when my backstrap is done?
Backstraps are most tender rare to medium rare.
Unlike a beef steak which could be cooked well done while remaining tender and somewhat juicy, venison backstraps cooked much past medium will start to dry out and become chewy.
You can use an instant meat thermometer in the thickest part of the meat to gauge the temperature. Be careful not to poke the thermometer into the filling, or you will end up getting an inaccurate reading.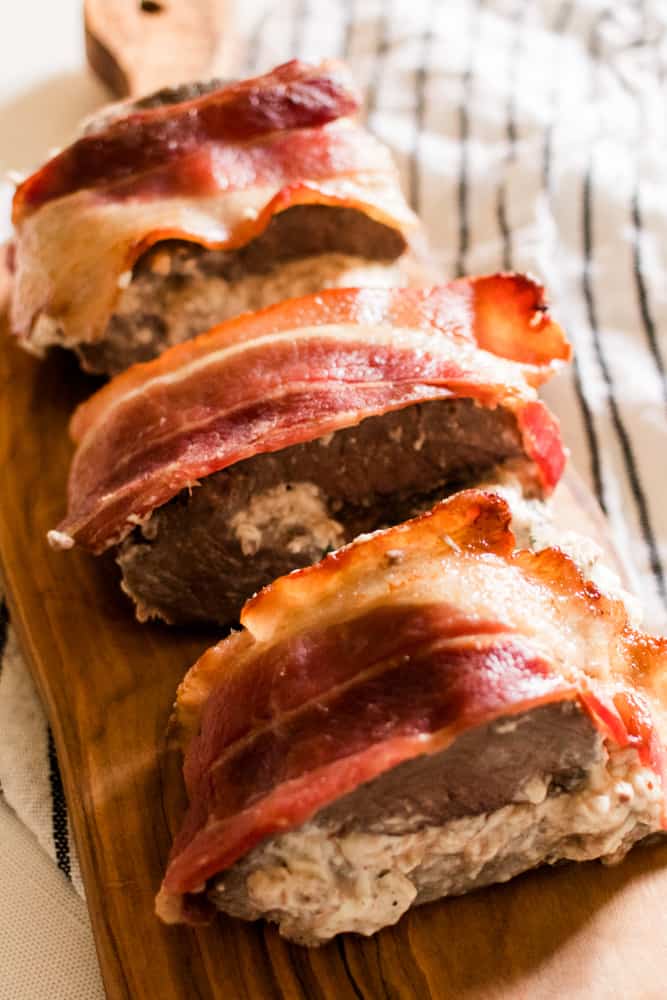 Pull the meat out of the oven at around 130°-135°F for medium-rare to medium. The internal temperature will rise a degree or two while it is resting.
Just remember, backstraps can vary greatly in size, which will affect the cook times. So keep an eye on it and definitely check it sooner than later so you don't overcook the backstrap.
Venison with bacon
With a growing list of wild game recipes here, including bbq bacon elk burgers and a classic ground venison chili recipe, I decided to try out some variations on a few of my favorite venison recipes.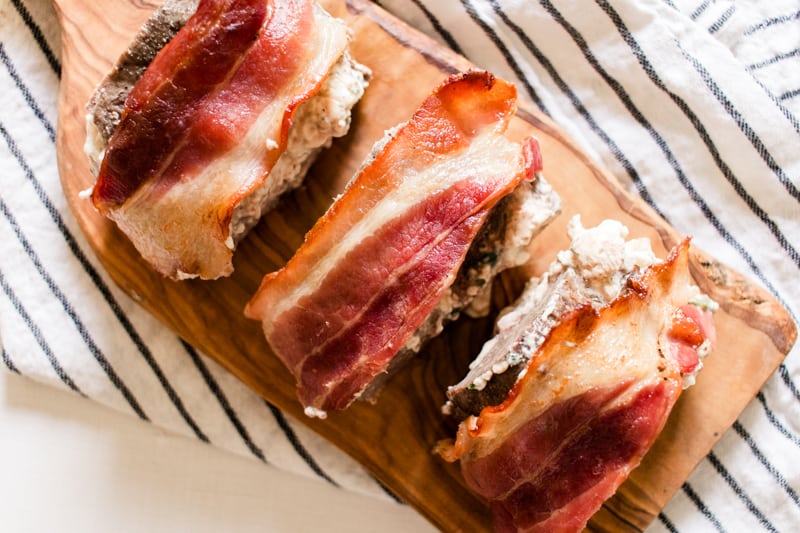 I do hope you like the bacon-wrapped backstrap stuffed with cream cheese and spicy jalapenos.
This recipe is simple to make, tastes great, and doesn't require a grill, though you grill experts out there could easily make this on the grill or smoker!
Be sure to leave a comment below, letting me know how it turned out! And if you are interested in more fantastic cast iron/dutch oven recipes, have a look at a few of these below.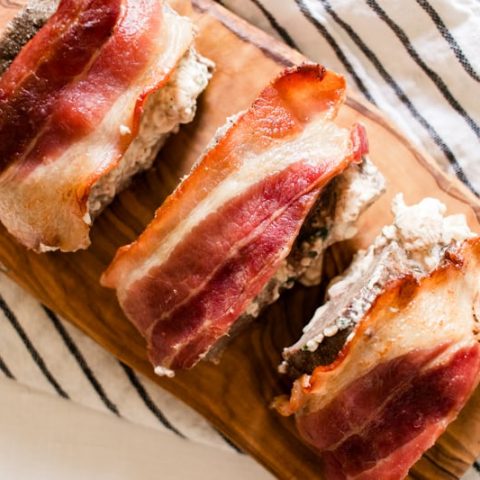 Stuffed Venison Backstrap
Additional Time:
10 minutes
Total Time:
1 hour
5 minutes
Ready to take your dinners to the next level? This fast and easy recipe only requires a handful of ingredients, so you can spend less time cooking and more time eating.
Ingredients
2 backstraps
1 package of thin-cut bacon
1 brick of cream cheese, softened
1 jalapeno, chopped fine
Fresh rosemary, chopped (approx 3 tbsp)
Salt and pepper to taste
Instructions
Preheat the oven to 350°F
Lay bacon strips flat in a 12" cast iron skillet and bake for 20 minutes.
Prepare the filling by combining cream cheese, jalapeno, and rosemary in a small bowl and mixing well.
Remove any silver skin from the backstraps, then cut a slit into the meat, lengthwise but not all the way through, like a butterfly cut.
Unfold the meat, generously salt and pepper it on all sides, then layer the middle with stuffing and fold it back over.
Lay out bacon strips side by side, set the backstrap across it, and wrap the bacon over the top.
Bake at 375°F for 30 minutes or until desired doneness is reached.