If you have never tasted elk meat, you are in for a real treat. This is one of my favorite elk tenderloin recipes with savory flavor combinations that is tender and juicy.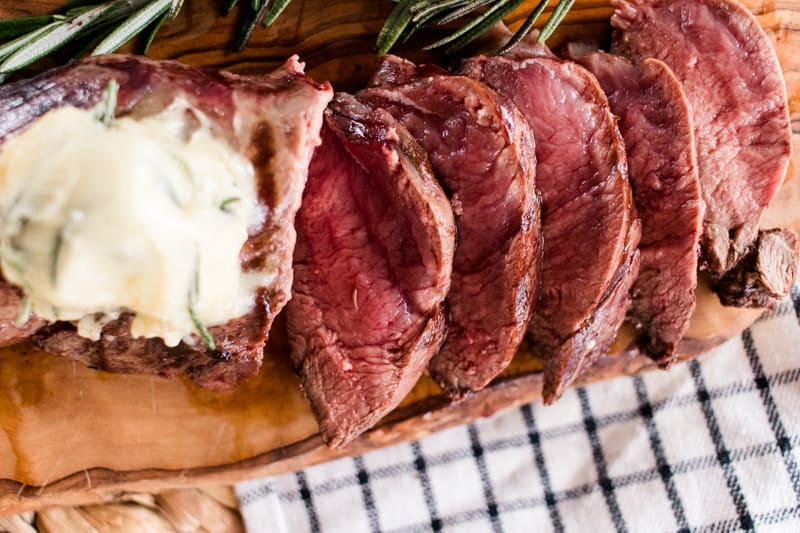 Cooking Elk Tenderloin
Cooking an elk tenderloin is very similar to cooking steak or venison tenderloin. However, since it is smaller than a backstrap, the tenderloin can be cooked completely on the stovetop.
Perfect if you live in warmer climates and have no interest in heating your home with the oven.
How to cook elk tenderloin
Elk tenderloin is an extremely lean piece of meat with very little connective tissue or fat, and it is not a heavily worked muscle which is what makes it so tender; when cooked properly.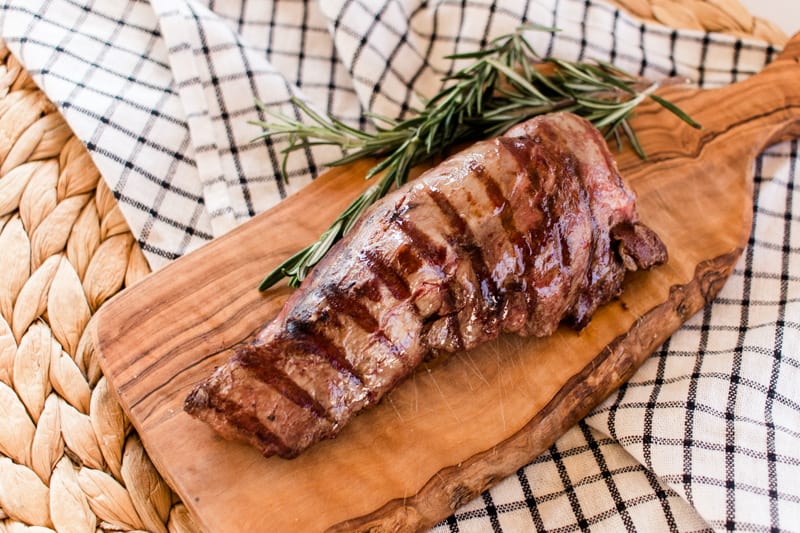 Because we are going to sear this right on the stovetop with high heat, it is important to set the meat out ahead of time and pat dry.
Any liquid will create steam, and you don't want steam. Instead, you want a nice seared crust on the outside.
Twenty minutes should be plenty of time to bring the meat to room temperature, and all I do for seasonings, at this point, is a little salt and pepper.
To begin, heat a cast iron grill pan on medium-high heat for an electric stove or medium heat for a gas stove. Splash a little water on the pan – if it sizzles, it's ready.
Now, rub each grate with butter. You can melt some butter ahead of time, then dip a paper towel in the butter and rub each grate. I'll usually open one end of a stick of butter and smear it onto each rib.
Immediately add the tenderloin lengthwise across the pan ribs. Reduce heat to medium and leave undisturbed for 4 minutes.
Use a pair of tongs to flip and cook for an additional 4 minutes on the opposite side.
Remove the elk tenderloin from the grill pan onto a plate, top with rosemary garlic butter, and let it rest for 5 minutes. (see garlic butter recipe below)
Serve it with your favorite side dishes, or try homemade baked beans or cheesy bacon butternut squash.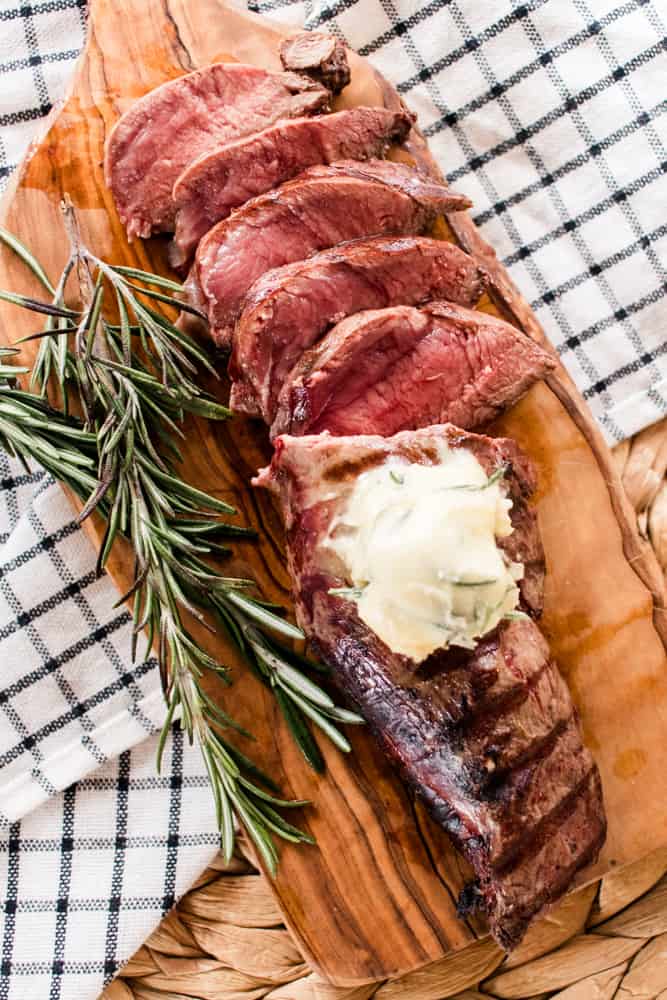 Rosemary garlic butter
This simple garlic butter recipe adds so much flavor and is an excellent substitute for a marinade, especially when time does not allow it.
Add two tbsp of softened butter, two minced garlic cloves, and the leaves from one rosemary stalk to a small ramekin.
To remove the leaves from the rosemary, grab the end of the stalk and pull in the opposite direction of the leaves.
Mash the ingredients together with a fork until well combined. Add a dollop to each tenderloin as soon as you take it off the heat.
I use a similar garlic butter to cook my pork tenderloins with.
Helpful cooking tools
This post contains affiliate links, which means I make a small commission at no extra cost to you. As an Amazon Associate, I earn from qualifying purchases. Get my full disclosure here.
Don't have your own cast iron grill pan? Not to worry, check out some of these helpful cooking tools to make this recipe run as smoothly as possible.
Elk tenderloin marinade
Are you looking to add a little different flavor to your elk tenderloin recipe? This is one of my favorite marinades that I've used for steaks, chops and even a similar variation for a sirloin roast recipe.
Tenderloin marinade ingredients:
¼ cup of soy sauce
⅛ cup of lemon juice
⅛ cup of Worcestershire sauce
⅛ cup of avocado oil
1 clove of garlic, minced.
Add all ingredients to a gallon ziplock bag along with the elk tenderloins. Allow it to marinate in the refrigerator for at least an hour or overnight.
The Worcestershire sauce adds a ton of flavor to the meat. It is a common marinade ingredient for venison when trying to get rid of the gamey flavor that accompanies most venison.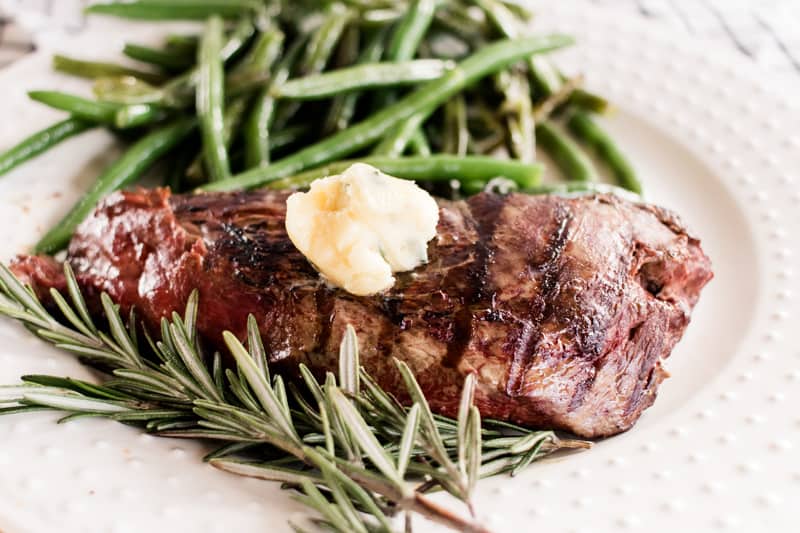 Elk vs. Venison
Elk and deer venison share a few similarities, at least in the way that they are prepared. But overall, elk and venison are different.
One thing I would like to point out is, venison technically refers to "any antlered game," but because it is primarily associated with deer meat, that is how I will be referring to deer meat.
Back to the comparison: Elk meat is like the delicacy version of venison. Although it has less fat, the fat has little to no gamey taste, unlike venison, whereas its fat is nearly inedible.
Elk meat overall has a very good, rich flavor, is tender, and goes great with nearly every dish.
I personally really enjoy venison (deer); it does have more fat and connective tissue, so it will fair best to cook most of that meat, low and slow in stews or chili, with the exception of backstraps, tenderloins and steaks.
Elk meat benefits
Elk meat is a high in protein and low in fat meat. With a number of beneficial nutrients, including B6, B12, and zinc, as well as being low in cholesterol, elk meat is an excellent choice to add to your diet.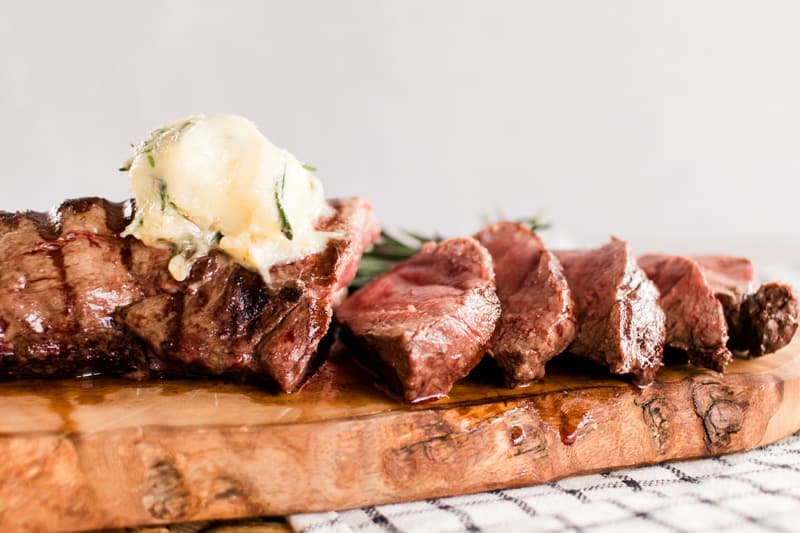 Elk tenderloin medallions
To make tenderloin medallions, cut the meat into ½ thick steaks. Season both sides with salt and pepper, rub a little olive oil on both sides and pan sear for about 2 minutes per side for medium-rare.
Leftovers
Store any leftovers in an airtight container in the refrigerator for up to 4 days. Reheat in an oven-safe container until heated through.
Make sure you check out one of these recipes next!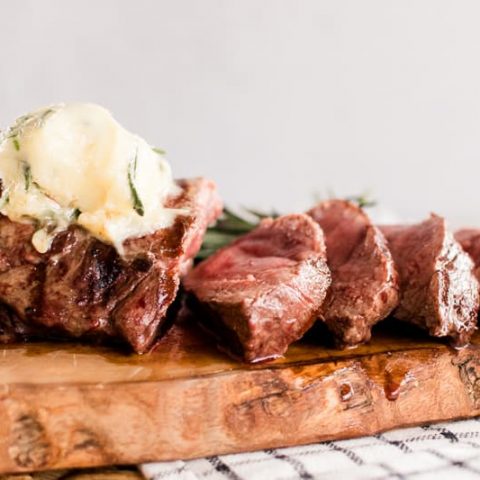 Garlic Butter Elk Tenderloin
Additional Time:
5 minutes
Deliciously tender elk tenderloin recipe with a rich homemade rosemary butter garlic sauce.
Ingredients
2 tenderloins (approx 1 lb each)
Salt and pepper
2 tbsp of butter, plus some for the skillet
2 cloves of garlic, minced
1 rosemary stalk
Instructions
Bring tenderloins to room temperature and pat dry with a paper towel
Salt and pepper on all sides generously.
Heat a cast iron grill pan to medium-high heat. Butter each rib and add the tenderloins
As soon as you add the meat, reduce the heat to medium, and sear both sides 4 minutes.
Transfer meat to a plate to rest for 5 minutes before serving.

For The Sauce
Add the butter, garlic and leaves from one rosemary stalk to a ramekin. Mash with a fork and add a dollop to each tenderloin.
Notes
Check the temperature with an instant thermometer for the desired doneness.
If you are cooking with larger tenderloins, you may consider finishing them in the oven at 400°F.
Nutrition Information:
Yield:

4
Serving Size:

1
Amount Per Serving:
Calories:

194
Total Fat:

16g
Saturated Fat:

8g
Trans Fat:

0g
Unsaturated Fat:

7g
Cholesterol:

51mg
Sodium:

147mg
Carbohydrates:

1g
Fiber:

1g
Sugar:

0g
Protein:

10g
This website provides approximate nutrition information for convenience and as a courtesy only. Nutrition is calculated by Nutronionix