Have you made venison steak before? Was it tough, maybe gamey? Or is this the first time learning how to cook venison steak?
Whether you've been cooking wild game for years or trying it out for the first time, this marinated venison steak recipe is made just for you. It is out of this world, delicious, juicy and tender!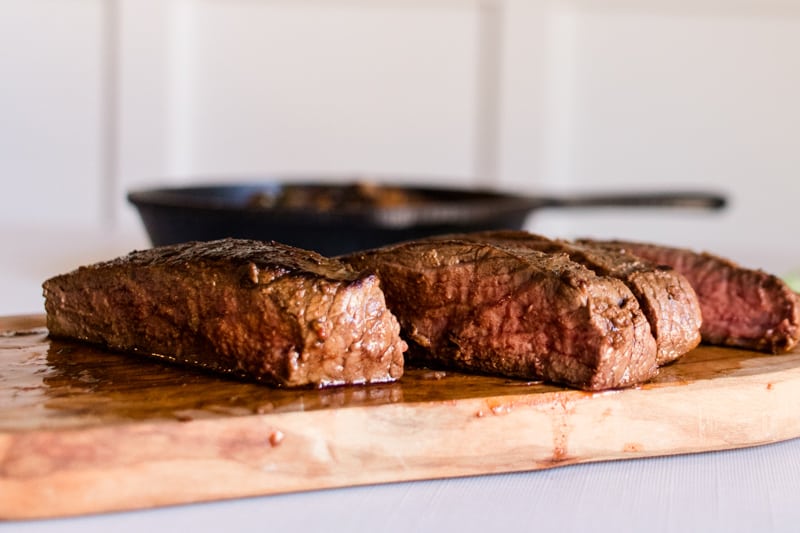 I am so glad you are visiting this site to try a new recipe. As I've said before, "most people never step beyond venison sausage" and are missing a whole world of delicious wild game recipes, from deer roast to backstraps and everything in between.
Below you'll discover the best way to cook venison steak and how to make a simple venison steak marinade using ingredients found in most kitchens.
Cooking Venison Steak
Cooking venison steaks are very similar to making beef steaks; quick high heat sear on the stove.
But unlike beef, venison is extremely lean, so if we're going to cook it any other way than slow cooking, it must be cooked perfectly, i.e., medium-rare to medium, and no more.
So there are a couple of different options for steaks, slow cook them like a round steak in a dutch oven, smother the steak on the stove, letting the juices cook into it, or marinate and pan-searing it.
Today, we'll be making the latter.
This post contains affiliate links, which means I make a small commission at no extra cost to you. As an Amazon Associate, I earn from qualifying purchases. Get my full disclosure here.
How to cook venison steak
Venison steak marinade
Gather up your defrosted steaks (if not fully defrosted, that's ok), and transfer them to a one-gallon ziplock bag.
Add a few splashes of soy sauce, a dash of Worcestershire sauce, ground pepper, finishing off with a pinch or two of rubbed sage.
The measurements are not an exact science, but I will have the amounts listed below in the recipe card.
Press the air out of the bag and seal it off.
Use your hands and work the sauces and seasoning around the steaks, then lay them flat in the fridge.
Let that marinade for the day, at least for an hour, or all day! Feel free to flip the bag over halfway through.
Cook venison steaks
Now for the cooking of the steaks. Pull the steaks out of the fridge about a half-hour or so before cooking.
Leave them in the bag so they can continue to marinate.
Add oil to a 12″ cast iron skillet, heat over medium-high. When the oil starts to smoke, add the steaks.
Sear for no more than one minute before flipping to the other side. After the first flip, feel free to pour the extra marinade over top of the meat.
Then, continue to flip the meat every minute for a total of 4-6 minutes.
Also, after the first flip, reduce the heat down to medium; deer steaks generally don't take up much room on the skillet, so it tends just to keep getting hotter and hotter.
The last thing we want to do is burn the sides!
Pull them tender venison steaks off the skillet as soon as desired "doneness" has been reached and set aside to rest for 5 minutes.
Serve with your favorite sides, or check out the sauteed mushroom and onions recipe below!
Optional venison steak toppings
Smothering steaks with sauteed mushrooms and onions is always a good option.
Slice 3 baby Bella mushrooms, 1/4 of a yellow onion, and about a tablespoon of green onions. For a little extra kick, dice up 1/2 a jalapeno.
Add the veggies along with 2 tbsps of coconut oil or similar cooking oil to a small, cast iron skillet over medium heat.
Add a teaspoon of red wine vinegar, and season with salt, pepper, paprika, garlic powder, and any other special seasonings that suit your fancy.
Occasionally stir, and let it cook until onions are soft and translucent.
Top the steaks and serve immediately. Other sides that go great with venison steaks include a side salad, garlic parmesan Brussel sprouts and roasted bacon and squash.
Popular Recipes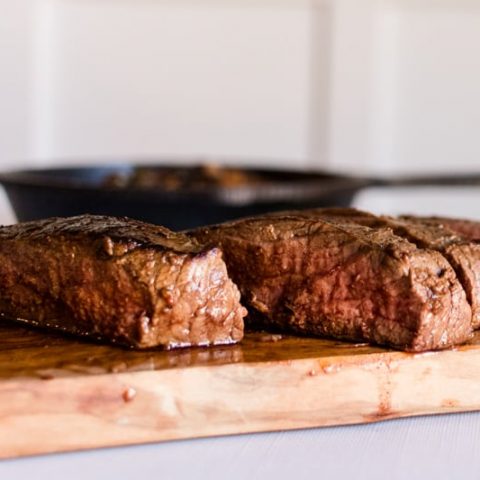 How to Cook Venison Steak
Additional Time:
5 minutes
The most amazing venison steak recipe with a simple and delicious marinade.
Ingredients
Steak
4 deer steaks
2 tbsp coconut oil
2 tbsp soy sauce (substitute coconut aminos)
1 tbsp Worcestershire sauce
1/2 tsp ground pepper
1/4 tsp rubbed sage
Topping
3 baby Bella mushrooms, sliced
1/4 of a yellow onion, sliced
1 tbsp of green onions, sliced
1/2 jalapeno, diced (optional)
2 tbsp coconut oil
1 tsp red wine vinegar
1/2 tsp salt
1/4 tsp each pepper, paprika, garlic powder
Instructions
Marinate the steaks in soy sauce, Worcestershire sauce, pepper, and sage in a ziplock bag for 1-8 hours.
Add oil to cast iron skillet set over medium-high heat.
When oil starts to smoke, add steaks.
Flip steaks every minute. Note, reduce heat to medium after the first flip.
After 4-6 minutes, check the internal temperature with an instant thermometer. When the desired temp has been reached, remove from heat and let the meat rest for 5 minutes.
Saute veggies with oil in a small skillet over medium heat. Add in red wine vinegar with the seasonings, occasionally stirring until onions are soft and translucent.
Top the steaks and serve immediately.
Notes
According to the UMN, venison steaks should be cooked to a minimum internal temperature of 145°F (medium-rare)
The meat will continue to cook even after being removed from the heat.