Made from scratch cinnamon sugar donuts. Fried in a cast iron skillet, these donuts can go from mixing bowl to table in less than 20 minutes.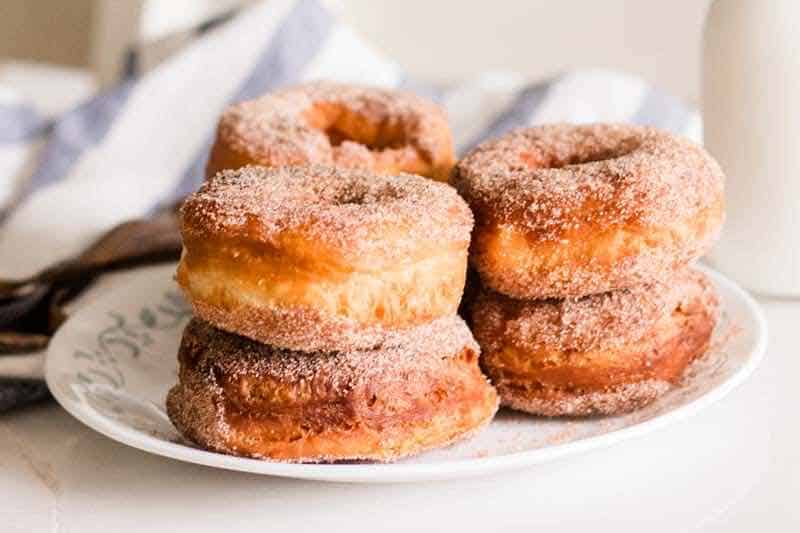 Fried Cinnamon Sugar Donuts
Donuts, to me, seem to be one of the most underrated homemade breakfasts and appetizers. With that said, I've only recently dabbled in making my own donuts.
I started with a fried cinnamon sugar donut, and yes, total success the first time around.
I actually got the idea from a relative who had made a gluten and egg-free donut recipe for a party and to say I was intrigued would be an understatement.
They had used a gluten-free pancake mix, left out the eggs the recipe called for, and fried them in a pot on the stove.
Pin It For Later
Cinnamon Sugar Donuts
Staying true to my reputation, I made these donuts from scratch. Piggybacking off of a basic biscuit recipe, and with a few minor tweaks, mainly frying in oil instead of baking, I was able to come up with a mouthwatering fried cinnamon sugar donut recipe.
Egg Free Donut Recipe
This recipe is perfect for anyone with an egg allergy since it already does not have any added eggs.
That was actually in part with why I chose to use a biscuit recipe base when coming up with this recipe. And biscuits are generally lighter, which is perfect for donuts.
Try these oven-baked chocolate chip bagels as a healthier alternative.
Best Oil For Frying Donuts
Choosing an oil with a high smoke point is crucial. Coconut oil and avocado oil are my favorites for cooking, but canola oil, sunflower oil, or olive oil will work just fine.
Donuts From Scratch Recipe
Ok, before starting, throw a stick of butter in the freezer. Now, add the all-purpose flour, baking powder, sugar, and salt to a medium-size mixing bowl and mix well.
Pull the butter out of the freezer and shred up about 6 tablespoons worth. I use the fine grate on a cheese shredder. Add that in with the dry ingredients.
Using Whole Milk, pour it into the dry ingredients and gently mix until the dough becomes well combined. Next, spread a thin layer of flour on the countertop and transfer the dough to there.
Start working the dough by flattening it out, folding it over, and flattening it out again. Repeat several times until the dough holds together well.
Use your hands during this process, not a rolling pin. We want this dough to remain as light as possible.
Flatten the dough out about 1/2″ thick, and using a cookie cutter or the rim of a cup, cut out the circles for the homemade donuts.
Once as many donuts have been cut out as possible, rework the dough and you should be able to squeeze out a couple more. Then, use your finger to punch out a hole in the center.
How To Fry Donuts
Heat up about 1 inch of oil in a cast iron skillet over medium heat on the stove. Set the donuts in the hot oil, taking care not to splash the oil. Leave a little room between the donuts since they will expand as they are heated.
Leave in the oil for about 1 minute, then flip with a pair of tongs frying for an additional minute before removing from heat.
In A Rush Donut Recipe
I know, I know, who has time actually to cook a whole recipe from start to finish! Get you one of those cylinders of pre-mixed biscuits from the cooler at your local grocery store.
Open it up, slightly flatten each biscuit and cut out your center hole. Then follow the same directions for frying.
Have an egg or gluten allergy? No worries, the recipes above are already approved as egg-free donuts! For a gluten-free donut, substitute the flour for a gluten-free alternative.
Of course, If you're still in a "rush," use a gluten-free pancake mix and follow the instructions on the back, leaving out the eggs if needed. Then fry in the cast iron skillet.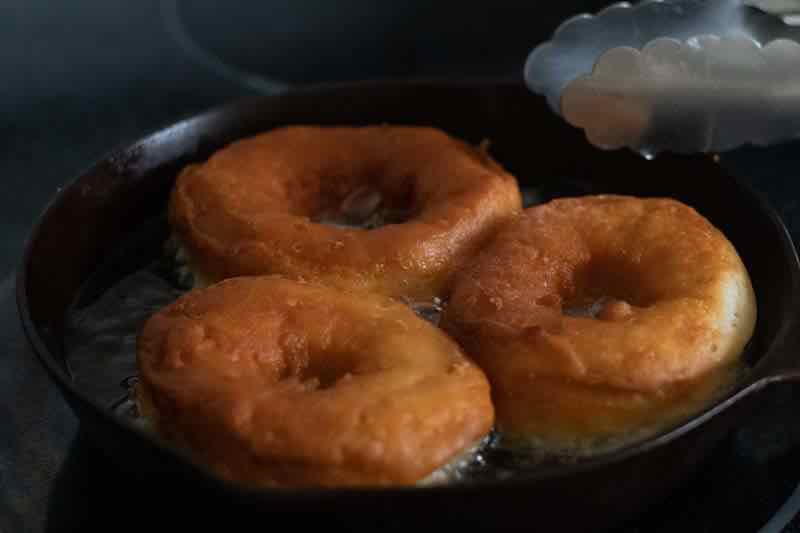 Best Donut Toppings
I prefer a cinnamon sugar donut topping in which I'll mix 3 parts sugar with 1 part cinnamon, then dip the donut directly into the mixture immediately after frying.
These also can be enjoyed with a simple dusting of powdered sugar.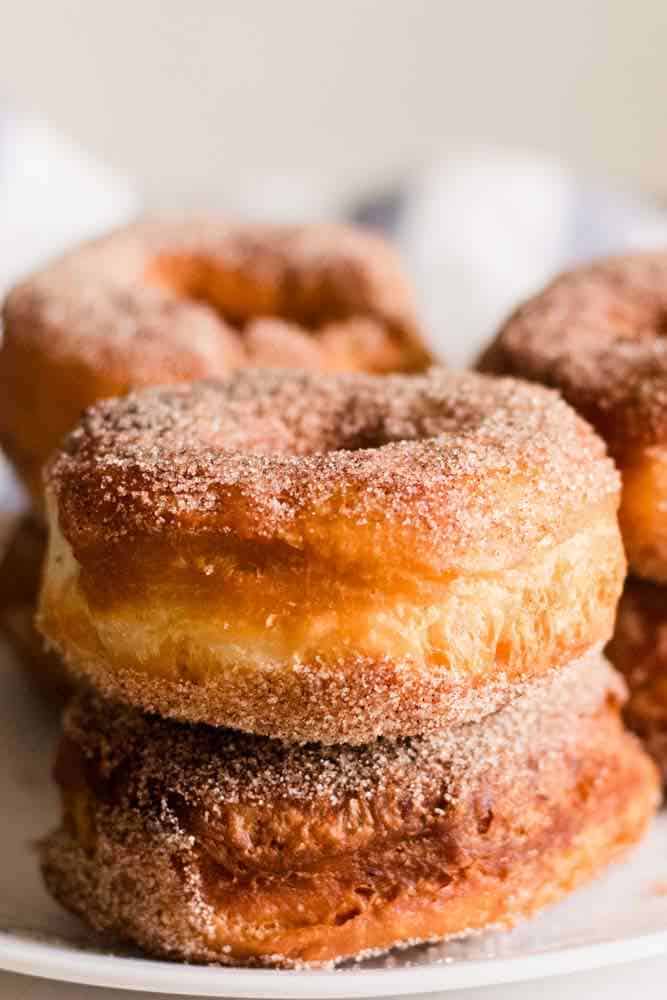 Some more popular recipes:
Fried Cinnamon Sugar Donuts
Easy egg-free cinnamon sugar donut recipe; Savory sweet and delicious.
Ingredients
2 cups of all-purpose flour
1 tbsp baking powder
1 tbsp granulated sugar
1 tsp salt
5 tbsp butter, unsalted
3/4 cup milk, I use whole milk
Coconut oil, for frying
3 tbsp sugar for topping
1 tbsp cinnamon for topping
Instructions
Throw butter in the freezer 15-20 min before starting.
Add all the dry ingredients to a medium-sized mixing bowl, mix well.
Shred the butter with a cheese grater using the finest grate.
Mix it in with the dry ingredients.
Add milk and slightly mix everything until it is cohesive. Do not over-stir.
Lightly spread a thin layer of flour on the countertop.
Transfer dough to the countertop.
Work the dough out flat with your hands, fold over and flatten out again. Repeat several times until the dough holds together well.
Flatten the dough out about 1/2" thick. Next, cut out Donuts using a cookie cutter or the rim of a cup. Then, use your thumb to punch out the center hole.
In a cast iron skillet over medium heat with about an inch of oil, add in the donuts. Be careful not to splash out the hot oil.
Fry for about 1-2 minutes, then flip with tongs and fry for an additional 1-2 minutes.
In a small shallow dish, mix the sugar and cinnamon. Dip donuts immediately into the mixture while still hot.
Enjoy!
Nutrition Information:
Yield:

8
Serving Size:

1
Amount Per Serving:
Calories:

250
Total Fat:

11g
Saturated Fat:

7g
Trans Fat:

0g
Unsaturated Fat:

3g
Cholesterol:

24mg
Sodium:

500mg
Carbohydrates:

34g
Fiber:

1g
Sugar:

8g
Protein:

5g
Nutrition is calculated by Nutronionix. All nutrition should be verified independently.