These bagels are easy and delicious to prepare, perfect for breakfast or brunch to keep you full till lunchtime.
These simple chocolate chip bagels certainly fit the bill, whether you need a quick make-ahead breakfast or an easy brunch side recipe.
It's a great filling treat for both adults and kids and can be served as a meal or as a delicious side.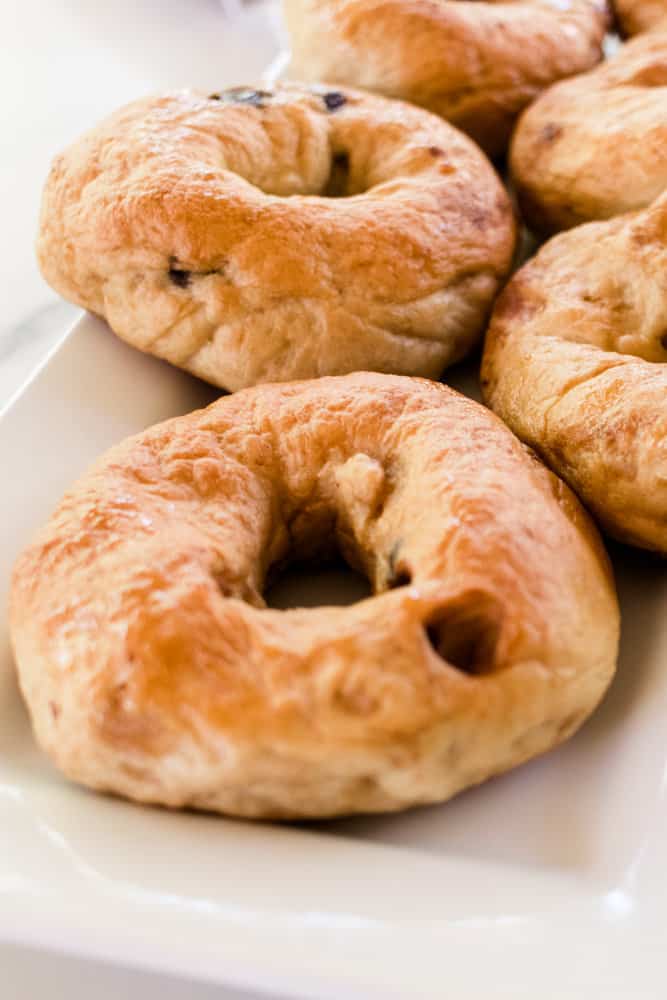 why you will love this chocolate chip bagel recipe
How to make chocolate chip bagels
What you will need:
All-purpose flour
Sugar
Salt
Warm water
Yeast
Chocolate chips
Instructions:
Activate the yeast by adding it to the warm water. Let it sit for about 5 minutes.
Mix flour, sugar, and salt in a separate mixing bowl, stirring well.
Add the water with the yeast to the dry ingredients and stir together with a wooden spatula. Continue to stir with the spatula until the dough become dry and flakey.
Then, with lightly floured hands, knead the dough until it holds together. About 4-5 minutes.
Finally, shape the dough into a round loaf and cover the bowl with a towel to rise for about 2 hours.
The temperature of your house will play a HUGE role in rising time. We want it to nearly double in size.
After rising, punch the dough in the middle to deflate it. Then separate the dough into small balls, press in chocolate chips, and shape it into a bagel.
Let them rise for an additional 15 minutes.
Bring water to a boil in a large pot with a dash of baking soda and sugar. Carefully drop in bagels for about 2 minutes total, turning once.
Lightly oil a preheated cast iron skillet, position the bagels about an inch apart and bake at 400°F for 18-20 minutes.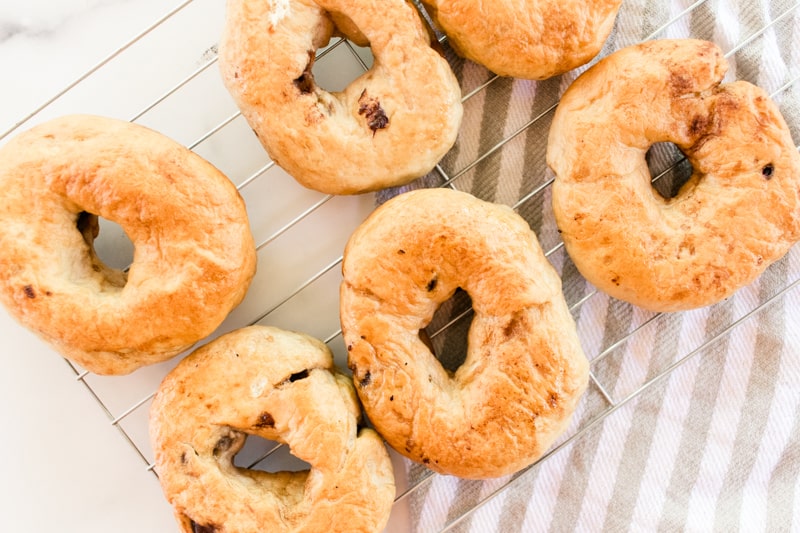 What to serve with your bagels
As a breakfast bagel, this recipe is perfectly delicious as it is. But these bagels also make a great side or appetizer for your next brunch. Here are a few great recipes to serve bagels with.
Variations
While chocolate chip bagels need no special attention, a little butter and you are good to go. There are a number of great variations you can make.
Tips for the perfect bagel
The bagel dough may appear dry when kneading it. Please don't add any extra water; it will come together in the end.
Always preheat the oven.
Do not over-grease the skillet, or the bottom of the bagels may get too crispy.
Boil before baking for a stronger, chewier crust.
why I make my own bagels
Let's face it; bagels are not that expensive. However, these bagels are made with 5 ingredients and are no match for any store-bought bagel. I love making my own bagels because I can control what goes into them.
Are bagels vegan?
While some bagels are brushed with egg wash to give them a nice shine, Most bagels, including this recipe, are actually vegan-friendly.
Wrapping up
Homemade bagels are not difficult at all to make. I love that you can make a large batch like this and be able to enjoy it for the whole week. And whatever you don't get to, throw it in the freezer!
Bagels freeze just fine. And when you're ready, pull it out of the freezer, toss it in the toaster oven, and you are ready to go!
I hope you enjoyed this simple yet delicious chocolate chip bagel recipe. Be sure and leave a comment below, letting me know what you think!
More Great Recipe Ideas!
Chocolate Chip Bagels
Total Time:
2 hours
35 minutes
Chocolate chip bagels are so easy to make and are much better than any store-bought version.
Ingredients
1 3/4 cup of warm water
1 tablespoon of active dry yeast
4 1/2 cups of all-purpose flour
4 tablespoons of sugar
1 teaspoon of salt
Chocolate chips
Instructions
Whisk the water and yeast together in a small bowl. Set aside for 5 minutes.
Combine flour, sugar and salt in a mixing bowl.
Add in the water and yeast and stir with a wooden spatula until the dough becomes dry and difficult to stir.
With lightly floured hands, knead the dough until it holds together, about 4 or 5 minutes.
Cover the bowl with a towel and let it rise for 2 hours or until doubled in size.
When the dough is ready, punch it down, then divide it into 12 pieces. Next, press in chocolate chips and shape them into balls.
Flatten the balls, poke a hole in the middle and shape them into bagels. Set aside while preparing the water.
Preheat the oven to 400°F with a cast iron skillet. (you will need 2 12" skillets to fit the bagels)
Bring 2 quarts of water to a boil and whisk in a tablespoon of sugar and baking soda.
Carefully drop 2-3 bagels in at a time for 2 minutes, flipping once.
Remove the skillets from the oven, lightly grease the bottom and place the bagels in.
Bake for 18-20 minutes.
Transfer bagels to a cooling rack for 15-20 minutes before serving.
Notes
You can line the skillet with parchment paper to eliminate the need to preheat the skillets.