What's not to love about a big, oversized pancake served up like a pizza but with tall sides and smooth thin center?
What is a Dutch Baby Pancake
A dutch baby pancake is essentially what looks like a big puffy crepe or popover when it comes out of the oven.
After sitting a couple of minutes, the steam that was blowing it up like a balloon seeps out and you are left with tall semi-crispy sides and a soft eggy middle of pure deliciousness.
That my friend is a dutch baby pancake. Now, this is a pretty easy dutch baby recipe, which for breakfast; that is a must.
Of course, this giant puffy version of a "pancake" can be enjoyed any time of day or night; I think it's best served as a quick and filling breakfast or as a fancy brunch recipe.
Easy Dutch Baby Recipe
There are so many different ways to make these dutch cakes. The batter can be prepared with a blender, hand mixer, or a simple hand whisk.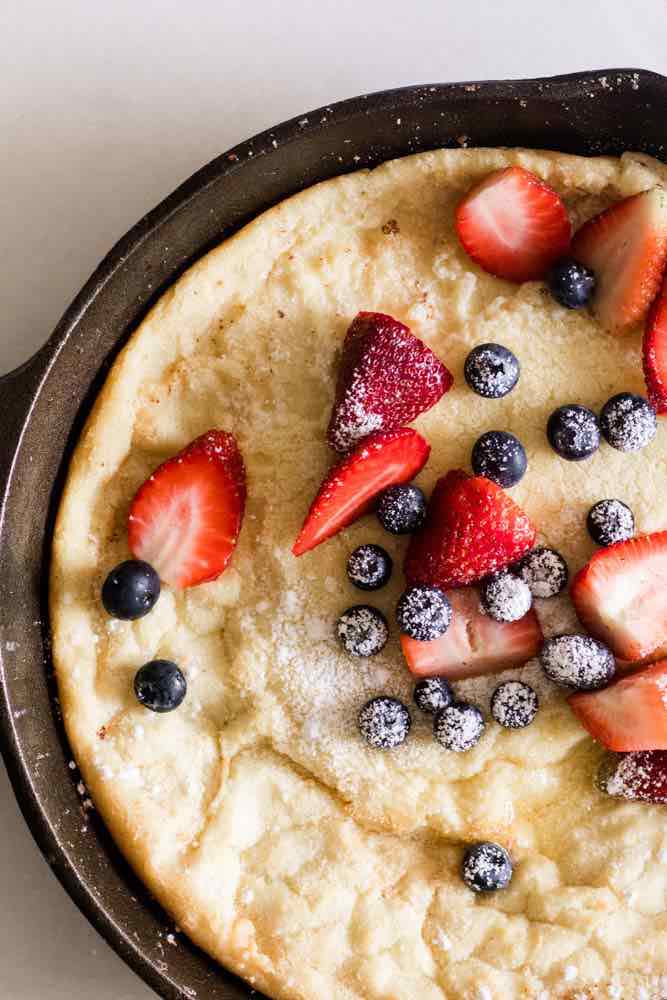 How to Make Dutch Baby Pancakes
As far as combinations go, eggs, flour, milk and butter are a must in order to achieve dutch baby status.
To keep this recipe simple, start out by melting the butter in the cast iron skillet in the oven.
While the butter is melting and the oven is preheating, whisk the eggs in a mixing bowl with a hand whisk.
Add in flour and continue whisking. Once the flour is mixed in, add your milk, sugar, cinnamon, and just a pinch of salt.
By this time, hopefully, the butter is melted. Pull the skillet out of the oven and give the butter a quick swish around the skillet, making sure to coat the whole base and a bit up the sides.
Add the batter to the skillet and place it back in the oven on the center rack for about 18-20 minutes.
After the time has elapsed, check the dutch baby for doneness. We are looking for golden brown sides and a puffy middle.
If it's not ready, leave it in the oven and check every two minutes.
Best Dutch Baby Toppings
Once that golden brown "pancake" has had time to rest and deflate on the stovetop, it is now time to top it.
Hands down, I like to keep it simple with a few berries and a light drizzle of maple syrup or honey. But here are a few other popular favorites:
| | |
| --- | --- |
| Fresh Fruit | Syrups |
| Raspberries | Maple Syrup |
| Blueberries | Chocolate Syrup |
| Sliced Strawberries | Strawberry Sauce |
Dutch Baby Questions:
Do you Have to Blend the Batter?
No. It is common for the flour to want to "clump up," so a blender just eliminates that dilemma. No matter how you go about mixing the batter, just make sure that it is mixed well!
This step is crucial in order for the cake to rise.
Why Didn't my Dutch Baby Puff Up?
Usually not a hot enough oven. In order for the steam to build up, we need a toasty hot oven and cast iron skillet. 400-425°F is a generally agreed upon effective temperature.
How do You Eat Dutch Baby Pancakes?
Dutch baby pancakes can be served with seasonal fruits such as persimmons or spread with jams, syrups, or whipped cream. Cut it in fourths and serve warm.
These pancakes complement brunch get-togethers quite well.
Serve with from-scratch English muffin omelets and sourdough french toast for a brunch everyone will be raving over.
Why is it Called a Dutch Baby?
Also referred to as a German Pancake, according to Sunset, the name was coined from an American restauranteur because of his pronunciation of the German autonym "Deutsche"
Popular Breakfasts
The Perfect Dutch Baby Pancake
A simple yet, out-of-this-world delicious dutch baby pancake.
Ingredients
½ cup of flour
½ cup of whole milk
3 eggs
2 tbsp of butter
1 tbsp of sugar
1 tsp of cinnamon
¼ tsp of salt
Instructions
Add butter to a 10" cast iron skillet and place in the oven. preheat to 400°F
While the butter is melting, whisk the eggs.
Add flour to the eggs and continue whisking.
Then add in sugar, cinnamon and salt.
Once the butter starts to "bubble up," remove from heat and swirl it around to fully coat the bottom and a little up the sides.
Add the batter and place back in the oven for 18-20 minutes or until golden brown.
Notes
The batter can also be made in a blender. Add all ingredients to a blender and blend until smooth.
Nutrition Information:
Yield:

4
Serving Size:

1
Amount Per Serving:
Calories:

192
Total Fat:

10g
Saturated Fat:

5g
Trans Fat:

0g
Unsaturated Fat:

4g
Cholesterol:

158mg
Sodium:

258mg
Carbohydrates:

17g
Fiber:

0g
Sugar:

5g
Protein:

7g
Nutrition is calculated by Nutronionix. All nutrition should be verified independently.