Taco skillets are a great low-cost, easy meal that have been one of my go-to meals forever. This is one of those recipes; no matter how big a skillet you use, the chance of leftovers is slim to none.
Cheesy Taco Skillet
Everything about this easy taco recipe is hearty and delicious. It is a great meal if you need to make it ahead and it can be customized in so many ways. Enjoy served over a plate of chips or made into tacos.
The one thing I love about this recipe is that it is simple and full of flavor! It takes less than a half-hour to have this easy recipe on the dinner table.
How to Make a Taco Skillet
This is one of those dishes that I never seem to tire of. And making a recipe that is healthy and that everyone can enjoy is always a top priority. Although I have to admit, no one in this house is too picky.
For the One Pot Taco Dish
Using a large 12″ cast iron skillet, brown the ground beef. While the beef is browning, chop up the lettuce and chives and dice the tomato into small pieces.
Occasionally break apart the beef with a spatula until it's broken up into small crumbles. Add in taco seasoning (recipe below) and finish cooking.
Once the meat is browned, drain off any excess fat. Top with black beans and leave on heat until warm.
Top the whole skillet with cheese. Don't skimp on this part; the more cheese, the better. Sharp cheddar is a favorite, but mozzarella or a Mexican style would also be great.
As soon as the cheese is melted, finish layering the taco skillet with lettuce, tomatoes, black olives and chives.
Serve immediately with tortilla or pita chips; just be careful as the skillet will remain hot for some time. I also like a little heat by adding sliced jalapenos and drizzling with hot sauce.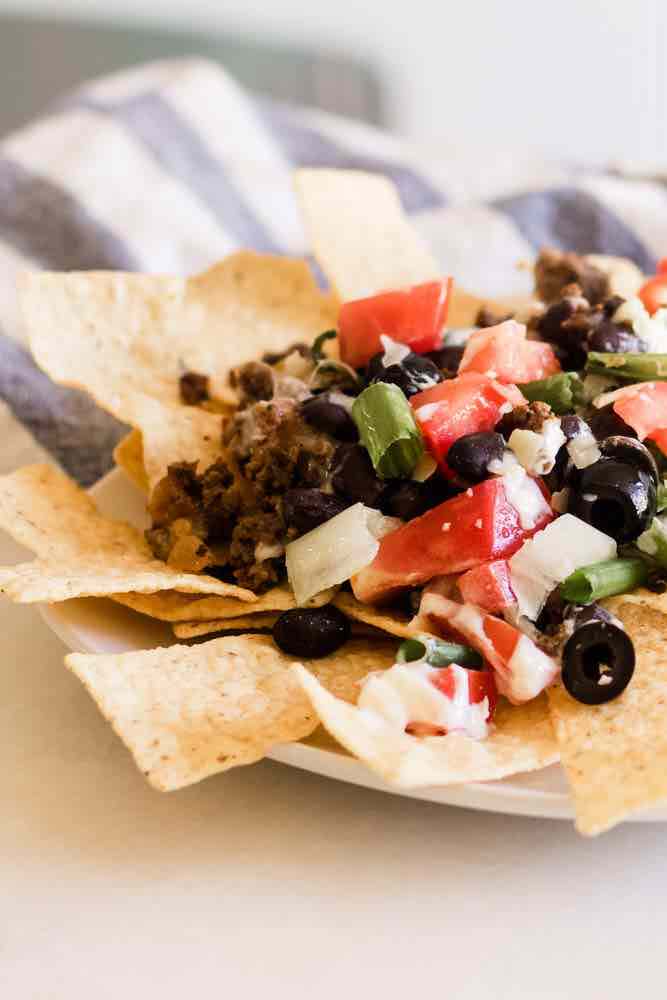 How to Spruce up This Easy Taco Skillet
I do love that this recipe, as it is now, works for most dietary restrictions, but if that is not an issue for you; read on.
For a more lean meat option, try ground turkey or chicken instead. Try it with beef, or leave the meat out entirely and substitute for an extra portion of beans.
Some Awesome Ingredients That Go Great On Top Of This Skillet
Sour cream
Avocado Slices
Guacamole
Jalapenos
Hot Sauce
Make-Ahead Taco Skillet
Should you need to make this ahead of time, brown the meat and transfer it to a glass dish. Top with beans and cheese and place in the freezer until ready to make.
Then just heat up until cheese is melted and top with desired toppings.
Homemade Taco Seasoning
1 Tbsp Sea Salt
1 Tsp Pepper
1 Tsp Cumin
1 Tsp Chili Powder
1/2 Tsp Cayenne Pepper
1/2 Tsp Paprika
1/2 Tsp Garlic Powder
1/4 Tsp Crushed Red Peppers, optional
Mix well in a small glass container with an airtight lid.
Cheesy 7 Layer Taco Skillet
A delightful cheesy taco skillet in just one dish!
Ingredients
1 Lb ground beef
1 can of black beans, 15 oz
1 1⁄2 cups of cheddar cheese
shredded lettuce
Diced Roma Tomatoes
Diced Chives
Black Olives
Taco Seasoning (homemade recipe above)
Instructions
Brown the meat in a prepared cast iron skillet. As the meat browns, chop it into small crumbles with a spatula.
Drain any excess fat and add taco seasoning to taste.
Drain the beans and layer on top the meat.
Spread the cheese evenly over top the beans, save some for later.
Once Cheese is melted, remove from heat and top with lettuce, tomatoes, chives and black olives.
Sprinkle the remaining cheese over top.
Notes
Serve immediately with chips.
Nutrition Information:
Yield:

8
Serving Size:

1
Amount Per Serving:
Calories:

323
Total Fat:

18g
Saturated Fat:

8g
Trans Fat:

1g
Unsaturated Fat:

7g
Cholesterol:

73mg
Sodium:

258mg
Carbohydrates:

14g
Fiber:

5g
Sugar:

1g
Protein:

25g
Nutrition is calculated by Nutronionix. All nutrition should be verified independently.
Some more of my popular recipes