With just a little over a week out from Cinco de mayo, the memory of savoring Mexican food is still strongly on my mind.
Chicken and Black Bean Skillet
With how much we love Mexican-style food in this household, it's sort of a surprise to me now that I think of it, we don't do a "taco Tuesday" or fajita Friday.
Oh well, the sporadicalness of different cuisines keeps each and every meal exciting.
Mexican chicken skillet is two parts meat to one part fresh vegetables. And trust me when I say; all parts delicious.
With every meal, there is always that one ingredient that you wish was just omitted from the recipe; you try and eat around it.
Well, there is no "eating around" anything in this one-pan chicken skillet; everything is cooked and seasoned to perfection.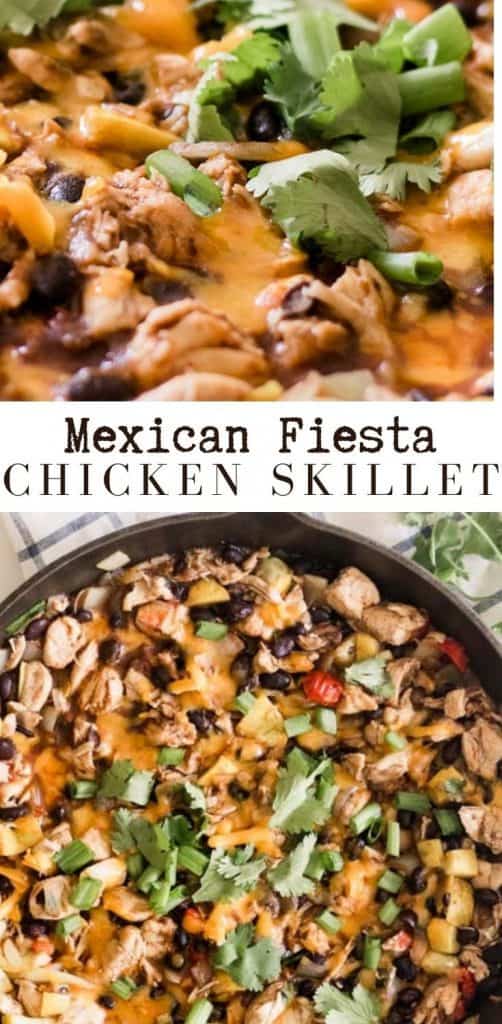 How to Make One-Pan Mexican Chicken Skillet
The key to making this Mexican skillet is adding the ingredients in at the right time, so we don't overcook or undercook anything. We are trying to keep it to one dish, after all.
Ingredients
Chicken
Onion
Tomato
Squash
Black Beans
Green Onions
Cheese
Salsa
Homemade Taco Seasoning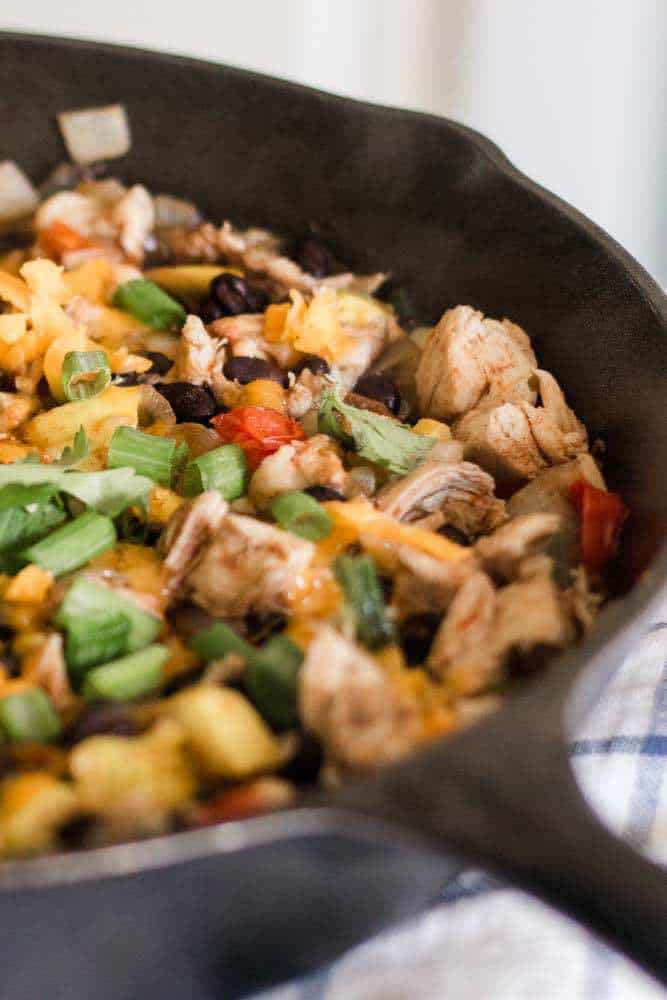 Heat up a cast iron skillet on the stovetop over medium heat. Once the skillet has heated up, add a dash of oil and the chicken.
I used chicken tenders. While the chicken is cooking, dice up the onion, squash, and green onions. I had some cherry tomatoes on hand, so I cut those in half and threw in the dish as well.
Once the chicken is about halfway cooked through, use a metal spatula and chop up into bite-size pieces.
Add in the squash and onion with the chicken to get those cooking. Let those cook for about 5 or so minutes, then add in tomatoes, green onions, and salsa.
Continue cooking until chicken is cooked through and squash is soft, about another 5 minutes.
Lastly, stir in the black beans, salsa, and top with cheese and cilantro.
Enjoy your very own, One-dish Mexican Chicken Skillet.
This dish is perfect simply because it requires no sides or extra dirty dishes. But, a few fresh slices of avocados on top really compliments this dish.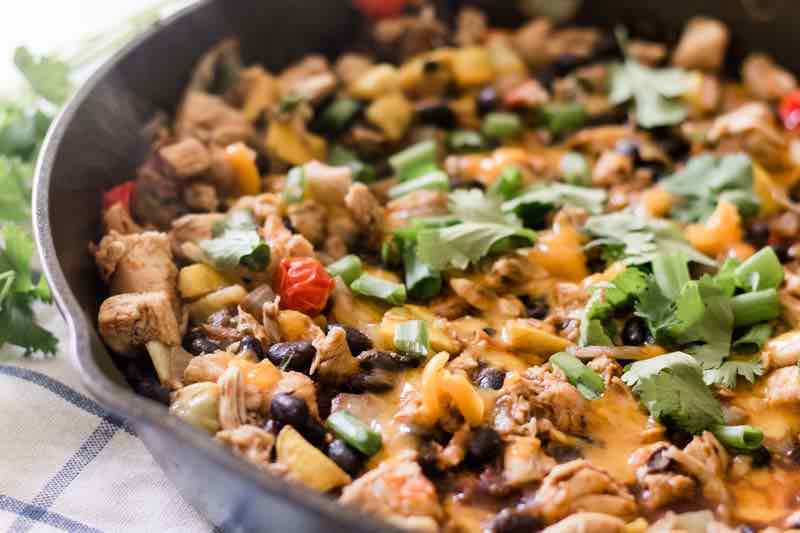 How to Make a Spicy Chicken Skillet?
Following the same recipe, add 1/2 tsp each of crushed red pepper and cayenne pepper to the chicken while cooking. Top with Louisiana hot sauce.
This is one of my favorite styles of meals.
One dish skillets like this steak and potato skillet or this 7-layer chicken dinner are easy to make and ones that the whole family can enjoy.
Or switch things up and make this recipe with beef skirt steak.
Mexican Style Chicken and Fresh Ingredients
Having fresh ingredients like veggies to add to different dishes makes all the difference to a meal.
With summer right around the corner, substitute any of the vegetables in this recipe for ones in season, or add your own favorites.
Cooking times may need to be adjusted, but I have no doubt the finished product will be as delicious as this one.
How to Store and Reheat Mexican Chicken
Transfer all leftovers to an appropriately sized airtight container and store in the fridge for up to 5 days. Reheat either in the oven or microwave. Just make sure to use an appropriate dish when reheating.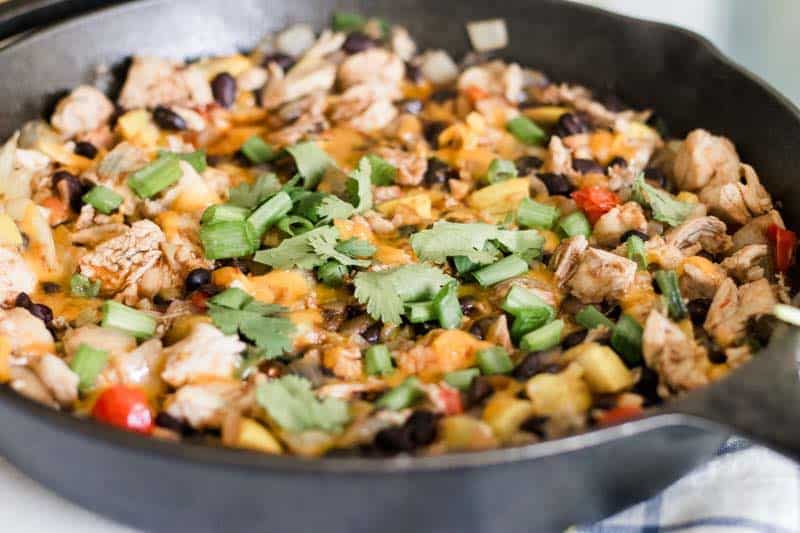 Homemade Taco Seasoning
1 Tbsp Sea Salt
1 Tsp Pepper
1 Tsp Cumin
1 Tsp Chili Powder
1/2 Tsp Cayenne Pepper
1/2 Tsp Paprika
1/2 Tsp Garlic Powder
1/4 Tsp Crushed Red Peppers, optional
Mix all ingredients well and store in a small airtight container.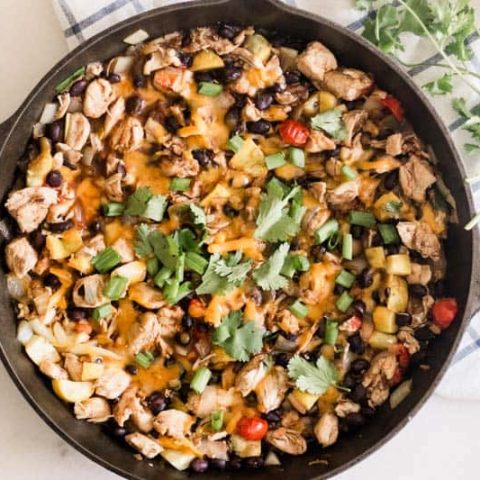 One-Pan Mexican Chicken Skillet
The perfect meal to get your Mexican fix without all the extra dishes.
Ingredients
1 ½ lbs chicken tenders
1 onion, sliced
1 small yellow squash, diced
½ cup of cherry tomatoes, halved
¼ cup of chopped green onions
1 cup of black beans, cooked or canned
½ cup of salsa
1 cup of cheddar cheese
taco seasoning
cilantro for garnishing
Instructions
Preheat a cast iron skillet over medium heat. I used a 12" skillet
Add about 2 tbsps of avocado oil along with the chicken to the skillet. Sprinkle with taco seasoning.
While that's cooking, cut up all your vegetables.
Chop up the chicken into bite-size pieces with a metal spatula.
When the chicken is about halfway cooked through, add in the yellow squash and onion.
Let those start to soften for about 5 minutes before adding the green onions, tomatoes, and beans. Season with taco seasoning.
Once the chicken is cooked and squash is soft, mix in salsa, top with cheese, and garnish with cilantro. Serve immediately.
Nutrition Information:
Yield:

6
Serving Size:

1
Amount Per Serving:
Calories:

489
Total Fat:

26g
Saturated Fat:

7g
Trans Fat:

0g
Unsaturated Fat:

16g
Cholesterol:

72mg
Sodium:

1265mg
Carbohydrates:

35g
Fiber:

5g
Sugar:

3g
Protein:

30g
Nutrition is calculated by Nutronionix. All nutrition should be verified independently.
More of My Favorite Chicken Recipes