Juicy, tender dutch oven round steak served with mashed potatoes and gravy is delicious comfort food made with real ingredients.
How to Cook Round Steak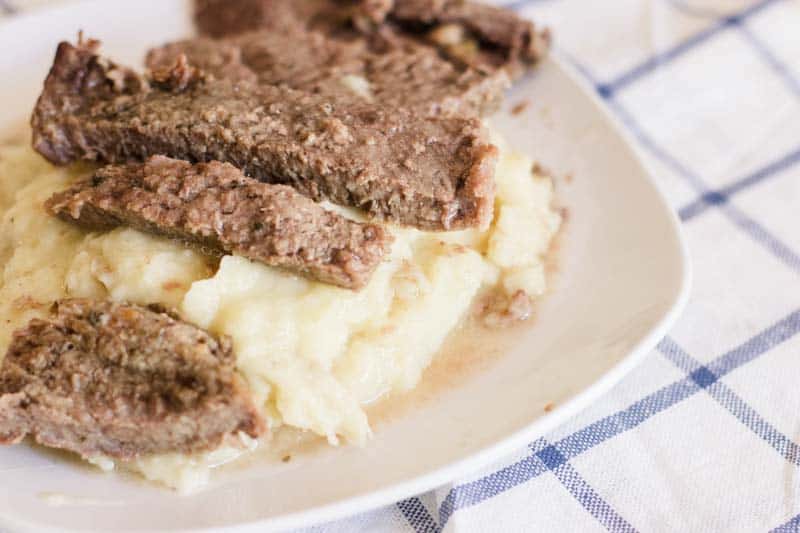 What is Round Steak
The round steak is the cut of meat from the rump and hind legs of a cow. It is usually broken down between three different cuts; the top round, eye of round and bottom round.
Because it is in a high muscle movement area, this is extremely lean meat.
Round steak is actually extremely versatile and can be dished out of any number of cooking pots or pans.
Because it is such a lean cut of meat, it is probably best enjoyed slow-cooked in either a dutch oven or crockpot. If time permits, it can be very delightful marinated, then pan-seared on the stovetop or grilled.
How do You Tenderize Round Steak?
A lot of people believe you have to tenderize round steak or else it will be too tough to eat.
While that may be the case if you want to cook it the way you would cook a ribeye, but there is no need to tenderize it if you're going to slow cook it.
Pound it:
Probably the oldest meat tenderizer trick is to soften it up by pounding it with a meat tenderizer.
If a meat tenderizer is not available, try covering the meat in plastic wrap and use a small mallet. I have even seen people using a small cast iron skillet to pound out a round steak.
Salt it:
If pounding out meat to soften it is the oldest trick, then salting it would have to be a close second. Try salting the meat an hour or so before cooking.
Salt is very effective at breaking down the proteins in the meat.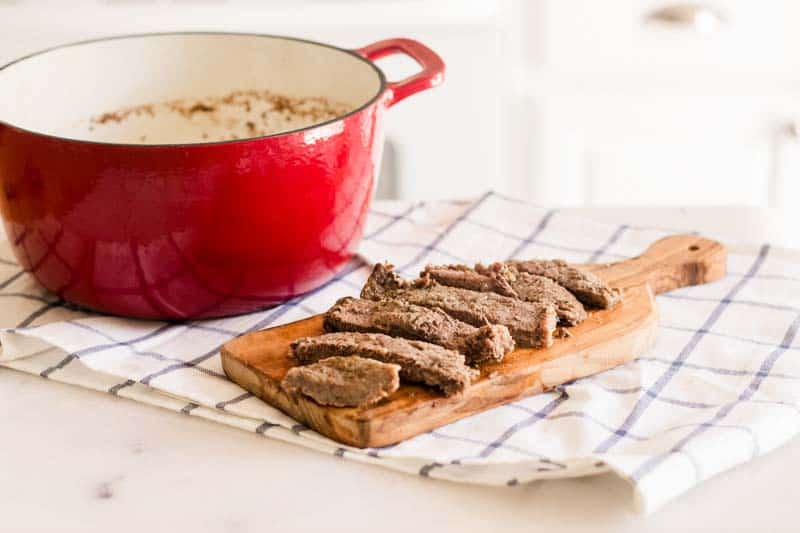 Slice it:
Use a knife and cut a shallow slice against the grain along both sides of the meat. This will break the muscle fibers in the meat, making it much easier to eat.
This method followed by a short marinade then grilled is unbelievable.
Marinade it:
Using an acidic marinade such as one with a vinegar, citrus, or red wine base will help break down lean muscle fibers.
Are Round Steaks Tough
Round steaks are an extremely lean piece of meat and can be tough if not cooked right.
But if cooked properly, such as this dutch oven round steak, you will be able to cut your meat up with a fork.
To keep the oven from heating up your home in the summer, try this carne pizzaiola recipe with round steak.
How to Cook Round Steak in Oven With a Dutch Oven
The key to cooking round steak in a dutch oven is plenty of liquid and taking it slow. For one large top round, I'll use 1 ½ cups of either beef or chicken broth.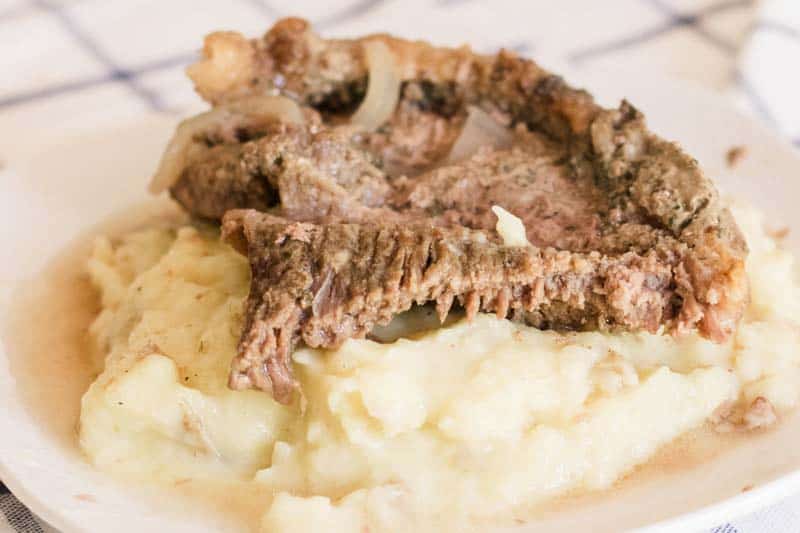 Generously season the meat. I like to use a combination of salt and pepper as well as garlic powder, oregano, cayenne pepper, and paprika.
Pretty much any seasonings that seem like a good fit.
For this recipe, chop up a couple of celery ribs along with one onion. Spread them both evenly across the bottom.
Next, place the round steak on top of the onions and celery and add the broth.
Place the dutch oven on the rack just below the center rung and bake at 325°F for about one and a half hours.
If you want to add in potatoes, add them in for about the last hour.
The onion adds so much flavor to the steaks while it's cooking and is delicious served up on top of the steaks.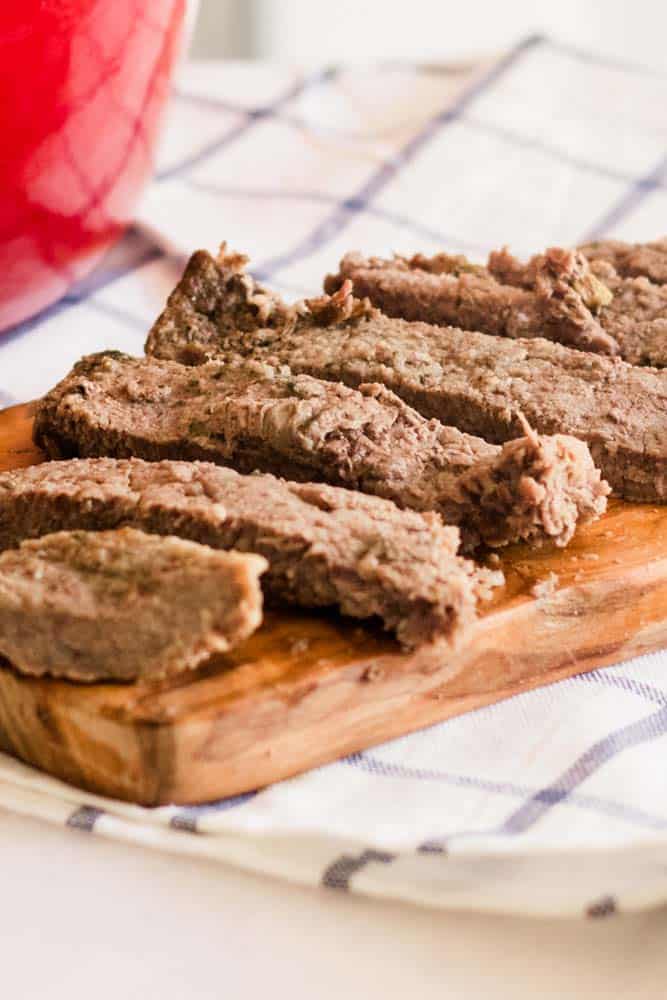 What to Make With Round Steak
Homemade mashed potatoes and gravy are without a doubt the way to go with slow-cooked round steak.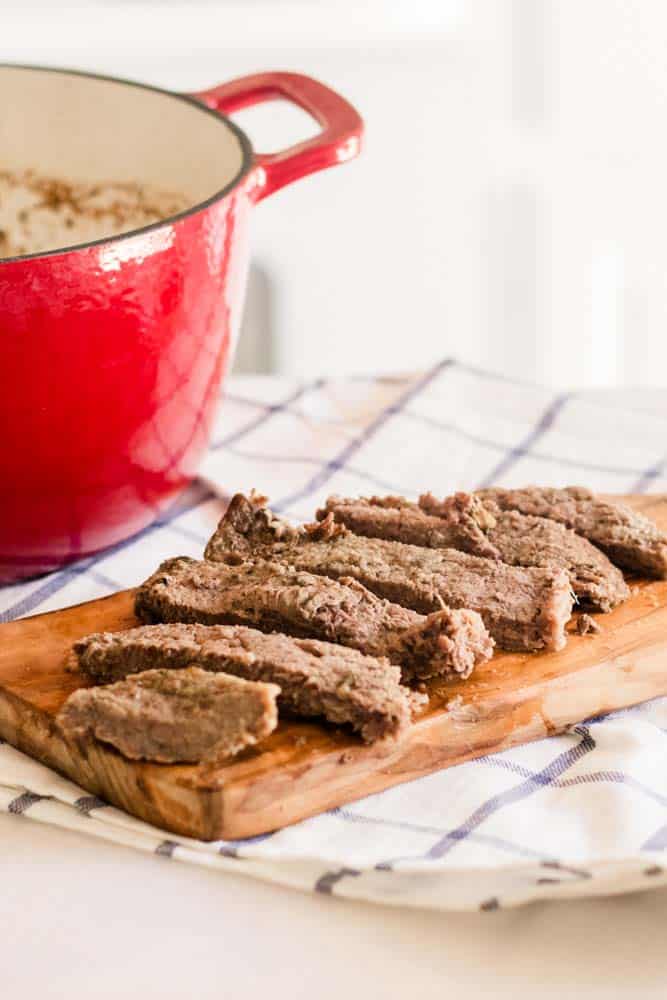 Common Questions:
Cube Steak vs Round Steak. Are they the same thing? No, not necessary. A cube steak is a steak that has been ran through a mechanical meat tenderizer. So a cube steak can be made from a round steak or an entirely different cut.
I don't have a dutch oven. I didn't always have a dutch oven either. Use two cast iron skillets by placing the top one upside down over the bottom one. Then bake following the instructions below.
Can I grill Round Steak? In short, yes. Round steak is pretty tough though. Make sure to use a marinade to help tenderize the meat first.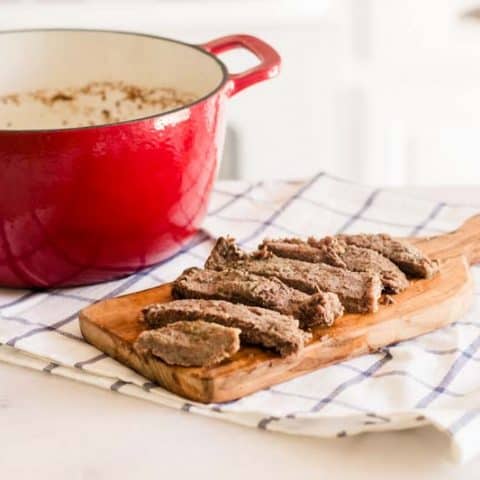 Tender Dutch Oven Round Steak
Cook Time:
1 hour
30 minutes
Total Time:
1 hour
45 minutes
Juicy tender dutch oven round steaks.
Ingredients
One large top round steak 2 lbs
1 onion
2 celery ribs
1 ½ cup of beef or chicken broth.
1 tbsp salt
1 tsp pepper
1 tsp garlic powder
1 tsp onion powder
½ tsp cayenne pepper
½ tsp oregano
½ tsp paprika
Instructions
Chop up onion and celery and place in bottom of the dutch oven.
Set round steak on top and add spices.
Pour the broth around the meat
place lid on top and bake for 1 ½ hour at 325°F
Notes
The thickness of the meat plays a big role in the cooking times. Adjust accordingly.
Nutrition Information:
Yield:

6
Serving Size:

1
Amount Per Serving:
Calories:

490
Total Fat:

25g
Saturated Fat:

10g
Trans Fat:

0g
Unsaturated Fat:

12g
Cholesterol:

186mg
Sodium:

1427mg
Carbohydrates:

4g
Fiber:

1g
Sugar:

1g
Protein:

62g
Nutrition is calculated by Nutronionix. All nutrition should be verified independently.
Cast Iron Favorites: