This Savory, tender dutch oven corned beef recipe is cooked on the stovetop to perfection for a satisfying holiday meal.
It's a tradition in most American homes to enjoy a homecooked corned beef and cabbage dinner on St. Patrick's day.
However, I say any delicious dinner should never be served just once a year, but throughout!
Corned beef is made from one of my favorite parts of beef; the brisket. It is a tougher piece of meat that must be cooked low and slow to melt the fat and connective tissues to tenderize the meat.
Brisket and corned beef may come from the same piece of beef but are very much different indeed.
Brisket is an unmolested fresh cut of meat, often barbequed or served pot roast style. On the other hand, corned beef is brine-cured in a special brine with thick chunks of salt.
The two types of meat also will look a little different, with the corned beef having a bright pink color.
Cooking the meat down for several hours won't do much for the color either; it will stay pink throughout the cooking procedure due to the brining process.
It is done when the meat easily shreds apart with a fork. Always check the temperature of any meat with a meat thermometer. The brisket must to cooked to a minimum internal temperature of 145°F.
Oddly enough, despite the rather massive difference in flavor between corned beef and brisket, they are served nearly the same way; with carrots, onions and potatoes.
Perhaps the one significant difference is corned beef is most often served with cabbage.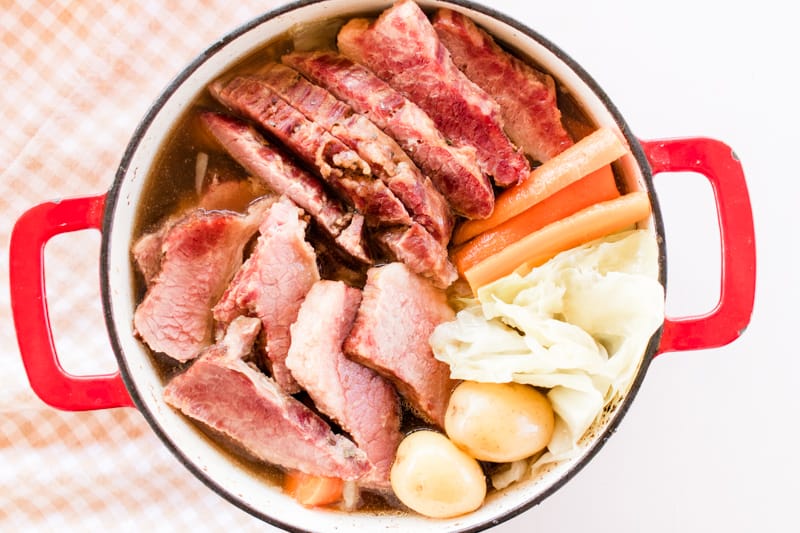 Helpful cooking gadgets
This post contains affiliate links, which means I make a small commission at no extra cost to you. As an Amazon Associate, I earn from qualifying purchases. Get my full disclosure here.
Corned beef in a dutch oven
Dutch oven corned beef is just the recipe for your St Patrick's day festivities. It's simple, savory and a great tradition the whole family can look forward to!
You'll find it to be very similar to a pork cottage roll!
Ingredients:
Corned beef brisket
Beef broth
Cabbage
Potatoes
Carrots
Onions
Cinnamon
Caraway seeds
A bay leaf
How to cook corned beef in a dutch oven
Drain any excess juices off the brisket and place in the dutch oven. Feel free to rinse the meat to remove any excess salt.
Cover meat with beef broth, then sprinkle the seasoning packet, a pinch of cinnamon and caraway seeds evenly over the top.
Bring the broth to a boil uncovered, then reduce heat to a simmer, add a bay leaf if so desired, cover and let it simmer.
The bay leaf is absolutely an extra step, for that matter, so is the cinnamon, but that is how my family has always done it, so why fix what isn't broken?
Let the meat simmer for about 2-3 hours or about 50 minutes per pound of meat. Then, for the last hour, Add in new potatoes, baby carrots (or regular carrots, split and halved), and an onion, sliced thick.
Finally, peel the outer layer off the cabbage and cut it into wedges. Add as many wedges as will fit in the pot for the last 15 minutes. Remove from heat and let it rest for 10 minutes before slicing.
How to serve corned beef
Remove the brisket from the dutch oven and cut it into thin slices against the grain. Serve with the cabbage, potatoes and carrots, drizzling the broth across the top if desired.
Corned beef leftovers
Well, dutch oven corned beef is best served with cabbage and other vegetables, but leftovers? Simple enough, Reheat in the dutch oven on the stove or in the oven and enjoy!
I like a good Reuben sandwich, so I'll slip a couple of slices of corned beef for me. Since most corned beef briskets weigh in around two and a half to three pounds, don't expect too much in the way of leftovers.
Store in an airtight container in the refrigerator for up to three days. Or freeze in a ziplock bag, pressing out as much air as possible. Corned beef will last 3-4 months in the freezer if stored properly.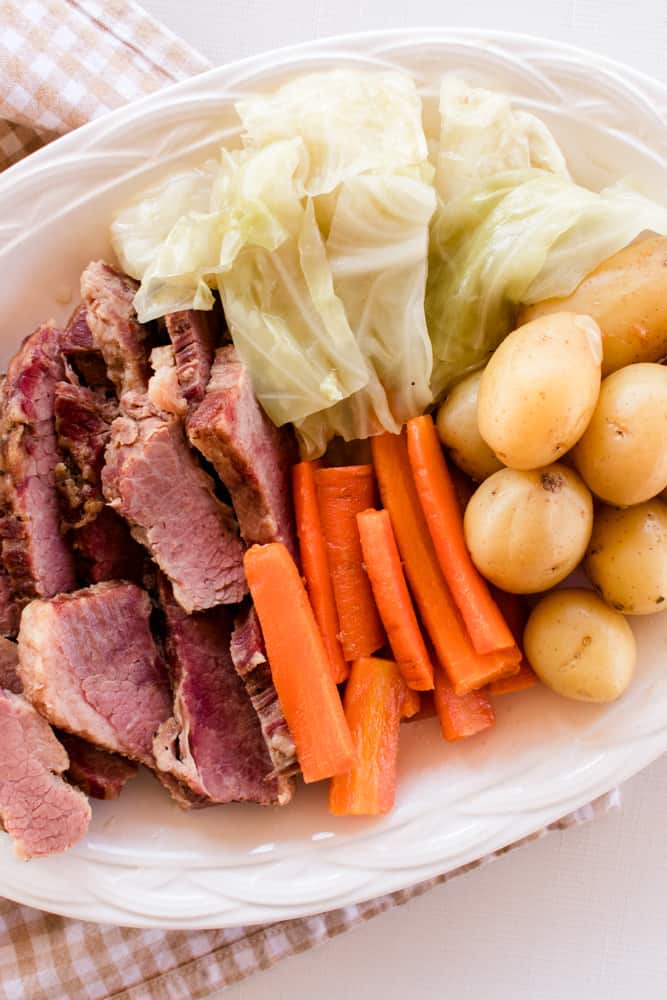 Dutch oven corned beef
Cooking dutch oven corned beef and cabbage is a perfect family meal that requires little to no prep work.
So rest easy and enjoy this holiday season knowing your dinner plans are set and in good hands.
A few more hearty dinners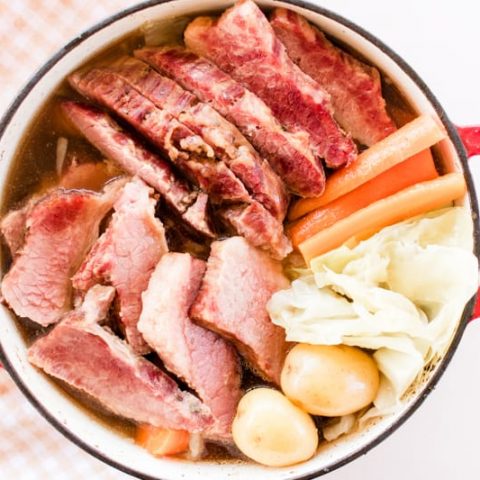 Dutch Oven Corned Beef
Cook Time:
2 hours
15 minutes
Additional Time:
10 minutes
Total Time:
2 hours
30 minutes
The dutch oven is the best way to make this corned beef recipe. This is a must-try recipe for St. Patrick's day!
Ingredients
2.5 lb corned beef brisket (with seasoning package)
4 cups of beef broth
12-15 new potatoes
1 package of baby carrots
1 onion (sliced)
1 head of cabbage (peeled and cut into wedges)
1/2 tsp of caraway seeds
A pinch of cinnamon
1 bay leaf (optional)
Instructions
Drain excess juices off of brisket and lay flat, with the fat side down in the dutch oven.
Add beef broth.
Sprinkle seasoning packet and spices over the top and bring to a boil on the stove uncovered.
Reduce heat to simmer, add bay leaf, and cover—Cook for approximately 50 minutes per pound.
Add in potatoes and carrots for the last hour.
Once the vegetables are soft, and the meat is tender, add in cabbage wedges and cook for an additional 15 minutes.
Remove from heat and let the corned beef rest 10 minutes before cutting.
Nutrition Information:
Yield:

4
Serving Size:

1
Amount Per Serving:
Calories:

1066
Total Fat:

53g
Saturated Fat:

21g
Trans Fat:

0g
Unsaturated Fat:

25g
Cholesterol:

301mg
Sodium:

1057mg
Carbohydrates:

53g
Fiber:

6g
Sugar:

5g
Protein:

91g
This website provides approximate nutrition information for convenience and as a courtesy only. Nutrition is calculated by Nutronionix