Smothered pork steaks are first seared in a piping hot skillet before being finished in a thick, savory gravy-like sauce.
Cooking pork steaks the traditional American way requires a grill or smoker which is arguably one of the best ways to prepare it.
But, with the winter months ahead, we must adapt, so we are bringing the pork steaks inside for this recipe.
Thankfully this simple stovetop pork steak recipe is unbelievably delicious and can be enjoyed year-round. Similar to my smothered round steaks, these meals are both hearty and family-friendly.
Smothered Pork Steaks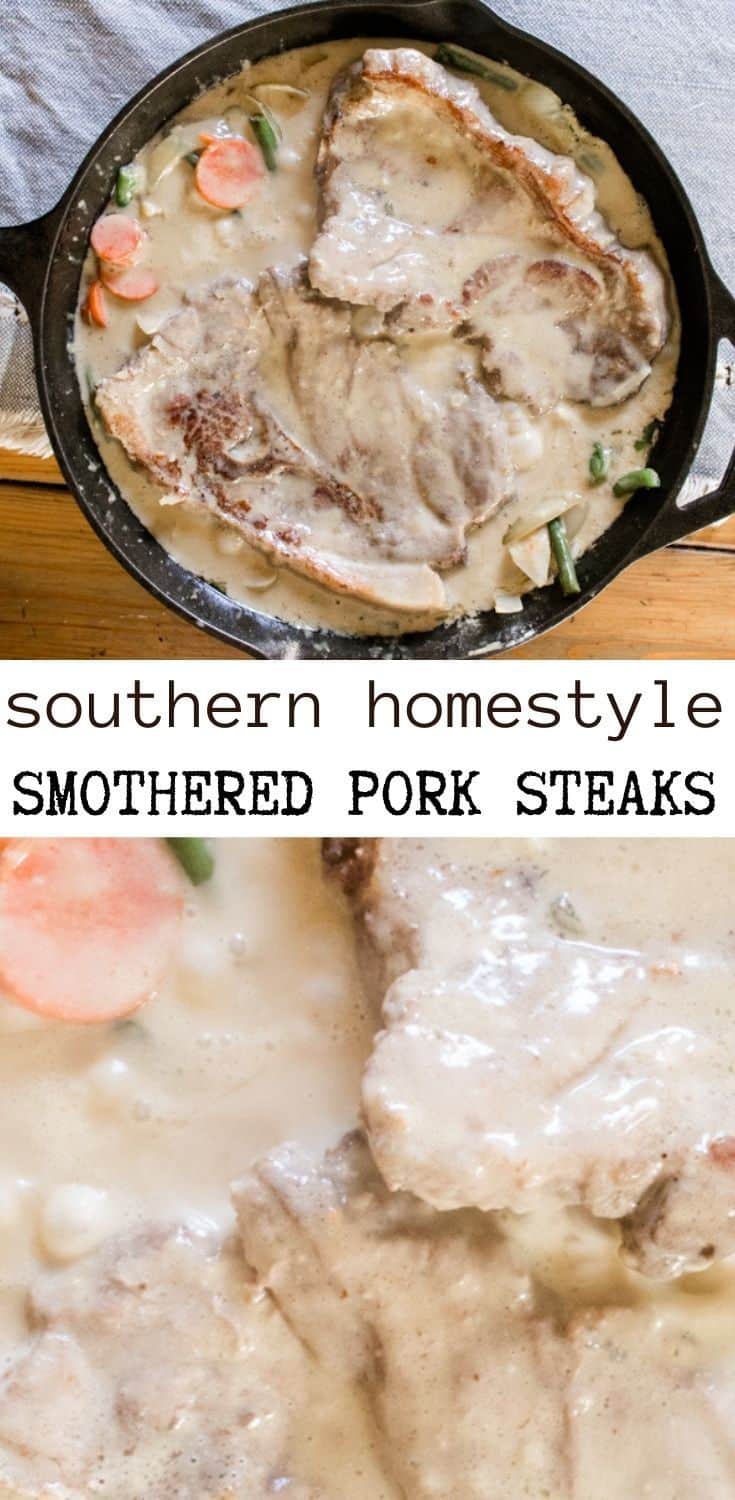 This simple recipe is started and finished in one skillet making cleanup easier than ever! Serve it as it is, with mashed potatoes, roasted Brussel sprouts, or baked beans.
How to make smothered pork steaks.
This recipe below can be made with pork chops or pork steaks.
Heat up a large cast iron skillet over medium-high heat. When hot, add butter and sear pork steaks until dark brown on both sides.
While the steaks are searing, prepare the vegetables by cutting a carrot up into nice thin rounds and an onion into thick slices.
Mince a few cloves of garlic. If you don't have a garlic press, peel and finely chop the garlic with a knife. If using fresh green beans, trim the ends.
Once the steaks have a nice sear, remove them from the skillet, add butter, green beans, carrots, onions, garlic, salt and pepper sauteing for about 3 minutes.
Sprinkle in a bit of all-purpose flour and then slowly add the heavy cream, and beef broth. Bring the gravy to a boil, stirring often. Once it reaches a boil, reduce heat to a simmer.
Now, add pork steaks back into the skillet, smothering them in the gravy.
Allow everything to continue to cook until the pork is cooked through. For a ¾" thick steak it usually doesn't take more than 10 minutes or so.
Do not overcook the meat. Since pork steaks and pork chops are both extremely lean cuts of meat, it doesn't take long to go from tender cooked to dry and tough.
How do I know when its done
Check the meat temp often with an instant meat thermometer until internal temperature reads 145°F. The USDA recommends cooking pork, with the exception of pork liver, to 145°F.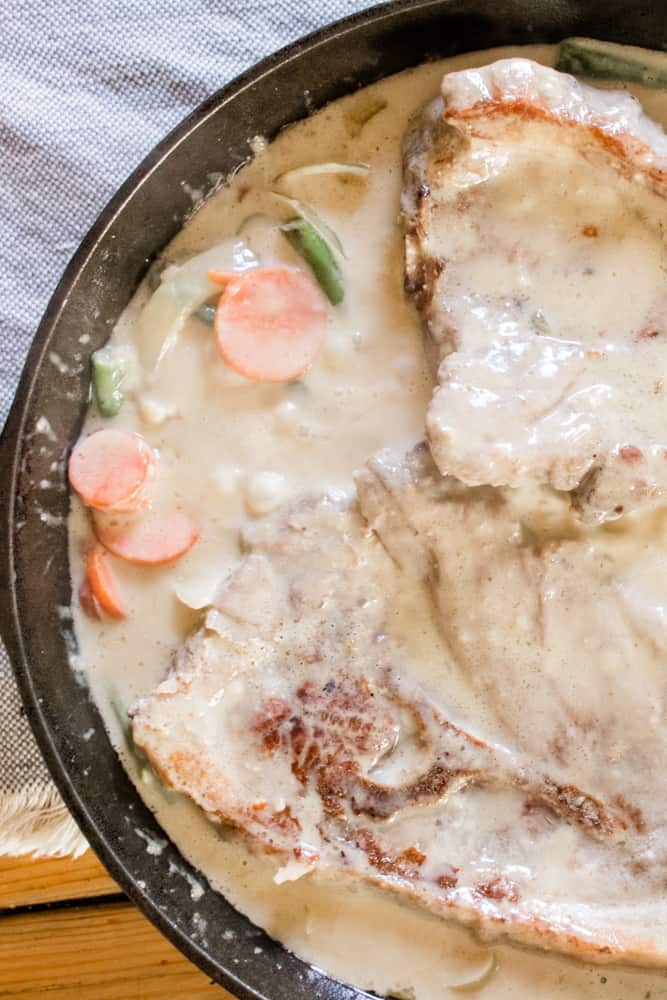 What is the difference between pork steaks and chops?
Pork steaks are cut from the pork shoulder, while pork chops come from the pork loin, which is the most tender part of the pig.
While pork steaks are more tender and forgiving than pork chops, the chops, if not overcooked, can be just as juicy and tender.
Both pork steaks and pork chops are delicious and you can follow the recipe below the same way for either.
Family-friendly meals
I've never been one to prepare different foods for picky family members. Instead, I incorporate dishes that are healthy, filling, and satisfying for all.
This delicious pork steak recipe is easy enough to prepare last minute and tasty enough for picky eaters.
While you are at it, why not try this weeknight carne pizzaiola meal next? This meat-heavy pizza-style dish will satisfy the hungriest of eaters.
How to store leftovers
Allow it to cool completely and store in an airtight container for 3-4 days.
More Favorite Pork Recipes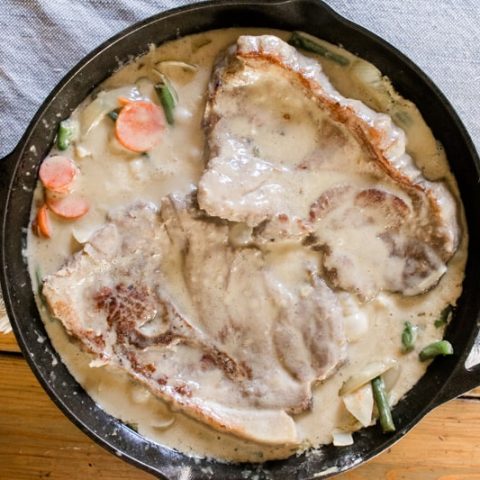 Smothered Pork Steaks
Additional Time:
5 minutes
Smothered pork steaks are a delicious comfort food and make a perfect one-dish meal.
Ingredients
2 bone-in pork steaks
4 tbsp of butter
1 carrot, sliced into thin rounds
1 onion, sliced
2 cloves garlic, minced
1 cup of fresh or frozen green beans
2 tbsp all-purpose flour
1 cup heavy cream
2 cups beef broth
1 tsp salt
½ tsp pepper
Instructions
Heat cast iron skillet over medium-high heat. Add 2 tbsp of butter and sear pork steaks until browned, about 2 minutes per side.
Remove steaks, then saute the vegetables in the remaining butter for about 3 minutes.
Sprinkle in the flour and slowly stir in the cream and beef broth.
Bring it to a boil, then reduce heat to a simmer.
Add the pork steaks back into the skillet with the gravy for approximately 10 minutes or until the internal temperature registers 145°F.
Nutrition Information:
Yield:

4
Serving Size:

1
Amount Per Serving:
Calories:

574
Total Fat:

48g
Saturated Fat:

26g
Trans Fat:

1g
Unsaturated Fat:

18g
Cholesterol:

178mg
Sodium:

1202mg
Carbohydrates:

11g
Fiber:

2g
Sugar:

4g
Protein:

26g
Nutrition is calculated by Nutronionix. All nutrition should be verified independently