Do you enjoy melt in your mouth ribs? Or maybe the better question is, who doesn't? This dutch oven spare ribs recipe is packed full of flavor, and on top of that, it's so easy to make; who doesn't love that?
This recipe inspiration came from recently making baby back ribs in the oven.
No, not in the dutch oven, not even in the cast iron, a typical cookie baking sheet. (yes, I do own a few pots, pans, and cooking sheets).
Well, it was absolutely delicious! And it got me thinking about how to make them covered in the dutch oven, almost like braised ribs or burnt ends, still using the traditional bbq sauce, but adding in liquid as well.
I thought about not adding in any liquid, but was worried about the ribs sticking to the sides.
Someday I'll try it that way, but for now, those spareribs in the dutch oven leave me with no regrets.
What are spare ribs anyway?
Spare ribs come from pork, which you probably already knew. The ribs are cut from the breast and belly portion of the ribs.
This cut typically has more meat between the bones and, in my opinion, is tastier than baby back.
Try these smokey beef back ribs next!
baby back vs. spare ribs
Baby back ribs, on the other hand, are cut from the rib portion connected to the backbone.
Some would say this is the more tender and flavorful of the two. It's generally more expensive as well.
Dutch oven ribs
To begin, remove the membrane from the underside of the ribs.
Some butchers will remove this for you, but if not, slide a butter knife between the membrane and bones.
Work it back and forth until the membrane starts to pull away from the bones. Then, reach a finger underneath and pull it completely off.
I have always removed the membrane before making ribs; I've heard it does not cook down and will be tough and chewy when it's cooked.
However, I do know some keep it on and prefer it that way. So whatever direction you decide to go, the rest of the recipe will stay the same.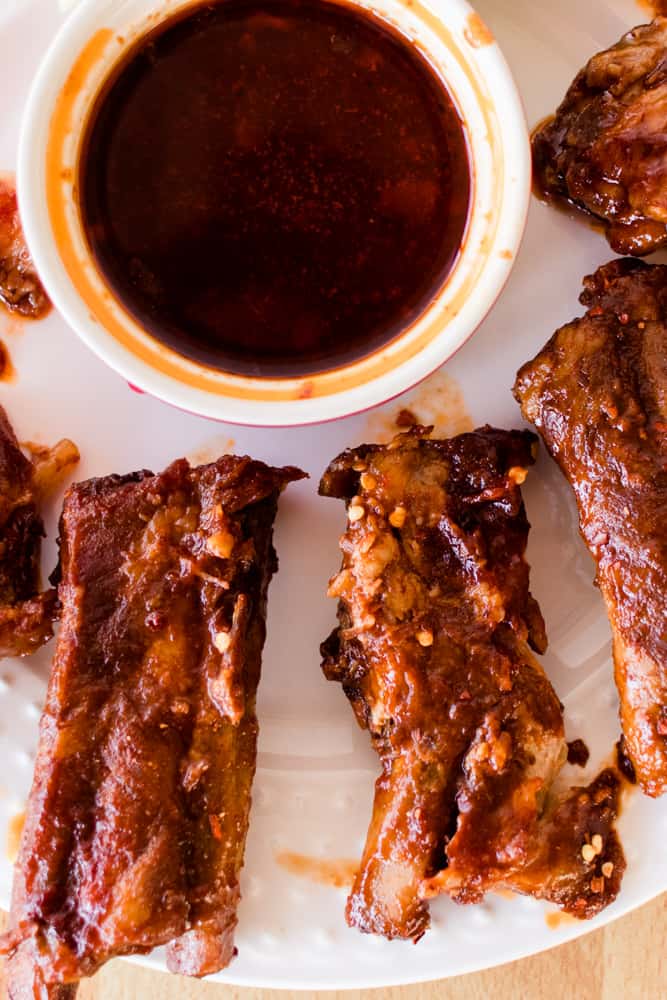 If necessary, cut the ribs in half so they lay down flat in the dutch oven.
Now we are going to mix a dry rub to season this delightful meat.
Use a small ramekin and add into it salt, pepper, paprika, cayenne, cumin, garlic powder and onion powder.
Cover both sides of the ribs with the dry rub, gently working it into the meat.
Pour a thin layer of your favorite bbq sauce into the bottom of the dutch oven. Next, add a slab, and cover with bbq sauce, repeating until all slabs are covered with bbq sauce.
Finally, pour a little beef broth around the edges.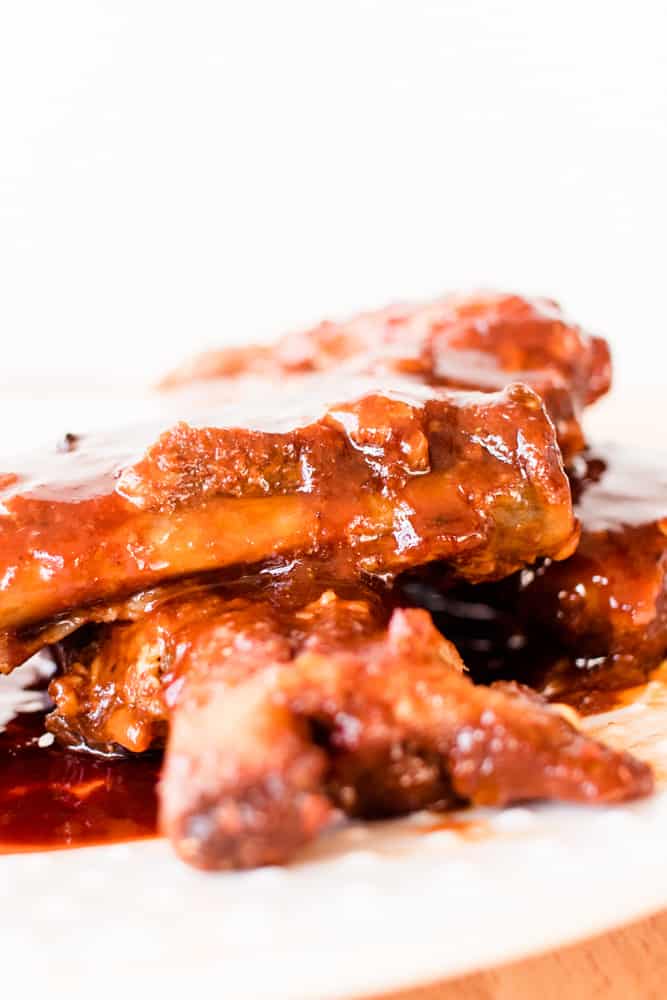 Cover and transfer to the middle rack in the oven—Bake at 300°F for about 3 hours.
It's perfectly acceptable to eat pork at 145°, but the fat and collagen in the meat will not have had a chance to cook down at this point. Leave the meat on the heat until it reaches about 190°-200°F.
Check the temperature using an internal thermometer in the meat between the bones.
Be careful not to touch the bones with the probe, or you'll end up with an inaccurate reading.
Why cook in a dutch oven
Dutch ovens are like a pot where you can braise roasts, cook soups, saute vegetables and fry chicken. It does everything a pot can do and more!
Try some of these other favorites: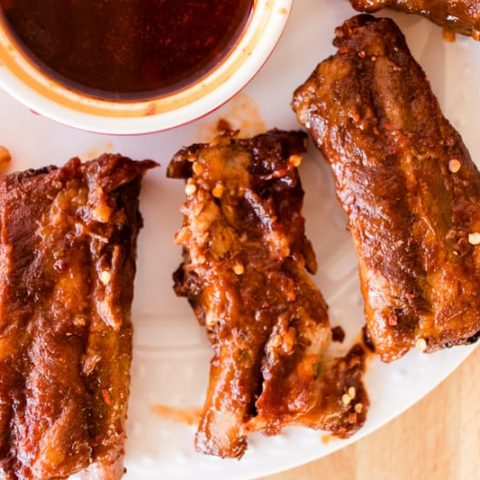 Dutch Oven Spare Ribs
Total Time:
3 hours
10 minutes
Mouthwatering, slow-cooked spare ribs in the dutch oven.
Ingredients
2 lbs of spare ribs
1 ½ cups of bbq sauce
¾ cup of beef broth
1 tsp of salt
½ tsp of cumin, pepper, garlic and onion powder
¼ tsp of paprika and cayenne
A pinch of crushed red peppers (optional)
Instructions
Cut ribs in half if needed so that they will fit flat into the dutch oven.
Combine dried spices in a small bowl or ramekin and rub onto both sides of the meat.
Alternate adding bbq sauce and ribs into the dutch oven, starting and finishing with bbq sauce.
Pour broth around the sides of the pot.
Cover and bake on the center rack at 300°F for 3 hours.
Notes
Check meat with an instant thermometer. Once it reaches 190-200°F, remove it from the heat.