No-bake recipes are a must on a hot summer day. You'll find this cheesy steak and potato skillet to fit the bill as a hearty and delicious stovetop recipe.
I'll be honest, I've been making some variation of this meal for years, and sharing it with you now, I realize it doesn't have a name. I've always called it a steak and potato skillet, but it's more of a no-bake steak casserole made in a skillet.
So call it what you want, but by looking at the pictures, let's just say it is several pounds of cheesy, beefy, savory goodness.
And while this recipe is best with beef, if you are more of a chicken lover, try this southwest casserole, one-pan Mexican dish, or a 7-layer taco skillet.
No-bake Steak and Potato Skillet
I have made this recipe with every kind of meat imaginable, so if you don't have sirloin steak, any meat goes great with cheesy potatoes, including ribeye, filet, even elk steak, and venison steak.
How to make a steak and potato skillet
This recipe is made entirely in a cast iron skillet. And because both the steak and the potatoes are cooked separately, it is best to have either two skillets on hand or a casserole dish.
Ingredients:
Beef Sirloin or Tri tip
Butter
Coconut oil
Russet potatoes
Yellow onion (substituting for shallots is amazing too!)
Black olives
Green onions
Shredded cheddar cheese
Fresh Garlic
Spices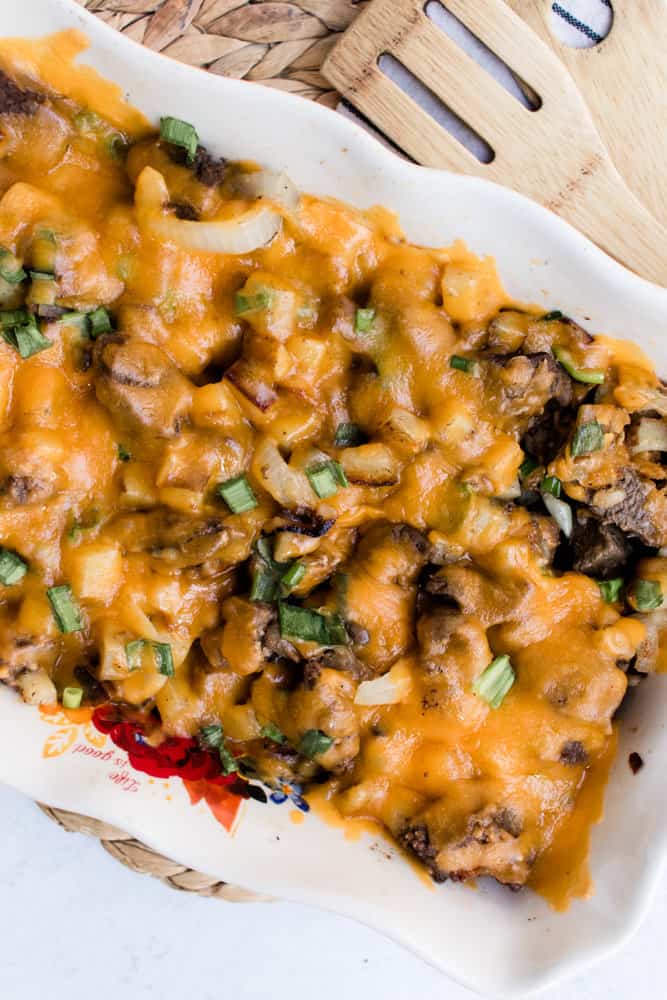 Recipe:
What makes this so incredibly delicious is the garlic butter! Don't skip that step; it takes no extra time, and the end result will be so worth it.
Preheat a 12″ skillet over medium heat. Dice up the sirloin into one-inch cubes and add to the skillet with a tablespoon and a half of butter, salt and pepper.
While the steak is cooking, mince some garlic and add it to the steak. Continue cooking the steak until done; I cook it for about 5-7 minutes, or until medium-rare.
As soon as the steak is done, transfer it to a casserole dish so you can cook the potatoes.
Dice up several potatoes and onion, and add them to the skillet over medium-high heat along with a splash of oil. Season with salt, paprika, and cumin, and cook until potatoes are soft.
Stir the potatoes in with the steak, add in olives and green onions, and top with cheese. I know this is a "no-bake" recipe, but I usually throw the casserole into the oven for a few minutes to speed up the cheese melting process.
Other than that, once the cheese is melted, it is ready to serve with your favorite side such as these zucchini fritters!
Try your hand at reverse seared steak – its easier than you think!
Tips for making this recipe
Choose a high-quality steak. The cut so much is not as important as where the meat came from. Whenever possible, try to find a local meat source.
Add in frozen veggies such as broccoli, peas, or green beans.
Use a well-seasoned skillet to ensure the potatoes do not stick.
Use plenty of cheese; the more, the better!
What to serve with garlic butter steak and potato skillet
Try these homemade parmesan brussel sprouts or roasted, cheesy bacon squash. Of course, you'll need some bread to go with all that extra melted butter, which is why you will want to have one of these artisan bread loaves on hand.
I hope you enjoyed this garlic butter steak and potato skillet; This recipe has been a favorite in our family for years!
If you try this easy, no-bake recipe, let me know how it turned out in the comments below. And as always, if you're looking for more great recipes, try one of these tasty dinners below!
Steak and Potato Skillet
When you want a delicious dinner but don't want to heat the house up. This is the ultimate traditional dinner.
Ingredients
2 beef sirloins, chopped into 1 in cubes
1 1/2 tablespoons of butter
4 cloves of garlic, minced
2 tablespoons of coconut oil
6-7 medium-size potatoes, diced
1 yellow onion, chopped
1/8 cup of black olives
Green onions
2 cups of shredded cheddar cheese
Salt, pepper, paprika and cumin
Instructions
Heat a large, 12" skillet over medium-high heat. Once hot, add the butter and allow it to melt fully.
Add the steaks to the skillet and cook for 5-7 minutes. This is for medium rare; adjust the cook time for your desired doneness. Add the garlic while the steak is cooking and season with salt and pepper. (teaspoon each of salt and pepper)
After the steaks have cooked, remove them from the skillet to a casserole dish.
Without cleaning the skillet, add in coconut oil, potatoes, and chopped yellow onion—season with salt, paprika, and cumin.
Cook potatoes until crispy on the outside and soft on the inside.
When the potatoes are done, add them to the casserole dish with the steak. Stir in olives and green onions and top with cheese.
Allow the cheese to melt before serving.
Notes
Throw the casserole dish in the oven for 5 minutes to melt the cheese quicker.