Zucchini cakes are a favorite family side that goes along great with any meal. This zucchini cake recipe is absolutely perfect to make for your next summer party.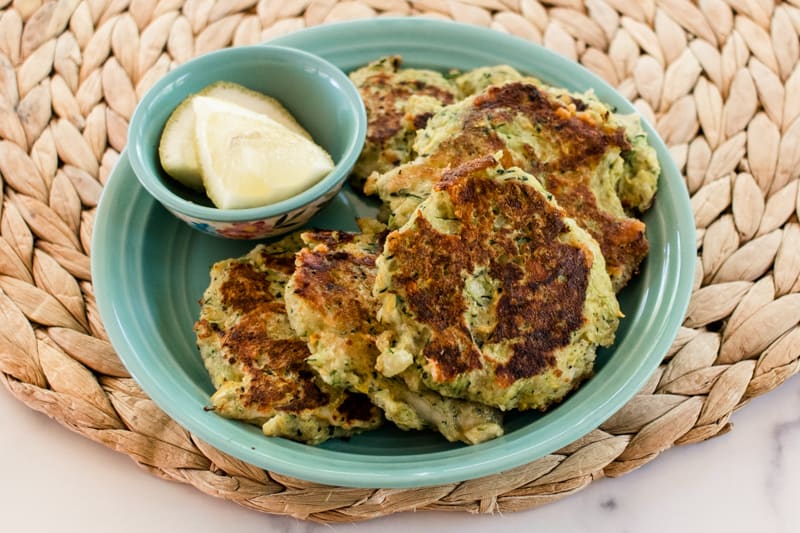 Perhaps you go by zucchini fritters; maybe you call them zucchini cakes as I do. Either way, it's the perfect way to incorporate vegetables into any meal.
This recipe uses only fresh ingredients and requires no baking. It can also be made gluten-free, as found in the 'Tips' section below.
How to make zucchini cakes
These little cakes are fried in oil and are served most commonly as a side dish, or they make a great snack.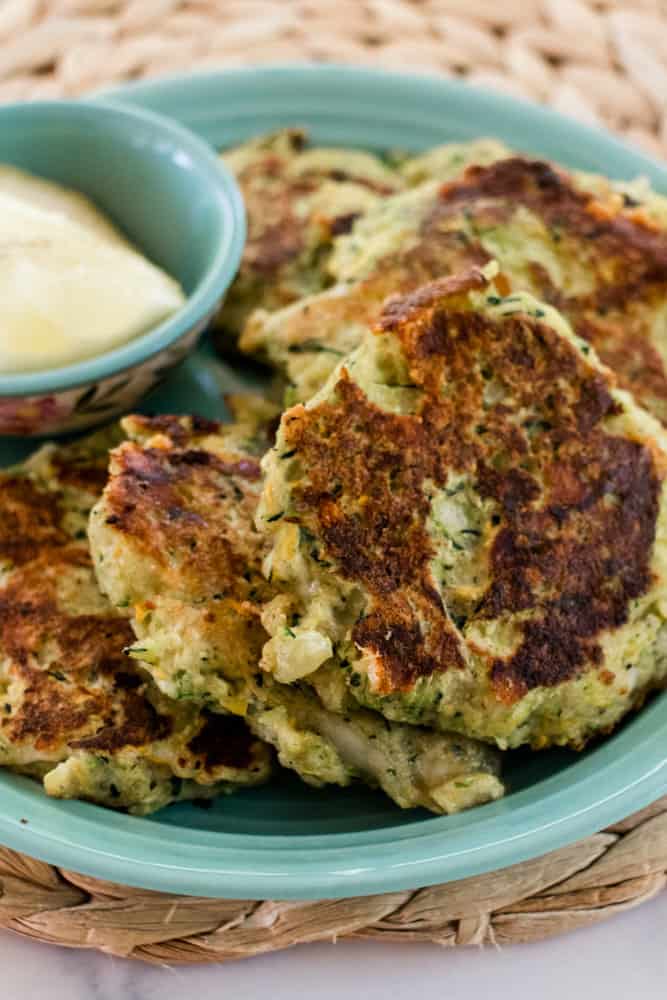 Begin by shredding the zucchini and pressing out the liquid, so the cakes do not get soggy. You don't have to go overboard squeezing out the liquid; just do the best you can.
As far as shredding zucchini goes, a basic box grater works just fine. I've had people ask if you should peel the zucchini first, and I would say no. the peel offers great color as well as a much-appreciated texture.
Once the zucchini is shredded and drained, the rest is pretty straightforward.
Add a beaten egg to a mixing bowl, breadcrumbs, parmesan cheese, lemon juice, lemon zest (because you can never have enough lemon), salt, and pepper.
Stir the ingredients with the zucchini until it resembles a pancake batter with shredded zucchini.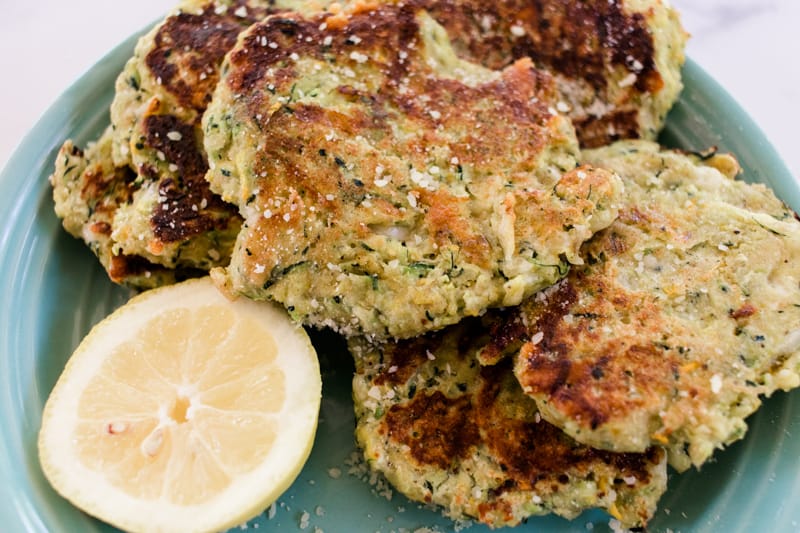 How to fry zucchini cakes
Heat a little oil up in a cast iron skillet over medium-high heat. Shape the batter into little patties and fry for about 3 minutes per side.
I try not to flip them more than one time. As soon as it's golden brown, flip it over and cook the other side.
Set the fried zucchini cakes on a paper towel to absorb any excess cooking oil and serve immediately.
Serving the cakes
While I personally enjoy these with a side of nothing, everyone else in the world finds that zucchini cakes are great dipped in sour cream, plain yogurt, applesauce, or ranch dressing.
While they will keep in the fridge for 3-4 days, they are best consumed immediately.
why you'll love this zucchini cake recipe
You won't find any artificial flavors or preservatives in this zucchini cake recipe. They're also low in calories and fat but, at the same time, rather filling, making them a great light meal replacement.
Zucchini is also super easy to grow and stores very well. Fresh zucchini usually lasts around 2-3 weeks, after which the skin will start to shrivel up.
What goes good with zucchini cakes
Tips
Squeeze the excess water out of the zucchini. Zucchini has a high concentration of water which will become very apparent if you don't get it out before cooking.
Heat and oil are your friends. We are looking for a crispy golden crust before flipping. If you flip it too early, you miss out on that golden opportunity!
Make these fried zucchini cakes gluten-free by substituting breadcrumbs for arrowroot powder.
Use plenty of salt. Without any scientific evidence to back this up, I believe the salt actually helps the crust to develop into a thick, crispy crust. Or maybe it just helps pull out any extra moisture? Either way, don't forget the salt!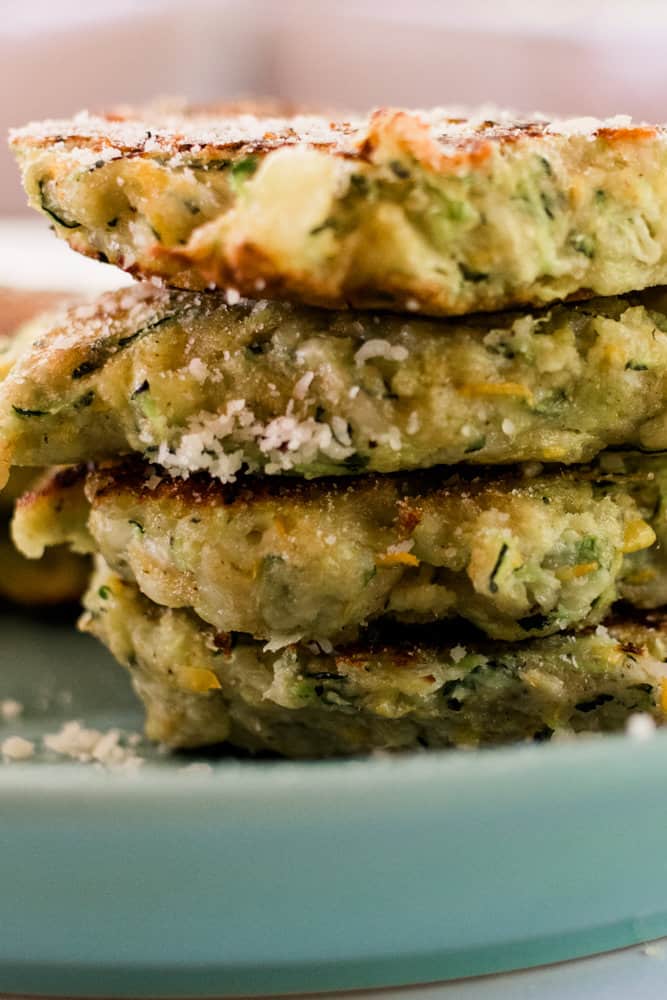 Vegetable based sides
The best way I've found to enjoy vegetables is to cook them into a side dish. Here are some of my favorites.
Wrapping up
Zucchini cakes (or zucchini pancakes or zucchini fritters) make a tasty snack, appetizer, side dish, or possibly a light lunch, depending on your appetite.
After you try this zucchini cake recipe, let me know how it turned out for you in the comment section below!
Fried Zucchini Cakes
Fried zucchini cakes are the absolutely ideal snack, side dish, or appetizer for your next summer meal.
Ingredients
2 small zucchini
1 egg, beaten
1/4 cup of breadcrumbs
1/4 cup of shredded parmesan cheese
The juice from half a lemon (about 1 tbsp)
The zest of half a lemon
Salt and pepper to taste
Instructions
Shred zucchini using a box grater.
Squeeze out as much liquid as possible using your hands. Alternatively, you can ring out the water using a clean towel.
Combine all ingredients in a mixing bowl and stir well.
Heat a cast iron skillet over medium heat with a tablespoon of oil.
Form the zucchini mixture into small patties before adding to the skillet—Cook for 3 minutes per side, or until golden brown.
Nutrition Information:
Yield:

6
Serving Size:

1
Amount Per Serving:
Calories:

76
Total Fat:

2g
Saturated Fat:

1g
Trans Fat:

0g
Unsaturated Fat:

1g
Cholesterol:

33mg
Sodium:

176mg
Carbohydrates:

11g
Fiber:

1g
Sugar:

6g
Protein:

4g
This website provides approximate nutrition information for convenience and as a courtesy only. Nutrition is calculated by Nutronionix