This recipe for chicken pesto pasta bake is a quick and easy way to enjoy delicious Italian food without spending hours in the kitchen.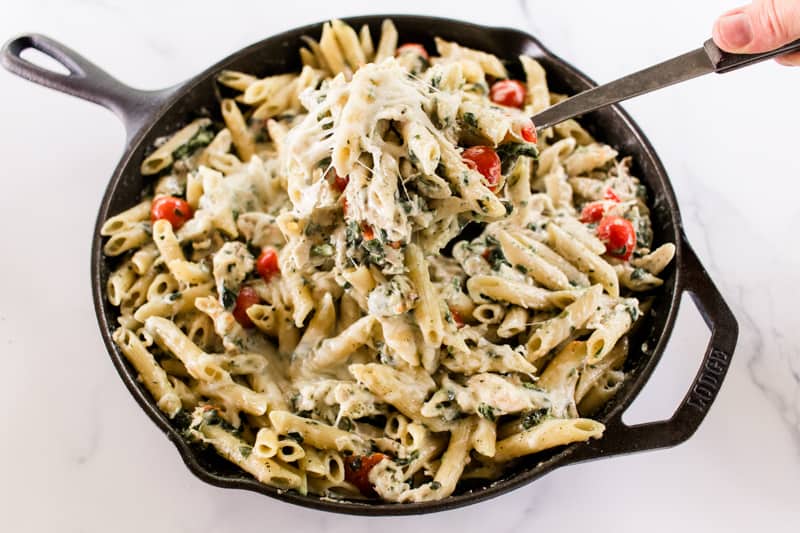 Well, let's get to it! I've made this recipe several different ways, making my own pesto sauce and even creamy alfredo sauce.
Simplicity is key most days, so you'll find this recipe a perfect fit for a busy lifestyle.
Chicken pesto pasta bake recipe
INGREDIENTS
Penne noodles
Cubed chicken
Cherry tomatoes
Spinach
Alfredo sauce
Pesto sauce
Mozzarella cheese
Prepare chicken using either chicken breasts or a whole chicken. I made a whole chicken and then cut up 2 cups worth for the pasta bake.
You can also use boiled chicken thighs or pulled chicken.
Prepare penne noodles following the directions on the box. Remove the noodles from the boiling water while they are still a little bit chewy and drain through a colander.
Cut cherry tomatoes in half, then combine them with the pasta, spinach, Alfredo sauce, and pesto sauce.
Season with salt and pepper, then top with mozzarella cheese.
Bake in a 350°F for 10 minutes or until cheese is melted and begins to turn golden brown.
I like to serve this with salad and homemade bread. It also goes great with this cream cheese stuffed garlic bread.
The key to a delicious recipe
While this pasta bake is seriously delicious, there is nothing like fresh herbs and vegetables, which are essential when making homemade pesto. They add flavor and nutrients to the sauce.
If time permits, try making pesto following this simple recipe below.
INGREDIENTS
2 cups fresh basil leaves (about 2 handfuls)
1/3 cup pine nuts
2 cloves of minced garlic
1/4 cup of olive oil
Salt and pepper.
Pulse the basil and pine nuts in a food processor until finely chopped. With the processor running, add the olive oil, salt, and pepper and blend until smooth.
Taste test and adjust the ingredients as necessary. I'll usually start with just a pinch of salt and pepper, then add more if needed.
Making your own pesto is not necessary, but the fresh flavors this homemade pesto provides would be impossible with premade pesto.
Besides, pesto makes a great sauce served over rice, pizza, or as a dip.
Freezing for later
What's nice about chicken pesto pasta is it stores well. Transfer pasta to an airtight storage container and refrigerate for up to 3 days, or transfer to a ziplock bag and freeze for up to 2 months.
Chicken pesto pasta is a tasty Italian dinner that is fancy enough for guests yet simple enough to throw together at the last minute.
I hope you find this recipe as delicious as I do! Be sure to leave a comment below and let me know what you think. For more great simple dinner recipes, try one of these favorites below.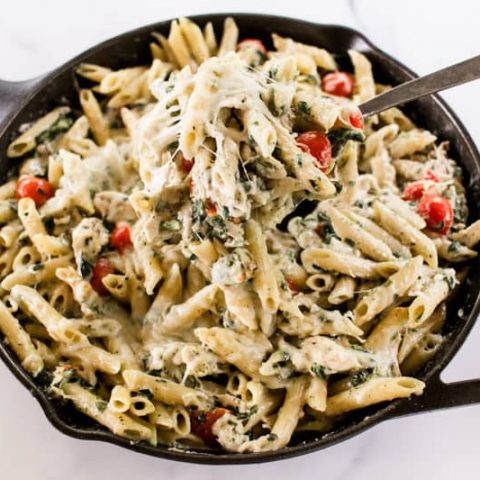 Chicken Pesto Pasta Bake
Chicken pesto pasta bake is tasty, inexpensive and can be thrown together in no time!
Ingredients
2 cups of baked cubed chicken
1 box of penne noodles (1 lb)
1 jar of alfredo sauce 15 oz
1 jar of pesto sauce 8 oz
1/2 bag of spinach (2 cups)
¾ cup of cherry tomatoes halved
½ teaspoon each of salt and pepper
1 cup of mozzarella cheese
Instructions
Prepare noodles according to the package and cook till almost done. Drain with a colander.
Add noodles to a 12" cast iron skillet along with the chicken, spinach, tomatoes, alfredo sauce and pesto sauce.
Sprinkle with salt and pepper and stir well.
Cover evenly with cheese and bake in a 350°F oven for 10 minutes or until cheese is melted and starting to turn golden brown.
Allow the pasta to cool slightly before serving.