Start the weekend out right with this Chinese beef and broccoli dinner. It is filled with fork-tender strips of steak and crisp vegetables. Served in a rich, tasty teriyaki sauce.
How to Make a Beef and Broccoli Stir Fry
I truly enjoy Asian-style food. With sushi being arguably a top 10 Asian dish, another recipe that has to score close to it would be a beef and broccoli stir fry.
With innumerable ways to prepare, one aspect never seems to change; it is always smothered in a delicious "brown sauce" filled with a deep rich flavor.
A heaping scoop of that on top of some egg noodles; delicious!
We have been trying to introduce our kids to different cuisines, from Vietnamese pho to Jamaican stew peas and everything in between.
And now, this Chinese beef and broccoli stir fry.
This particular recipe is made using cubed round steak. Round steak often gets a rap as being a tough, undesirable cut of meat.
But thinly sliced and stir-fried, it is absolutely impossible to go wrong.
So grab that round steak out of the back of your freezer that you weren't sure what to do with, and get cooking.
Teriyaki Beef Stir Fry with Noodles
Prepare everything before starting because once it gets going, things will move quickly.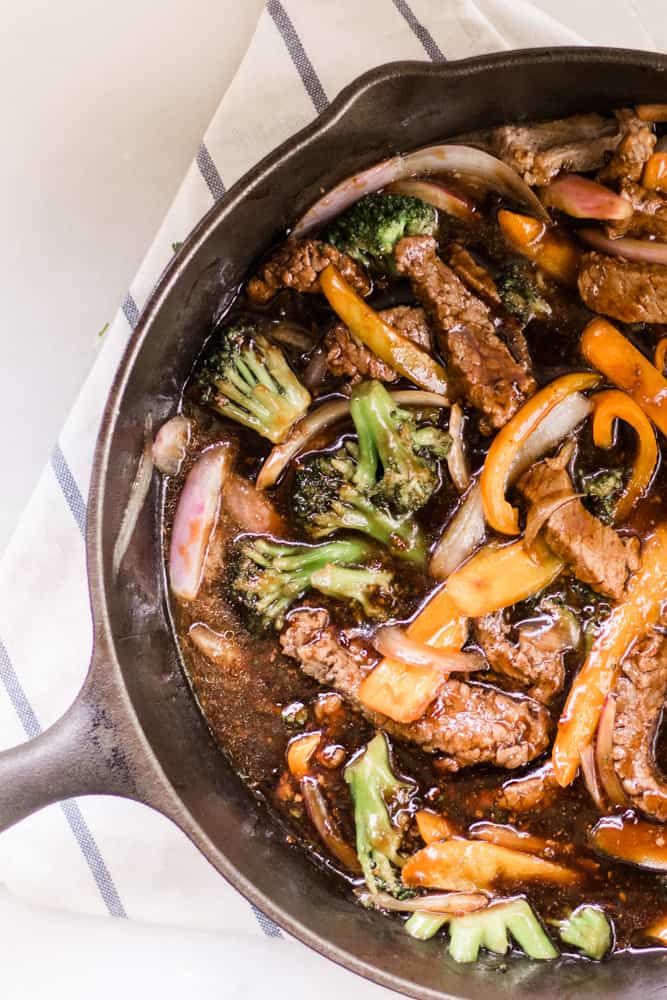 Slice bell pepper, onion and meat, thinly and against the grain.
Measure out soy sauce (or coconut aminos) along with teriyaki sauce, arrowroot powder and butter.
Heat up a cast iron skillet over medium heat. Once hot, add the cooking oil of choice to the skillet along with the peppers, onions a bag of frozen broccoli and meat. Cook for about 5 minutes allowing the meat to brown and vegetables to soften.
Remove from skillet, reduce heat to medium-low and add soy sauce, teriyaki, butter as well as a dash of ground pepper and garlic powder. Stir constantly.
When the sauce starts to bubble, about 3-5 minutes, add in arrowroot powder, a little at a time and whisk in until it starts to thicken.
Add the meat and veggies back to the skillet.
Serve immediately with egg noodles or rice.
Tips for Chinese Beef and Broccoli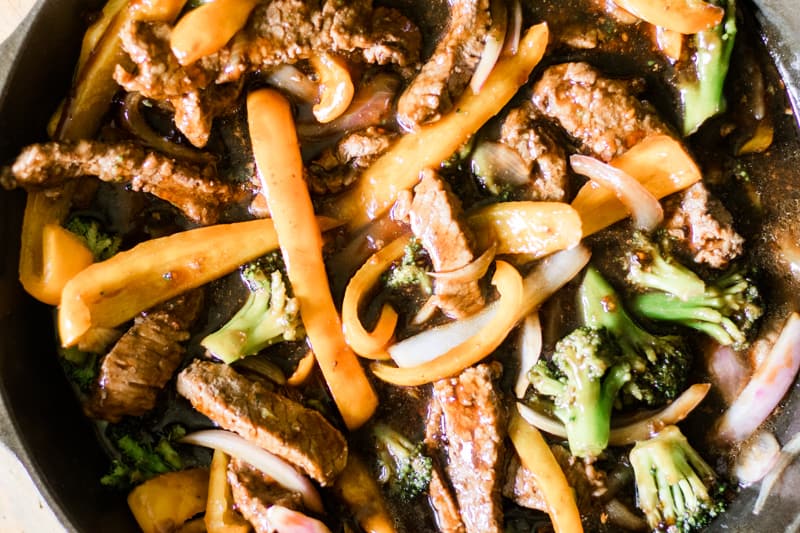 How to make the beef tender
Marinate the meat in soy sauce, corn starch, or baking soda, as is common in Chinese dishes.
Substitutes for beef.
This recipe can be enjoyed with either pork, chicken, or the vegan alternative of tofu. Just be sure the meat you choose is fully cooked before serving.
What is the best beef to use?
The most common cuts include flank steak and skirt steak. I've even made a similar recipe with beef liver and it was delicious!
How to get that thick, gravy-like texture for the sauce.
Add a bit of arrowroot powder or corn starch to the liquid over medium heat. Stir constantly until desired thickness is reached.
What to serve it with?
This is best served over steamed rice or egg noodles with a side of egg rolls.
How to store
Store leftover stir fry in the fridge to be enjoyed within the next 3-4 days. Or Freeze for a later meal. Just be sure to use it within the next few months.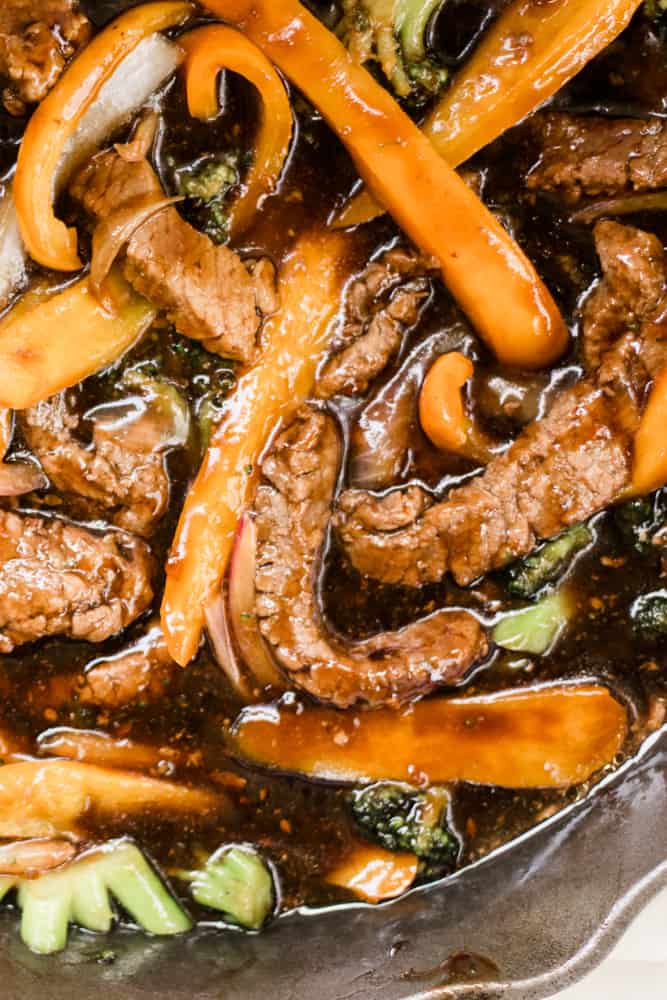 Popular stovetop recipes:
Authentic Chinese Beef and Broccoli Stir Fry
The best beef and broccoli stir fry. Made with delicious ingredients and ready to serve in under 20 minutes.
Ingredients
1lb round steak, thinly sliced against the grain
1 bell pepper, sliced
1 red onion, sliced
1 cup of frozen broccoli
⅛ cup of arrowroot powder
1 cup teriyaki sauce
½ cup of soy sauce, or coconut aminos
2 tbsp of avocado oil
1 tbsp of butter
¼ tsp of ground pepper
¼ tsp of garlic powder
Instructions
Heat a large cast iron skillet over medium heat with oil.
Add meat and vegetables.
Cook until meat is browned and vegetables start to soften., about 5 minutes.
Remove from skillet, reduce heat to medium-low and add in butter, soy sauce, teriyaki sauce and spices. Stir Constantly until it starts to bubble.
Add arrowroot powder slowly and whisk until it thickens.
Add meat and veggies back in.
Serve immediately.
Notes
This dish is delicious on it own or served over egg noodles or rice.
Nutrition Information:
Yield:

4
Serving Size:

1
Amount Per Serving:
Calories:

435
Total Fat:

20g
Saturated Fat:

7g
Trans Fat:

0g
Unsaturated Fat:

12g
Cholesterol:

110mg
Sodium:

4610mg
Carbohydrates:

20g
Fiber:

2g
Sugar:

13g
Protein:

44g
Nutrition is calculated by Nutronionix. All nutrition should be verified independently by a 3rd party.