Eating healthy doesn't have to mean that a meal takes hours to prepare. Get this pro-metabolic honey garlic cast iron shrimp on the table in under 30 minutes for your next busy weeknight dinner.
This pro-metabolic recipe is perfect for filling and nourishing hungry, active tummies.
Thaw the shrimp at the start of the day or the night before and you'll be ready to throw this shrimp with broccoli recipe together fast.
Let this pro-metabolic dinner recipe do the work for you to create an easy, balanced weeknight meal.
Pro metabolic eating
The best metabolic meals are focused on quality ingredients and a nice ratio of carbs, fats, and proteins. This recipe checks all the boxes.
The shrimp are cooked in a delicious honey garlic butter sauce, satisfying the fat requirement.
Organic, wild-caught shrimp is the ideal source for your protein here. Frozen is totally fine. Just make sure it's a clean source if possible.
Finally, serve this easy honey garlic butter shrimp & broccoli over brown rice and the carbohydrate need is met. It will be filling and you may already have all the ingredients on hand.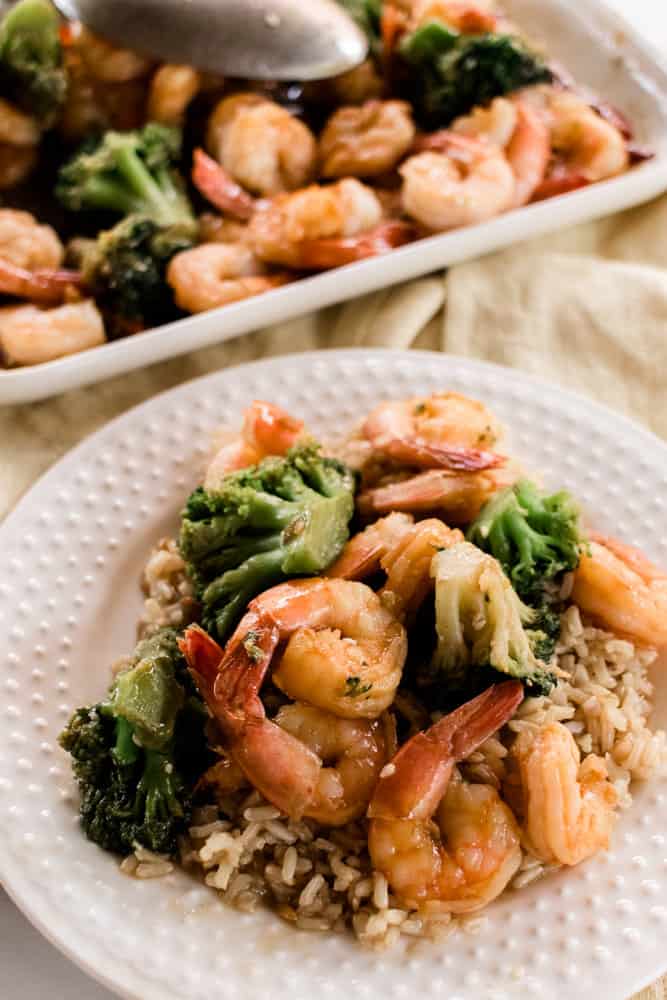 This post contains affiliate links, which means I make a small commission at no extra cost to you. As an Amazon Associate, I earn from qualifying purchases. Get my full disclosure here.
Cast iron shrimp recipe
The best part about cooking shrimp in cast iron is the nice crisp finish and perfectly cooked center. It's the best pan to cook shrimp in. Look to cajun cuisine for confirmation there.
We will only use one 12″ skillet to cook everything (besides the brown rice). Using frozen broccoli will free up some freezer space and means very little chopping is required. This is super easy skillet shrimp.
What you'll need:
Frozen broccoli
Garlic
Organic, grass-fed butter
Frozen wild-caught organic shrimp
Liquid aminos
Raw honey
Salt and pepper
Sesame seeds
Thawing the shrimp in advance will make the meal come together very quickly. However, thawing shrimp doesn't take much time at all. So not to worry if you don't get to it in advance.
To thaw shrimp quickly, fill a bowl with cold water and fill it with your shrimp so that they are submerged. It should add on another 20-30 minutes to your prep time.
A few minutes of prep; otherwise, all there is to wait for is the rice to be done cooking. Even that can be done in advance and simply reheated if the week is super busy and on-the-go.
Instructions:
Start by melting a tablespoon of organic, grass-fed butter in your 12″ cast iron skillet on medium heat. As the butter melts, quickly mince 4 cloves of fresh garlic.
Set aside your other ingredients to be ready to use at the end.
Add the garlic to the melted butter skillet along with the broccoli. Sprinkle with a bit of salt and pepper to taste, and cook for about 4 minutes, just until the broccoli starts to soften.
Move all of that to one side of the pan and make room for the shrimp. Melt another tablespoon of butter, careful not to brown it, and cook the shrimp for 4 minutes total.
Really, just 4 minutes and the shrimp will be done. Flip them halfway through, totaling 2 minutes per side. Watch them closely and be ready for the next step.
It might be best to move the pan off the heat to avoid over-cooking the shrimp.
Take all your measured other ingredients, that's the liquid aminos, a melted tablespoon of butter, honey, and sesame seeds, and combine them in a small bowl with a whisk or shake them in a jar like a vinaigrette.
Pour this sauce mixture over the broccoli and shrimp, giving them a toss to coat. Simmer on low until the sauce is nice and heated through.
Serve the garlic butter shrimp skillet with rice. We like brown rice in our household, but white rice will do just fine.
If you're a pro metabolic professional, soaking your rice in advance is advised for additional digestibility.
Why you'll love this cast iron shrimp recipe
Not only is this cast iron shrimp delicious for its perfect crispy fried finish and honey garlic butter sauce, but it's also healthy.
So If you're looking for more ways to incorporate pro-metabolic eating, this recipe is a great place to start.
It's the perfect balance of quick, easy, nutritious and filling. I have a feeling you'll be using this one all year round when dinner needs to come together in a pinch.
Let me know in the comments if you give this one a try.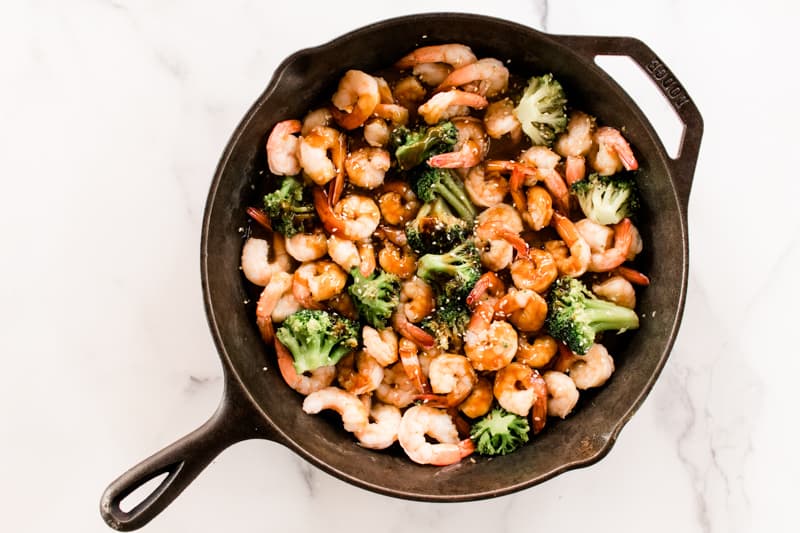 Here are a few more of my favorite recipes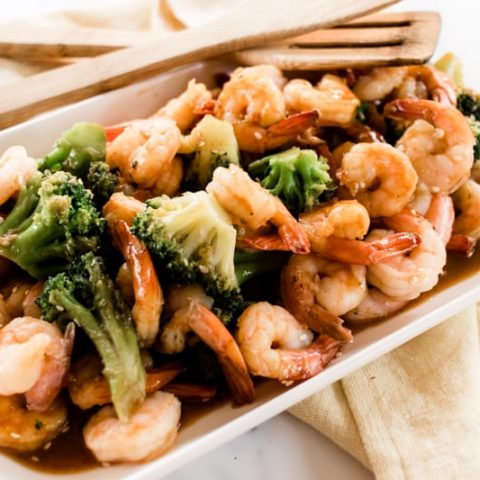 Cast Iron Shrimp with Honey Garlic Butter Sauce
Pro metabolic, healthy and nourishing, this recipe is perfect for a quick meal made with ingredients already on hand.
Ingredients
2 lbs of organic, wild-caught shrimp, thawed
2 cups frozen broccoli
4 cloves garlic, minced
2 tbsp organic, grass-fed butter, plus 1 tbsp melted
1/2 cup liquid aminos
2 tbsp raw honey
Salt and pepper to taste
1 tsp sesame seeds
Instructions
Melt a tablespoon of butter in a 12" skillet on medium heat.
Add garlic and broccoli, sprinkle with a bit of salt and pepper and cook for about 4 minutes, just until the broccoli starts to soften.
Move the broccoli to one side, add another tablespoon of butter and cook the shrimp. 4 minutes total; flipping halfway through is about perfect for shrimp.
Move off the heat to avoid over-cooking shrimp.
Combine the liquid aminos, melted butter, honey, sesame seeds and a pinch of pepper in a small ramekin and pour over the broccoli and shrimp.
Toss ingredients to coat and simmer on low until sauce is heated through.
Serve with brown rice.
Nutrition Information:
Yield:

6
Serving Size:

1
Amount Per Serving:
Calories:

252
Total Fat:

5g
Saturated Fat:

2g
Trans Fat:

0g
Unsaturated Fat:

2g
Cholesterol:

324mg
Sodium:

2671mg
Carbohydrates:

13g
Fiber:

2g
Sugar:

7g
Protein:

38g
This website provides approximate nutrition information for convenience and as a courtesy only. Nutrition is calculated by Nutronionix