Juicy tender chicken breasts smothered in a homemade coconut lime sauce topped with cilantro.
What is Thai Coconut Lime Chicken
Thai coconut lime chicken is a no-bake recipe, made completely in the cast iron skillet filled with deep, delicious flavors that penetrates deep into the thick chicken breasts.
It can be served as is or over a bed of rice or with your favorite pasta. We like to slice the chicken into thin strips, place it over rice or egg noodles and drizzle with the coconut lime sauce.
The sauce, or gravy, if you will, is about 2 inches deep when it's all said and done and with just the right amount of flavor!
Is This Recipe Gluten-Free?
This recipe is perfect for those with a gluten allergy. The exact instructions laid out below do not include any gluten; if arrowroot powder (used for thickening) is not available, it can be easily substituted for corn starch, or if gluten is not an issue, flour.
How to Tell When Chicken is Cooked Through
Chicken must be fully cooked before eating. Using an instant thermometer inserted into the thickest part of the meat, the temperature must read a minimum of 165°F.
How to Make Coconut Lime Chicken
The coconut lime chicken recipe can go from fridge to table in under 30 minutes.
Pan fry chicken breasts in a large, 12″ cast iron skillet over medium heat in a little oil. Turn every 2 minutes.
Once the chicken is browned on all sides, remove it from the skillet. It doesn't have to be fully cooked at this point.
In the same skillet, add coconut milk, the juice from one lime, and spices (see list below) and stir well.
Once the milk has heated up, add cilantro, then arrowroot powder and continue stirring until the sauce starts to thicken, about 3-5 minutes.
Add Chicken back to the pan, reduce heat to low and allow everything to simmer until chicken is cooked through.
You may need to flip the chicken halfway through. Top with fresh cilantro and serve immediately.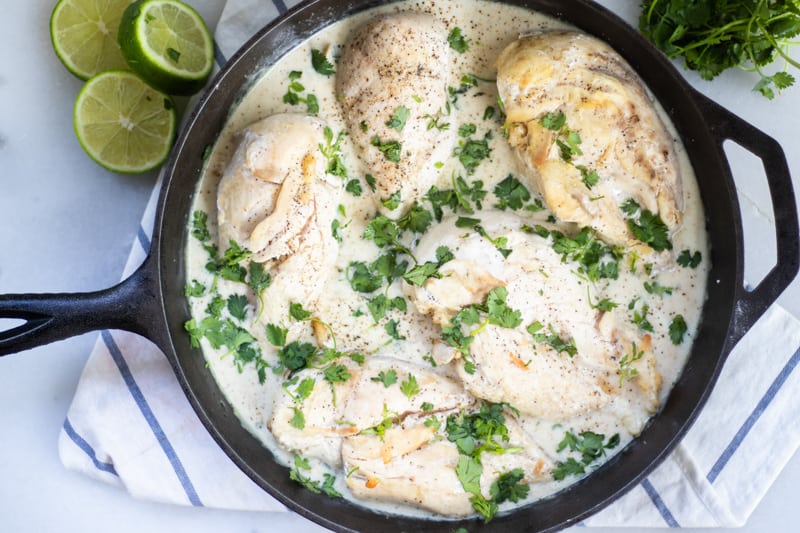 How to Enjoy
After marinating in the sauce, the chicken is absolutely tender and juicy; serve it a la carte or Thai style over rice.
To kick it up a notch, add ½ of a teaspoon of crushed red peppers and ⅛ teaspoon of cayenne pepper to the sauce.
It is such a surprisingly simple 30-minute meal. Great for company or just a quick, easy weeknight dinner.
I hope you try this simple recipe. One dish recipes are simple to make and drastically reduce cleanup time!
More 30-Minute Meal Ideas You may Like
Thai Coconut Lime Chicken
Juicy tender chicken breasts smothered in a homemade coconut lime sauce.
Ingredients
5 chicken breasts
1 tbsp of avocado oil
1 can of coconut milk, unsweetened (13oz)
1 lime
¼ cup of freshly chopped cilantro
¼ cup of arrowroot powder
1 tsp salt
1 tsp garlic powder
½ tsp pepper
¼ tsp each of paprika and cumin
Instructions
Heat a 12" cast iron skillet over medium heat. Add oil and chicken and cook 2-3 minutes per side, salting chicken as it's flipped. (4 sides total)
Remove chicken from skillet. It doesn't have to be done at this point. We will continue cooking later.
Add coconut milk along with the juice from the lime and all the spices. Stir constantly until milk heats up.
Add arrowroot powder and about half of the cilantro to the skillet. Continue stirring.
Once the sauce starts to thicken, add the chicken back in and reduce heat to medium-low. Allow chicken to continue cooking for about 16 more minutes total, flipping about halfway through.
Chicken is done when the internal temperature reads 165°F on an instant thermometer.
Garnish with remaining cilantro and serve Immediately.
Nutrition Information:
Yield:

5
Serving Size:

1
Amount Per Serving:
Calories:

244
Total Fat:

8g
Saturated Fat:

2g
Trans Fat:

0g
Unsaturated Fat:

5g
Cholesterol:

102mg
Sodium:

560mg
Carbohydrates:

3g
Fiber:

1g
Sugar:

0g
Protein:

38g
Nutrition is calculated by Nutronionix. All nutrition should be verified independently.